Event Proposal Template
First impressions are crucial when trying to close a new event planning customer. Provide an interactive Event Planner Sales Proposal to your customers to show your professionalism. Include amazing photos and videos of past events inside of your proposal.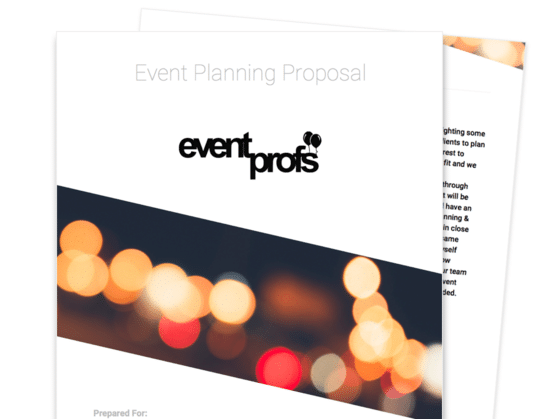 Best proposal software ever! 
I've tried soooo many proposal softwares and I'll never try another one after Proposable. It's so easy to use and it looks good, which all the others don't.
Smart, reliable, and constantly improving.
Proposable just works. I can make visually interesting sales presentations, dynamically insert content, and execute agreements. Proposable powers our entire sales process.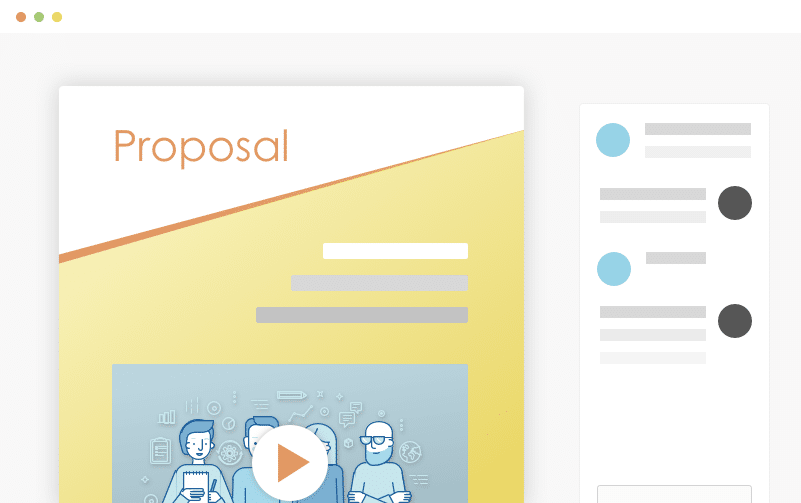 Wow Your Customers
Blow your clients away with a beautiful proposal that stands out above the rest. Add video and rich-media directly into your proposal pages for a more immersive sales presentation that's sure to make an impact.
Set Your Prices
Quickly build quotes, bids, and estimates with our flexible estimate block. With optional line-items, optional quantities, taxes, discounts and more, you can quickly represent your products and services in a polished and readable format. Organize all your products and services in the Pricing Catalog for instant recall.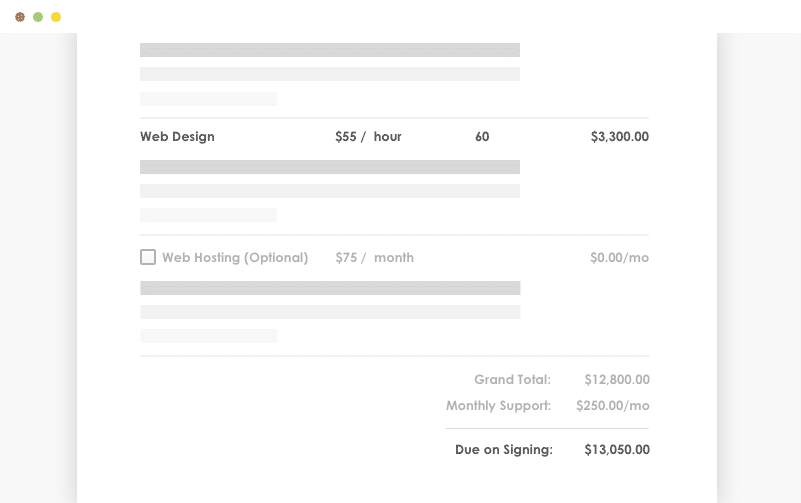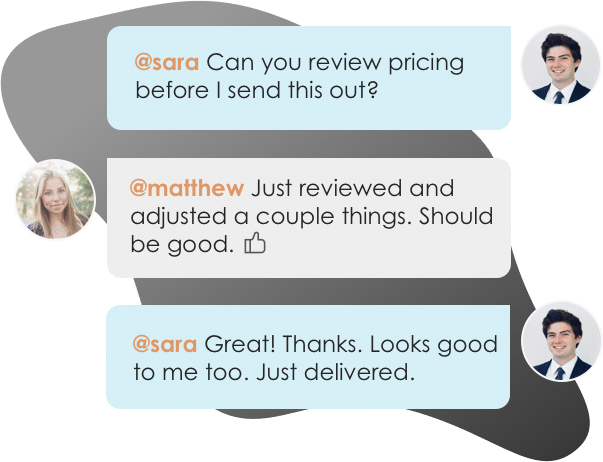 Work With Teammates
Easily collaborate with teammates on proposals. Mention team members to bring them into a proposal, or re-assign ownership when you need to handoff the proposal to another teammate.
Get It Signed
Close the deal faster with integrated e-Signatures. Place signatures, initials, and text field elements throughout your proposal wherever you need prospects to take action and your prospect is guided through a quick acceptance workflow to complete their acceptance. Counter-signing support is also included.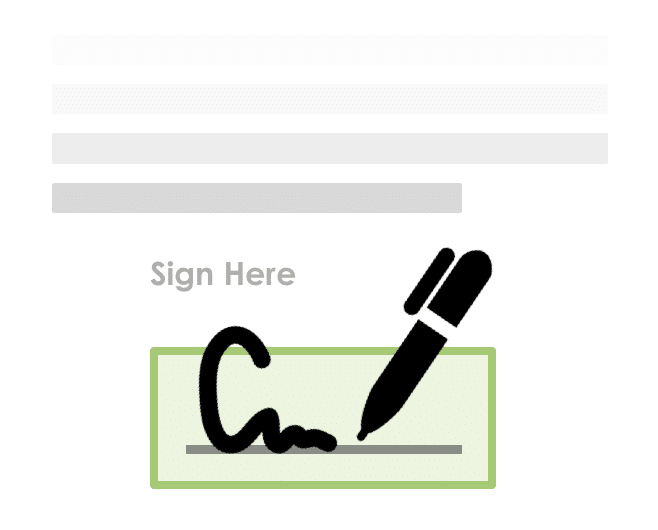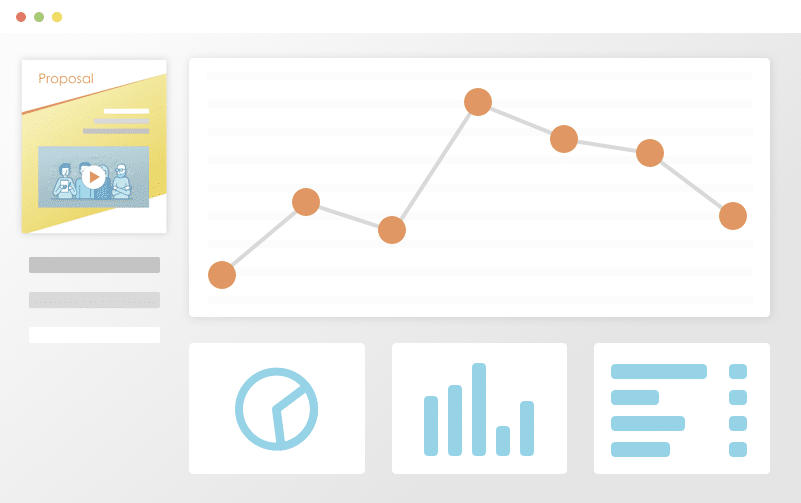 Track Everything
Ever wonder what happens to your proposal after you hit "send"? See detailed analytics and measure how each recipient is interacting with your sales material. Turn on real-time text or email notifications for proposal views and other key events.
Get Your Time Back
Save time and headaches by skipping the painful copy/paste and find & replace on all new proposals for your prospects and customers. Simplify your new proposal workflow to just a few clicks and go from spending hours on customizing new proposals to just minutes.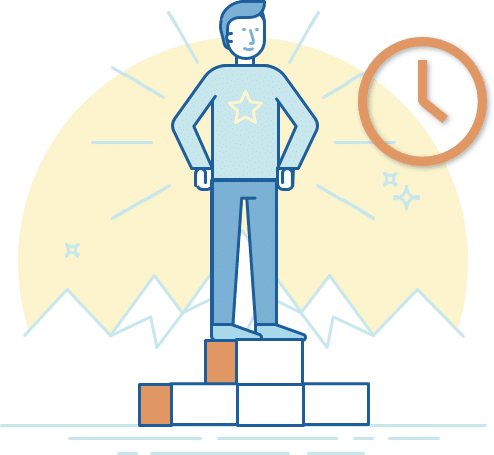 Edit & deliver this template.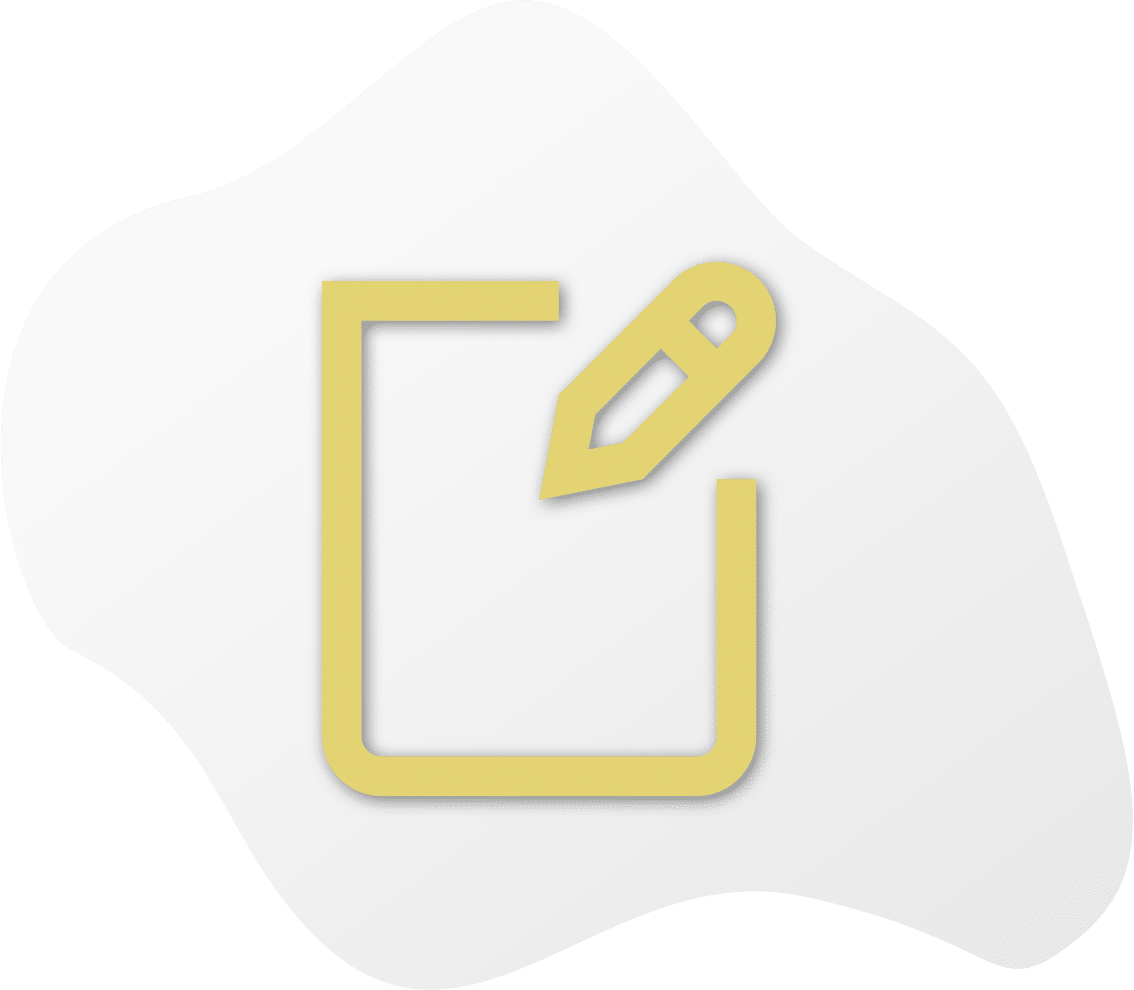 Template Overview
Your event company needs to stand out from the rest. Competition is stiff, and a bad proposal can send you right down to the bottom of the pile. Our event planner proposal template gives you a leg up with a professional, concise proposal design. The template includes sections for your introduction, testimonials, services, terms, and a signature page to close the deal quickly when your client is ready to move forward..
Benefits
Take advantage of a convenient, ready-made event proposal template that you can customize according to your needs.
Effectively introduce your event company to prospective clients, and highlight your expertise in creating tailored and seamless events that your clients will remember forever.
Clearly describe your planned deliverables, and afford your prospect a transparent, easy-to-understand project cost estimate.

Close the deal with integrated eSignatures. 
Events happen all around us. They are glorious delights that get people out of the house and into the community. Plus, event planning is a vast, profitable industry. From parties to weddings to corporate gatherings and tradeshows, there is no shortage of work for the professionals that make it happen.
Determining if this is the right career path for you is a first step toward making it happen. You should carefully evaluate if this role is something you will enjoy. After all, event planning is all about fun and learning. An event planner must understand if they can bring that essence out of event-goers.
In general, the makings of a successful event planner possess the following qualities:
Excellent communication skills

Ability to handle stress and change

High energy

Creativity

Good organization skills

Tech-savviness

Marketing knowledge
Not everyone can effectively carry out this type of work. You will experience unforeseen circumstances that require thinking on your feet. If you are a bit rigid and like to control the outcome, then even planning may not be the best fit for you.
However, if you are up for the task-at-hand, then you have already won the first battle. The next step is bringing in new clients. You can showcase your cool head and creativity by using an event proposal.
Event proposals take time and energy to create from scratch every time. Therefore, you will find it helpful to use an event proposal template to get you started. It is a fantastic way to have a marketing tool on-hand without having to "reinvent the wheel" every single time you approach a new client.
In this guide, the Proposable team helps you understand the types of job bids you may encounter, what should go into your event proposal template, how to manage more significant events, and marketing yourself more effectively.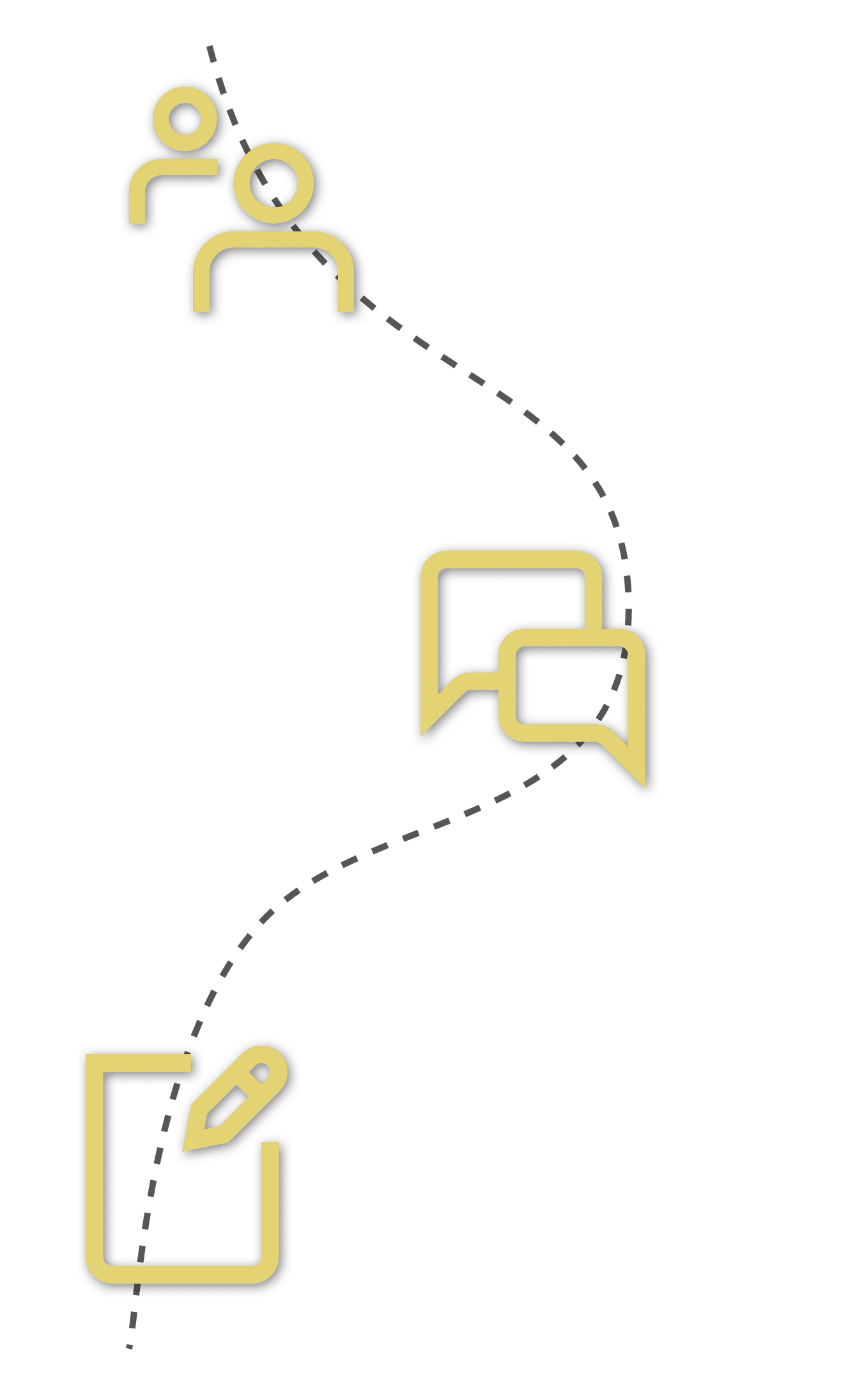 Part of your work as an event planner is customization all around. From the event itself to the way you market your services, the more custom you can make the experience, the more interactive you become in the process.
An excellent way to accomplish this goal in your event proposal example is by using a different template for the type of event on which you are bidding. For example, game night at a church will require a church event proposal template, club event proposal template, or high school event proposal template.
Conversely, if you are trying to snag a role as an event planner for a concert, you can use a music event proposal PDF or nightclub event proposal PDF to elevate your results. However, you choose to approach the task should reflect that you understand the event and the people who attend it.
However, there is a common thread in getting it right the first time around. Events are about people, fun, and community. It is an incredible chance for us to get outside from the hustle-and-bustle of the daily grind.
Essentially, you are creating an experience that builds lasting memories. Stand out from the crowd of other event planners by weaving this concept into every single one of your marketing materials.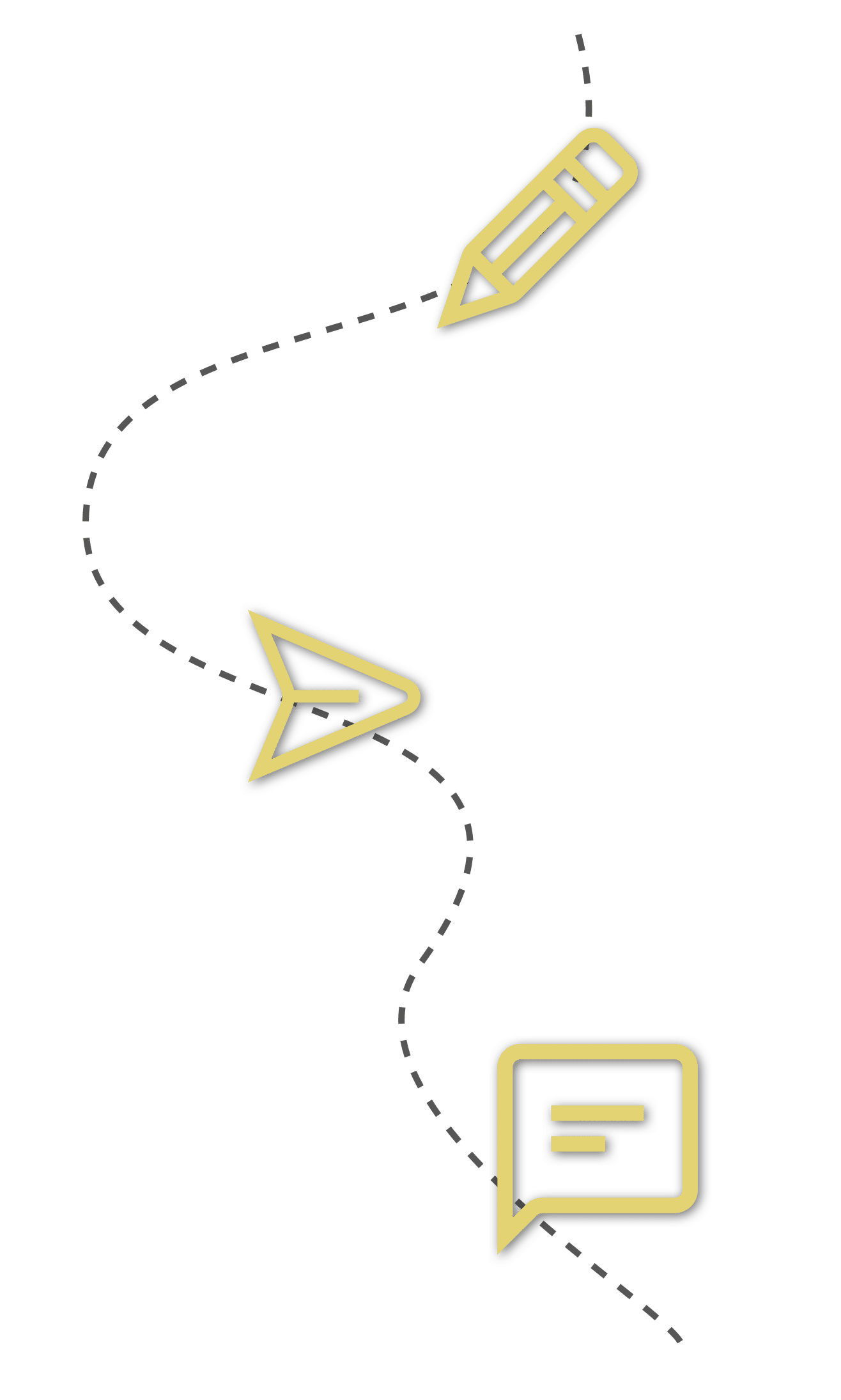 A good event proposal design begins by including the relevant elements that go into the event proposal sample doc. It is your opportunity to address the questions in the minds of your prospects while giving it that extra "wow" factor.
At a minimum, your event proposal PDF download will benefit from including the following items:
Cover page

Introduction

About your team

Testimonials

Services

Your event

Terms and conditions

Digital signature and datelines
By its very nature, event planning is interactive. Wouldn't it be wonderful if you could embrace a vibrant, multi-formatted media into your event proposal PDF free download? The good news is that you can when you incorporate event proposal software into your strategy.
Event planning software, like Proposable, allows you to embed features that illustrate what you can do to help your potential customer. For example, you can add videos into your event proposal letter PDF of past events to show just how amazing of a job you can do.
In the past, event planners design their proposals using traditional methods, like word processing, pitch decks, and spreadsheets to lay the group work in their event proposal sample letter. Common solutions used were an event proposal template Google Docs or a free event proposal template PPT.
Today, those eclipsed methods are now favoring the new online formats that let you produce interactive proposals.
Instead of resigning yourself to manually copying and pasting information into your event proposal sample letter or free event proposal template doc, you can now use a more user-friendly solution that unlocks the secrets of a practical event proposal sample PDF, event planning template Google docs, or event proposal template PPT.
Using a premium solution to draft your event proposal sample pdf free or free event proposal sample doc is an excellent choice when you are trying to level-up your marketing game while saving time and money.
Event Management Examples
A large-scale event is a hallmark for any event planner. Landing these types of jobs reinforces that you are doing well, having excellent organization skills, and possess the creativity to pull one-off.
Customers that plan these types of events are generally major corporations. They want the glitz, glamour, and experience delivered to customers, employees, and stakeholders in a way that makes them never forget the sponsor who threw it.
Winning these types of corporate clients requires you to demonstrate how you plan to accomplish the following tasks in your proposal letter for event venue:
Event date planning

Venue sourcing

Communication

Team gathering

Contingency planning

Organization

Experience
You can find event management samples to help you draft an entertainment event proposal PDF. There is a substantial possibility that you will have to present your event business proposal template Word document as an event management company presentation PPT.
Do not be afraid of this prospect. With templating software, like Proposable, you can easily convert your event packages template into an interactive exhibition event proposal sample that will delight your target audience and key company stakeholders.
Sample Event Proposal Presentation
Making an excellent sample event proposal presentation is the best way to demonstrate your dynamism and ability to present an event well. The way you execute your presentation is something that can make or break your chances with a client.
PowerPoint (PPT) has been the traditional de-factor event presentation PPT template software of the past. For example, old school event planners would apply their sample event proposal presentation PDF and paste it directly onto a slide in a sample event proposal presentation PPT.
However, there are many new options and formats for presenting that are now available.
Google Docs is an exceptional solution to PowerPoint since you can access its features online and share documents quickly with customers. However, if you are in search of something a bit more comprehensive when figuring out how to make an event proposal presentation, then templating software is the way to go.
No longer do you have to settle for distributing an event presentation PDF handout to illustrate your point. You can now create a much better version of a PowerPoint presentation on organizing an event with templating software.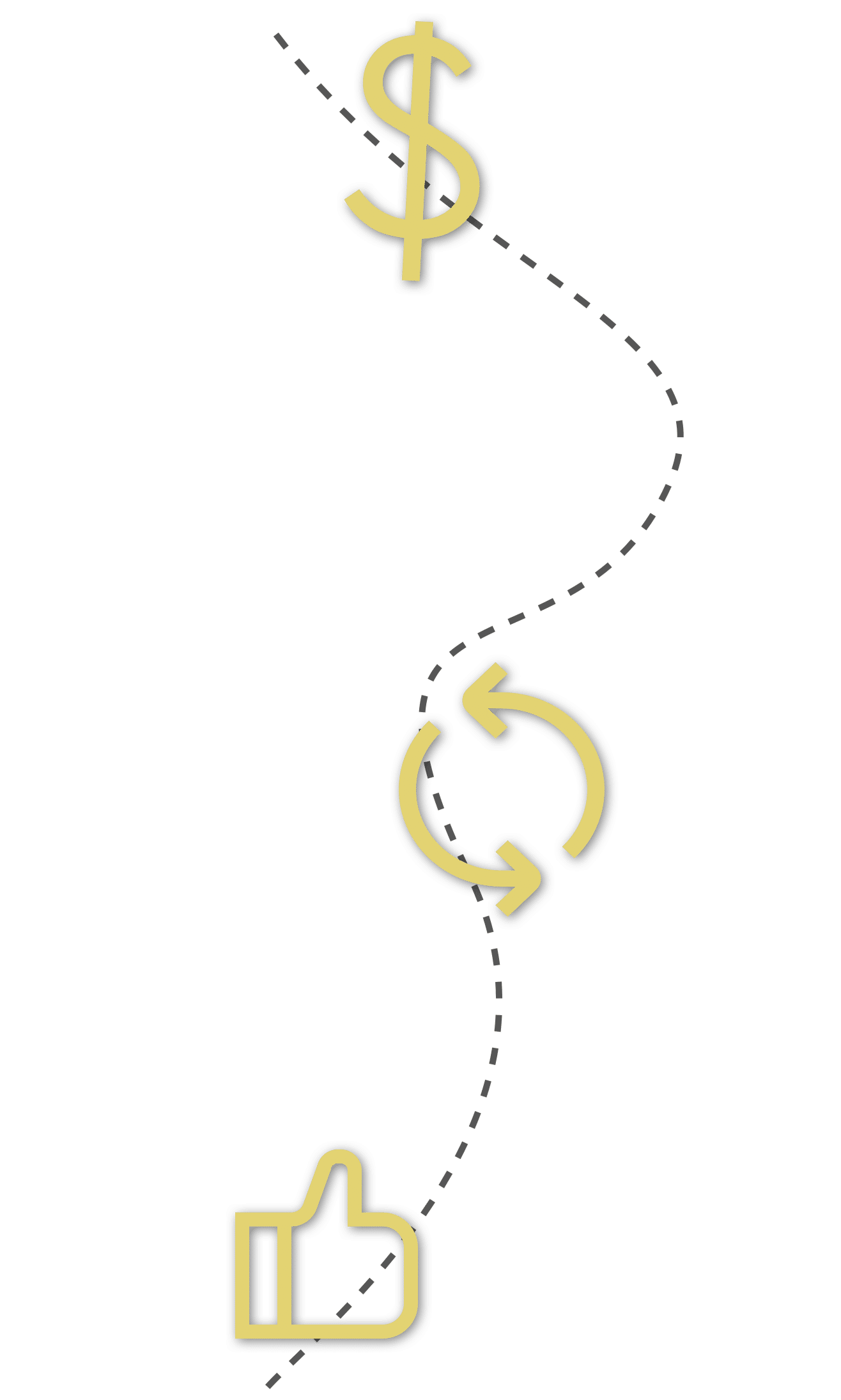 Event Sponsorship Proposal Template Free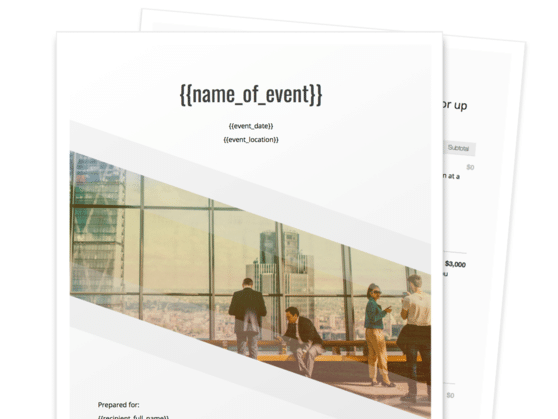 In this final section of Proposable's event proposal templating guide, we want to dive into event sponsorship. Event sponsorship is the much-needed capital that ensures you execute your event without a hitch.
Your event sponsorship proposal template free document should address the many ways that sponsoring organizations intend to benefit from their involvement. While the giving spirit is selfless, you have to remember that event sponsorship is a marketing tool for the businesses that support your cause.
Make sure that your free event sponsorship proposal template doc addresses the following:
   

The terms and conditions of the event

   

How the business features itself in your event

   

Packages and levels they can purchase

   

Where they need to send their materials

   

Freebies they will receive for their participation
As you can see, you need to answer the question, "What's in it for me?" You get bonus points for making them feel like they are contributing meaningfully to such an important event.
Edit & deliver this template.