According to the Bureau of Labor Statistics, the event management industry will grow by 44%, and be adding at least 30,000+ new jobs by 2020. This is great to hear as we get many different types of "planners" such as wedding planners, corporate event planners, etc. and we thought it would be a good idea to share our knowledge about proposal writing in this blog post. There's a lot of similarity that is utilized in a wedding planner or event planner proposal to say a web design or even an IT consulting proposals. What we are hoping to do is provide an insight into how to structure your event proposal and also include items that will grab the attention of your prospects.
We have become the experts in proposal writing, but we're definitely not planning professionals, so we've asked a few of our existing event management customers to help us solidify how proposals in this particular industry are sent. We also hope to assist you with some ideas and best practices to help you become more successful and win more event management clients.
Planning an event takes a lot of skill and, even more,  a lot of attention to detail and scheduling. It requires the ability to understand many different moving parts. Some say it's like a "bowl of jelly" where it's constantly moving and changing form. That's why the world has planning professionals – people who can create order from chaos and produce incredible results on short deadlines.
We recently spoke with one of our customers who offers event planning in New York and they mentioned to us that their customers typically do not know exactly what they want and they need to find the right company with the right vision to assist them with their event. Whether it's a wedding, reunion, retirement party or corporate getaway, They need to offer expert advice on everything from venue, to decor, to food.
Secret #1 – Get it right the first time

The best proposals, regardless of what industry, follows a similar structure:
Cover Page
Credentials & Testimonials
Summary of Client Needs
Services Offered
Pricing
For event management proposals, it's important to include details about the specific event, such as the location or venue, amenities, entertainment provided and detailed schedules.
When writing a proposal, it's important to gather as much information as possible. With Proposable, you can automate 80% of the proposal which will save you precious time so that you can focus on the important details, such as what type of theme, or what space is needed for the event.
Secret #2 – Stand out from the crowd
Most likely, you aren't the only kid on the block bidding for the job, so it's important to include your logo and contact information immediately on the cover page. The proposal title is extremely important, especially if you are proposing for a specific company or person or event. Using a title such as "John Smith's Beach Retirement Party" vs "Retirement Party" shows a much more exciting proposal and catches the reader's eye immediately. Of course using Proposable already gives you an edge by telling you if the client is interested or not (see Analytics), but displaying your proposal in an elegant online fashion is just icing on the cake.
Before: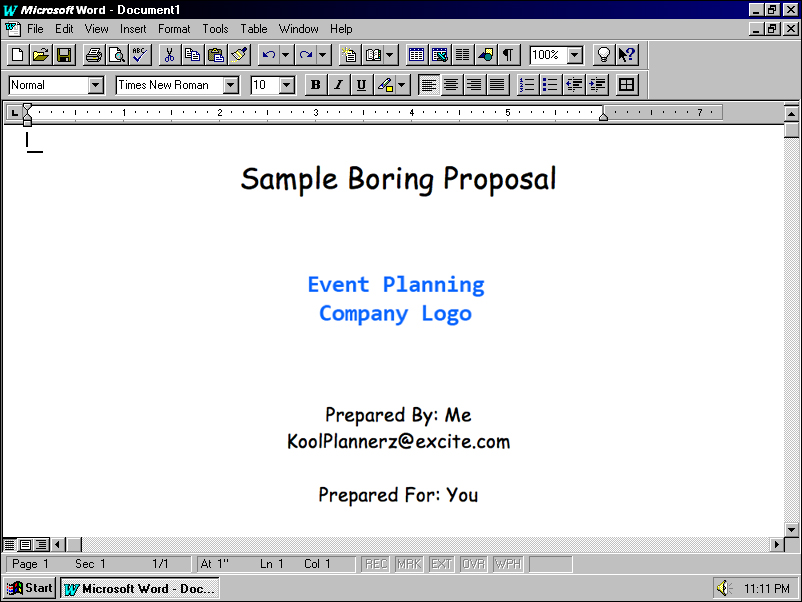 After: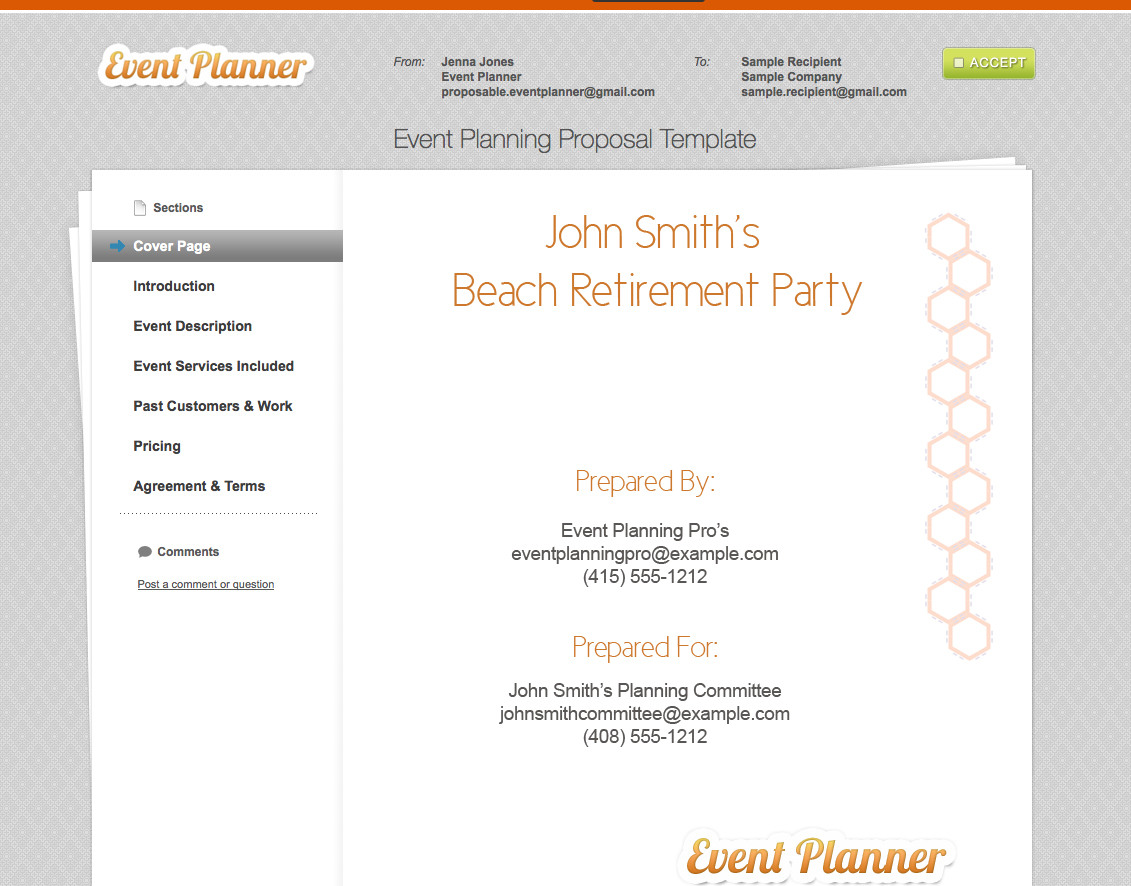 Get this Event Planner Proposal Sample Template
Secret #3 – Give them more than they asked for:
Some clients may request more than one venue or destination based on their needs. It's important to include those destinations separately in order to see which they are leaning towards. With our tracking capabilities, you can include 3 venues (as seen in the image below) that you clients can choose from. Add images, video or venue information that the customer can interact with.
Yes, you're proposals can look this elegant to! Sign-up for a free trial to get this template.
For example, if you were to send a customer two destinations one of which consists of a local hotel and two if you were to send them a destination of a conference center or maybe a restaurant. You can track and see which one appeals to them the most. This way, you are not pushing something that really doesn't interest them.
Within each of these sections, you can add video or images of the specific event location showing them exactly what they will be getting. Since you know most of your competition will be sending the boring Word doc, or PDF, get creative and use a web-based proposal tool that lets you include any type of media you can dream up.
Secret #4 – Let em' sign it Now! (or The E-signature is mightier than the sword)
In the past, you've most likely experienced the following:
You've just hung up with the client, you've sacked the deal and you're ready to celebrate. But shortly after that, your client calls or receives a call from a competitor and offers a slightly better price.
The client requests that you send the proposal, you spend all night working on it. One day goes by. Then two, three and finally a week goes by. Does the client want your services?
Your client gives you a verbal agreement, you begin to plan for their event and you come to find out that they went with a competitor or decided to put the deal on hold.
 Sound familiar? Well, have no fear because there's quicker and easier way to close more business with www.Proposable.com. Speed up the process by giving them the ability to comment on the proposal and most importantly, enable them to accept and electronically sign the proposal in seconds. This electronic signature helps you to make your client feel as if they signed the agreement and 'locked' in the deal. E-signature studies have shown that it will automatically double your conversion rates. So be sure to learn more about e-signtures here.
Proposable is an online sales proposal tool that helps small business professionals create, track and analyze proposals, quotes and estimates. With over 10,000+ subscribers in over 50 countries worldwide, we've focused to become the #1 Online Sales Proposal Software. Get your free trial today: