Business Proposal Software
Writing sales proposals for your business is tough. That's why we've created easy-to-use business proposal software. Create, deliver, and track your proposals in minutes, then seal the deal with built-in eSignatures and payments.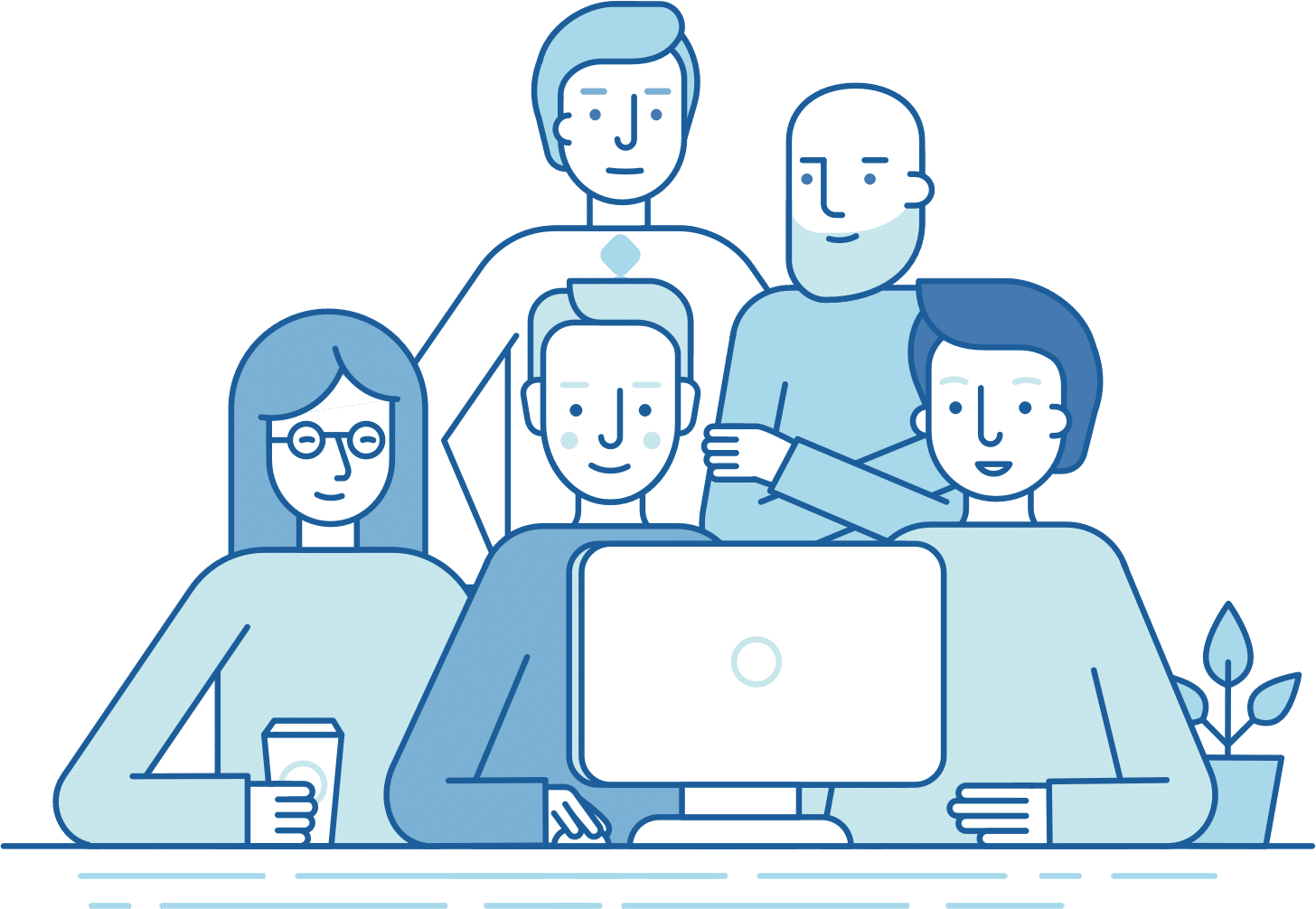 Best proposal software ever! 
I've tried soooo many proposal softwares and I'll never try another one after Proposable. It's so easy to use and it looks good, which all the others don't.
Smart, reliable, and constantly improving.
Proposable just works. I can make visually interesting sales presentations, dynamically insert content, and execute agreements. Proposable powers our entire sales process.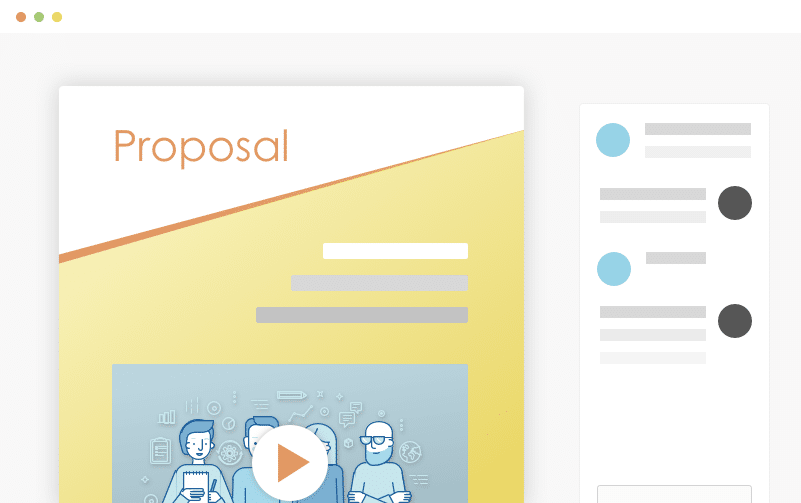 Wow Your Customers
Blow your clients away with a beautiful proposal that stands out above the rest. Add video and rich-media directly into your proposal pages for a more immersive sales presentation that's sure to make an impact.
Set Your Prices
Quickly build quotes, bids, and estimates with our flexible estimate block. With optional line-items, optional quantities, taxes, discounts and more, you can quickly represent your products and services in a polished and readable format. Organize all your products and services in the Pricing Catalog for instant recall.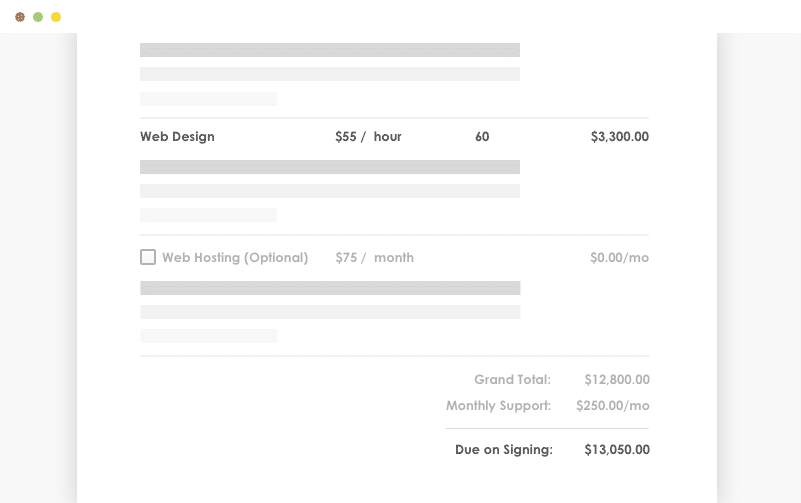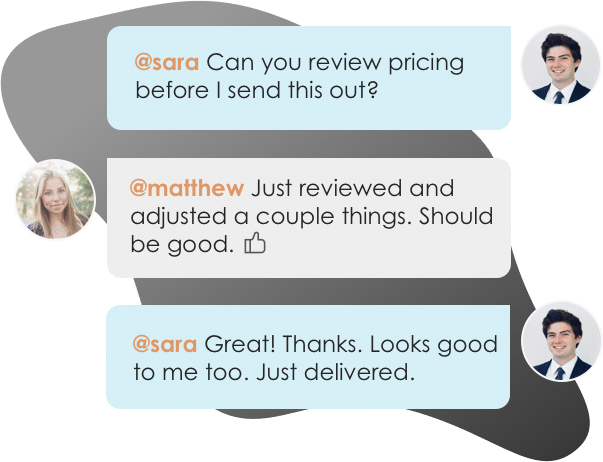 Work With Teammates
Easily collaborate with teammates on proposals. Mention team members to bring them into a proposal, or re-assign ownership when you need to handoff the proposal to another teammate.
Get It Signed
Close the deal faster with integrated e-Signatures. Place signatures, initials, and text field elements throughout your proposal wherever you need prospects to take action and your prospect is guided through a quick acceptance workflow to complete their acceptance. Counter-signing support is also included.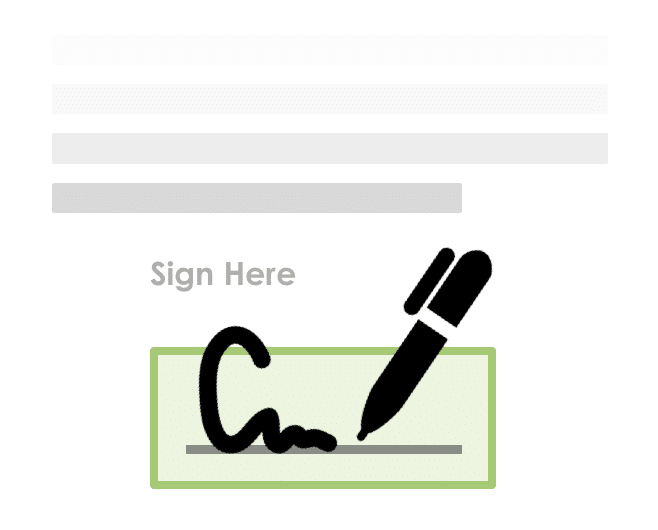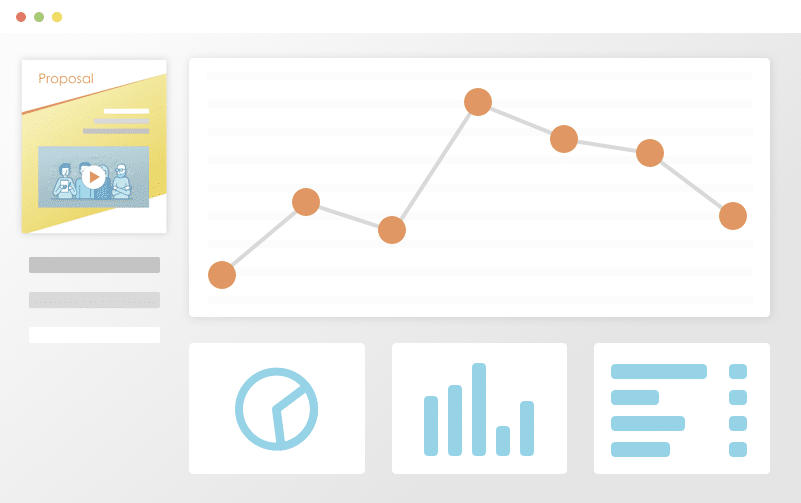 Track Everything
Ever wonder what happens to your proposal after you hit "send"? See detailed analytics and measure how each recipient is interacting with your sales material. Turn on real-time text or email notifications for proposal views and other key events.
Get Your Time Back
Save time and headaches by skipping the painful copy/paste and find & replace on all new proposals for your prospects and customers. Simplify your new proposal workflow to just a few clicks and go from spending hours on customizing new proposals to just minutes.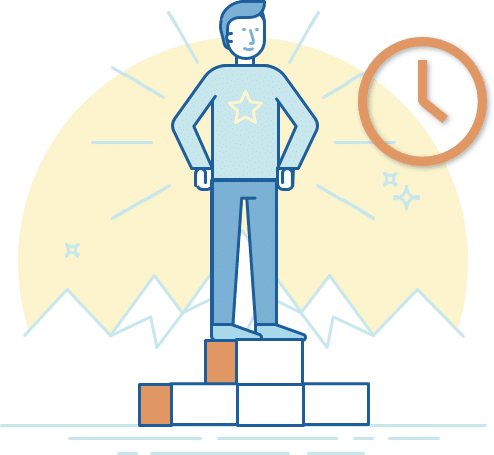 Having a prospect ask for a proposal is music to the ears of any salesperson. Hearing this from a prospect means you're getting closer to making a sale. A proposal is your chance to clearly and persuasively explain why your prospect needs your product or service, and why they should choose you over the competition. If the idea of producing a proposal makes you nervous, you're not alone and it's time to improve your process.
One approach to improving your proposal process is using business proposal software. This technology automates the tedious and time-consuming aspects of proposal production. Many also provide templates and graphic design capabilities, making it easy to give your proposals a professional, appealing look. The result is a smoother, faster, less labor-intensive proposal process, and higher-quality deliverables that are more likely to convince your prospect to buy.
If you produce a lot of proposals, business proposal software is a wise investment. The only question is, which one? There is an overwhelming amount of solutions on the market. Just google "proposal software" and you'll see what we mean! So how do you choose the one that's best for you?
It's actually a pretty simple process:
Gather everyone in your organization involved in producing proposals and ask for their input. What would improve the process for them? Make a prioritized list of capabilities.

Do your research. Learn what the best proposal software of 2020 is capable of so you don't accidentally settle for anything less.

Sign up for free trials of your shortlist of products.

Test each software and generate a list of pros and cons for each one.
By the time you complete these steps, you should have a clear idea of which solution fits your organization best, and be able to choose with confidence.
If you're an organization without a dedicated proposal department, chances are your salesforce is doing their own proposals. In that case, the tool that will work best for you is one that automates many parts of the process your salespeople are already using—like copying and pasting content and adapting previous proposals to new prospects. You'll want to avoid software with too many features or that is difficult to use without extensive training.
You need software that speaks your team's language. There are solutions designed expressly for specific industries: IT, law, construction, and insurance proposal software—to name just a few. There are small business proposal software and tools tailored to the needs of large enterprises and government contractors. There is also proposal software made to be used by specific departments within companies. It makes sense to choose a proposal software geared toward general business to avoid being locked into templates that don't fit your needs. Proposable includes both general and industry-specific templates, giving you the best of both worlds.
Proposable is designed with sales teams in mind. Because salespeople are tasked with proposal writing when there's no one else to do it, and because time spent working on proposals is time taken away from selling, they tend to need the most help. Proposable is easy and intuitive to use, with drag and drop functionality, and ready-to-use, professionally designed templates and graphics. We provide libraries where content, including past proposals, can be stored and easily located for reuse. It even offers the ability to insert merge codes to quickly customize existing content to a new prospect.
When your entire sales team is using the same proposal content and templates, every proposal leverages and builds your company's brand. Sales proposal software lets you create customized templates using your own logos, fonts, color palettes, and images. This ensures every proposal leaving your office carries a consistent message to the market—without your salespeople having to worry about style guides and RGB codes.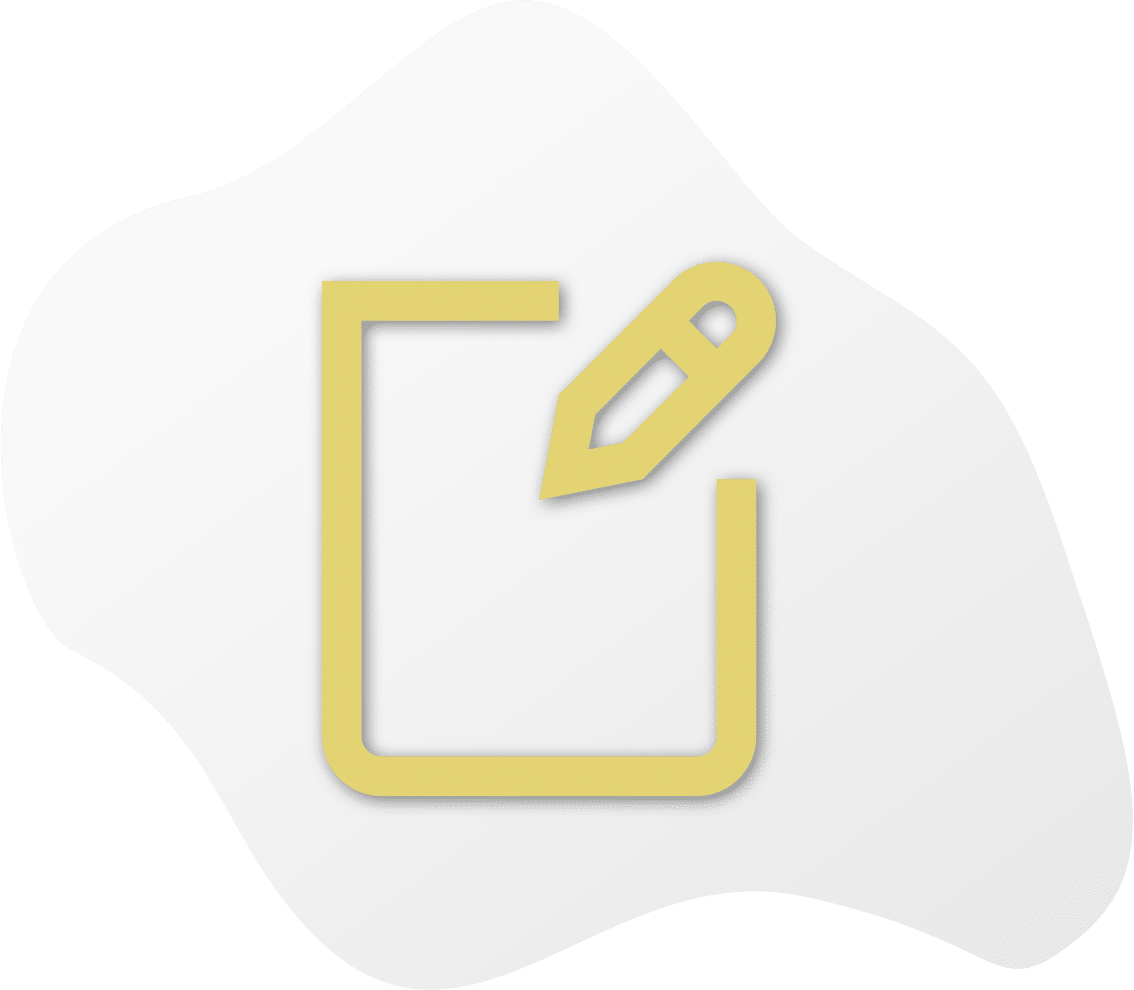 In your research, you may come across options billing themselves as free—like "free online proposal software" or "open source proposal management software." Be careful with these. First, free proposal software is usually not free in the long-term, but for a limited trial period of time. Second, most truly free proposal tools are not software but simple document templates. Third, free proposal management software is often inconvenient and risky.
Inconveniences
What makes free proposal software inconvenient is that you get what you pay for. Software producers have no incentive to provide a superior product if they aren't getting paid to do so. Free offers are designed to lure customers in, not keep you satisfied. Inconveniences that come with free proposal software include:
Limited functionality.

The free software business model requires customers to pay for add-ons or extras to get the functionality they need. It saves time and headaches to simply pay for the functionality you need up-front.

Ads.

Another business model that uses free software to make money is one that forces the user to view advertising in order to use the product. This is annoying, to say the least, may interfere with and slow down your work, and may even expose your computer to malware attacks.

Limited-to-no technical support.

The time you spend trying to figure out how to use or get around the problems that come with free software is worth more money than what you will save.
Risks
Free downloads expose your computer to security threats. Not all free software is dangerous, but downloading any file to your computer makes it vulnerable to malware like viruses, adware, and scareware. That's why you should only download software from a provider you know and trust.
Free Online Proposal Template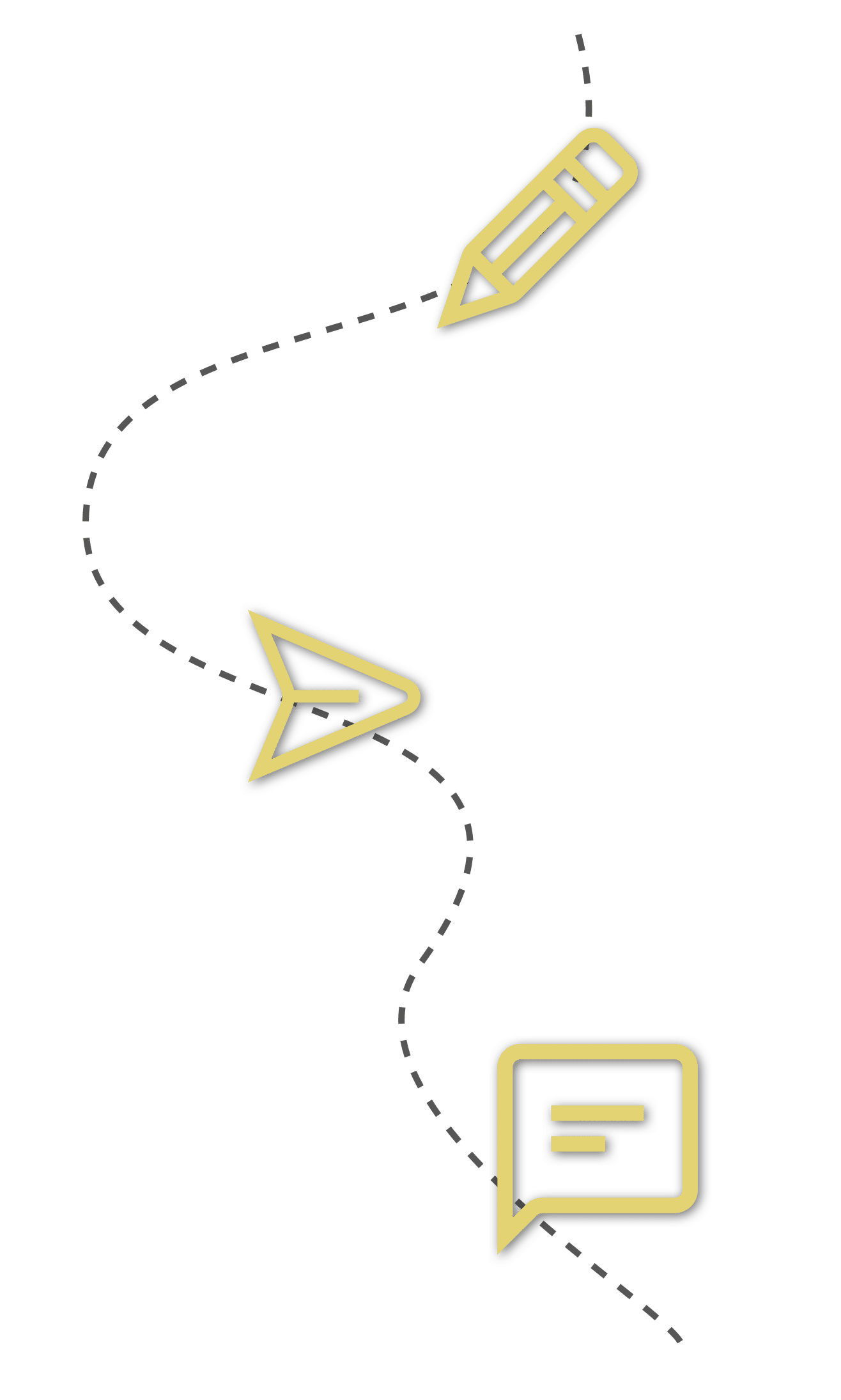 Proposal writing is an art, as anyone who does it for a living will tell you. It's also a science though. Not everyone can be a professional proposal writer, but, with the right ingredients and tools, anyone can create an effective proposal. This is the logic behind free online proposal templates. These downloadable templates usually include a cover page, a place for a title and your contact information, and section headers that may or may not apply to the proposal you want to write.
While free online proposal templates can be a great starting point, they offer minimal guidance—mainly in the form of generic section headers. Good proposal software, on the other hand, offers customizable interactive templates. In addition to including key sections such as About Us, The Team, Pricing/Estimates, Terms and Conditions, and Signature Page, these templates make it easy for any user to produce a high-quality proposal by guiding and reminding them to include key information like:
A thorough description of your company's solution

Key benefits of doing business with your company

Details of your experience that reinforce your qualifications and credibility

Graphic or video samples of your work

Targeted language specific to your prospective client
Proposable has one of the largest collections of available proposal templates of any solution, with a wide range of templates for different industries. Proposable templates can also be customized to support your branding efforts by including your company's logo, colors and fonts.
Best Marketing Proposal Software
Without a solution that automates the process, proposal creation is a time-consuming endeavor. Marketing teams are often tasked with proposal development, production, delivery, and tracking, along with their countless other responsibilities that don't involve proposals.
The best marketing proposal software automates the proposal creation process, making it less of a burden for both sales and marketing. While sales should provide the proposal strategy, marketing are the ones who may do the labor-intensive parts of proposal production—finding or writing the templated content, selecting or creating graphics, and putting it all together so that it looks professional. These parts of the process are where an automation solution saves the most time.
Depending on your business model, your marketing team may also be responsible for submitting proposals to prospective clients and tracking their outcomes. Software like Proposable streamlines these processes as well, enabling you to submit proposals, and your prospective client to sign and return documents to you, electronically, without either party having to print anything. Proposable also lets you know when your recipient opens your proposal and how long they spend reading it. Further, the system lets you log activity and wins by salesperson and visualize analytics based on this data. Not only will Proposable save your marketing team time, but it may add to their proposal support capabilities.
Small Business Proposal Template
When selecting a business proposal template or proposal generator, it's important to know what today's best tools are capable of. A best-in-class free online business proposal generator should enable you to do all of the following and more: 
Create and maintain libraries of proposal content in one easy-to-access place

Drag and drop text-based content and graphics into a professional-looking template

Choose from a variety of proposal templates including both generic and industry-specific designs

Collaborate with multiple team members in real-time

Set permissions for viewing and editing proposals

Copy existing proposals and modify them to create a new proposal

Edit proposal content

Add video and rich media elements

Seamlessly sync the system with your CRM

Send your proposal to your prospect with the click of a button

Use built-in e-signature and information collection tools

Track your proposal to see who opens it, when, and how long they spend reading it

Generate proposal analytics and present them in an easy-to-understand visual format

Improve the sales experience for the client and add to your revenue through an increase in proposal wins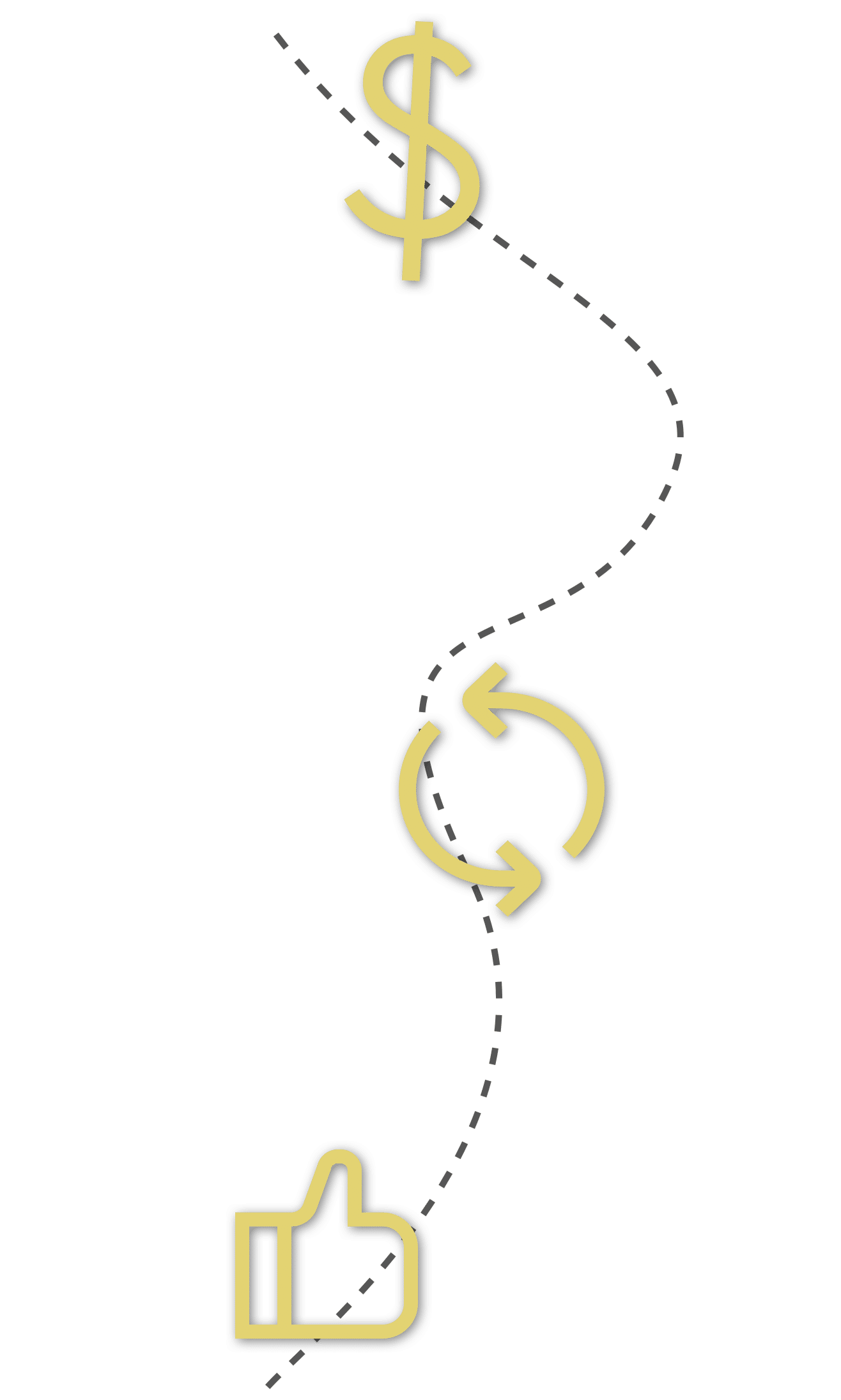 Better Proposals Start Here