Proposal Tracking
Use our proposal tracker to know what's happening with every proposal you send. Create, deliver, and track your proposals in minutes with modern proposal tracking software.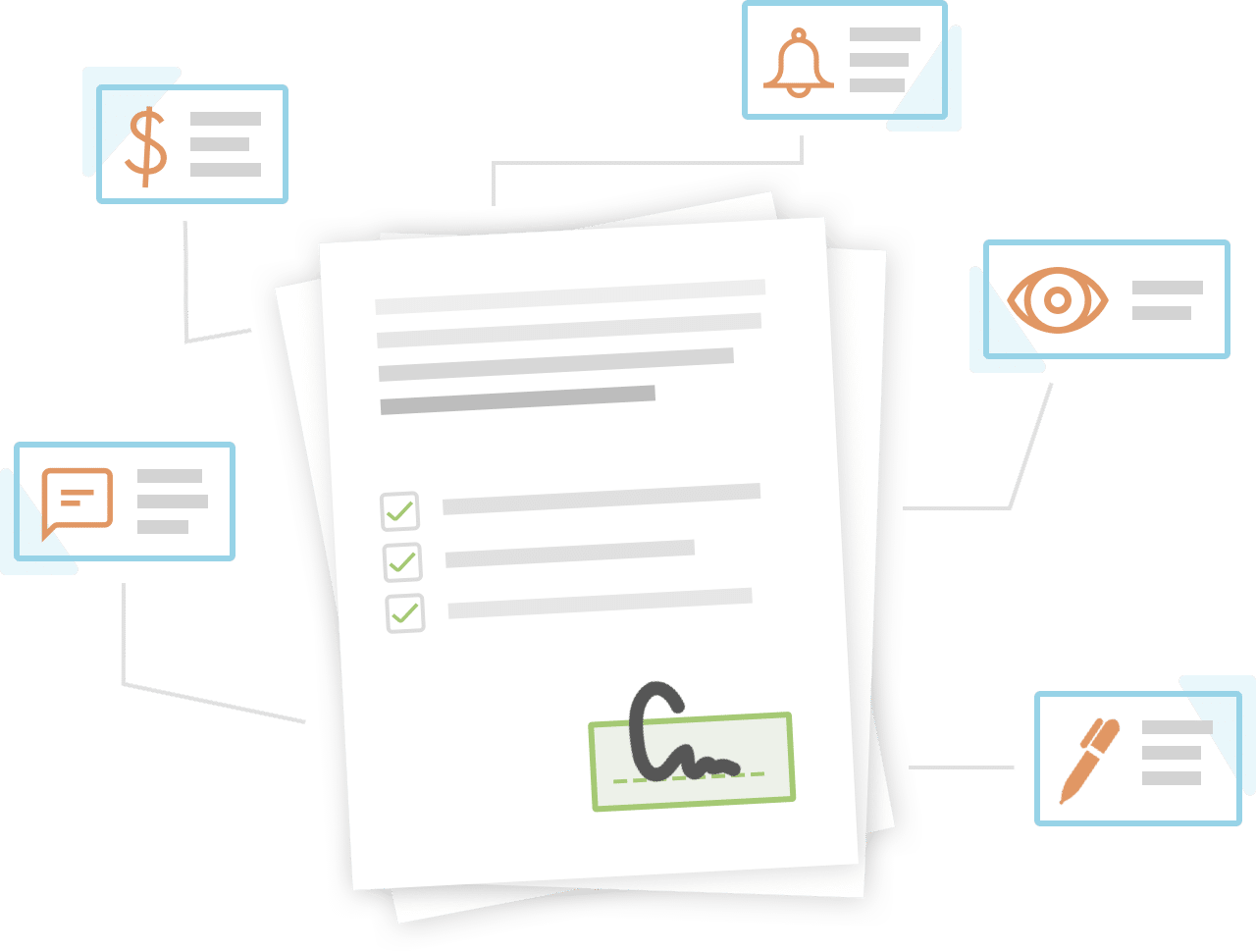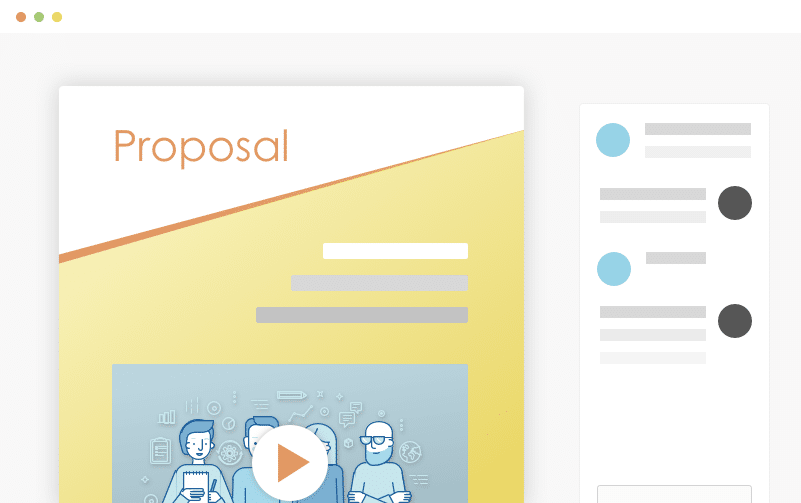 Wow Your Customers
Blow your clients away with a beautiful proposal that stands out above the rest. Add video and rich-media directly into your proposal pages for a more immersive sales presentation that's sure to make an impact.
Set Your Prices
Quickly build quotes, bids, and estimates with our flexible estimate block. With optional line-items, optional quantities, taxes, discounts and more, you can quickly represent your products and services in a polished and readable format. Organize all your products and services in the Pricing Catalog for instant recall.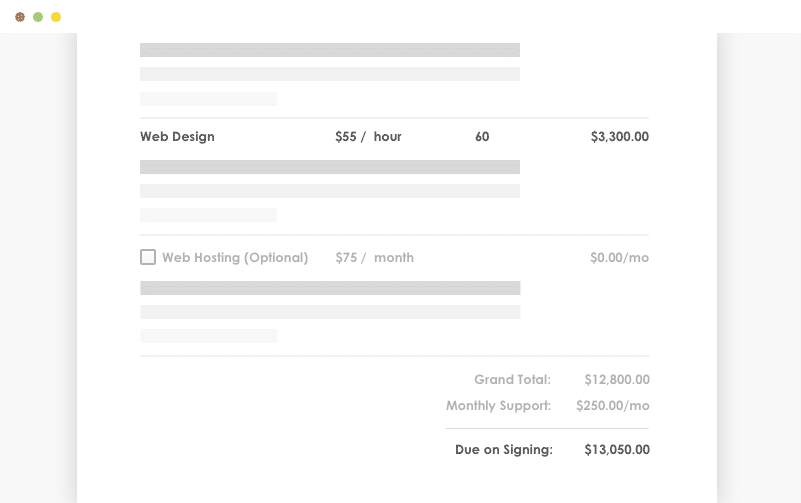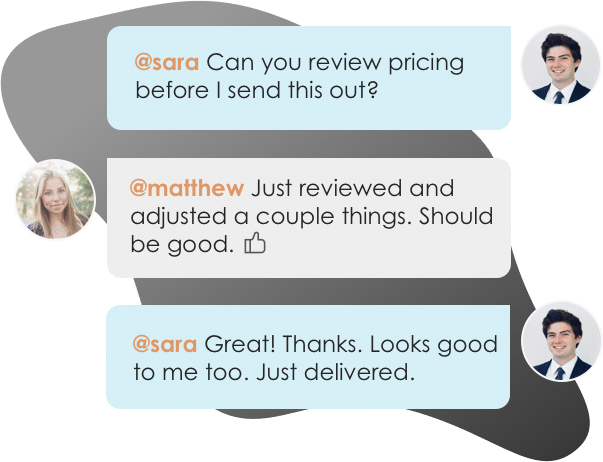 Work With Teammates
Easily collaborate with teammates on proposals. Mention team members to bring them into a proposal, or re-assign ownership when you need to handoff the proposal to another teammate.
Get It Signed
Close the deal faster with integrated e-Signatures. Place signatures, initials, and text field elements throughout your proposal wherever you need prospects to take action and your prospect is guided through a quick acceptance workflow to complete their acceptance. Counter-signing support is also included.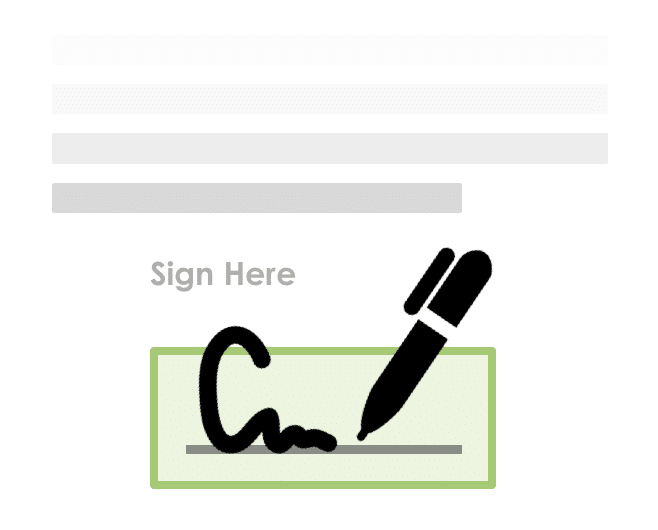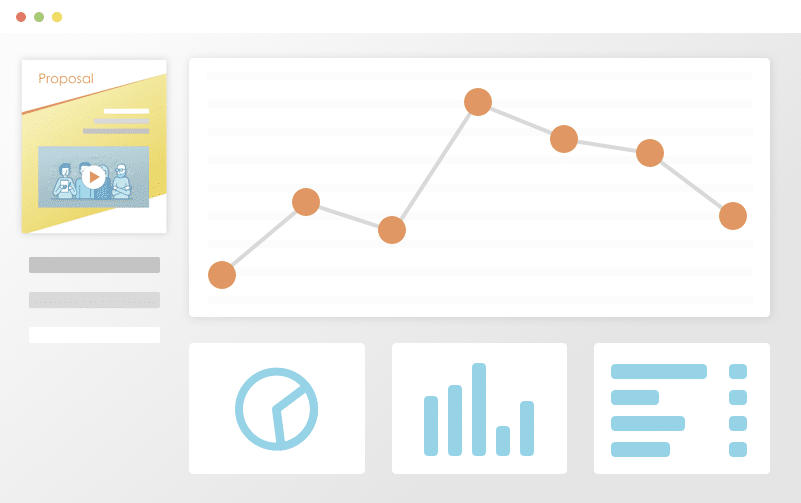 Track Everything
Ever wonder what happens to your proposal after you hit "send"? See detailed analytics and measure how each recipient is interacting with your sales material. Turn on real-time text or email notifications for proposal views and other key events.
Get Your Time Back
Save time and headaches by skipping the painful copy/paste and find & replace on all new proposals for your prospects and customers. Simplify your new proposal workflow to just a few clicks and go from spending hours on customizing new proposals to just minutes.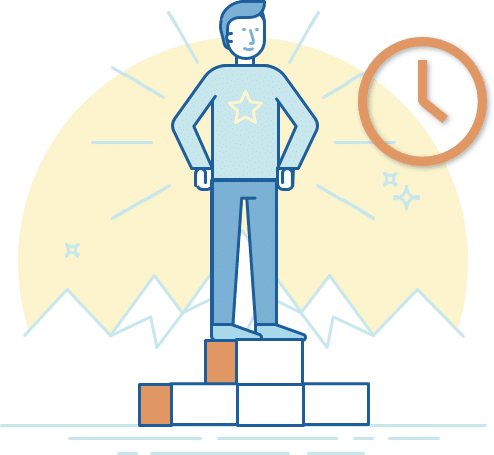 Best proposal software ever! 
I've tried soooo many proposal softwares and I'll never try another one after Proposable. It's so easy to use and it looks good, which all the others don't.
Smart, reliable, and constantly improving.
Proposable just works. I can make visually interesting sales presentations, dynamically insert content, and execute agreements. Proposable powers our entire sales process.
Proposal tracking provides insight into how each project is moving along in real-time, so that changes can be made when new information is learned, or when the proposal scope changes. 
Not tracking your proposals could lead to a number of problems, the most common problem being a lack of efficiency. Without tracking in place, you can end up spending too much time trying to learn what's going on with each proposal. Overall, tracking proposals can help a business improve their future proposals, as they are observing how customers are interacting with various proposal content and sections.
Tracking all delivered proposals can show you how long viewers are reading your proposal, as well as which elements and sections they are focusing their time on. This can help writers decide what needs to change within their proposals to get more clients and see what kind of interests and buying criteria prospective clients have.
The best way to track proposals is by using specialized software. Doing it all manually is almost impossible. This is how better proposals are written and tracked with little extra work on the writer's side. Proposable offers excellent top-tier proposal tracking templates in Excel to make the process much smoother.
So what makes a good proposal software product? Business proposal software, as well as sales proposal software, in any industry, should be extremely user-friendly. This is both for the benefit of the proposal writer and for the additional parties involved in tracking the proposal. Proposal software should have excellent tracking capabilities, a number of design options to fit an aesthetic that is highly readable and attractive, and built-in content generation reuse tools. Ready-made content within proposal software takes the designer element out of crafting a proposal for proposal writers that may not be great at creating visually stunning documents.
Other great attributes to look out for in proposal software includes proposal-to-invoice conversion, a drag and drop builder, sales content libraries, flexible estimates, fillable sections, collaboration capabilities, and an accessible proposal activity stream.
Some key benefits of proposal software include:
   

It helps to create proposals faster and more efficiently

   

Ensures a proposal's accuracy and consistency

   

Provides collaboration and communication within proposals

   

Frees the proposal writer from tedious and routine work

   

Makes proposal writing easy for each party involved, no matter what level of involvement.
Proposable is a leader in high-quality proposal software. We offer the best proposal software in 2020 and even offer free proposal software for proposal writers on a budget. Need free online proposal software or a free online proposal template for your proposal or project? Check out our software today to see what Proposable can do for your business.
Excel Spreadsheet Templates for Tracking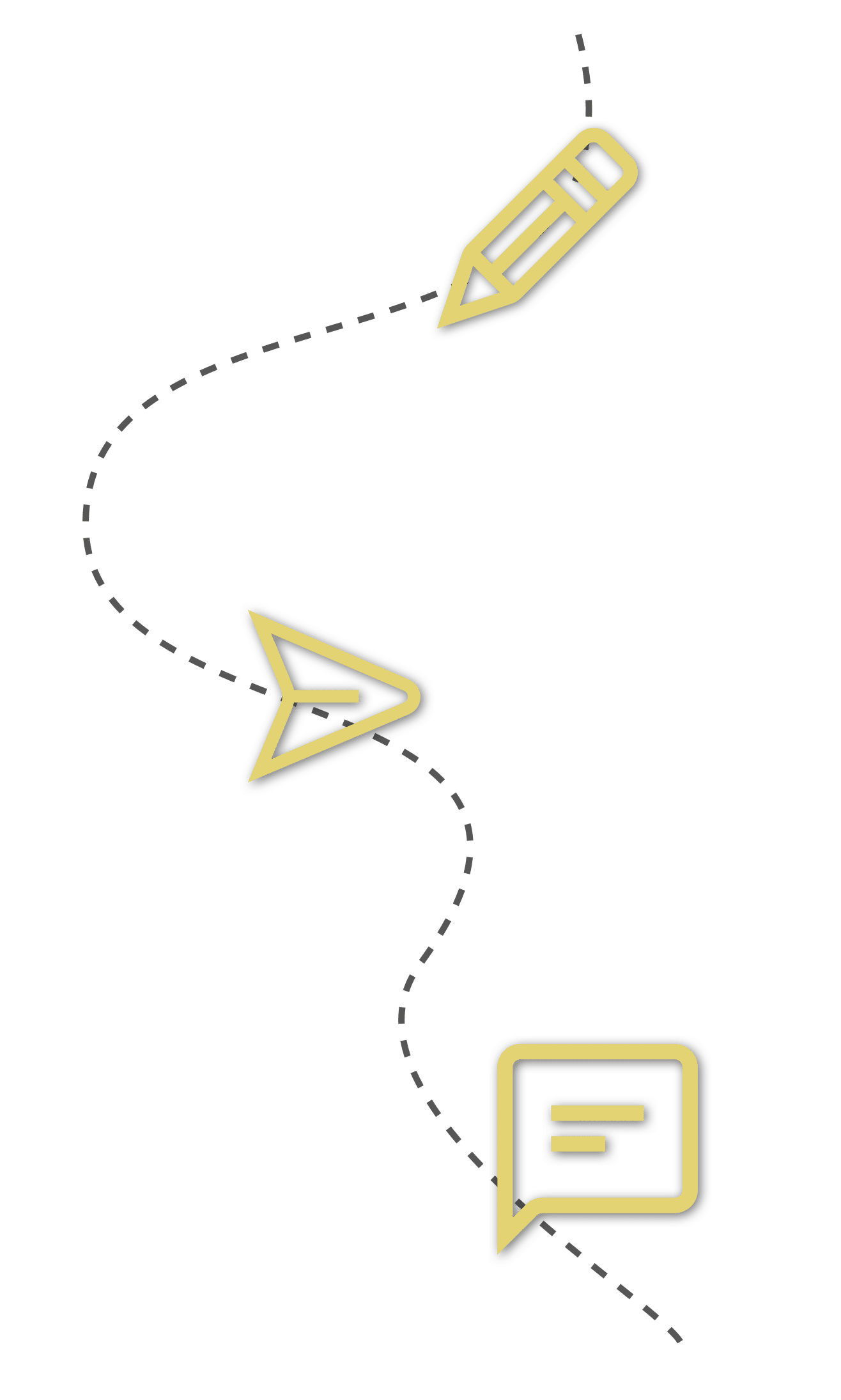 Spreadsheet software like Excel can be a fantastic way to track all kinds of things in your business – even your sales proposals. Excel is a spreadsheet software from Microsoft that has been a popular tracking tool for businesses around the world. It's the de facto standard for such software and is used for budgeting, tracking, data entry, and a wealth of other things. It's quite versatile.
Unfortunately, Excel does have its downsides. For those who are not used to using Excel, the learning curve can be a bit difficult, especially for more complex commands and editing shortcuts. Excel is also notorious for having automatic calculation errors and for being a bit time-consuming when it comes to entering data. And, of course, there is the issue of the cost. While there are many Excel alternatives out there for free or low-cost, Excel itself requires a subscription to Office 365, which can be over $60 per user.
Still, Excel is popular for a reason. And you can avoid a lot of the headaches surrounding generating a proposal with this software but using high-quality and well-designed templates. With a simple search online, you can easily find Excel spreadsheet templates for tracking, as well as Excel task tracker templates and free project management templates for Excel. Using a template makes it much easier to use Excel, as all of the programmed shortcuts and formatted cells are included in the template itself.
Multiple Project Tracking Template for Excel
Project tracking is a practice used by a wide variety of businesses around the world. There are many benefits to project tracking. Some benefits include, but are not limited to:
   

Easier collaboration and coworking.

   

Better and more accurate scheduling.

   

Better communication between businesses and clients.

   

Delegate tasks with more ease.

   

Budget management.

   

Document sharing and access in real-time

   

Standardized processes.
●      Better integrate new team members within a business.
Project tracking can be done with a variety of programs, but the more common program to use for project tracking is Excel. Microsoft Excel makes it easy to track many projects all at once.
There are many free Excel resources available online to download and use for any industry or niche. At Proposable, we offer a wide variety of multiple project tracking templates for Excel, free Excel project management tracking templates, and free multiple project tracking templates for Excel. There really is no need to start a project tracking template from scratch! Search online for  multiple project tracking template for Excel via a free download, or our multiple project tracking template for excel in .xls form.
Small Business Proposal Software
Small businesses are always looking for an edge in their industries. Proposal software can easily provide that advantage in your business's sales process. Let's talk about examples. Proposal software can speed things up for businesses in the construction industry by drafting full outlines of what should be built, its site plan, the contractor rates, etc. For e-commerce websites that partner with brands to sell their products, proposal software in conjunction with contract generator software can help craft a proposal and agreement between the two parties to keep both of them safe in their partnership.
The biggest benefit of proposal software across all industries has to be the time savings gained. Just about every business owner out there would agree that saving time is a huge issue. Because of this, using proposal software is well worth the investment.
Whether you need small business proposal software, insurance proposal software, or even wedding proposal software, Proposable has you covered with the best program in the industry for drafting proposals. We even offer proposal software for freelancers, which is steadily becoming more and more popular in the gig economy. Why not give our software a try for free?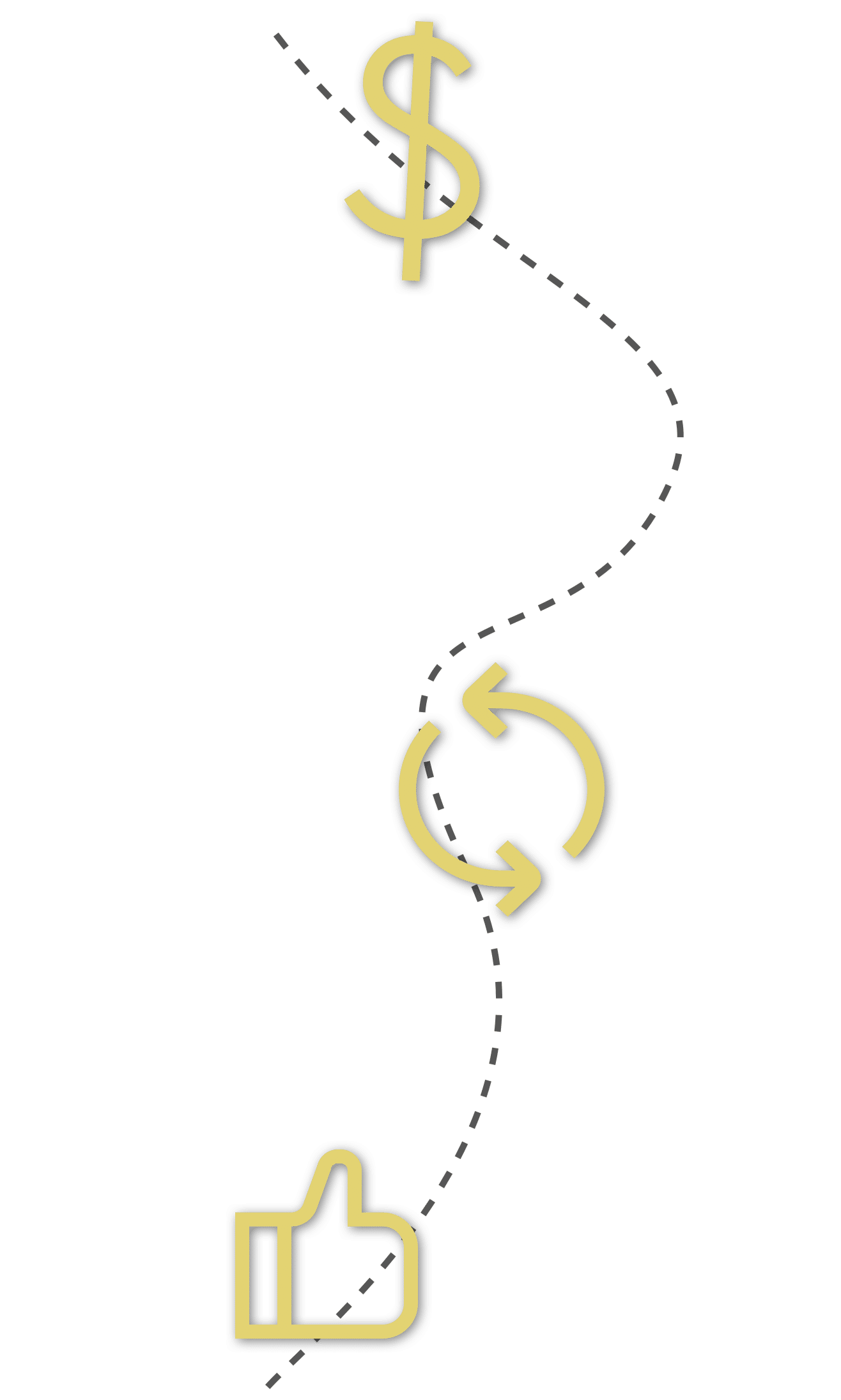 Free Proposal Management Software
Managing proposals without proposal software can be a messy process. Sales content and templates aren't consistent across a sales team in most cases, and content is stored in various formats on various salespeople's computers. This creates a mess for everyone involved in the proposal process.
There's a real need to consolidate this proposal process into a single proposal management software to keep content and tracking happening in one central place. Plus, there are so many additional benefits to using proposal software within a company's sales department. Proposals are generated faster, the progress of a project is updated in real-time for all involved team members to see, there is increased prospecting, and overall more productivity when it comes to getting those proposals out the door and into the world.
Why bother with the manual aspects of proposals when most of the processes involved could be automated? Other businesses are already embracing sales proposal technology, so it's important not to be left in the dust of competitors.
Luckily, you don't have to look far for free proposal management software. Proposable offers open-source proposal management software, as well as a free online business proposal generator for just about any business need you may have. Why wait? Give our software a free trial today!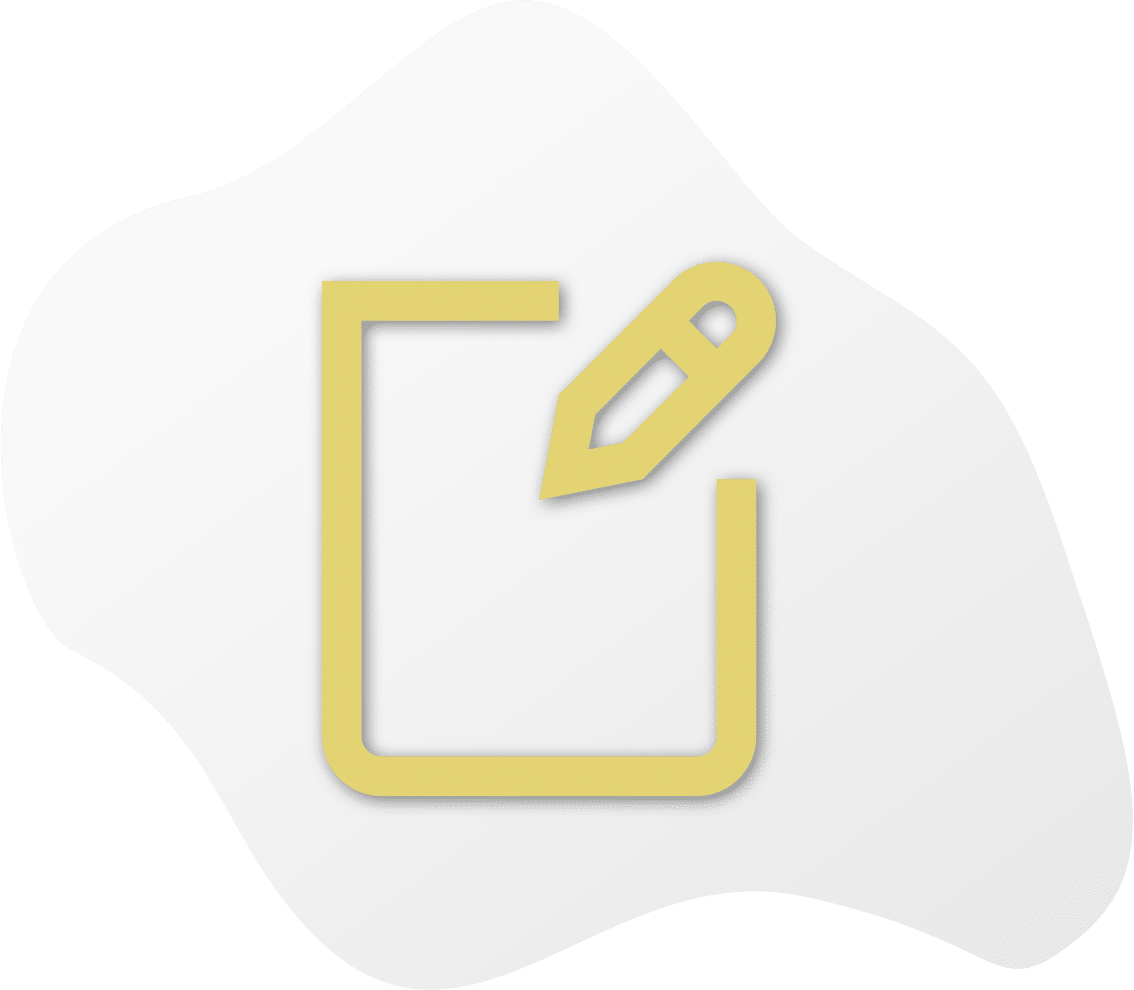 In addition to proposal software, RFP software is also useful to businesses that need to manage the process of receiving and managing proposals for a particular project that they need to fulfill. The RFP process can be equally as messy as the proposal creation and delivery process in many cases. RFP management software helps manage sending out the request for proposal to interested companies, and also helps organize and score the proposal responses that come back in for each RFP that's started.
For the companies that are submitting these proposals in response to the formal RFP, "RFP response automation" is critical when they are submitting hundreds of these responses per year. The tedious process of answering the same questions over and over again can be sped up using the same RFP software. For businesses involved on either side of the RFP process, this specific niche of software can be a true time-saver.