Proposal Management Software
Streamline how you create, deliver, track and eSign your proposals with a better proposal management workflow.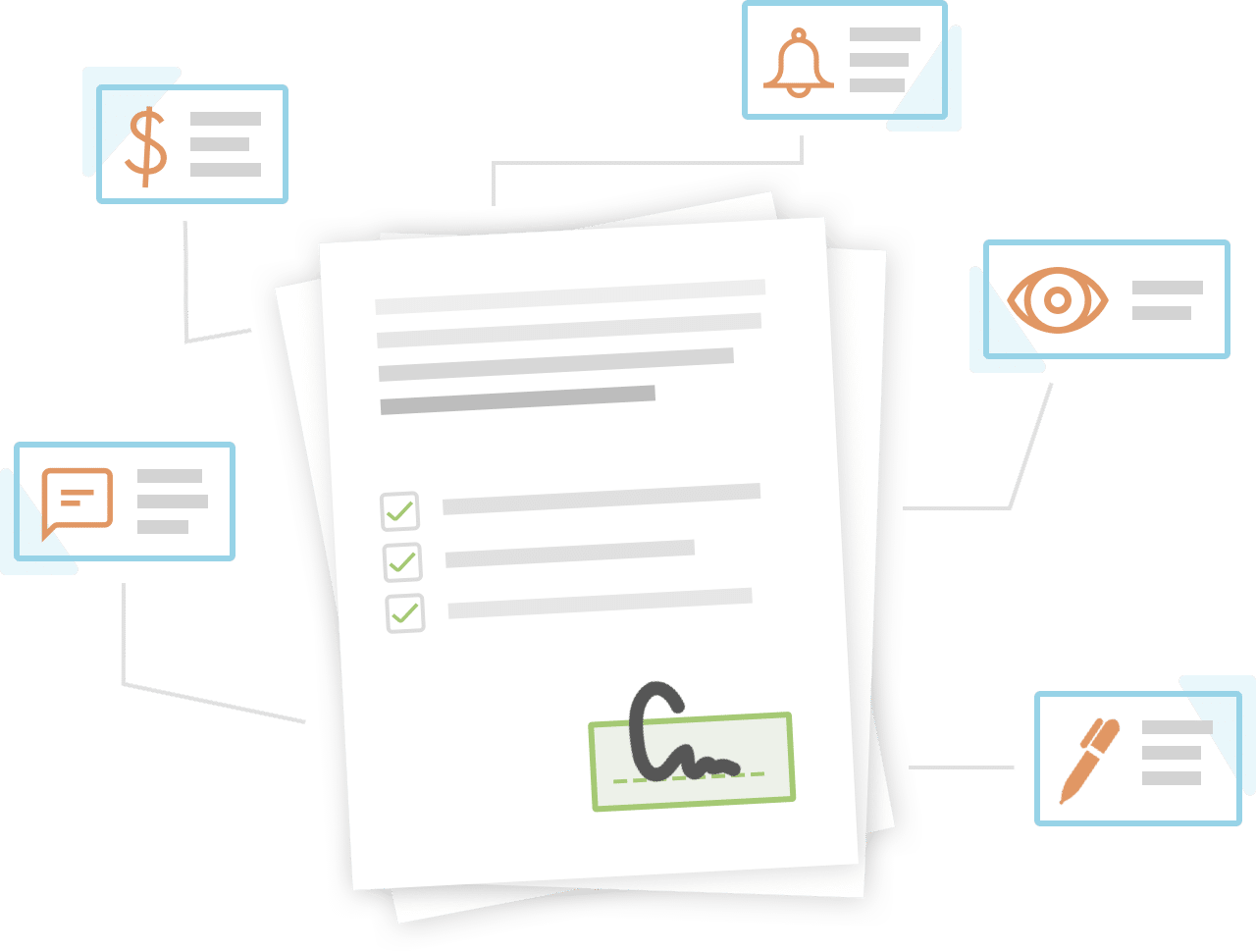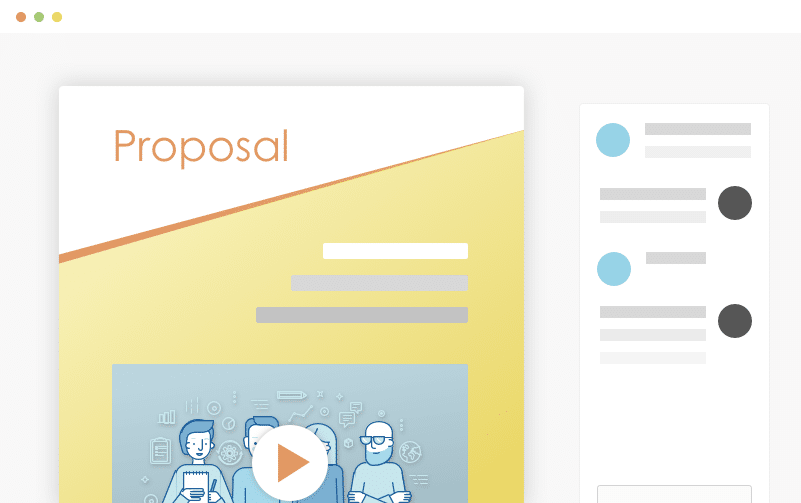 Wow Your Customers
Blow your clients away with a beautiful proposal that stands out above the rest. Add video and rich-media directly into your proposal pages for a more immersive sales presentation that's sure to make an impact.
Set Your Prices
Quickly build quotes, bids, and estimates with our flexible estimate block. With optional line-items, optional quantities, taxes, discounts and more, you can quickly represent your products and services in a polished and readable format. Organize all your products and services in the Pricing Catalog for instant recall.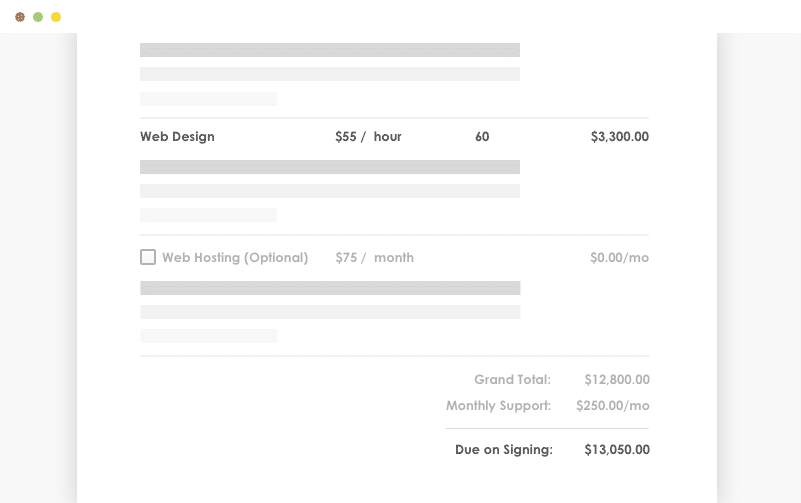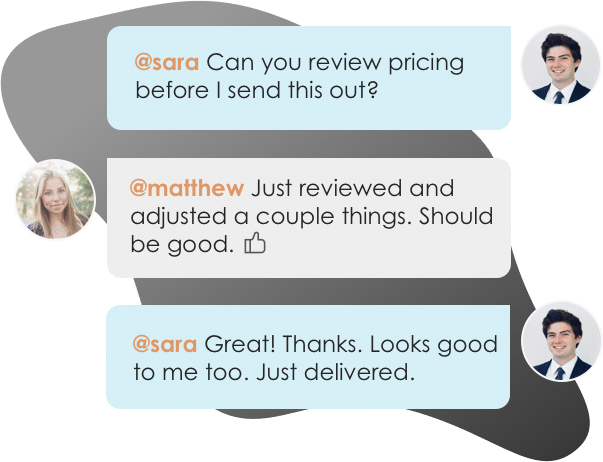 Work With Teammates
Easily collaborate with teammates on proposals. Mention team members to bring them into a proposal, or re-assign ownership when you need to handoff the proposal to another teammate.
Get It Signed
Close the deal faster with integrated e-Signatures. Place signatures, initials, and text field elements throughout your proposal wherever you need prospects to take action and your prospect is guided through a quick acceptance workflow to complete their acceptance. Counter-signing support is also included.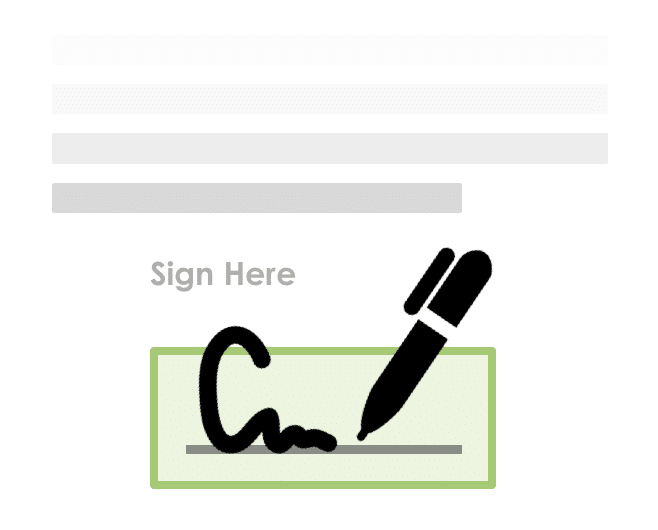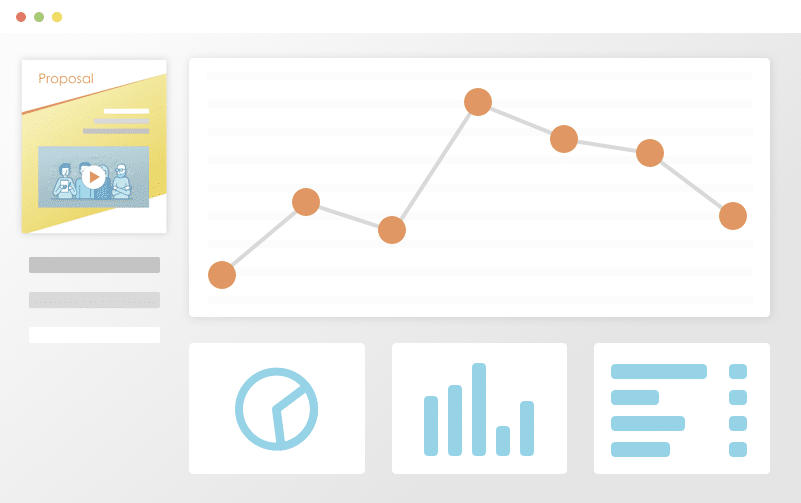 Track Everything
Ever wonder what happens to your proposal after you hit "send"? See detailed analytics and measure how each recipient is interacting with your sales material. Turn on real-time text or email notifications for proposal views and other key events.
Get Your Time Back
Save time and headaches by skipping the painful copy/paste and find & replace on all new proposals for your prospects and customers. Simplify your new proposal workflow to just a few clicks and go from spending hours on customizing new proposals to just minutes.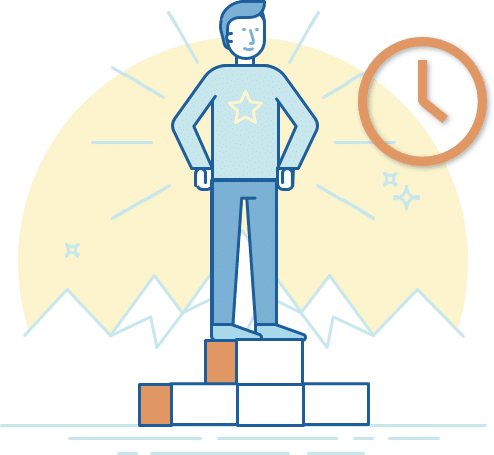 Best proposal software ever! 
I've tried soooo many proposal softwares and I'll never try another one after Proposable. It's so easy to use and it looks good, which all the others don't.
Smart, reliable, and constantly improving.
Proposable just works. I can make visually interesting sales presentations, dynamically insert content, and execute agreements. Proposable powers our entire sales process.
Better Proposal Management
Proposal management software plays a key role in companies all over the world. For those who might not know, proposal management tools have been engineered to assist companies in increasing the efficiency of their sales teams. By automating many steps in the proposal and contact process, businesses are able to save time and money.
Our software has been put together with industry-leading features that can help businesses create, share, track, and close proposals with a single software system. Using our software, companies are able to automate a lot of the clerical work instead of having to do this by hand. In this fashion, our software takes care of proposal management 101, helping businesses to save a large amount of time. Instead of spending time doing repetitive tasks, this time can be spent acquiring customers and growing the business.
One of the major reasons why our software is so valuable is that it can help teams efficiently close deals without having to sacrifice any quality in the process. Using our software, businesses are able to spend less time generating proposals and more time increasing the value of each proposal. You will be able to access this software from any place at any time as our software is up and running 24/7 and accessible on any wifi-connected device.
Best Proposal Software 2020
While there are multiple options on the market when it comes to proposal management software, there are several key features that everyone should look for in the best proposal software in 2020. These include:
The Design:

The design is one of the key features that set apart better proposals. The design of the proposal itself and the software it's delivered in is going to be the client's first impression, so make sure that the software is able to generate world-class documents from scratch.

The Price:

Of course, every business is watching its overhead costs and the best proposal software in 2020 needs to be balanced against the price. There are low-cost options on the market for freelancers while high-end options for agencies and frequent senders.

Mobile Support:

When listening to Gartner, proposal management software, should be designed to work on almost any device. This means that the client can access, read, and sign the proposal at any time in any place. This translates into a higher conversion rate.

Number of Templates:

Nobody wants to use the same template over and over again. It is important to find proposal management software that has a large number of templates so that each client will feel uniquely served.
Proposal Template Software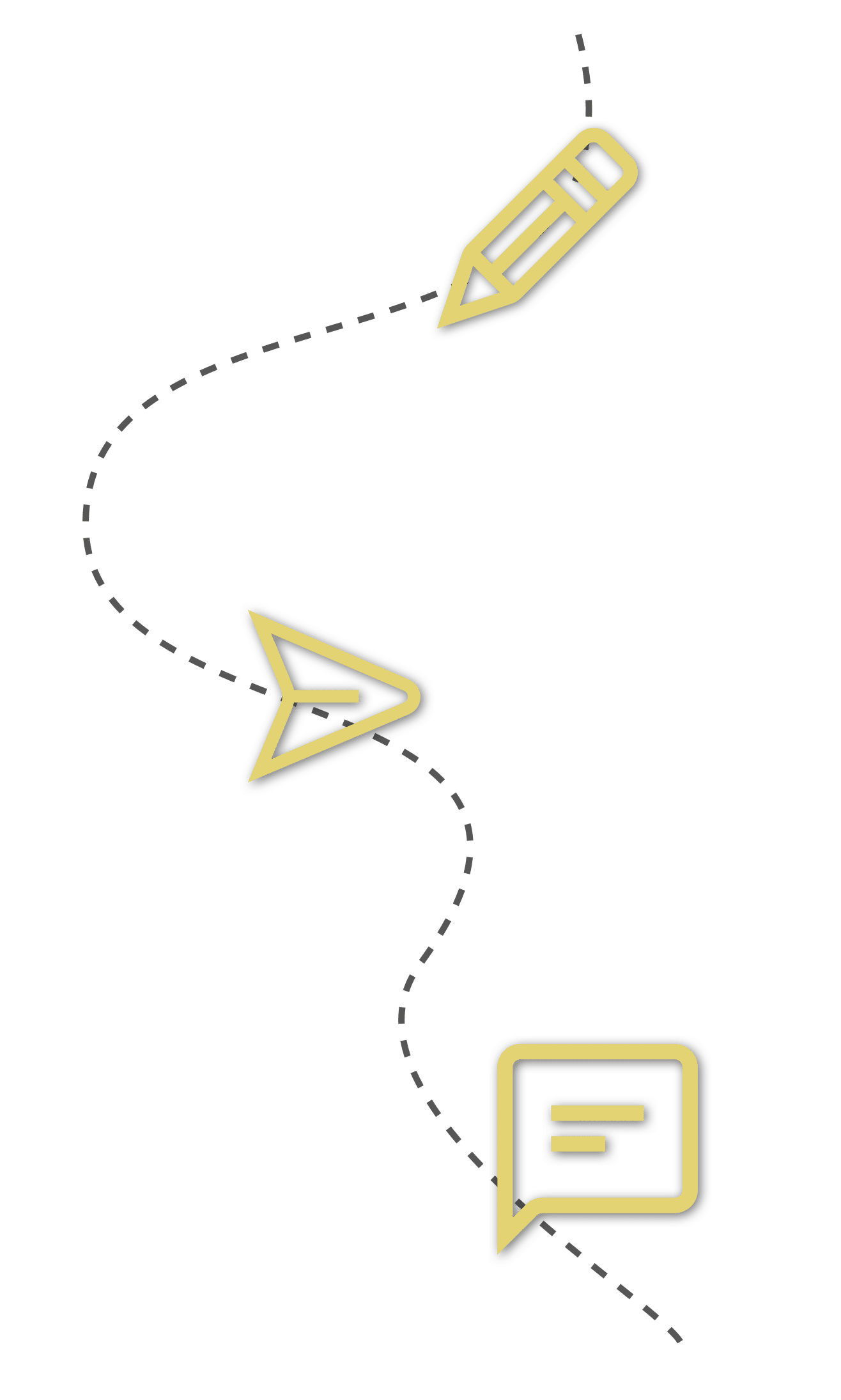 One of the major issues that comes with creating proposals by hand is the amount of time that is spent creating templates. Basic software packages do not have the technology to create templates efficiently, which is where our proposal template software separates itself from the competition. With the ability to use a software proposal template, businesses will save countless hours. This time can be spent perfecting each proposal, closing deals, and growing the business.
Furthermore, our software also comes with a number of different proposal templates, including enterprise software proposal templates. This allows businesses to tailor their templates to meet the various needs of their clients. For those businesses that enjoy perfecting their templates in familiar programs such as Microsoft Word, we recommend shifting that behavior from using a free business proposal template Word Doc to using a free online proposal template inside our software. By doing so, businesses are able to take a look and familiarize themselves with the look and feel of our proposals before jumping into a contract.
Our templates have been carefully designed to meet the needs of almost every client. We have designed these templates with the needs of the user in mind. Our templates are easily understood, quick to fill out, and easy to adjust. Our variety of templates is unmatched as is our commitment to our users.
There are numerous proposal process steps that need to be completed for any proposal, whether it's created offline or online. Fortunately, our software will help the user automate many of the steps involved in the proposal development process. The big steps involved in the proposal process, built off of the Shipley proposal timeline, include:
Creation:

The first step is to create a proposal. Build an outline, make the page count correct, and place the headings where they need to be, etc.

Themes and Emphasis:

Next, add in the themes and points of emphasis. This should be optimized to match up well with the evaluation criteria. Make sure to incorporate these points of emphasis with the client in mind.

The Flow:

The next step will be to add in the rest of the narrative to ensure that each step flows from point to point. The narrative should allow the reader to see how each point of emphasis works together to build a strong proposal.

Graphics:

The graphics are then added around the narrative. This could include pictures and charts that allow the reader to quickly grasp the important points of the proposal.

Signature and Tracking:

The last step is to get the proposal signed by submitting it, and watching it flow through the process on the client's end. Our software allows the user to complete this transition seamlessly.
Our software has been designed to help sales teams generate their proposals. Those who have experience working on a sales team understand how important these proposals are in their day-to-day job. Most sales teams also have experienced the chaos that can ensue when an RFP program or a sales proposal template doesn't function the way that it should. Our software has been meticulously reviewed to ensure that it will meet and exceed expectations. When technology works the way it's supposed to, sales teams will save valuable time. This is the ultimate goal of our sales proposal software.
Furthermore, we understand that sales teams also need cutting-edge tools to compete with other proposals that are being submitted by competitors. Our software packages have the tools necessary to ensure the user stays ahead of the competition with unique proposal design options and intuitive templates that allow the sales team to make a solid impression on the client. Spend more time closing deals and less time building templates with our sales proposal software.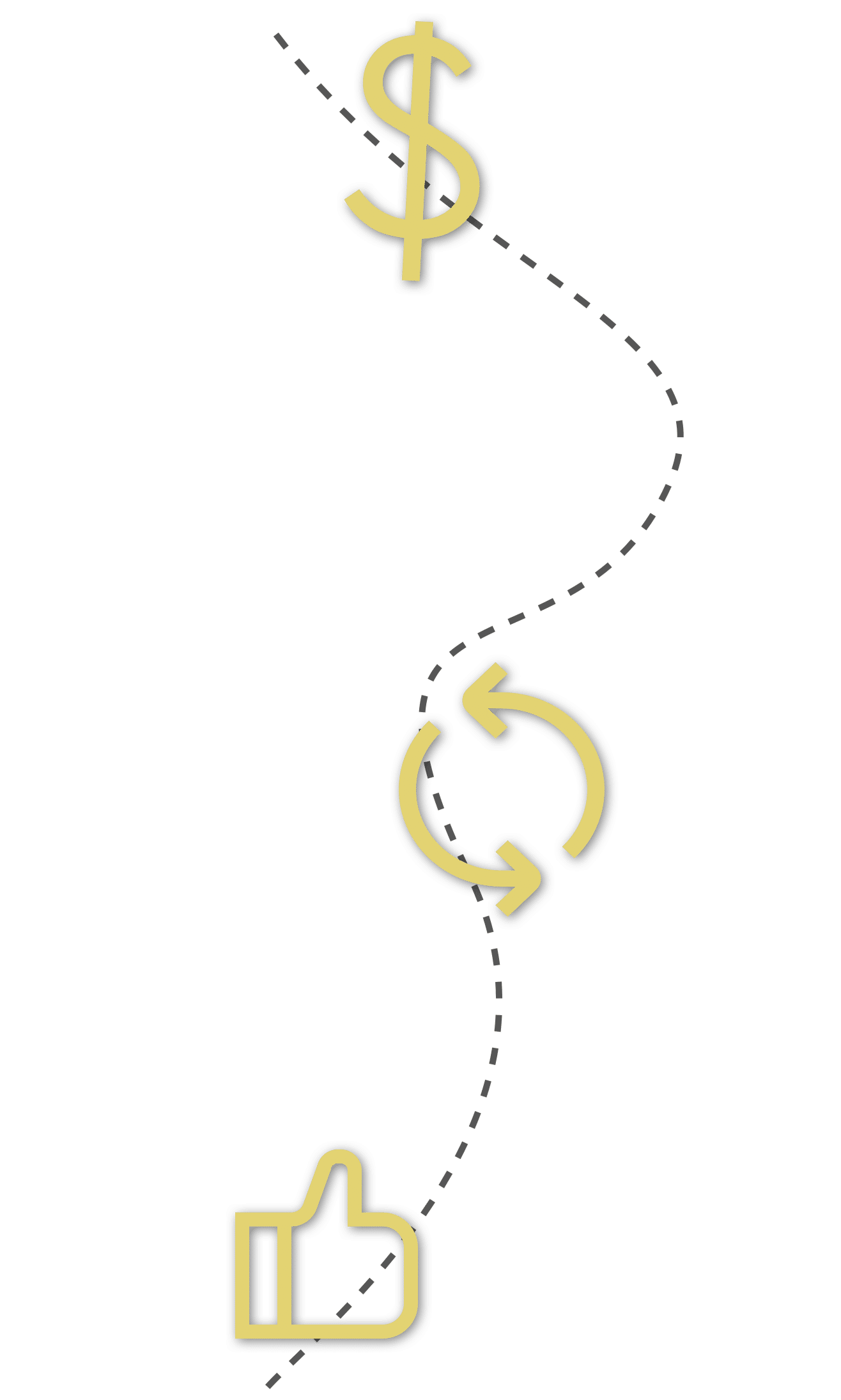 Proposal Software for Freelancers
While freelancers might have their unique way of handling proposals, it's still important for freelancers to consider using proposal software. With our proposal software for freelancers, we can help you create professional proposals in a matter of minutes. In the freelance industry, there is intense competition with others who are vying for the same potential customers. The chances of winning a client increase when professional templates can be developed and submitted quickly. We have ready-made content and proposal templates for many types of freelancers that can help you win that crucial client. Why not see how our software can help you with a free trial today?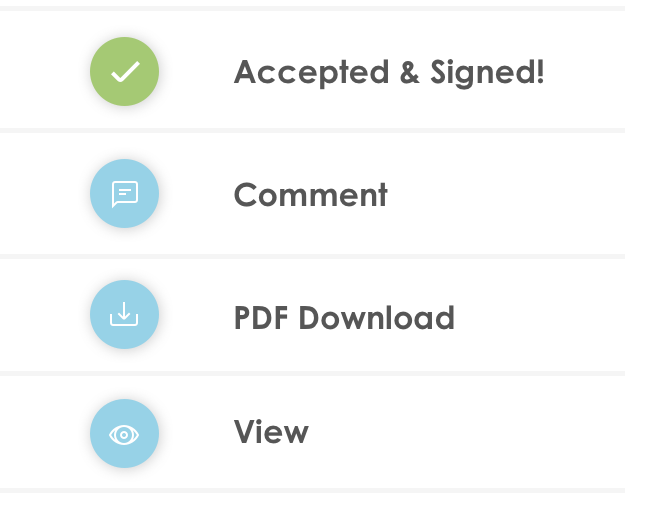 Once the proposal has been submitted, it's tremendously important to track the proposal through the various next steps with the client. This will help you know who has done what with their proposal, when it was done, and how. This also helps the sales team generate a timeframe regarding when a decision might be reached on their proposal. Tracking proposals is important because the client might have questions or concerns about the proposal. They might request clarification on a certain item or want to speak with a member of the team. If the proposals aren't tracked through this process, the sales team might be blindsided by the client's response.
For those looking for the best way to track proposals, this is done using proposal management software. This is the only effective way to track proposals. While sales teams can generate a long back and forth email chain, this is inefficient. Salespeople will get confused, miss crucial steps, and overlook key information due to the scale of their workload. Investing in high-quality proposal management software can help a business efficiently track all of their proposals, know where they are in the process, and answer any questions or concerns regarding their proposal process.
Proposal Management Training
While our software is intuitive, we also recommend our users to enroll in proposal management training. Enrolling in training on proposal management software tools is important because it will help companies and sales teams leverage the capabilities of the software to their full potential. Learning about Shipley proposal management best practices can help sales teams become more competitive when submitting their proposals. We also encourage our users to join the Association of Proposal Management Professionals (APMP). APMP membership has numerous benefits. Some of these could include lower costs when attending the educational APMP conference in 2020!
Your sales staff needs to be able to drag and drop proposal elements to create a response to inquiries in minutes. When your customer accepts your proposal, you need the ability to get them to sign on the digital bottom line. Profitable contract management requires seamless communications for your entire team throughout the entire lifecycle of every proposal and you need to integrate inputs from several editors to the proposal. You need complete integration of orders with your sales catalog, and you need instant department and individual reporting.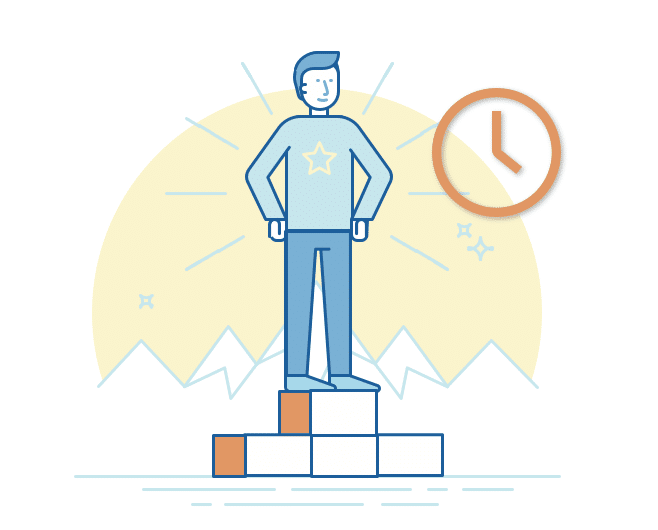 Free Online Proposal Software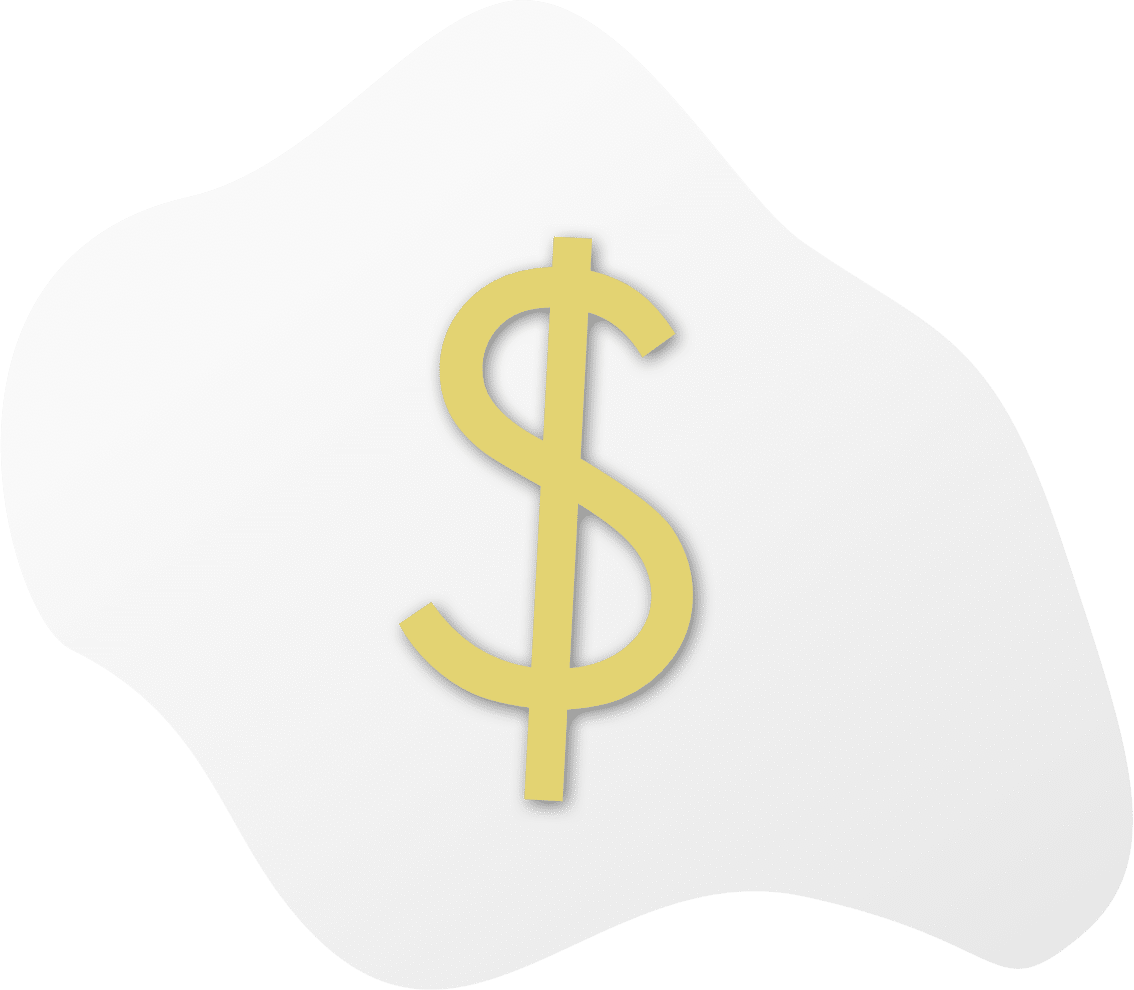 There are many people out there who are probably thinking about using free online proposal software. While free proposal software might seem like a way to save money, it will cost businesses substantially in the long run. Free RFP software is far less efficient, costing businesses valuable time. Free online business proposal generator software is also far easier to get hacked, potentially compromising confidential data. Furthermore, free proposal management software programs also do not have any incentive to help their users fix their problems. Lastly, open source bid management software may not have all of the functionality that businesses need to generate competitive proposals. Instead of using open-source proposal management software, go with software that has been generated to meet your specific needs in a powerful way.
Better Proposal Management