Web Design Proposal Template
Save time with this Web Design Proposal Template and represent your brand well. This template includes description of services, pricing, and a web design agreement.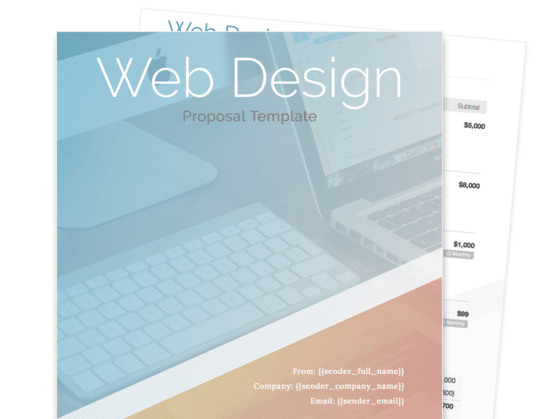 Best proposal software ever! 
I've tried soooo many proposal softwares and I'll never try another one after Proposable. It's so easy to use and it looks good, which all the others don't.
Smart, reliable, and constantly improving.
Proposable just works. I can make visually interesting sales presentations, dynamically insert content, and execute agreements. Proposable powers our entire sales process.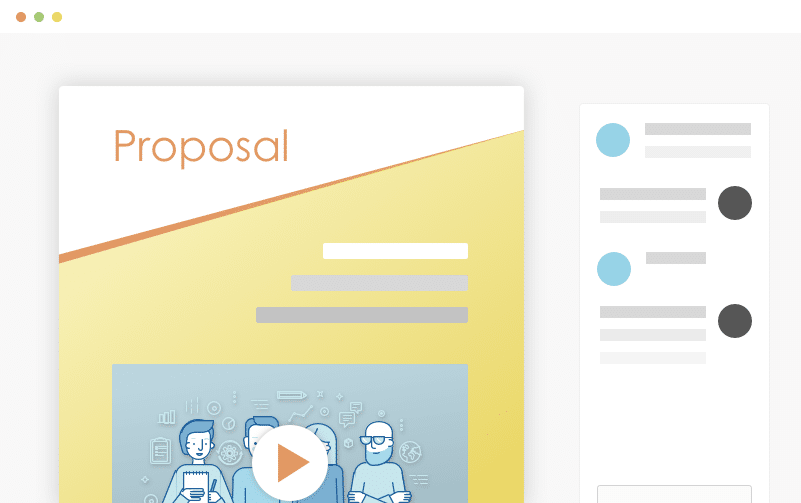 Wow Your Customers
Blow your clients away with a beautiful proposal that stands out above the rest. Add video and rich-media directly into your proposal pages for a more immersive sales presentation that's sure to make an impact.
Set Your Prices
Quickly build quotes, bids, and estimates with our flexible estimate block. With optional line-items, optional quantities, taxes, discounts and more, you can quickly represent your products and services in a polished and readable format. Organize all your products and services in the Pricing Catalog for instant recall.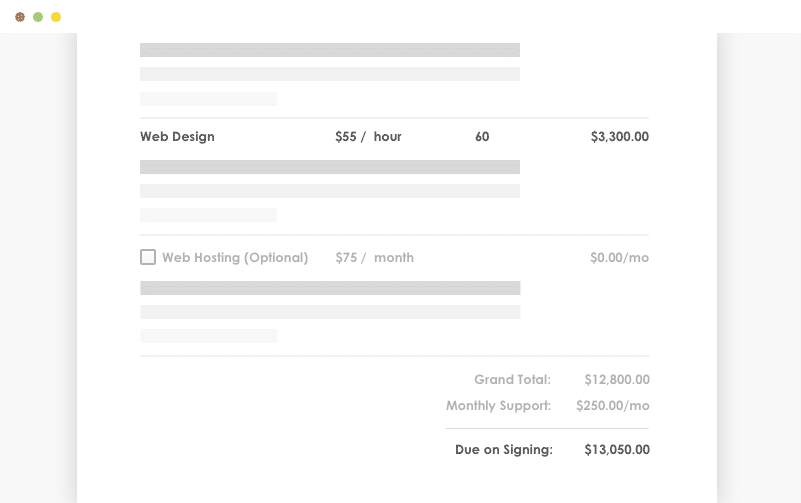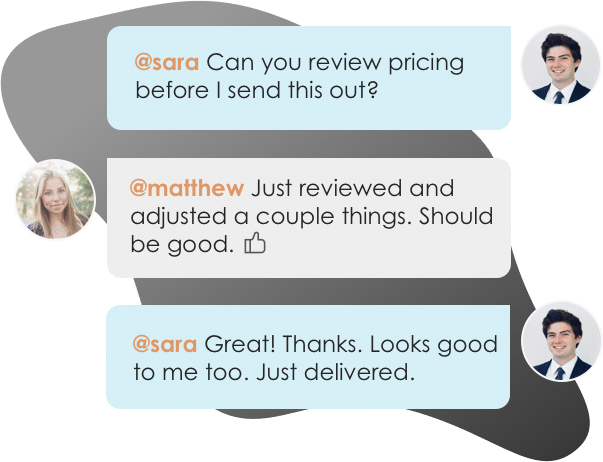 Work With Teammates
Easily collaborate with teammates on proposals. Mention team members to bring them into a proposal, or re-assign ownership when you need to handoff the proposal to another teammate.
Get It Signed
Close the deal faster with integrated e-Signatures. Place signatures, initials, and text field elements throughout your proposal wherever you need prospects to take action and your prospect is guided through a quick acceptance workflow to complete their acceptance. Counter-signing support is also included.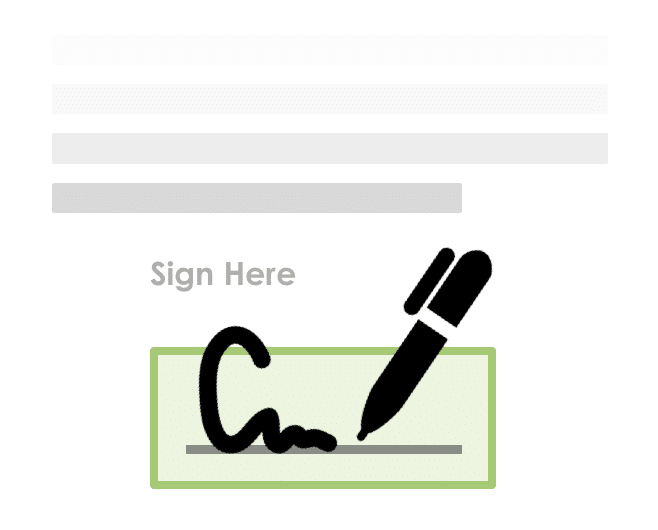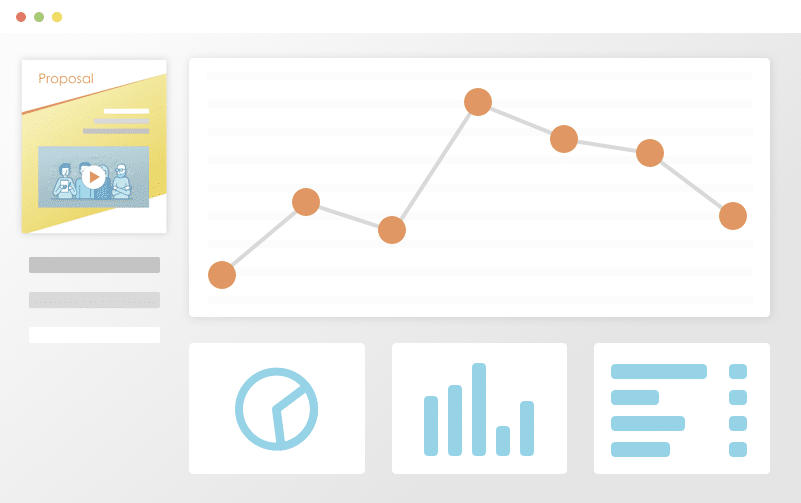 Track Everything
Ever wonder what happens to your proposal after you hit "send"? See detailed analytics and measure how each recipient is interacting with your sales material. Turn on real-time text or email notifications for proposal views and other key events.
Get Your Time Back
Save time and headaches by skipping the painful copy/paste and find & replace on all new proposals for your prospects and customers. Simplify your new proposal workflow to just a few clicks and go from spending hours on customizing new proposals to just minutes using painless proposal software.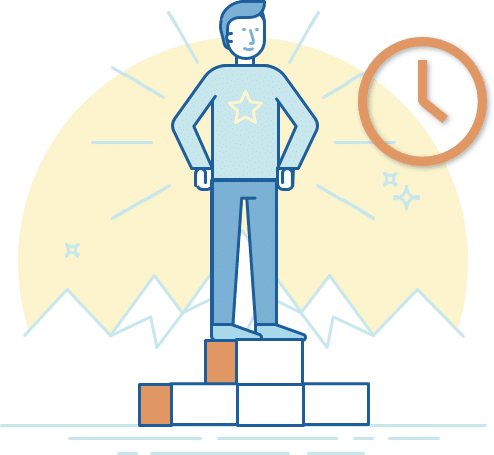 Edit & deliver this template.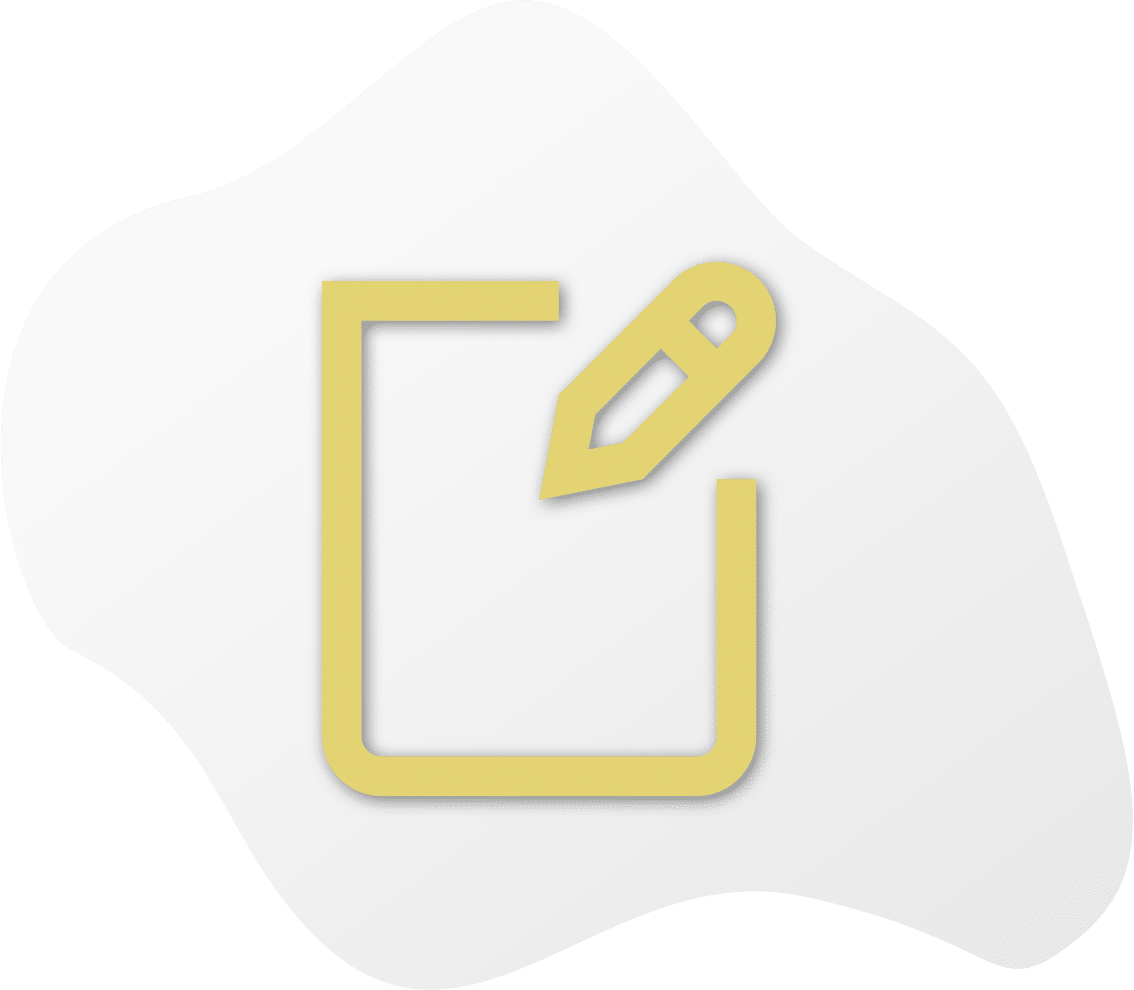 Template Overview
If you're an agency or freelancer offering web design services, our customizable web design proposal template is perfect to close any deal. Deliver your web design services with confidence to those who need it by using this professional web design proposal template.
Benefits
Take advantage of a professional proposal when introducing your company to prospective clients and making a case for their need of a properly working website.

Effectively establish your company's expertise by specifying the skills of the professionals working together in your team.

Clearly describe the tools and technologies that you employ in your web design process.

Let your client know exactly you'll go about completing each stage of the web design project, from the planning and design stages to testing and final deployment.
Template Sections
Here are the sections that are included with this free template. Each section can be customized to fit your business.
Introduction
Convincing your prospective customer that you are the right web design professional for the job starts with effectively introducing yourself or your agency. In this section, you can identify the skills and tools that you have which will enable you to carry out the task of designing a website successfully.
Our Team and Leadership
Build trust early on in the engagement by being transparent about your key personnel's backgrounds and areas of expertise. Whether an individual is your company's creative director, senior web designer, or sole  graphic artist, creating profiles with each team member's educational background, professional experience, and primary fields of specialization will help your clients better understand what your agency can do for them.
Project Details
As with any other proposal, it's important to specify in your web design proposal how exactly you plan to go about designing your client's website. Here, you can identify the key phases of the project, including the planning stage, creating the concept design, developing the codes, review and testing, and project completion.
What We Do
Aside from identifying the primary stages of website design, you also have to talk about the key responsibilities of your team members, as well as the tools and technologies that they will use. Your web design process may encompass many skills and disciplines, including web graphic design, interface design, coding, user experience design, and search engine optimization.
Deliverables
This section outlines the main deliverables that your agency will provide the client during or at the end of the engagement. Here, you can include the dates or durations within which you aim to complete each deliverable identified.
Web Design Estimate
It's also important to provide your client with an easy-to-understand project cost estimate that details the fees for each service you plan to provide. Whether it's costing for the wireframes and design, HTML or PHP coding, ongoing web design support, or web hosting, your fees should be clear and transparent from the get go.
Agree and Sign
This short section finalizes your agreement with the client and confirms their consent regarding the pricing and the schedule of deliverable submissions.
Edit & deliver this template.