Proposal Generator
Win more deals & keep your proposals organized and on track. Create, deliver and track your proposals in minutes with our proposal generator.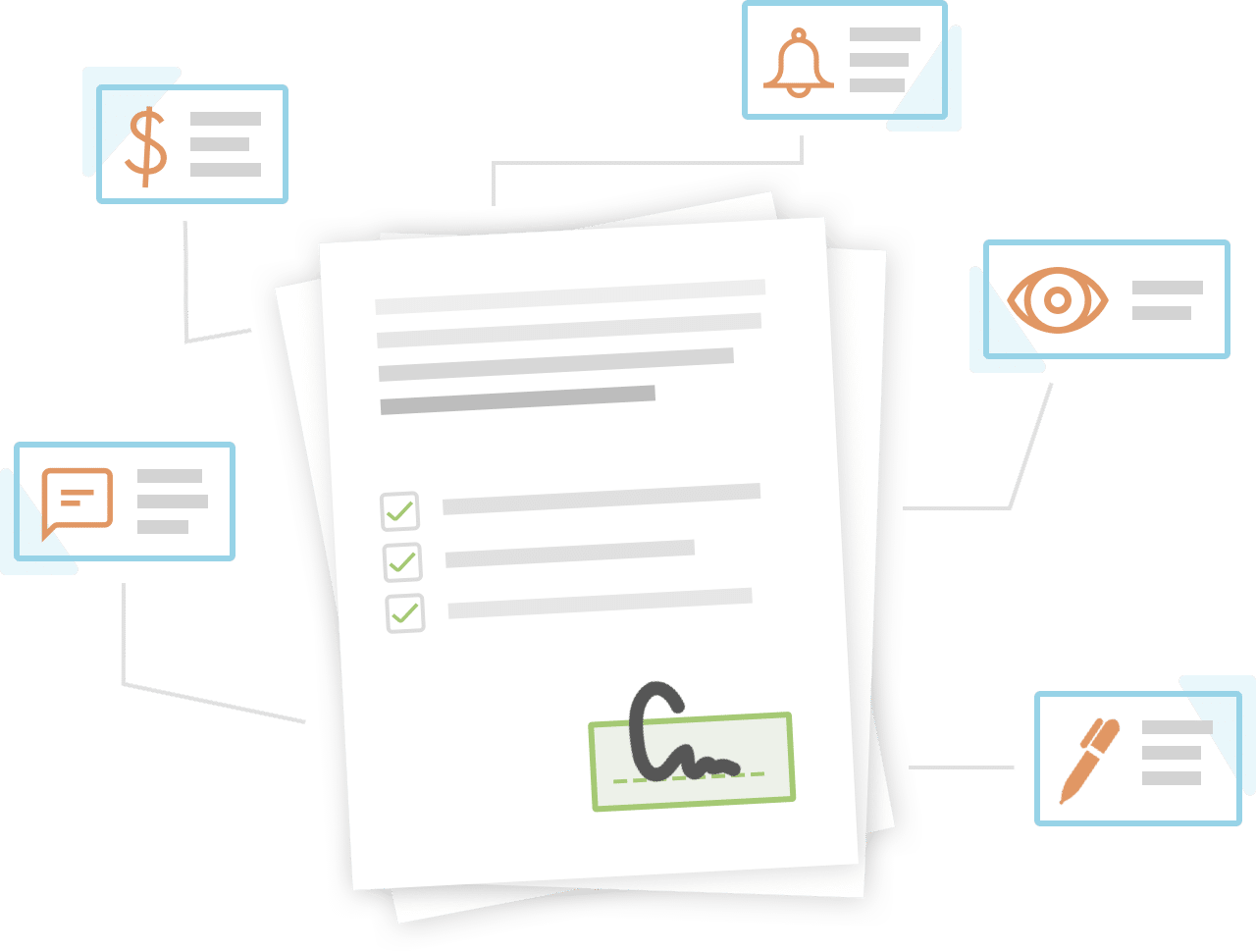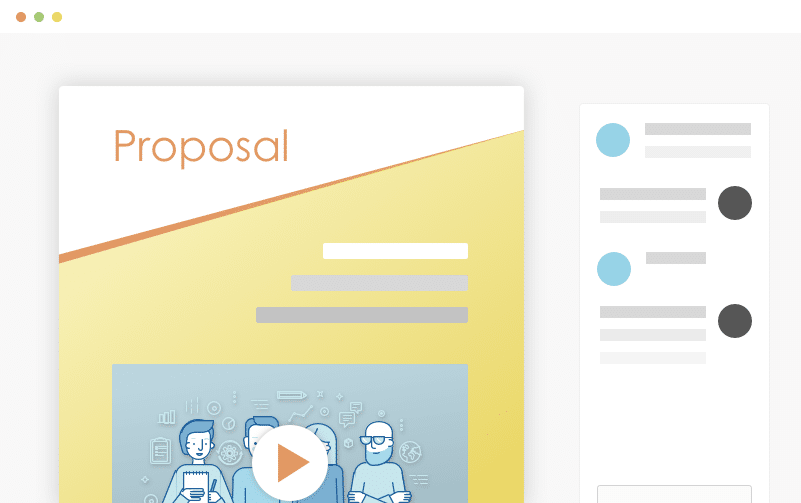 Wow Your Customers
Blow your clients away with a beautiful proposal that stands out above the rest. Add video and rich-media directly into your proposal pages for a more immersive sales presentation that's sure to make an impact.
Set Your Prices
Quickly build quotes, bids, and estimates with our flexible estimate block. With optional line-items, optional quantities, taxes, discounts and more, you can quickly represent your products and services in a polished and readable format. Organize all your products and services in the Pricing Catalog for instant recall.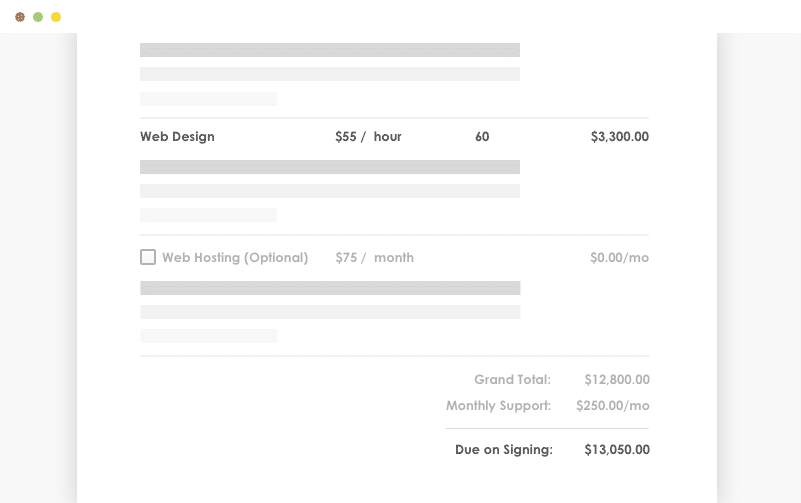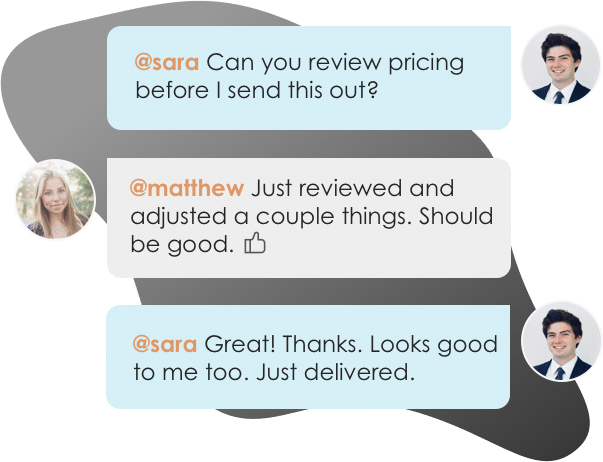 Work With Teammates
Easily collaborate with teammates on proposals. Mention team members to bring them into a proposal, or re-assign ownership when you need to handoff the proposal to another teammate.
Get It Signed
Close the deal faster with integrated e-Signatures. Place signatures, initials, and text field elements throughout your proposal wherever you need prospects to take action and your prospect is guided through a quick acceptance workflow to complete their acceptance. Counter-signing support is also included.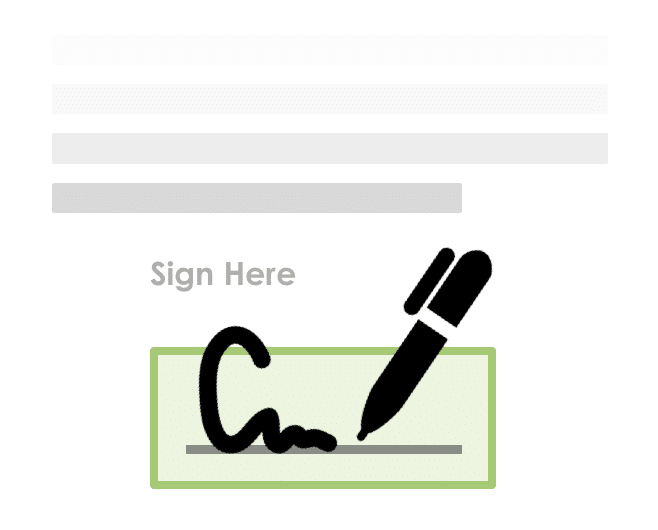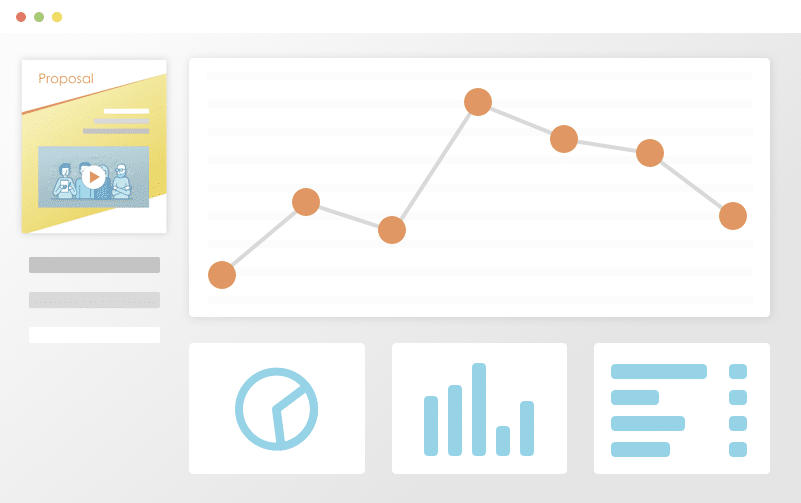 Track Everything
Ever wonder what happens to your proposal after you hit "send"? See detailed analytics and measure how each recipient is interacting with your sales material. Turn on real-time text or email notifications for proposal views and other key events.
Get Your Time Back
Save time and headaches by skipping the painful copy/paste and find & replace on all new proposals for your prospects and customers. Simplify your new proposal workflow to just a few clicks and go from spending hours on customizing new proposals to just minutes.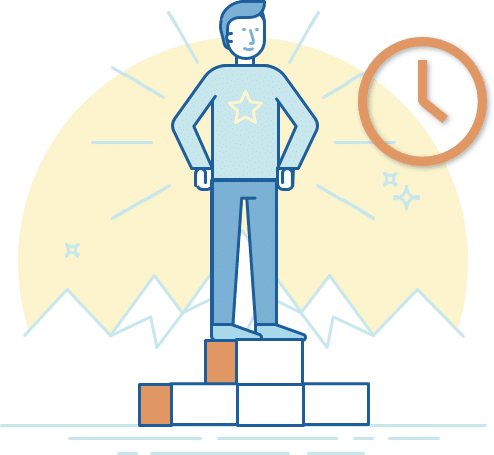 Best proposal software ever! 
I've tried soooo many proposal softwares and I'll never try another one after Proposable. It's so easy to use and it looks good, which all the others don't.
Smart, reliable, and constantly improving.
Proposable just works. I can make visually interesting sales presentations, dynamically insert content, and execute agreements. Proposable powers our entire sales process.
Better Proposals Start Here
What is a Proposal Generator?
Writing sales proposals used to drain time and energy out of salespeople. Now salespeople can purchase and access an online proposal generator like Proposable. An online proposal maker or proposal generator app can help a company create better proposals, faster than ever before.
With the power of software automation, the best proposal software of 2020 and beyond can offer time-saving features like:
Drag-and-Drop Proposal Builders – Forget the burden of traditional design. Easy drag-and-drop interfaces allow you to build your proposal exactly the way you want it.
Sales Content Libraries – Rather than writing a new proposal or having to search for your sales content, a proposal generator allows you to store your sales content for easy access.
Easy Estimates – A software proposal maker can automate the process of building price quotes by storing a centralized price guide that you can use to auto-populate estimates without errors.
Easy Collaboration – Say goodbye to intricate and confusing email chains. Cloud-based proposal makers allow team members and customers to collaborate on proposals in one central location.
Require Approvals – Proposals that require manager approval can be easily tagged as such to prevent mistakes.
Activity Stream – An easy interface allows you to view the progress of each submitted proposal at a glance, simplifying your workflow, and automating your follow-up.
E-Signatures – Eliminate paper consumption with a proposal interface that allows online signatures, moving the entire proposal process to the cloud.
Proposal Analytics – Peek behind the curtain at how the recipient interacts with each proposal, allowing you to streamline and optimize your proposal process based on an automated data feedback loop.
Notifications – Discover real-time updates about the status of each proposal.
Security – Hacking and data theft could cost you money, threaten your operations, and damage your brand reputation. Be sure to prioritize security in your proposal software search.
Brand-new businesses make the mistake of laboring over each proposal. Designing each proposal from scratch wastes the time of entrepreneurs and salespeople alike. Even if each pitch is different, a service proposal template can make it easy to plug in a few words and numbers without reinventing the wheel every time.
If you don't know where to start, a quick internet search should easily uncover a free proposal template to get the ball rolling. You can copy online images of a free project proposal template manually, or possibly find a free business proposal template Word doc available for download.
These proposals may not have the customizability, ease of use, one-button sending, or back-end analytics of a software solution like Proposable.
Project Proposal Examples Free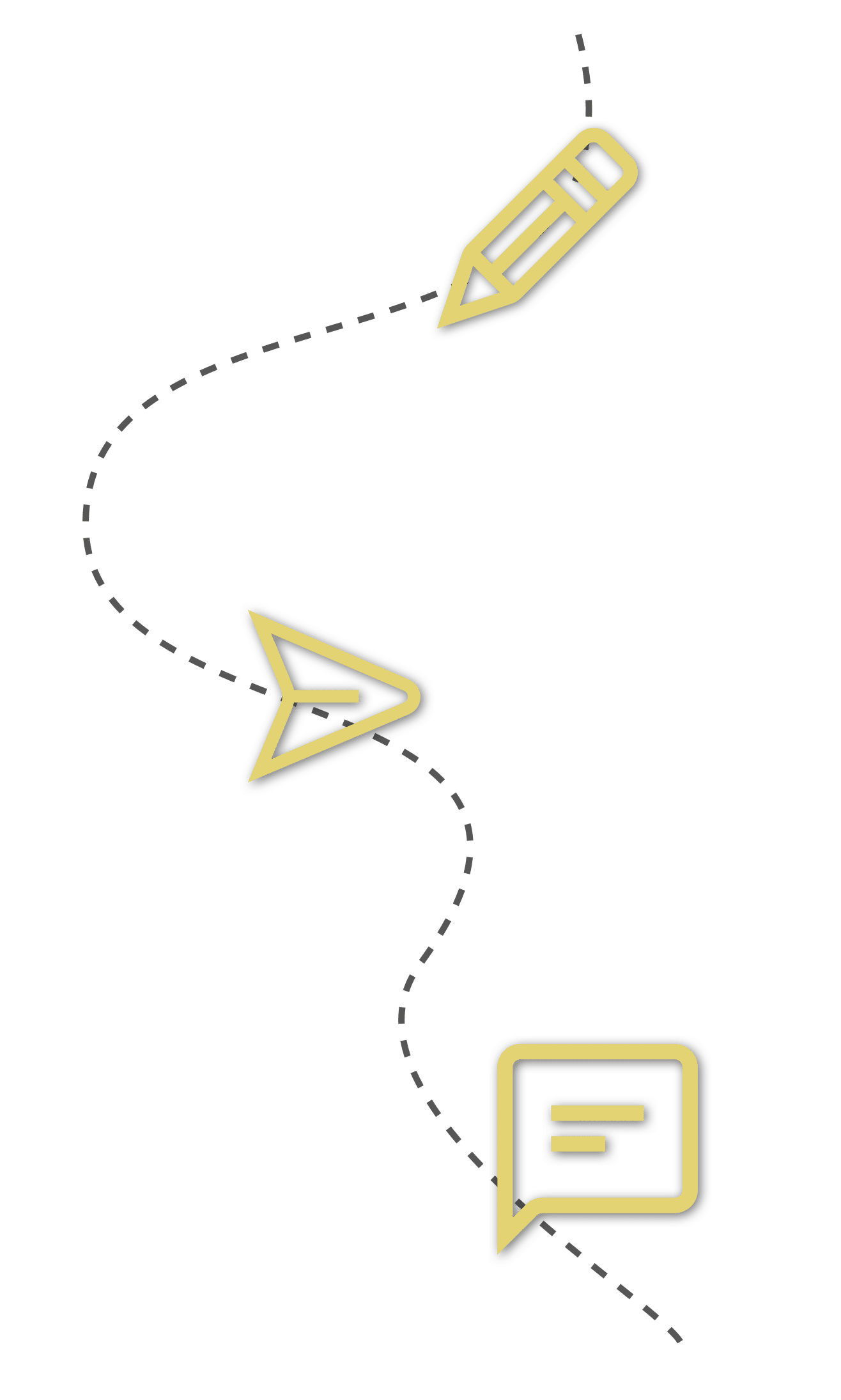 A project proposal is a different kind of sales proposal. In the proposal, you "sell" potential partners or stakeholders on the project—the need, the execution, and the anticipated benefits. The typical project proposal outline includes:
The problem to be solved

The project's place in the context of the organization's goals

The benefits to the user

The metrics used to measure success

A list of deliverables

Timeframes and deadlines for project milestones

Required resources for the project

The project budget

Anticipated risks or issues

Responsible parties within the project and their roles

Reporting guidelines
A simple project proposal example might only include the following sections:
Executive Summary – A short, big-picture description of the project meant to hook the reader. Think of it as the project's "elevator pitch."

History – Provide some context for the project, including any examples of similar projects that succeeded.

Requirements – What problem does the proposal intend to solve? What opportunity does it intend to take advantage of?

Solution – Layout the plan to solve the problem by working together.

Authorization – Name the project leaders and their responsibilities.

Appendix – Any supporting documents go here.
If you need more project proposal ideas, a quick google search can yield free examples for you to follow. Proposals can be created from scratch as a Word Doc, Google Doc, InDesign file, or whatever suits you, but switching over to proposal generating software, like Proposable, allows you to automate and streamline the process. It also allows you to work from a set of comprehensive project proposal templates to create a document that wows. Once the proposals are sent, back-end insights allow you to track the progress of the proposal through the recipients' inboxes. This tells you who's seen it, and who needs follow-up.
Sales teams rely heavily on proposals. When you think about it, proposals encompass the entire job description of a salesperson! They "propose" a sale and shepherd that proposal to a close.
Using a sales proposal template is one task within the global sales process. Sales proposal software makes sales proposals easy to customize and modify, and even easier to send and manage. Just enter a few details into a saved sales proposal template. If a client profile is already created, a standard proposal can be sent with just one click.
A professional sales proposal legitimizes even scaled-down sales operations. Customers can leave a sales meeting with something that they can take away and reflect upon, which reminds them of the value proposition and the steps needed to complete the agreement, often with just a few clicks and e-signatures.
Back-end proposal analytics allow sales teams to use their sales proposal software to monitor where the customer is in their buyer's journey and apply follow-up procedures at exactly the right time.
See how proposal-generating software like Proposable can empower your sales team with the tools they need to succeed. Sales proposal software reduces the clerical burden of generating sales proposals manyfold, reducing the process to a few clicks of a mouse. The process can even be managed from a smartphone!
Proposal Software for Freelancers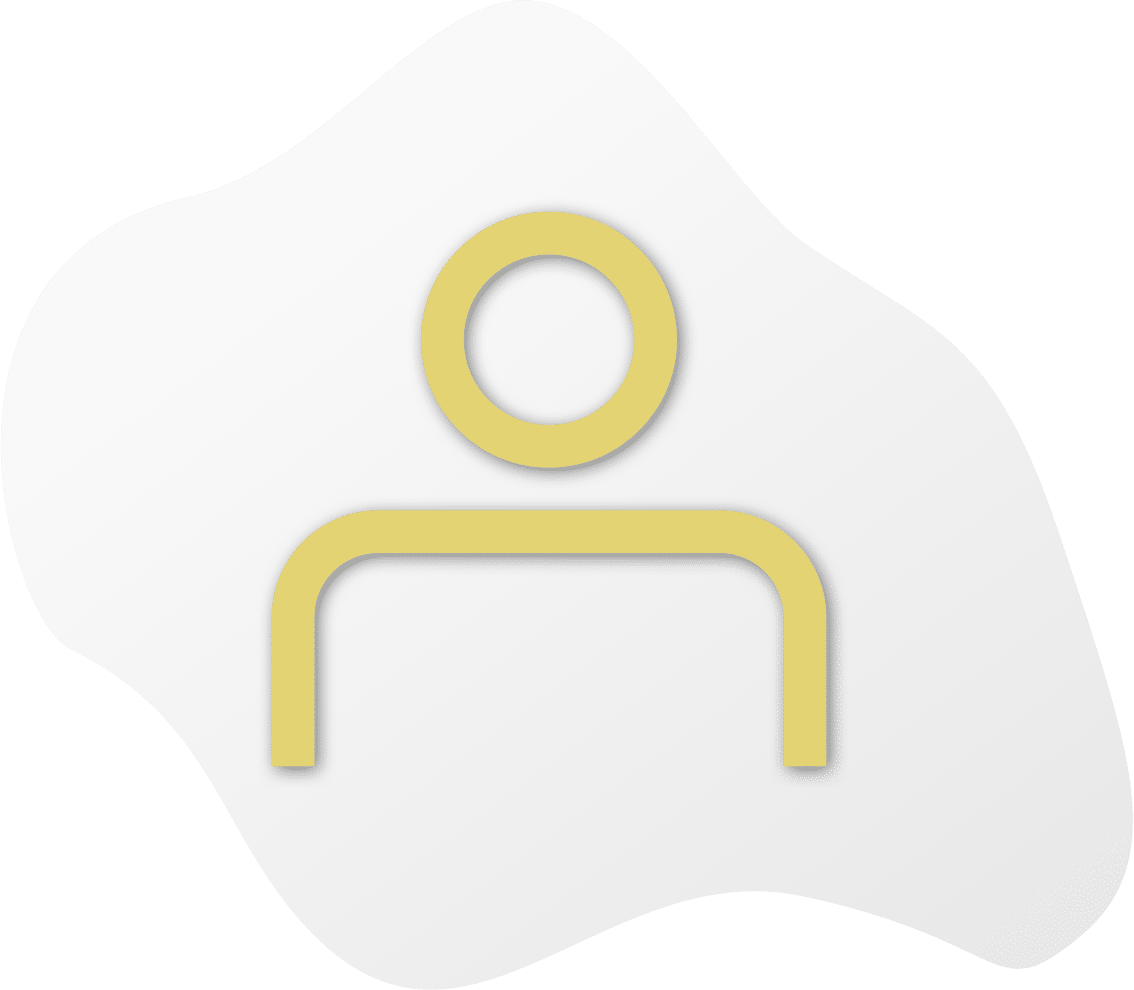 Automation software is a boon for freelancers, allowing a whole generation of entrepreneurs to launch a side hustle, set their own sail, and launch a successful business. Many freelancers have no full-time staff. If they're lucky, they may have an intern, assistant, or virtual assistant. However, even if they have someone to help them, this person likely has to wear many hats and has minimal bandwidth to spare. 
Proposal software for freelancers is one of the many tools that can allow a freelancer to engage in high-return activities. One of these activities is the ability to spend more time with clients. Face time with clients helps close new business, build closer relationships, and allows the practice to thrive.
Another high-return activity is the ability to spend more time actually doing your work. From consulting to creative design, few people can do what you do. Anyone, with a little training, can draft a proposal—including, a software program! Let the software take over wherever possible, and you can focus on performing the services that only the freelancer's skill set can accomplish.
One of the biggest hurdles for any freelancer is learning to scale—that is, grow their business past its current limits. Many freelancers are bottlenecked by the hours they have in the day. Automation software like a proposal generator frees up hours, allowing freelancers to take on new business, learn new skills, and discover even more opportunities to scale.
There's no denying it—open-source software and freeware play a major role in the software marketplace. Almost any paid software has a free counterpart, some of them quite good for their specific functions.
Proposal generation is no different. Search around the internet and you can find free proposal software, including a free online business proposal generator, free online proposal template for Google Docs or MS Word, or free proposal management software.
Especially if your business is small, just starting up, or short on cash, free online proposal software could see like the way to go. New businesses often seek to cut costs wherever they can, especially before revenue has been generated.
However, there are significant risks inherent to choosing free proposal software. Consider that free proposal generators are:
More vulnerable to hacks – The reason free software is called "open-source" is that the code is available publicly, for anyone to see. This makes it more vulnerable to data breaches. Free software providers rarely spend time and money on extensive security measures. This could be fine for some users, but proposals may contain a prospective client's sensitive and confidential business information. An early security breach is the kind of reputation stain few new companies can get over.

Lacking in function – Freeware typically does one or two things really well. The other functions are either so-so, clunky, or nonexistent. For-profit software startups invest a lot of time, research, and mental energy developing solutions that solve a problem from end-to-end. Full-spectrum proposal generating software is reasonably priced, and the right one gets the whole job done perfectly.

Inconsistent – Free online proposal software is often in perpetual beta mode. It could break down when you need it the most. Forget customer service by phone or chat support—your only recourse to get your problems solved may be out-of-date online forums.
Wise businesses in their infant stages often invest more money to get the right systems in place. That way, they can offer great service right out the gate and hit the market with a fantastic reputation. For reliability, ease of use, beauty, and time saved, proposal generating software, such as  Proposable, more than justifies its cost.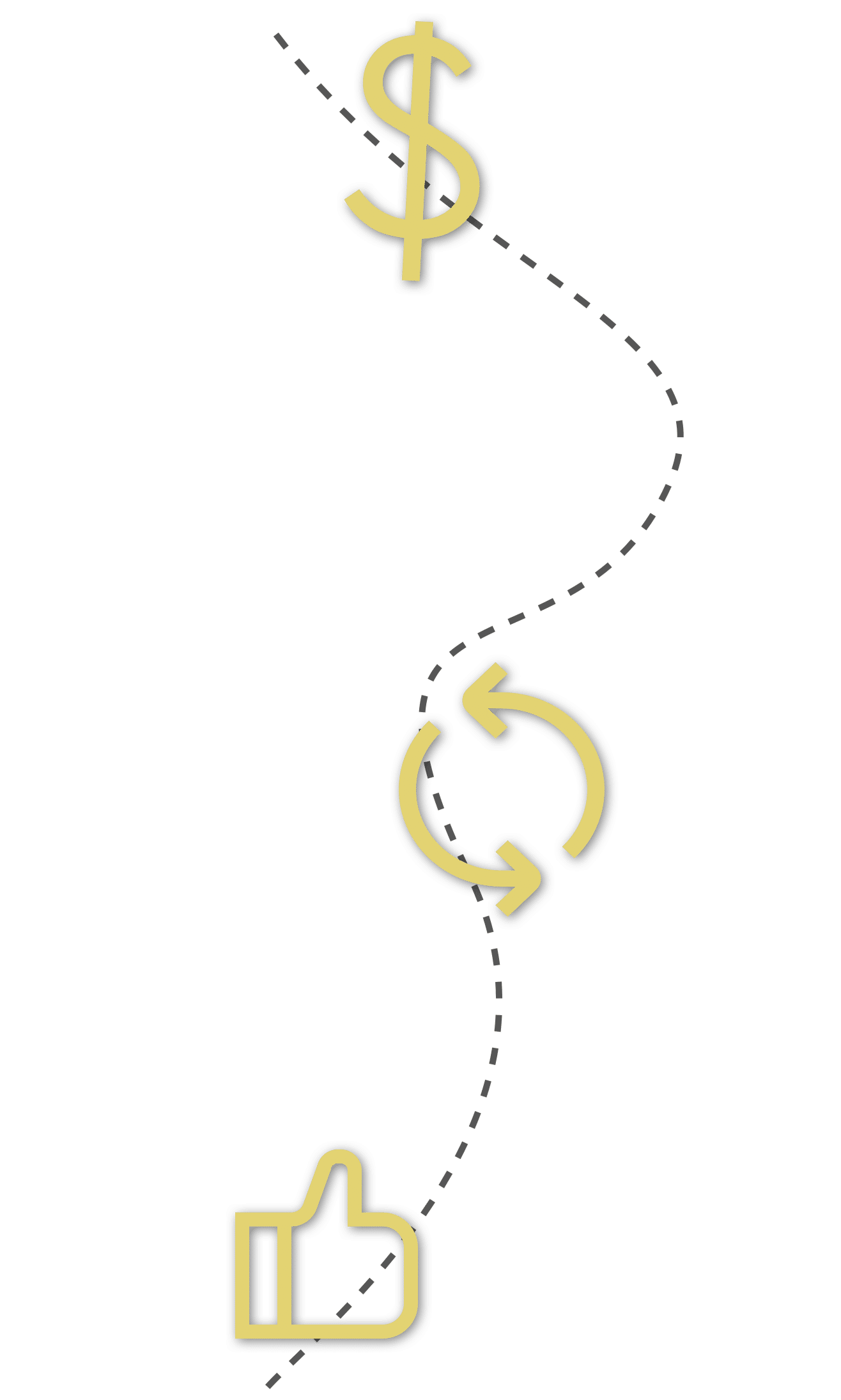 Better Proposals Start Here