Proposal Sample
Kickstart your proposals with our proposal sample templates. Find your industry proposal template to create, deliver, and track your proposals in minutes.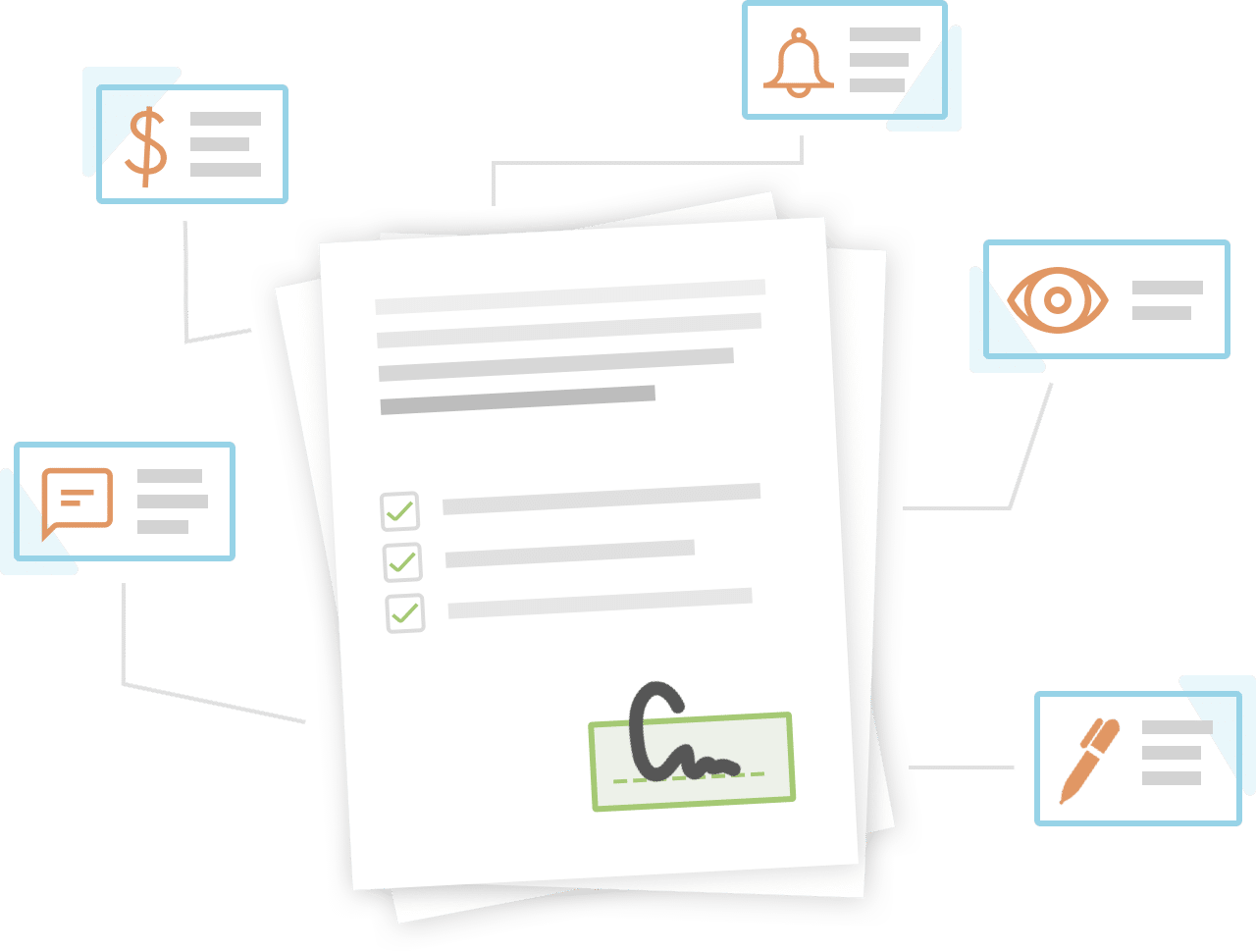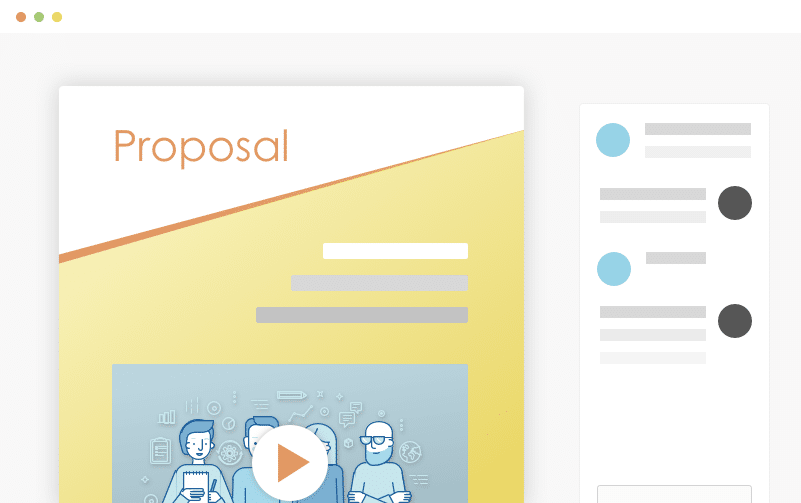 Wow Your Customers
Blow your clients away with a beautiful proposal that stands out above the rest. Add video and rich-media directly into your proposal pages for a more immersive sales presentation that's sure to make an impact.
Set Your Prices
Quickly build quotes, bids, and estimates with our flexible estimate block. With optional line-items, optional quantities, taxes, discounts and more, you can quickly represent your products and services in a polished and readable format. Organize all your products and services in the Pricing Catalog for instant recall.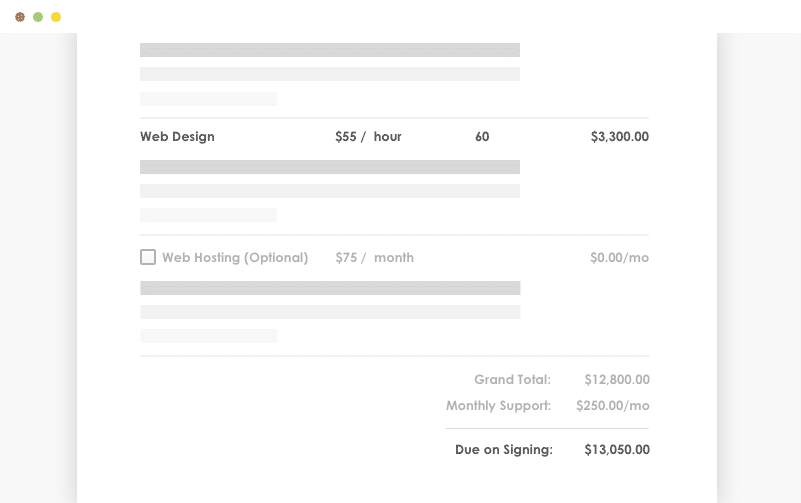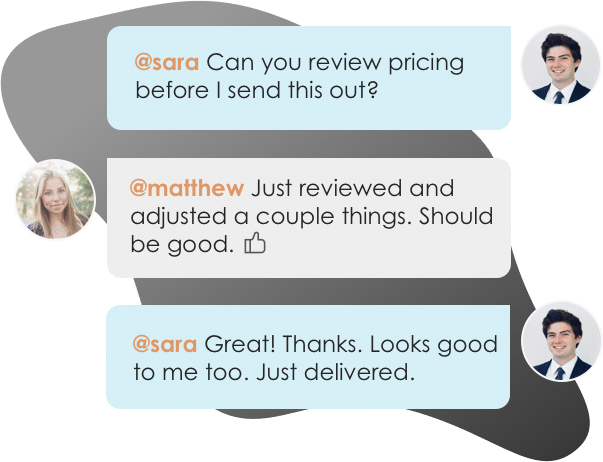 Work With Teammates
Easily collaborate with teammates on proposals. Mention team members to bring them into a proposal, or re-assign ownership when you need to handoff the proposal to another teammate.
Get It Signed
Close the deal faster with integrated e-Signatures. Place signatures, initials, and text field elements throughout your proposal wherever you need prospects to take action and your prospect is guided through a quick acceptance workflow to complete their acceptance. Counter-signing support is also included.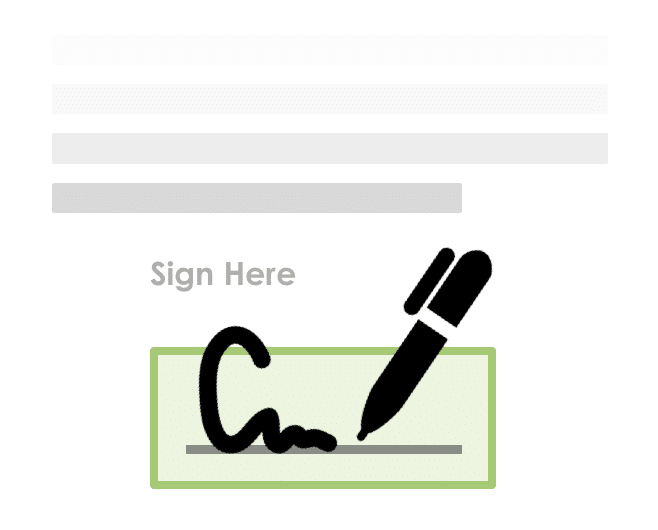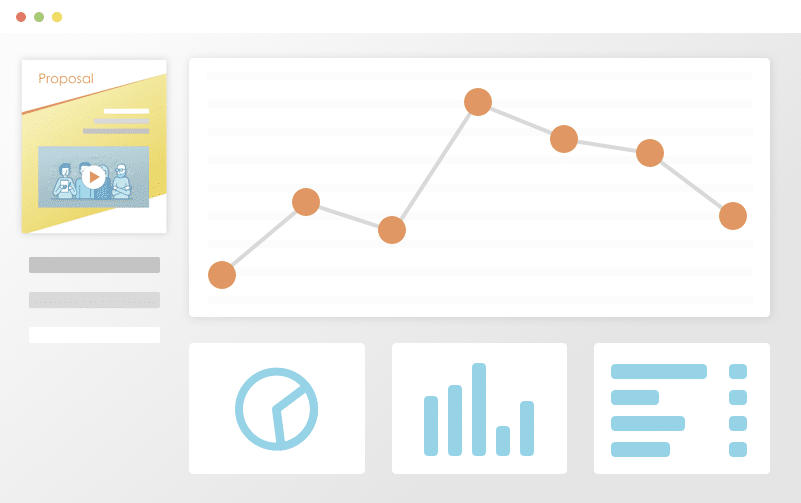 Track Everything
Ever wonder what happens to your proposal after you hit "send"? See detailed analytics and measure how each recipient is interacting with your sales material. Turn on real-time text or email notifications for proposal views and other key events.
Get Your Time Back
Save time and headaches by skipping the painful copy/paste and find & replace on all new proposals for your prospects and customers. Simplify your new proposal workflow to just a few clicks and go from spending hours on customizing new proposals to just minutes.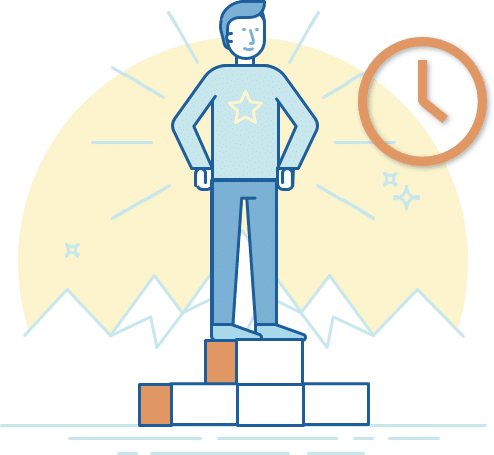 Best proposal software ever! 
I've tried soooo many proposal softwares and I'll never try another one after Proposable. It's so easy to use and it looks good, which all the others don't.
Smart, reliable, and constantly improving.
Proposable just works. I can make visually interesting sales presentations, dynamically insert content, and execute agreements. Proposable powers our entire sales process.
Browse Proposal Templates
Generating and editing proposals can be a complex and tedious task. There are so many attributes and details that go into writing a proposal, and a lot of that information needs to be extremely accurate.
Checking out a proposal sample for inspiration can help new proposal writers get a feel for what kind of language and flow should go into a proposal. Luckily, with a simple online search, you can quickly find proposal sample DOCs as well as unsolicited business proposal sample PDFs to help you get a feel for what your proposal should actually look and sound like.
Sample proposals can help inform how your business can write great proposals that win new customers. Seeing how other successful proposal writers craft their proposals can be very useful for newer proposal writers who may not know where to even start. On a basic level, a general proposal should include all of the following:
The hook

Title page

 

A cover letter

Table of contents, especially if your proposal is long and complex

Executive summary

An "about us" section or paragraph

Problem to be solved

A well-organized plan

Your own qualifications

Costs and fees for materials

Services and methodology

Pricing and rates
Want to check out a sample business proposal letter for services or read up on a  sample proposal letter for services PDF? We've got you covered. Sometimes, all it takes is a little inspiration and a well-written and well-designed proposal template to make the best proposal possible.
If you attend a university or community college, you know very well that a massive amount of research goes on for any one specific class. The process of writing research proposals, both for students and faculty, can be a complex and somewhat scary one. This is especially so if you are a new student with little experience in proposal writing. Luckily, it doesn't have to be so unnerving! Let's demystify the academic proposal a little bit.
Typically, an academic proposal is used to formulate your thesis or major project subject. One will write a proposal about a topic and approach to writing about the topic in order to give one's professor or academic committee amble evidence that you are ready to move forward with the actual research involved in the project. Academic proposals are really handy because they give your professor a frame of reference for your project, and also give them the information needed to decide if the topic is in your best interest to pursue as a topic for your thesis project.
Starting the process of writing an academic proposal should also begin by looking at research proposal samples. A research proposal sample paper or university project proposal example can provide students with a good starting point for their own research proposal. Obviously, students won't be copying whatever undergraduate research proposal sample or PhD research proposal sample they find. Rather, they will use the flow and design of the proposal to fill in their own information for their own topic.
Proposable offers free research proposal samples, university project proposal example PDF files, and free research proposal samples PDF files for students to use to jump-start their proposal writing process. Check out some of our templates today!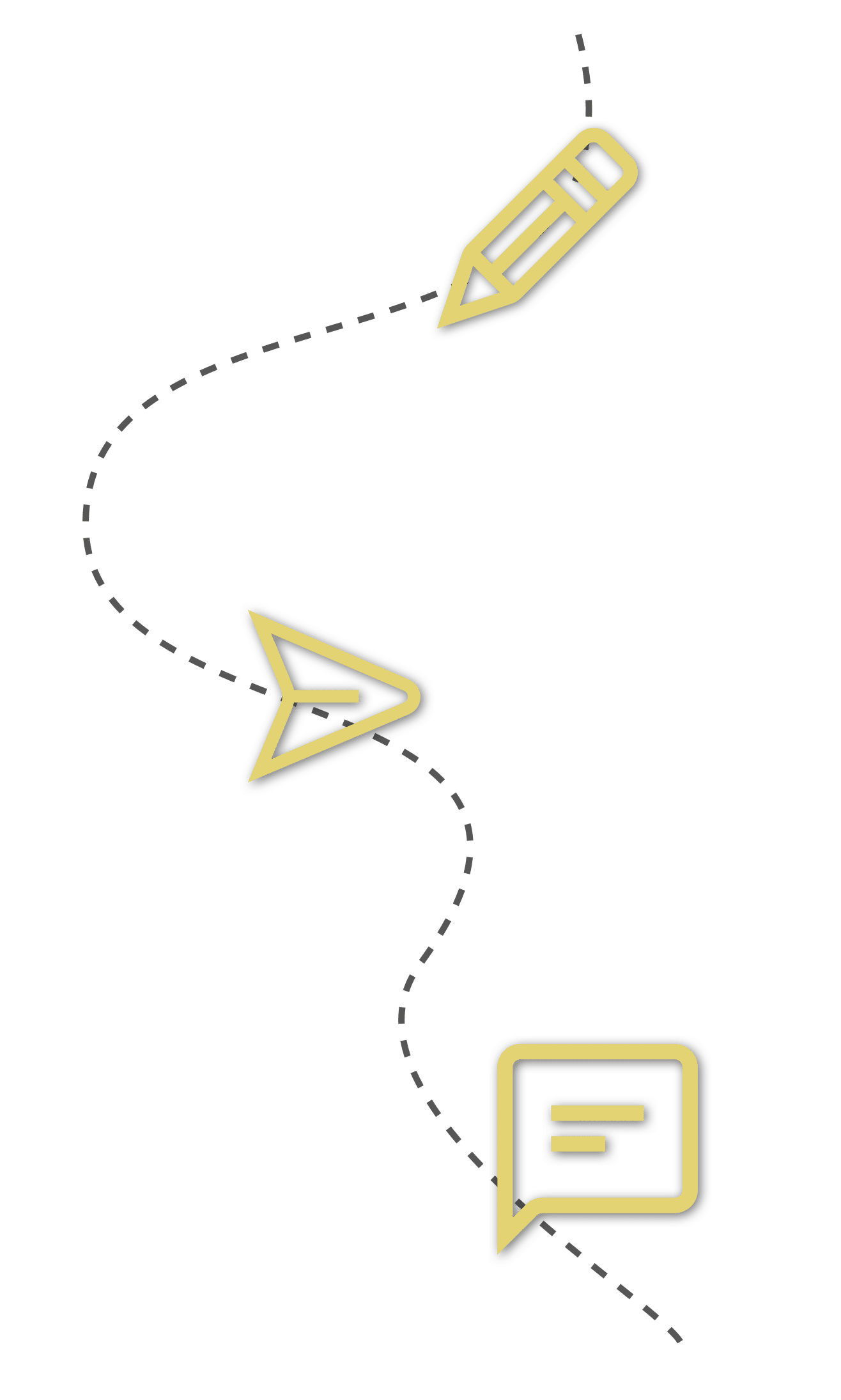 Drafting, designing, and maintaining a pristine and polished business proposal is very important for the process of bringing in new business to your company. To craft the best business proposal possible, it's important to know about different business proposal formats.
Business proposals can come in many different formats. Some of these formats include:
   

Small business proposals

   

Professional business proposals

   

Business analysis proposals

   

Business project proposals

   

Partnership proposals

   

Niche industry proposals (retail, salons, grocery, tech, etc.)

   

Business loan proposals
Some of these formats are more preferable for specific situations. For example, a small business proposal would (obviously) be preferable for small businesses because this type of proposal contains all the information, such as concepts, budgets, investments, goals, etc. for pitching a small business idea.
Another important part of a business proposal is the outline. An effective outline needs to include the following:
   

Executive summary

   

A brief overview of the subject matter

   

Realistic analysis

   

Customer information

   

Competition overview

   

Marketing strategies

   

Contact information

   

Graphics, infographics, drawings, photos, etc. that are relevant

   

Closing pitch
The Proposable Business Proposal Template is a wonderful place to start for generating free business proposal templates and free business proposal template Word docs. Our tool is also great for generating business proposal sample letters, business proposal sample PDF files, business proposal letters for partnership, and business research proposal sample PDF files. Starting from scratch is rarely a good idea when it comes to business proposals. Try using Proposable's business proposal format sample, cover letter for business proposal PDF, or even our short business proposal PDF template to start getting inspired for your own business proposal.
A project proposal is somewhat different from a business proposal. A business proposal is a focused sales-oriented document used to describe how a business plans to approach a specific project and how the project will provide value to clients, the business itself, and stakeholders. A project proposal, on the other hand, is a document that facilitates a business relationship between a business or organization and outside contributors to that organization or business. A project proposal can establish a formal and useful presentation to an outside partner or donor.
Brainstorming project proposal ideas is probably the most creatively interesting part of crafting a project proposal. After that, it's time to look into free project proposal templates and free business project proposal sample PDF templates. Proposable offers excellent project proposal examples for free. Want to learn how to write a project proposal for funding, or how to write a proposal letter for a project? Check out our business project proposal sample PDF files, project proposal template Excel samples, project proposal templates via Google Docs, simple project proposal examples, and much, much more at Proposable. We know you'll find your ideal proposal resource through us!
Throughout the year businesses will typically write many different types of proposals. From marketing research, to software, to design – proposals are written for lots of things within any organization. Some business proposal examples include:
   

Pre-proposals

   

Formal proposals

   

Academic or research proposals

   

Unsolicited and solicited proposals

   

Continuation or non-competing proposals

   

Renewal or competing proposals

   

Budget or revised budget proposals

   

Small business proposals

   

Supplemental proposals

   

Project proposals
There are many benefits to drafting a proposal, rather than just diving in or communicating verbally. To start, you'll have a formal document outlining all of your plans as a point of reference that benefits you and your team or stakeholders. Proposals organize concepts in a way that other people, namely people that will be approving a project, can understand. Sometimes a proposal that is well-designed can make or break whether or not your project or budgeting idea is approved. That's how powerful proposals can be in business.
Proposable is your one-stop resource to designing a solid proposal template. We provide many different samples and resources, including samples of written business proposals PDFs, software project proposal templates, marketing research proposal sample PDFs, small business proposal templates for Microsoft Word, and product business proposal letter samples. You'll find exactly what you're looking for to write a business proposal with Proposable!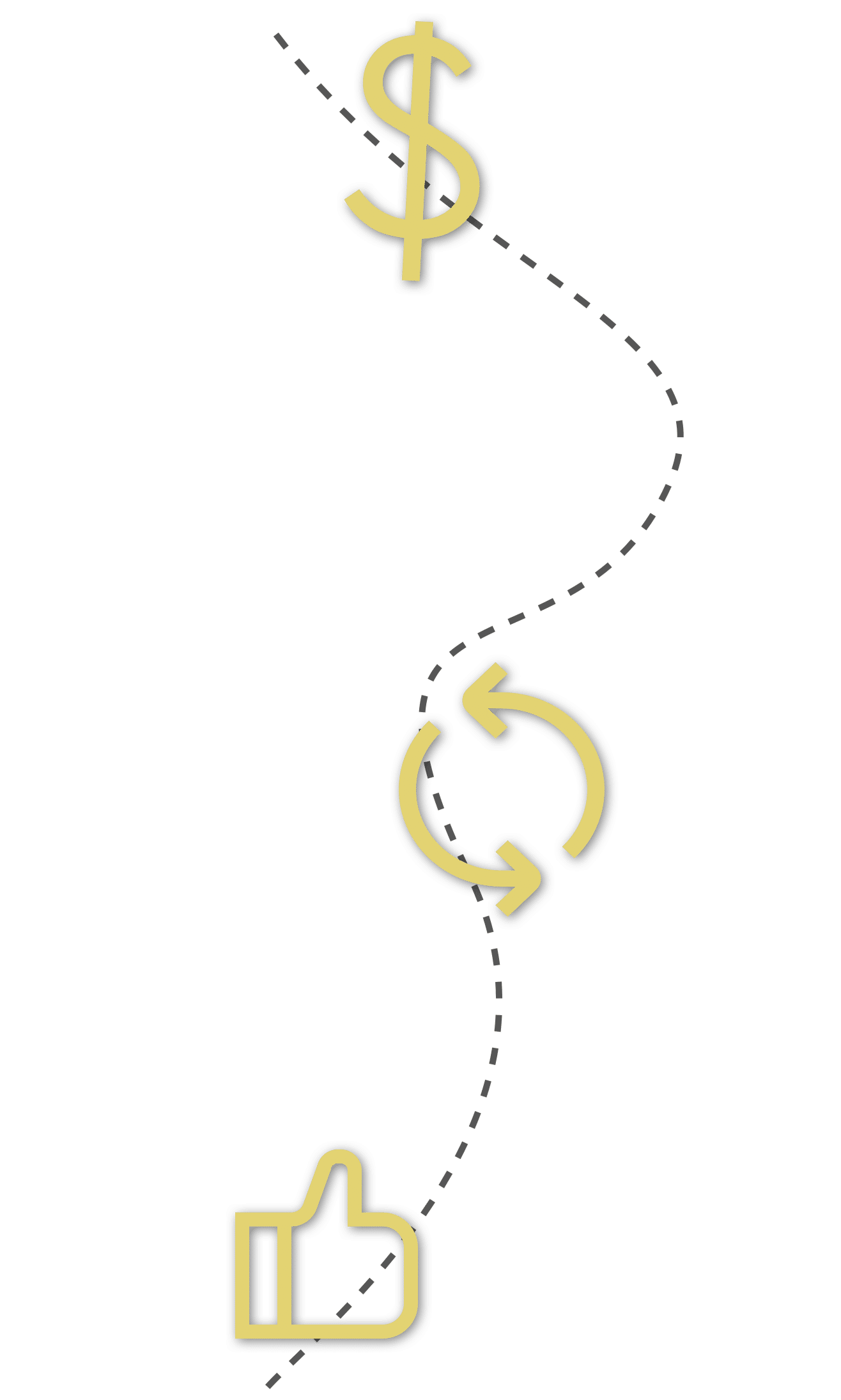 How to Write a Proposal for a School Project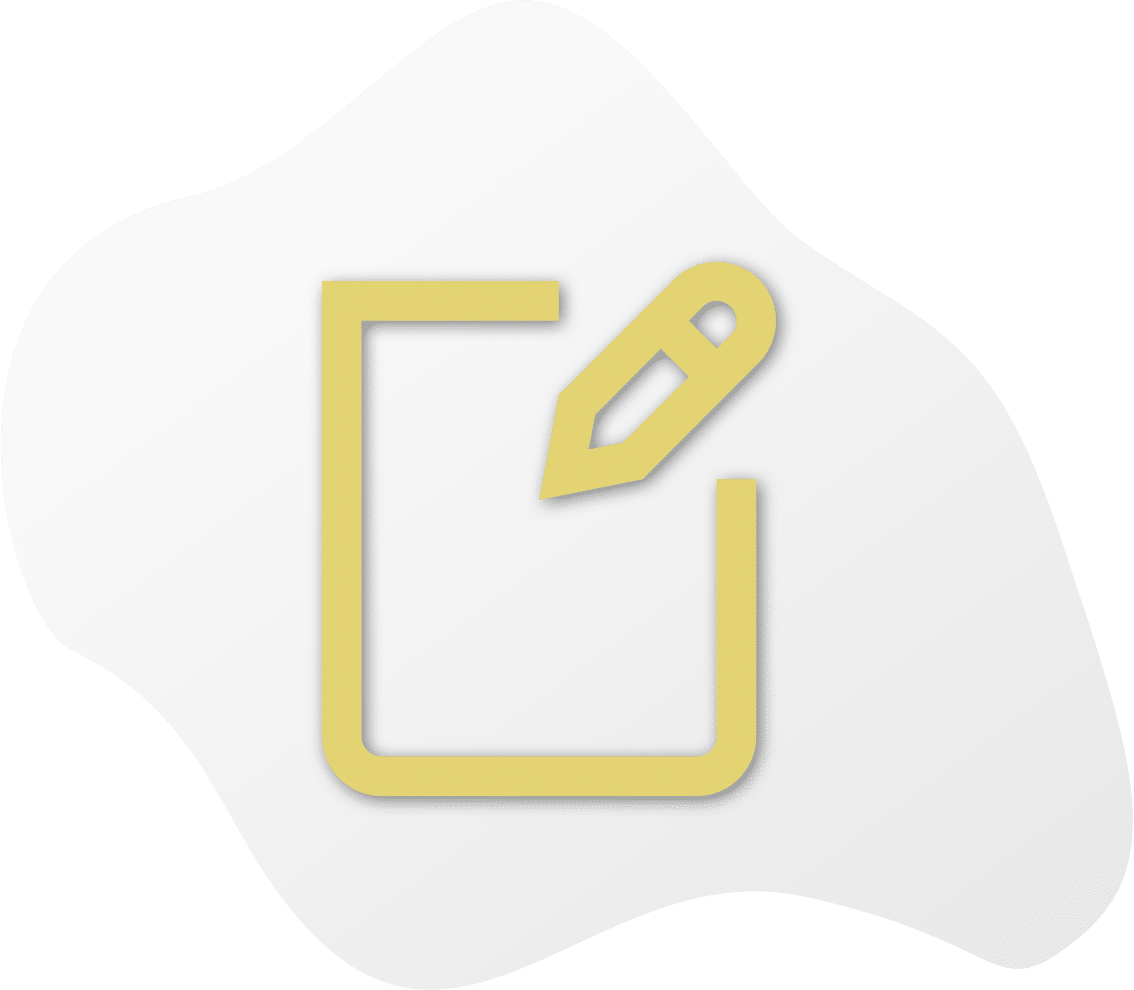 Need to know how to write a proposal for a school project, or how to end a proposal letter with examples? We've got you covered.
Writing a proposal for a school project is pretty simple:
Start out by planning your proposal. Do this by defining who your audience is, what your actual issue or problem is, and what the best solution could be.

Keep in mind what type of style design-wise you'd like your proposal to have. You can check out Proposable's proposal templates for a design that suits your aesthetic and subject.

Make an outline.

Open with a meaningful introduction.

State the issue or problem.

Suggest in-depth solutions and why they work.

Outline a schedule and a budget.

Wrap up with an interesting conclusion that summarized everything discussed in the proposal.

Proofread and fact check several times and don't forget to edit accordingly.
Better Proposals Start Here