SEO Contract
If you're looking to use search engine optimization as a way to increase your brand's exposure, you'll need a good SEO contract you can customize for your needs. Use our free SEO contract template as a starting point for your next contract. Customize in minutes then deliver and get approval with built-in eSignatures.
Best proposal software ever! 
I've tried soooo many proposal softwares and I'll never try another one after Proposable. It's so easy to use and it looks good, which all the others don't.
Smart, reliable, and constantly improving.
Proposable just works. I can make visually interesting sales presentations, dynamically insert content, and execute agreements. Proposable powers our entire sales process.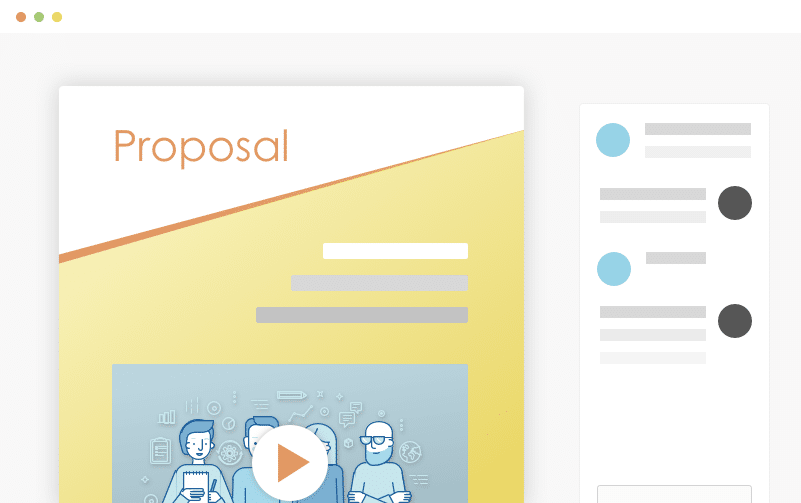 Wow Your Customers
Blow your clients away with a beautiful proposal that stands out above the rest. Add video and rich-media directly into your proposal pages for a more immersive sales presentation that's sure to make an impact.
Set Your Prices
Quickly build quotes, bids, and estimates with our flexible estimate block. With optional line-items, optional quantities, taxes, discounts and more, you can quickly represent your products and services in a polished and readable format. Organize all your products and services in the Pricing Catalog for instant recall.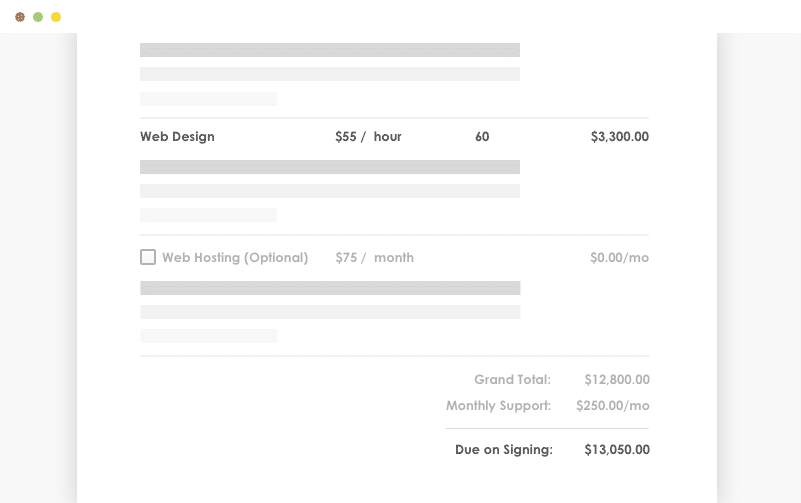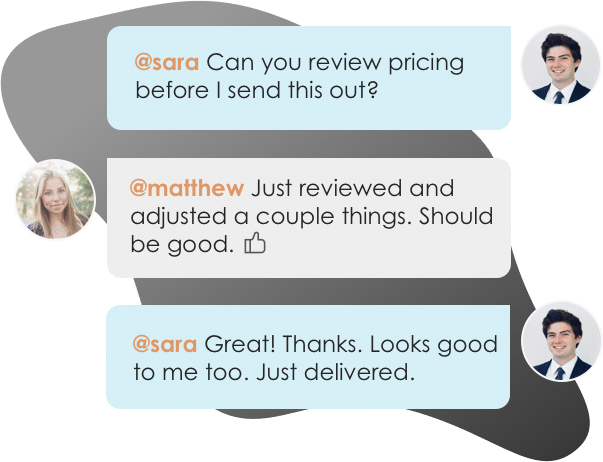 Work With Teammates
Easily collaborate with teammates on proposals. Mention team members to bring them into a proposal, or re-assign ownership when you need to handoff the proposal to another teammate.
Get It Signed
Close the deal faster with integrated e-Signatures. Place signatures, initials, and text field elements throughout your proposal wherever you need prospects to take action and your prospect is guided through a quick acceptance workflow to complete their acceptance. Counter-signing support is also included.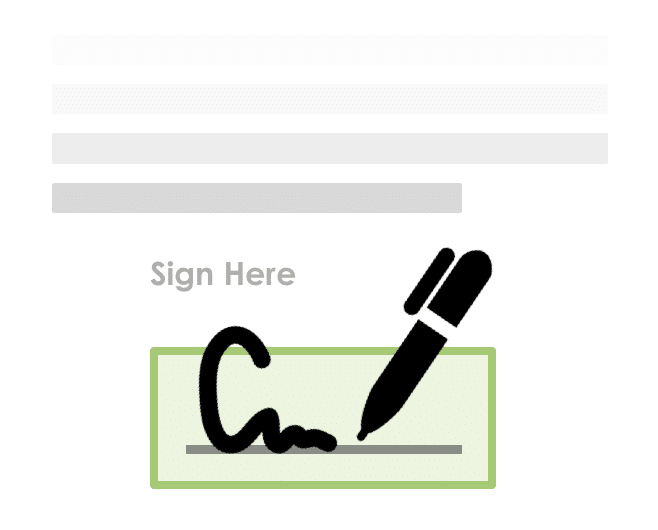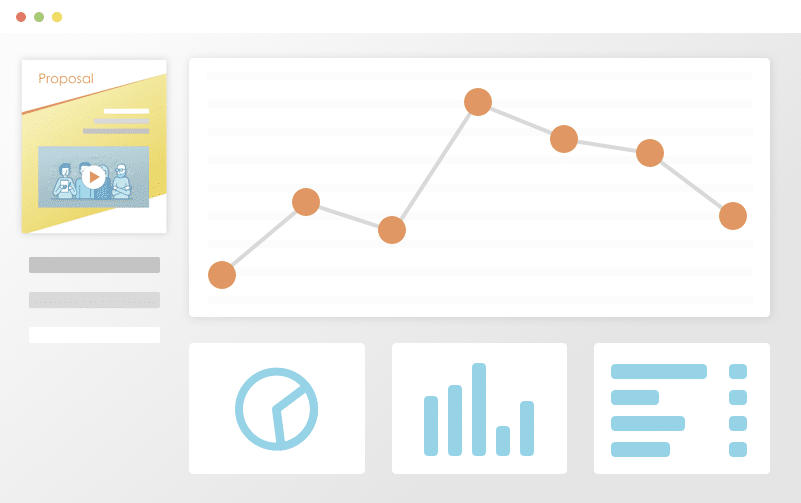 Track Everything
Ever wonder what happens to your proposal after you hit "send"? See detailed analytics and measure how each recipient is interacting with your sales material. Turn on real-time text or email notifications for proposal views and other key events.
Get Your Time Back
Save time and headaches by skipping the painful copy/paste and find & replace on all new proposals for your prospects and customers. Simplify your new proposal workflow to just a few clicks and go from spending hours on customizing new proposals to just minutes.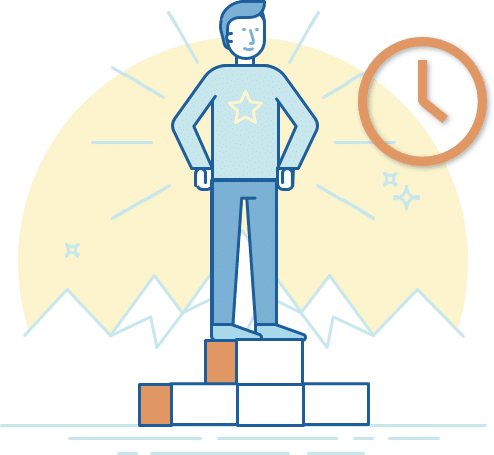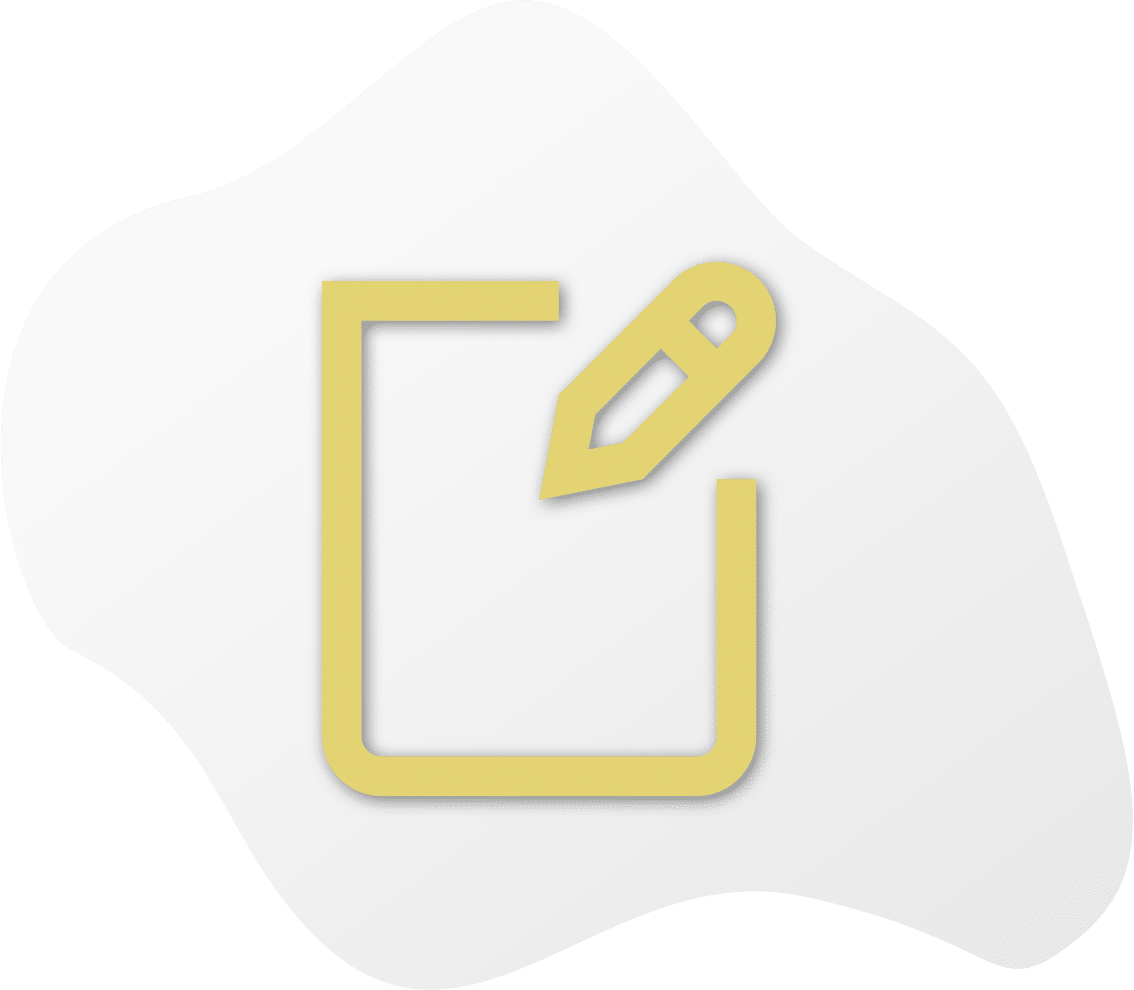 SEO is short for search engine optimization. Search engine optimization is all about making changes to websites (in terms of their content and their overall functionality) so that they can show up as close to the top as possible in internet searches.
When a website is located close to the top of a search engine results page (also known as a SERP), if not at the very top, the company's bottom line can increase. This is because people are more likely to click on search engine results that show up near the top of the page.
When more people click on a specific website, they're more likely to make purchases and work with the business that owns the website. This, in turn, leads to more sales and more revenue for the company.
Most businesses know about the importance of SEO. They might not know where to begin, though, when it comes to actually optimizing their sites. Because of this, there are lots of companies and individual SEO specialists that help businesses improve their rankings.
Both SEO businesses and individual SEO specialists should use an SEO contract before working with clients. An SEO contract typically includes important information, such as the specific services provided (keyword research to find the best construction SEO keywords, content writing to create blog posts and website copy, etc.), the fees to be charged for those services, and the time frame in which they'll be provided.
An SEO contract is different from an SEO proposal or digital marketing proposal. However, a proposal can become a contract. For this to be the case, it should include certain elements, including some kind of agreement and a clear explanation that something of value is being exchanged for something else of value (e.g., SEO services are being exchanged for money).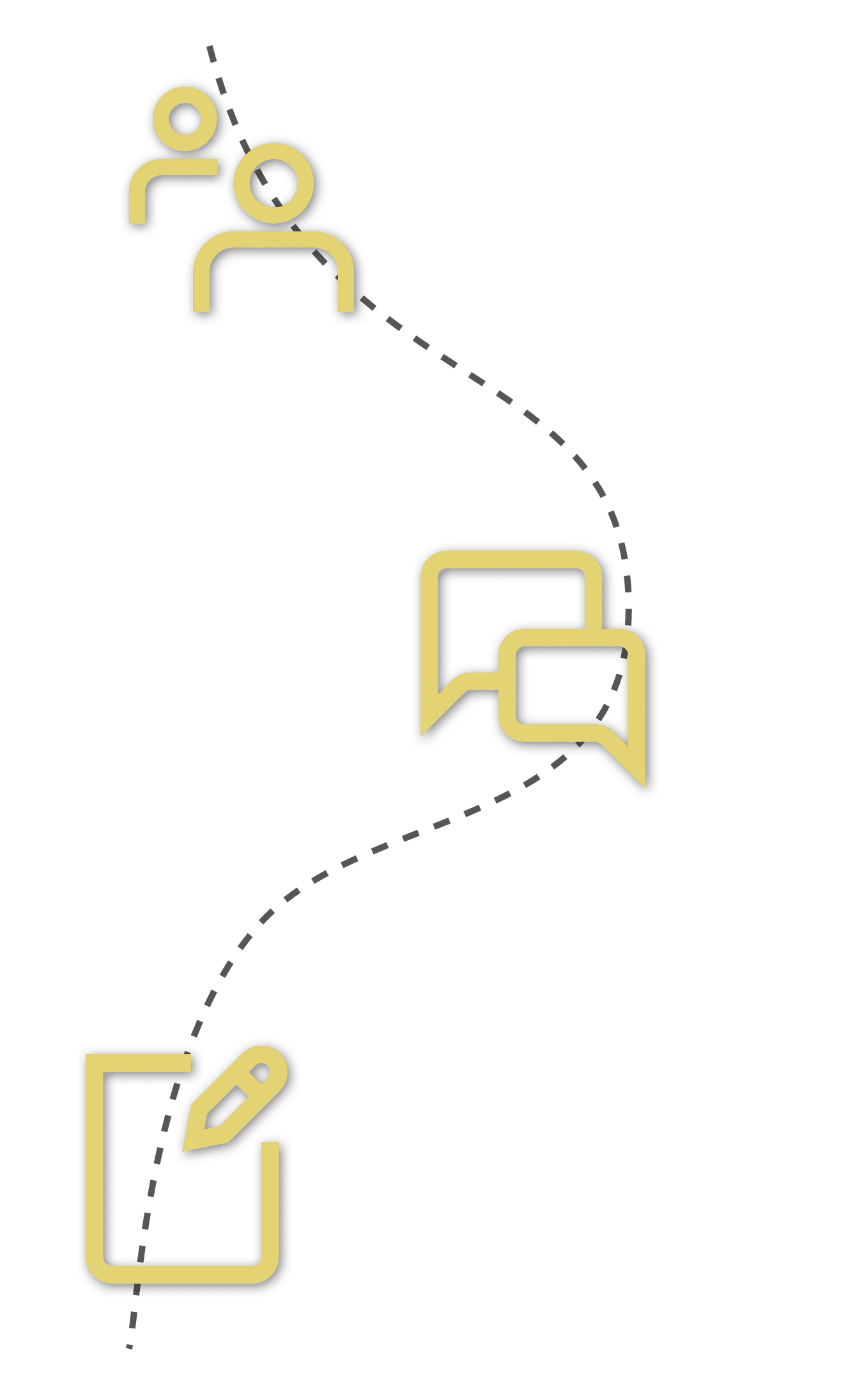 You now have a basic understanding of the SEO meaning. You might not actually know how to do SEO, though, or understand what the different types of SEO are.
There are lots of different tactics that SEO companies and SEO specialists use to help a company's website rank better in search results, including the following:
Improving the user experience of your website (faster load times, easier navigation, fewer 404 pages, etc.)

Including keywords and phrases that people are likely to use when searching for businesses like yours

Making online content easily readable with clear headings, short paragraphs, and simple sentences

Including videos in your website content and online marketing materials

Creating long-form content so people spend more time on your website

Targeting local searchers by including location information in your content
All of these techniques can help to improve your website's search engine ranking. As your search engine ranking improves, you'll see an increase in website traffic. This, in turn, can lead to an increase in sales and more profitability for your company.
Remember, people don't want to have to dig for helpful information. If your website shows up near the top of the page, they'll likely click on it and view you as a credible resource.
You can learn a lot about these different SEO strategies with the help of an SEO tutorial or SEO wiki. This will take time, though, as well as a lot of trial and error.
If you want answers to questions like "What is SEO in digital marketing" but don't have the time to do a ton of research, it might be in your best interest to work with an SEO company or SEO specialist. They can do the heavy lifting for you and free you up to focus on other, equally important things.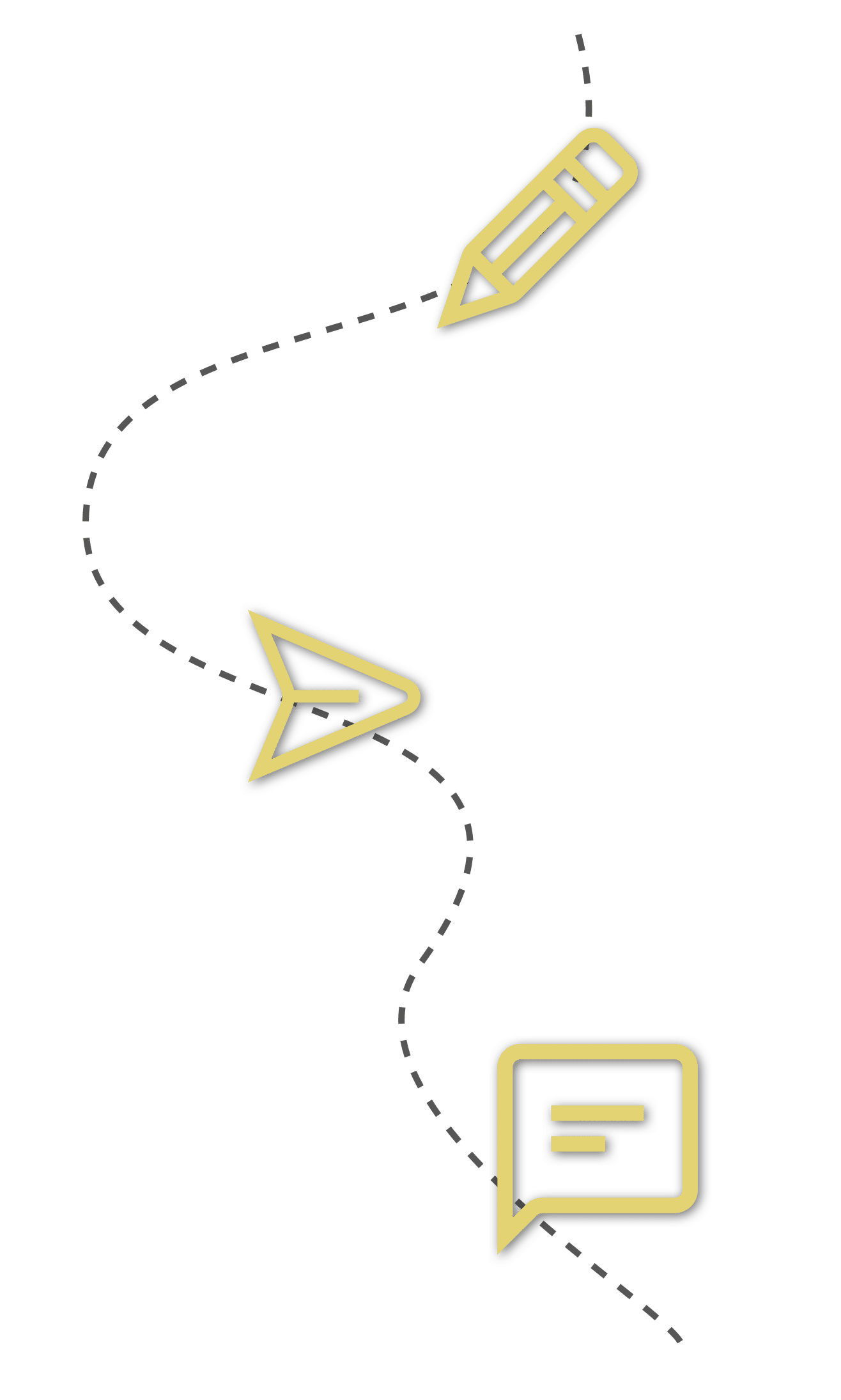 In addition to understanding the meaning of SEO, it's imperative that businesses understand the basic SEM meaning. SEM is short for search engine marketing, and it involves using certain SEO tactics, primarily paid advertising, to market your business and grow your audience.
Some of the most common examples of search engine marketing including bidding for certain keywords or paying for Google ads. There are lots of benefits that come with investing in search engine marketing, including the following:
Increased brand awareness

Increased brand visibility

Access to a targeted audience of shoppers who are already interested in what you sell

Access to analytics that can help you refine your ads
As with SEO, there are lots of companies and individual specialists who offer SEM services to help you grow your business and improve your search engine rankings. If you plan to hire an SEO or SEM company or specialist, it's crucial to have a strong contract in place. You also need to identify specific benchmarks that you'll use to measure the company or specialist's effectiveness.
Remember, not all professional services are created equal. Some SEM experts are better than others, and you need to have a clear understanding of how you'll determine whether or not they're worth the expense.
When you begin working with specialists look for SEM or SEO contract jobs, it's important to have a search engine marketing proposal or SEO contract PDF in place. This kind of document will help you clarify the specific services you're receiving, as well as how much you'll be paying for them.   
Proposable has a very thorough digital marketing proposal that you can use to create marketing and SEO contracting proposals. It's more robust than other options, such as the PandaDoc marketing proposal, and it's also very easy to fill out and save.
An SEO proposal is a document that an SEO company or SEO specialist might present to a potential client. This is, essentially, a sales pitch for the company or specialist.
The proposal gives the company or individual specialist a chance to explain their services and provide specific insights into how they can help their potential client overcome a particular problem (not ranking highly enough, having lower-than-average website traffic, etc.).
If you look at a typical SEO proposal doc, whether it's an SEO proposal for an eCommerce website or a local SEO proposal, you'll see that it often includes the following pieces of information:
Introduction and SEO statement of work summarizing the company or specialist's services

SEO scope of work explaining what they would like to do

Insights into the potential client's current performance and the goals the company or specialist would like to help the client achieve

SEO terms and conditions covering things like compensation and timelines for their work

Call to action inviting the potential client to take the company or specialist up on their offer
In addition to a written SEO proposal, SEO companies or specialists might also use an SEO deck to outline their services and get a potential client interested in working with them. This is a visual presentation that is a bit more dynamic than a traditional proposal.
Whether you're looking to create an SEO proposal or an SEO deck, it helps to use an SEO proposal template to guide you and ensure you don't leave anything out.
You could look at a YouTube SEO proposal or a PanaDoc SEO proposal example. Proposable's SEO proposal template contains much more information, though. It's free to fill out and can't be changed once it's finished, making it more secure than a lot of other proposal template options.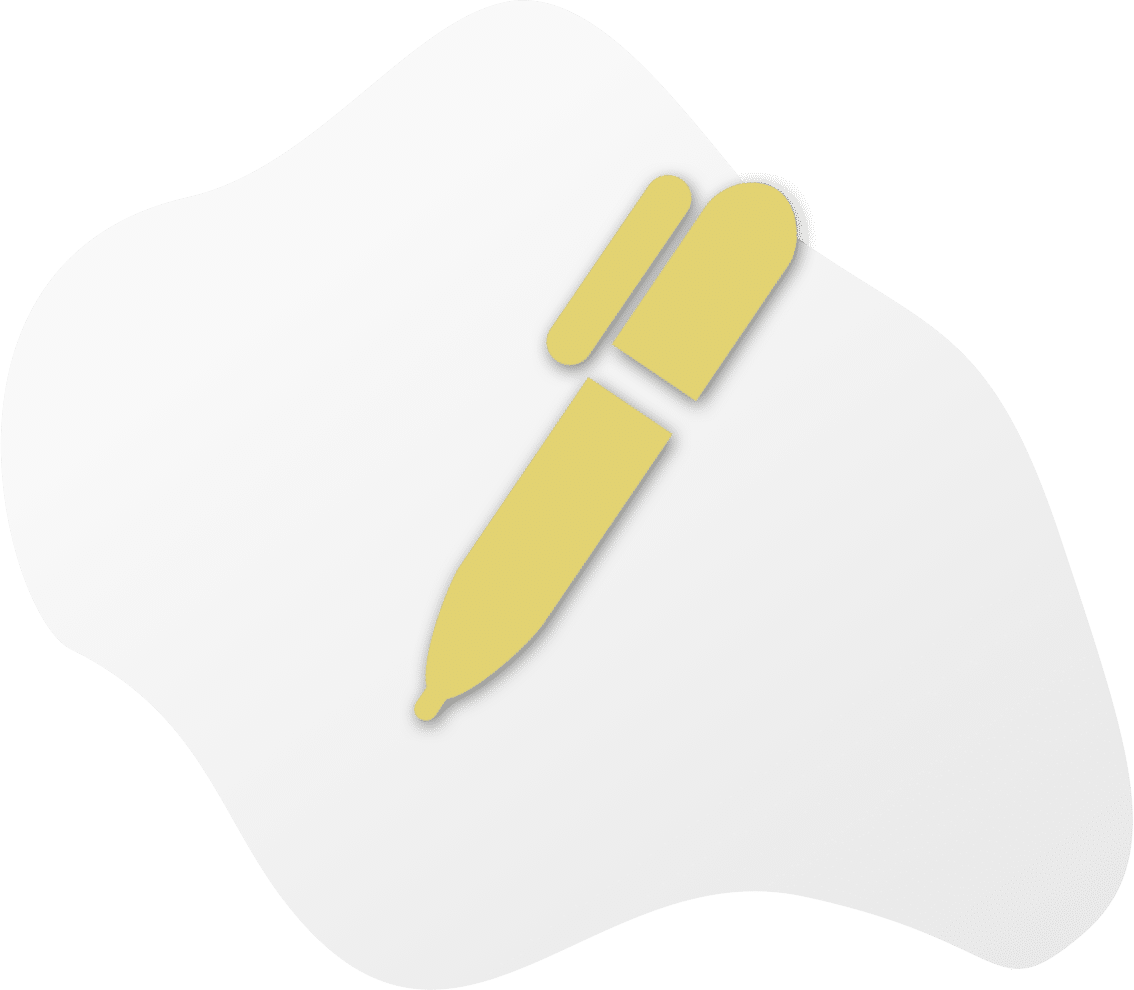 Edit & deliver this template.