Digital Marketing Proposal Template
If you offer digital marketing services to clients, then you should give yourself an advantage over the competition by using a polished digital marketing proposal template that wows your customers. Create, deliver, and track all your proposals in minutes, then collect signatures and payments all within your proposal for a seamless sales proposal workflow.
Best proposal software ever! 
I've tried soooo many proposal softwares and I'll never try another one after Proposable. It's so easy to use and it looks good, which all the others don't.
Smart, reliable, and constantly improving.
Proposable just works. I can make visually interesting sales presentations, dynamically insert content, and execute agreements. Proposable powers our entire sales process.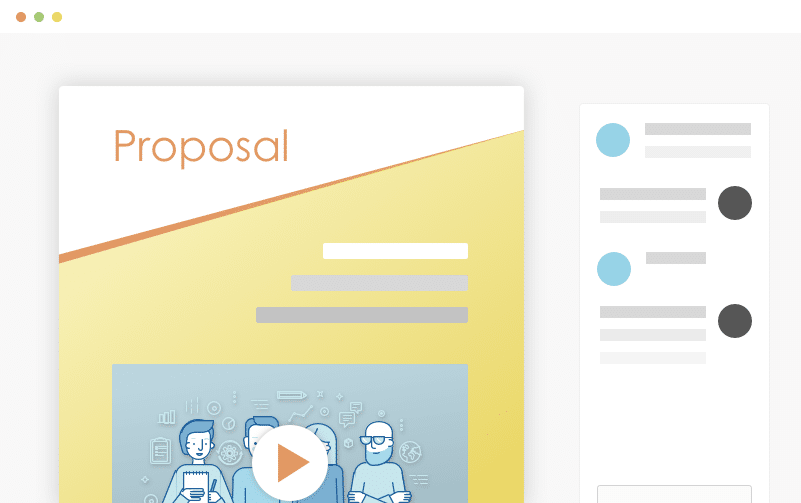 Wow Your Audience
Blow people away with a beautiful proposal that stands out above the rest. Add video and rich-media directly into your proposal pages for a more immersive sales presentation that's sure to make an impact.
Set Your Prices
Quickly build quotes, bids, and estimates with our flexible estimate block. With optional line-items, optional quantities, taxes, discounts and more, you can quickly represent your products and services in a polished and readable format. Organize all your products and services in the Pricing Catalog for instant recall.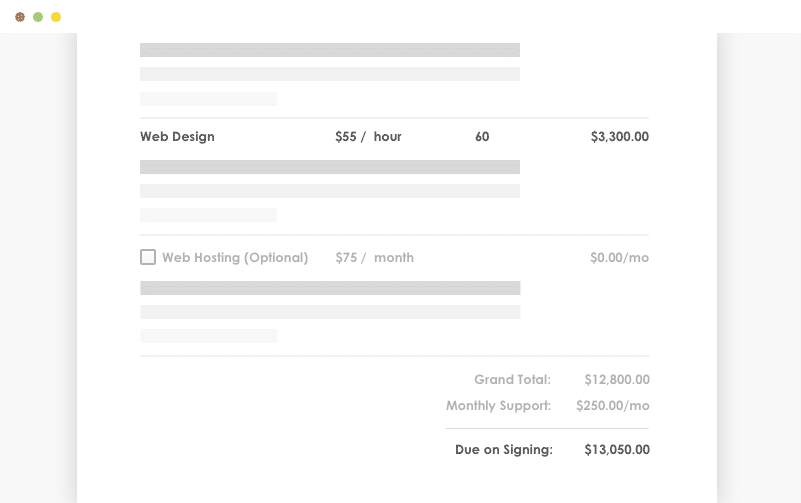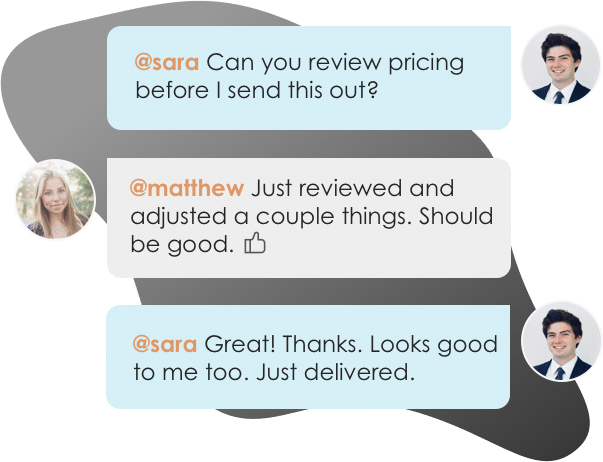 Work With Teammates
Easily collaborate with teammates on proposals. Mention team members to bring them into a proposal, or re-assign ownership when you need to handoff the proposal to another teammate.
Get It Signed
Close the deal faster with integrated e-Signatures. Place signatures, initials, and text field elements throughout your proposal wherever you need prospects to take action and your prospect is guided through a quick acceptance workflow to complete their acceptance. Counter-signing support is also included.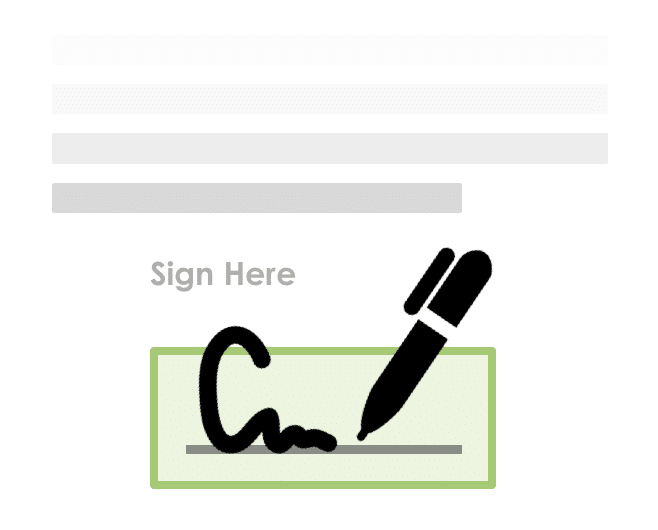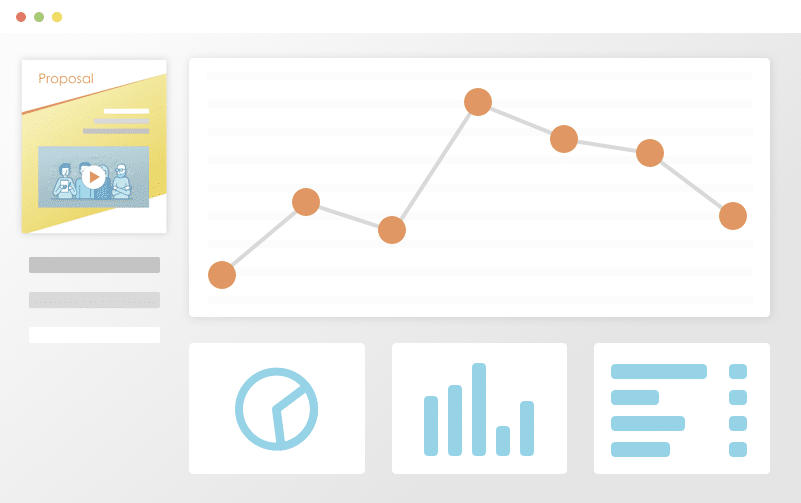 Track Everything
Ever wonder what happens to your proposal after you hit "send"? See detailed analytics and measure how each recipient is interacting with your sales material. Turn on real-time text or email notifications for proposal views and other key events.
Get Your Time Back
Save time and headaches by skipping the painful copy/paste and find & replace on all new proposals for your prospects and customers. Simplify your new proposal workflow to just a few clicks and go from spending hours on customizing new proposals to just minutes with proposal software.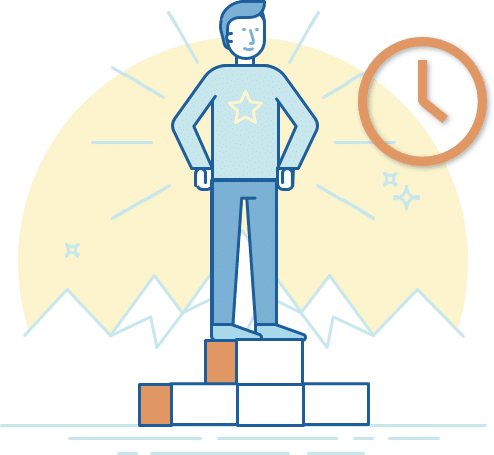 Edit & deliver this template.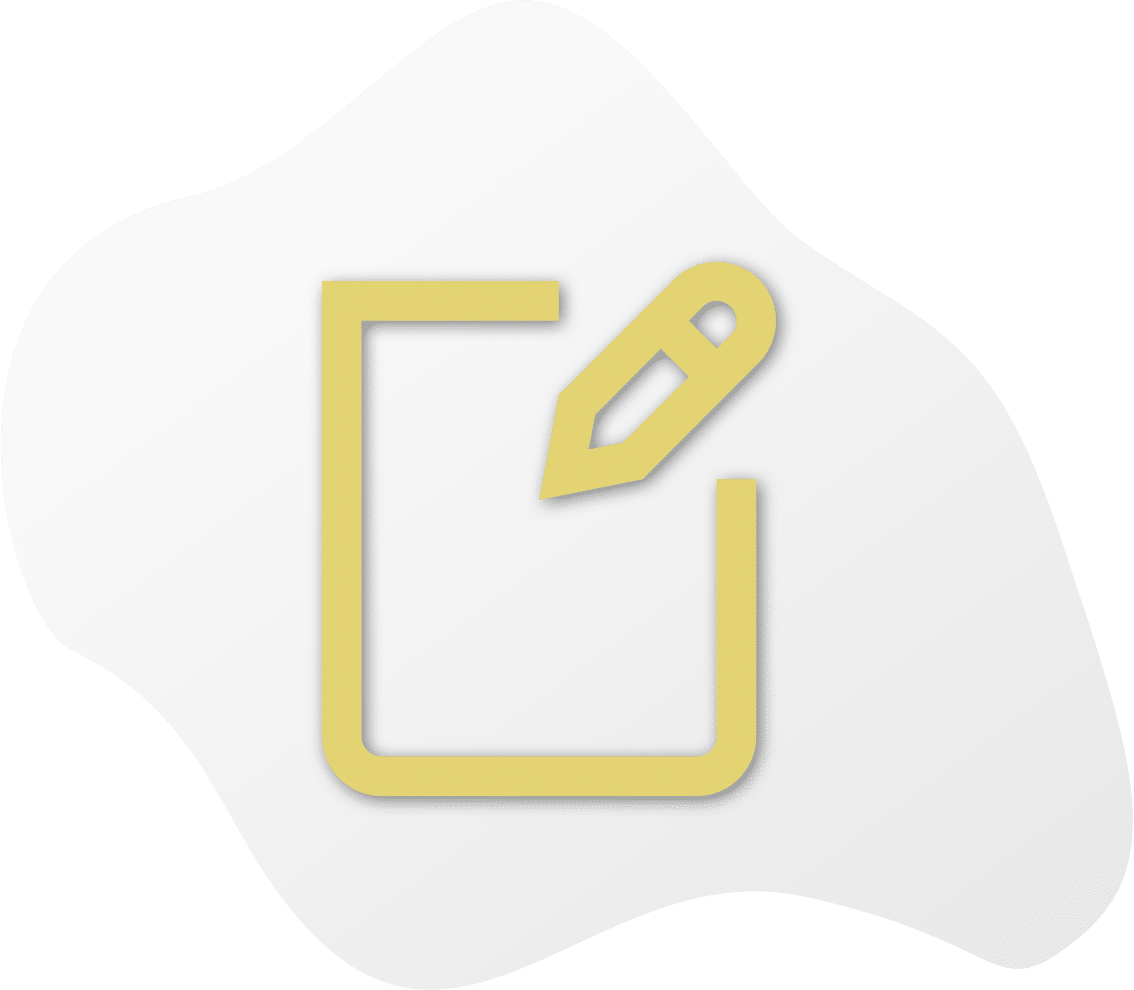 A marketing agency wishing to develop a digital marketing agency proposal PDF is smart. Digital marketing is the term that refers to all marketing efforts that a business conducts online. It encompasses social media, search engine optimization (SEO), email marketing, and website marketing to create a comprehensive approach in selling a product or service.
While there are forms of traditional marketing that are still effective, such as word of mouth marketing (WOMM), the dynamic and compelling nature of digital marketing trumps anything that could happen through a mailer or half-hearted event. If you are a digital marker, you should have a digital solution to help you create a digital marketing proposal doc that elevates your efforts.
Free and premium tools like Proposable can help you pitch your services through a digital proposal for client doc or digital marketing proposal for client PPT to garner the desired client response. Working alongside a digital marketing proposal example or digital marketing proposal sample doc can ensure that you incorporate the elements you need to finalize a digital marketing proposal for client PDF that they can sign to hire your company.
Ditch the old formats of how you sell your marketing services and opt for a digital marketing proposal letter that incorporates and embeds rich multimedia features that let customers know you mean business. Whether you are looking for a digital marketing proposal PDF or digital marketing proposal template doc, the Proposable team has got you covered. Our premium tools far outweigh the efficacy that digital marketing proposal template free download documents cannot match.
Over the course of this guide, we are going to show you how to access free resources, develop a marketing proposal for new product outline, and a social media proposal template that can allow you to showcase your services by helping your agency or freelance services gain the attention of your target audience.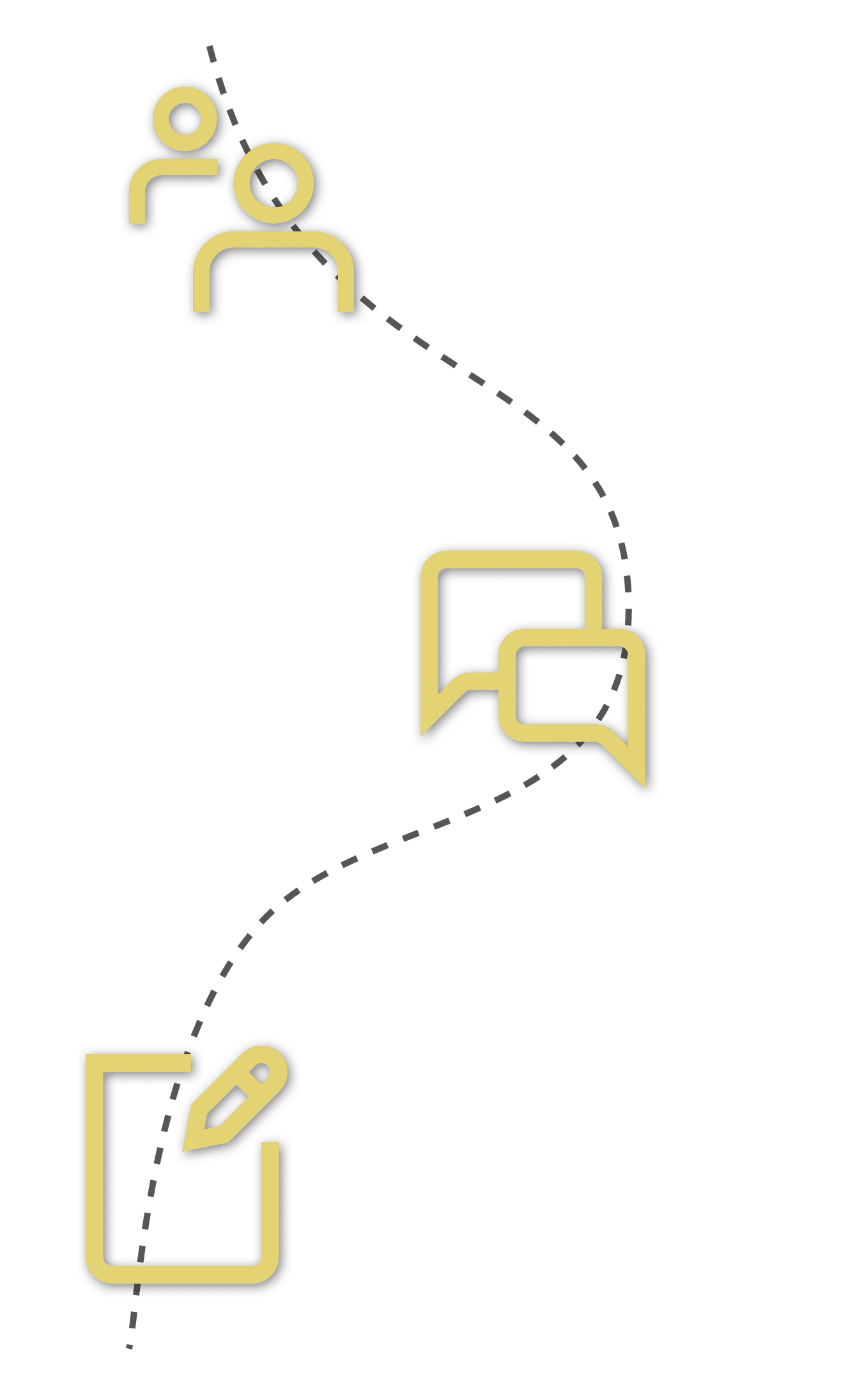 Free Digital Marketing Proposal Template
A typical search for a marketing proposal often begins with locating and downloading a free digital marketing proposal template.
The key benefit of using a free marketing proposal template is that it is FREE! There is no cost upfront to use them, and they typically offer a decent outline that helps you get started.
However, a freelance digital marketing proposal is only as good as the person who designed it. You have no way of knowing if they have the knowledge, skills, and experience that even qualify them to create a free marketing proposal sample PDF.  Plus, free downloads offer no or little support in case you run into customization issues like trying to figure out how to change the design or back-end of the template.
Simply put, you may actually end up spending more time and money trying to create a document than going with a premium tool, like Proposable. We offer you the features that you need to produce a high-quality, scalable proposal templating process in a fraction of the time and cost.
Marketing Proposal For New Product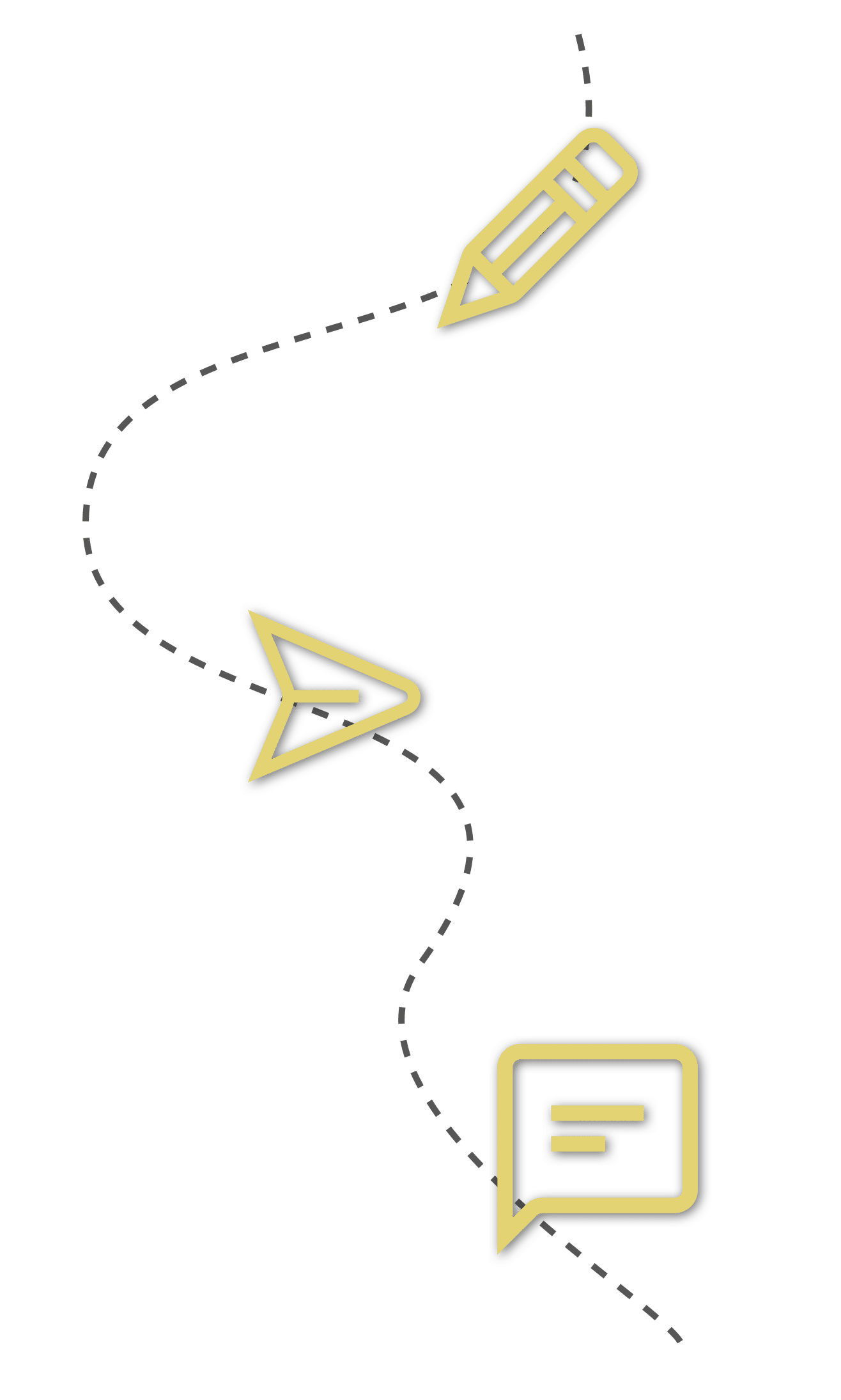 Digital marketers are often asked to help a company launch a new product and will subsequently issue a marketing proposal for new product requests. Coming up with marketing proposal ideas in your marketing proposal letter for your simple marketing proposal template can be a challenge.
The good news is that the Proposable team has done the heavy lifting for you. Below, are a few elements that you can incorporate into your marketing proposal letter while working alongside a marketing proposal sample doc to get you started:
An executive summary that offers a problem statement

The solution you are proposing to solve that problem

The benefits and features of working with your agency

How you price your services and expect to be paid

A strong call-to-action to close the deal
While the preceding list is not entirely exhaustive, it helps you understand the direction in which you should take your efforts. Consider using a high-quality tool, like Proposable, that allows you to present your findings and recommendations using video or images with a marketing proposal template PPT.
As a marketer, it is your purpose to make your clients build brand awareness and garner sales that bring them to their knees. If you can't present yourself well, how can anyone else buy into what you are throwing down?
Look, we aren't trying to be harsh. You are in marketing and already know these fundamental principles.
However, if you notice, many marketers tend to use client-facing documents that are incredibly lackluster. Imagine how much more you will stand out from the crowd by creating a media-rich, interactive proposal that draws your clients into the process. It is powerful, and our customers have come to rely upon the features and services that we offer.
It is our mission to help you communicate more effectively using features that help you look amazing when approaching businesses to work with you.
Social Media Marketing Proposal Doc
Social media marketing is so powerful for many reasons. First, it gives people their own voice under a platform that allows them to connect with people who may or may not want to hear what they have to say.
While there is a ton of senseless chatter on social media (you've seen those comments), it is an effective way for a company to market its products and services online. Social media incorporates content sharing, social proof, analytics, and word-of-mouth, all under a single solution.
It is for these reasons that using an incredible social media proposal doc or social media marketing proposal PDF 2020 is valuable to your agency. Having the right social media marketing proposal for client PDF is the difference between a traditional document and one that sends your clients the message that you get what they are about.
A feature-rich solution, like Proposable, gives you an opportunity to showcase your past client results and solutions in a dynamic way. Long gone are the days of paper documents. Switch things up, put your best face forward, and work with a social media marketing proposal doc that actually works for—and not against—you.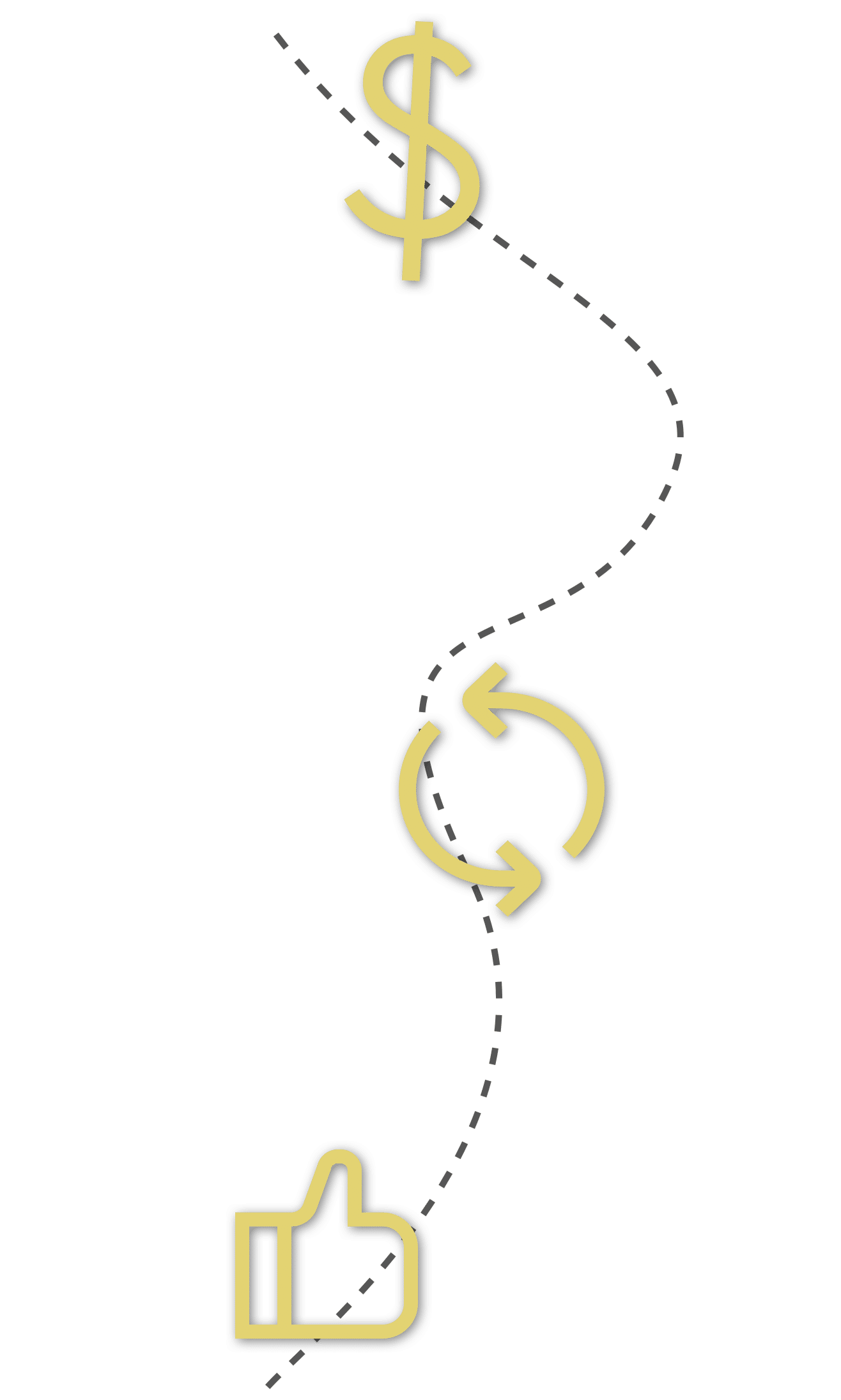 Edit & deliver this template.