Remodeling Contract Template
From gathering inspiration to choosing the design and materials, remodeling a home can be an exciting prospect. It also can have its share of headaches as unseen issues can cause delays, unexpected result, and sometimes the loss of client satisfaction. As a contractor who provides remodeling services, it's important that you minimize your liability and have a clear agreement with the property owner. We've made it simple to put together a strong and clear agreement with our remodeling contract template. Use our free and fillable template to kickstart your process and get you customizing immediately. Deliver this agreement and get it signed in minutes with built-in eSignatures.
Best proposal software ever! 
I've tried soooo many proposal softwares and I'll never try another one after Proposable. It's so easy to use and it looks good, which all the others don't.
Smart, reliable, and constantly improving.
Proposable just works. I can make visually interesting sales presentations, dynamically insert content, and execute agreements. Proposable powers our entire sales process.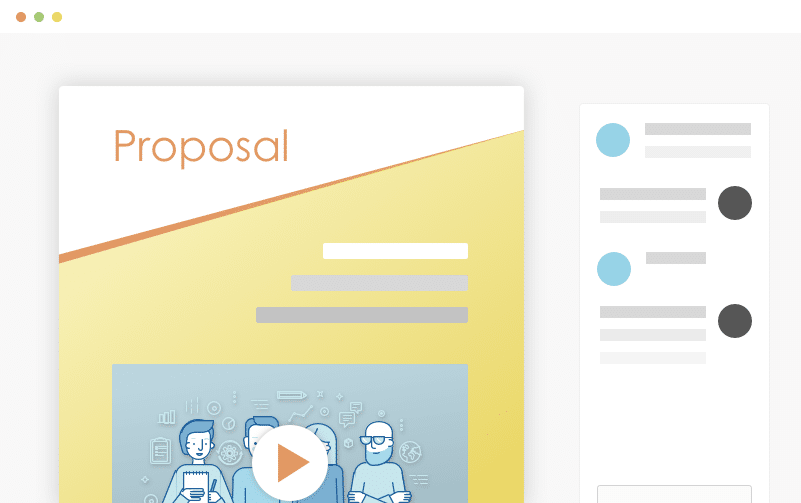 Wow Your Customers
Blow your clients away with a beautiful proposal that stands out above the rest. Add video and rich-media directly into your proposal pages for a more immersive sales presentation that's sure to make an impact.
Set Your Prices
Quickly build quotes, bids, and estimates with our flexible estimate block. With optional line-items, optional quantities, taxes, discounts and more, you can quickly represent your products and services in a polished and readable format. Organize all your products and services in the Pricing Catalog for instant recall.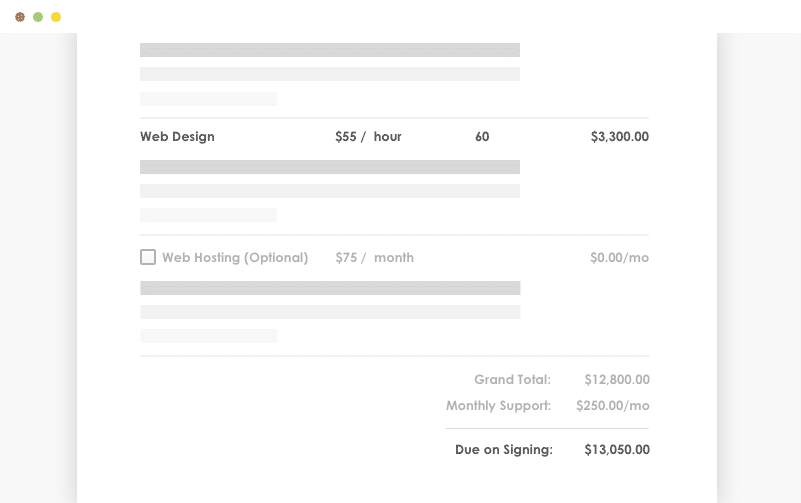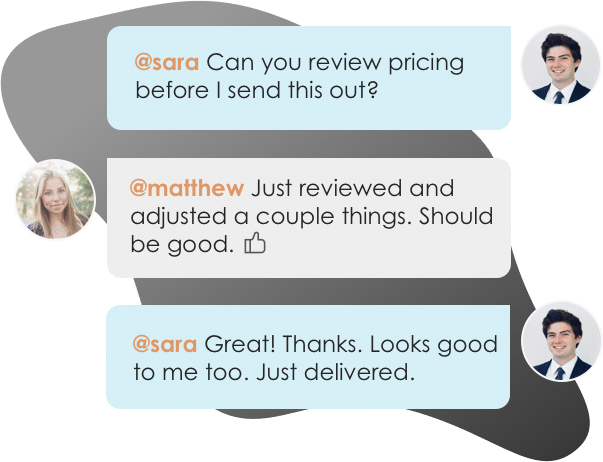 Work With Teammates
Easily collaborate with teammates on proposals. Mention team members to bring them into a proposal, or re-assign ownership when you need to handoff the proposal to another teammate.
Get It Signed
Close the deal faster with integrated e-Signatures. Place signatures, initials, and text field elements throughout your proposal wherever you need prospects to take action and your prospect is guided through a quick acceptance workflow to complete their acceptance. Counter-signing support is also included.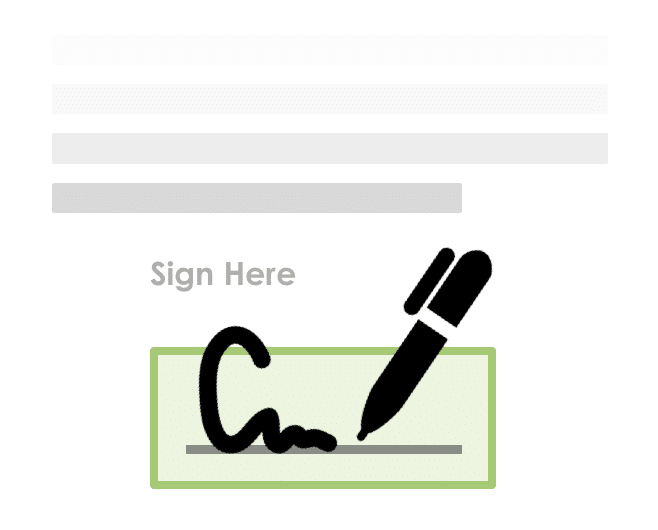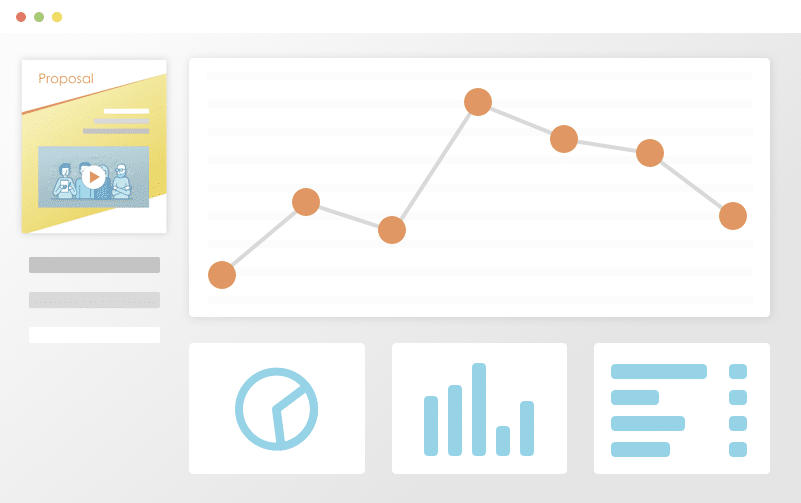 Track Everything
Ever wonder what happens to your proposal after you hit "send"? See detailed analytics and measure how each recipient is interacting with your sales material. Turn on real-time text or email notifications for proposal views and other key events.
Get Your Time Back
Save time and headaches by skipping the painful copy/paste and find & replace on all new proposals for your prospects and customers. Simplify your new proposal workflow to just a few clicks and go from spending hours on customizing new proposals to just minutes.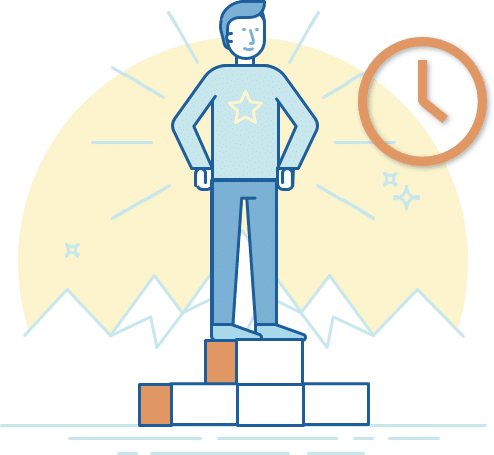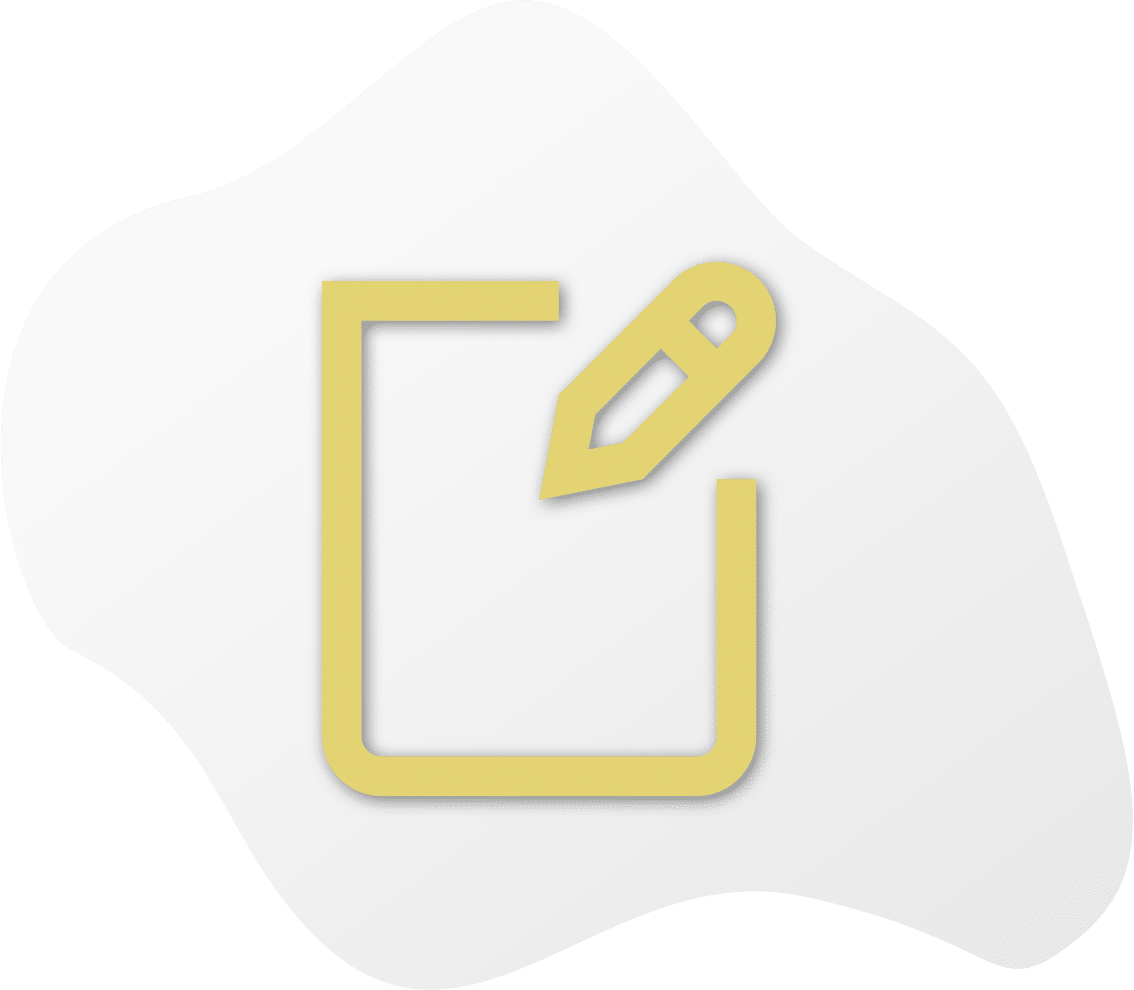 Remodeling a house can be quite a strenuous process, especially if you have never remodeling a home or building before. It involves a significant level of planning and almost always involves hiring a contractor.
The basics of remodeling a home usually involve the following:
Find inspiration for the remodeling project.

Budget out exactly how much you can spend on the project.

Make a list of materials such as paint and lighting fixtures.

Start shopping for a contractor.

Draft a commercial construction contract.
Writing an agreement between investor and contractor is a necessary element of remodeling one's home. The civil contract agreement format varies from project to project, but will usually include things like the contractor's responsibilities, the end result of the project, images and blueprints, and legally binding information. It's recommended to use a signed contract for a modeling job as a homeowner or business owner to protect both yourself and the builders in question. Without a contract, a builder could not do exactly what you wanted, and a homeowner could demand constant revisions. To put it simply, a contract can ensure that the contractor and homeowner know exactly what is expected of them, as well as the legal repercussions for going against the contract.
Ready to get started on your remodeling contract? Proposable offers a free remodeling contract template word document and builders contract templates for a variety of use cases when it comes to home remodeling. Writing a building work contract shouldn't have to be hard, and Proposable makes it incredibly easy. Get started today to draft your contract template doc and build that homeowners building contract!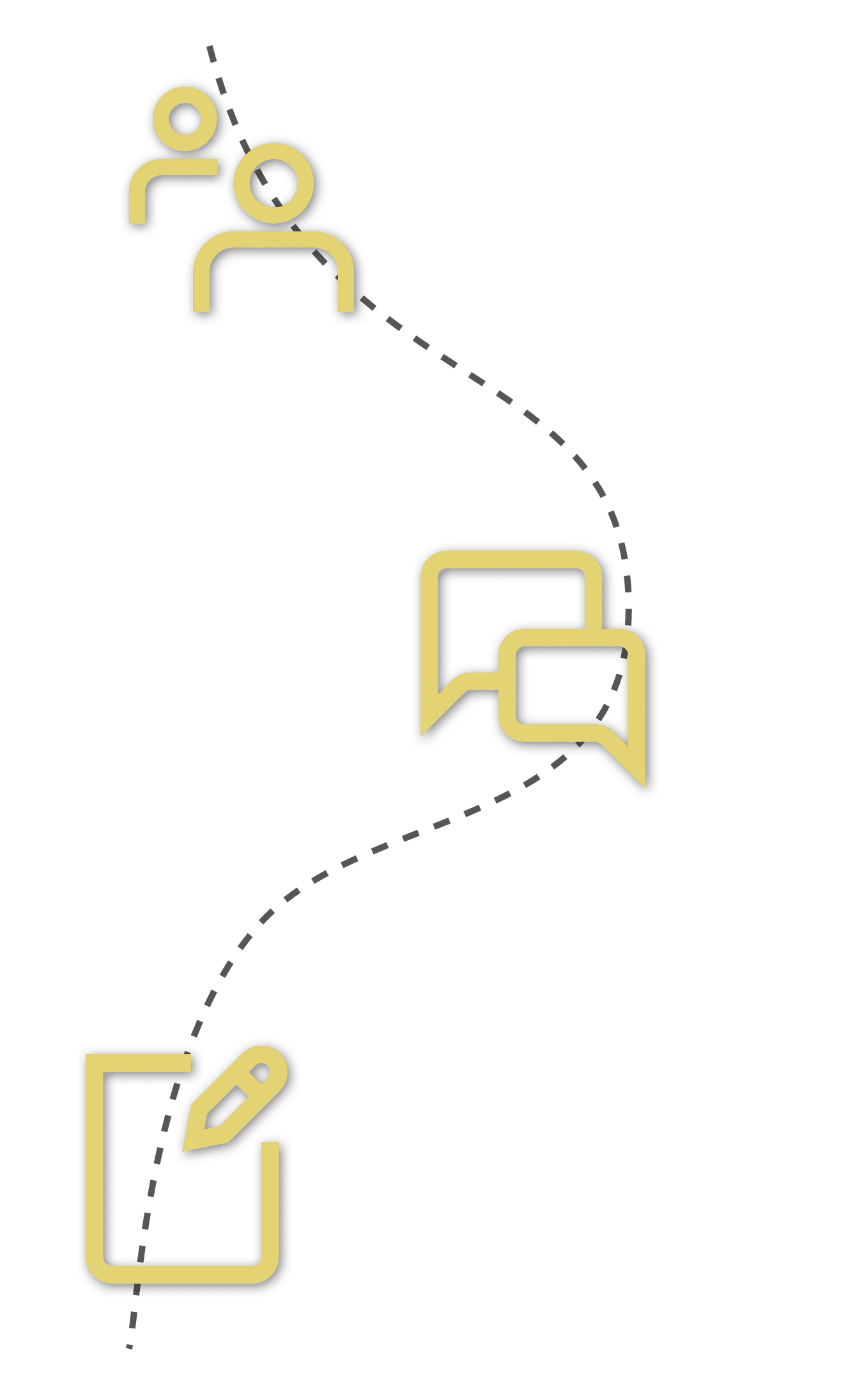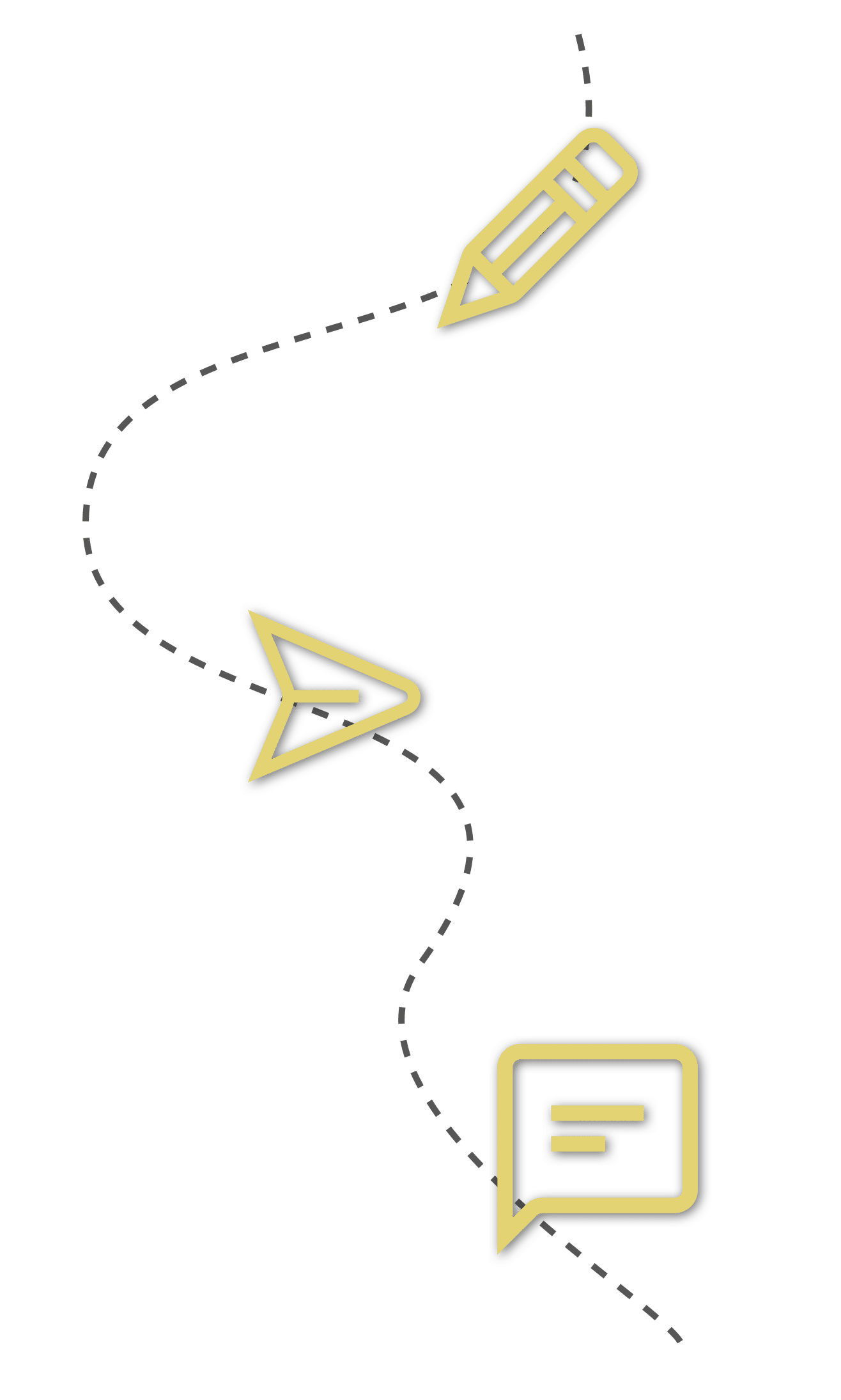 A typical construction contract will include a wide range of elements. Not all construction contract include the same information, but a vast majority will including the following:
The title of the project

The purpose of the project

A detailed description of the construction project that is to be completed

Estimates of costs, payment schedules, and overall budget

All materials needed and their estimated costs, as well as whether those materials will be purchased by the owner or contractor

The contractor's insurance information, credentials, and references

Any and all exclusions

Details on the project's warranty
Usually, a construction or home repair contract is typically terminated by the completion of the project, or by completing the minimum amount of work in a pre-determined timeframe. The terms for termination should always be included in the contract itself.
The type of contractors that will be sought out for home improvement also varies. A rehab contractor is often a company or independent worker who doesn't remodeling specifically. There are also repair people and handymen that are good at fixing problems during the remodeling process. You may hire one or both of these types of workers, but a contract should always be drafted. A construction contract can change depending on who is hiring the contractor specifically, be it a real estate development company or an independent home owner.
Writing a home repair contract or a house flipping contractor agreement shouldn't be so hard. And it really doesn't have to be with Proposable! Proposable features many different types of home improvement contract template, including repair agreement forms, residential construction contract templates, simple home repair contract templates, and sample residential construction contracts. If you need to use a NJ home improvement contract sample ASAP, look no further than Proposable to get your kitchen contract template in the works.
Project Collaboration Agreement
Depending on the job in question, a homeowner may need to draft a very specific contract or even multiple contracts. A few construction contracts that one may have to write include:
Remodeling contracts. These are written when working with a full team or multi-person contractor for remodeling a specific part of a home.

Repair contracts. These contracts are written between a homeowner and a handyman for repairs relating to the home.

New construction contracts. If you plan on building a new home, you'll need to draft a contract with an actual builder.

Demolition contracts. Some construction contractors specialize in demolition and cleanup. If you're trying to destroy an existing structure to build over it, a demolition contractor will be needed.
Your contract should be specific to the sort of work that a contractor is doing and will be doing for your project. If you don't have a construction contract in place, then neither you or the construction company are protected legally and financially during the project. A homeowner could make ludacris demands and a construction company could simply not build the structure properly. Construction contracts provide legal recourse in the event that either party does not adhere to the terms outlined in the contract. These legal repercussions can very depending on the severity of the transgression.
If you want to ensure that your contract agreement for construction work is as detailed and secure as possible, use Proposable's Construction Contract Template to make your next contract. Proposable's construction contract termination clause samples and penalty clause in construction contract samples have everything you need to ensure your contract is sound. In need of a free printable simple home repair contract template? Proposable has a wide range of contract template pdf files, including contractor contract samples, fixed price construction contract templates, general contractor contract templates, home builder contracts and construction management forms.
Service Contract Templates
A service contract is a business agreement that is written between a contractor and a client that covers the maintenance and servicing of specific equipment for a specific period. In the context of home renovation, a service contract is written when a client needs to rent machinery for a construction project or for manpower to operate the machinery in question. Such a contract ensures that the contractor will maintain the machinery and perform the requested services, but also that the homeowner will uphold their end of the deal. A remodeling contract is more or less a service contract because it contracts an entity to provide specific construction services.
Using a contract as a contractor or as a homeowner can help you touch all the bases necessary for a detailed contract. IF you need some excellent service rehab scope of work template or free printable contracts for contractors, trying using Proposable's Service Contract Template to make your next service contract. A siding contract template can make all the difference, and also can save you a lot of time and energy when writing from scratch. Proposable's service contract template Microsoft word document and Washington state construction contract templates are highly specific and perfect for niche contract needs.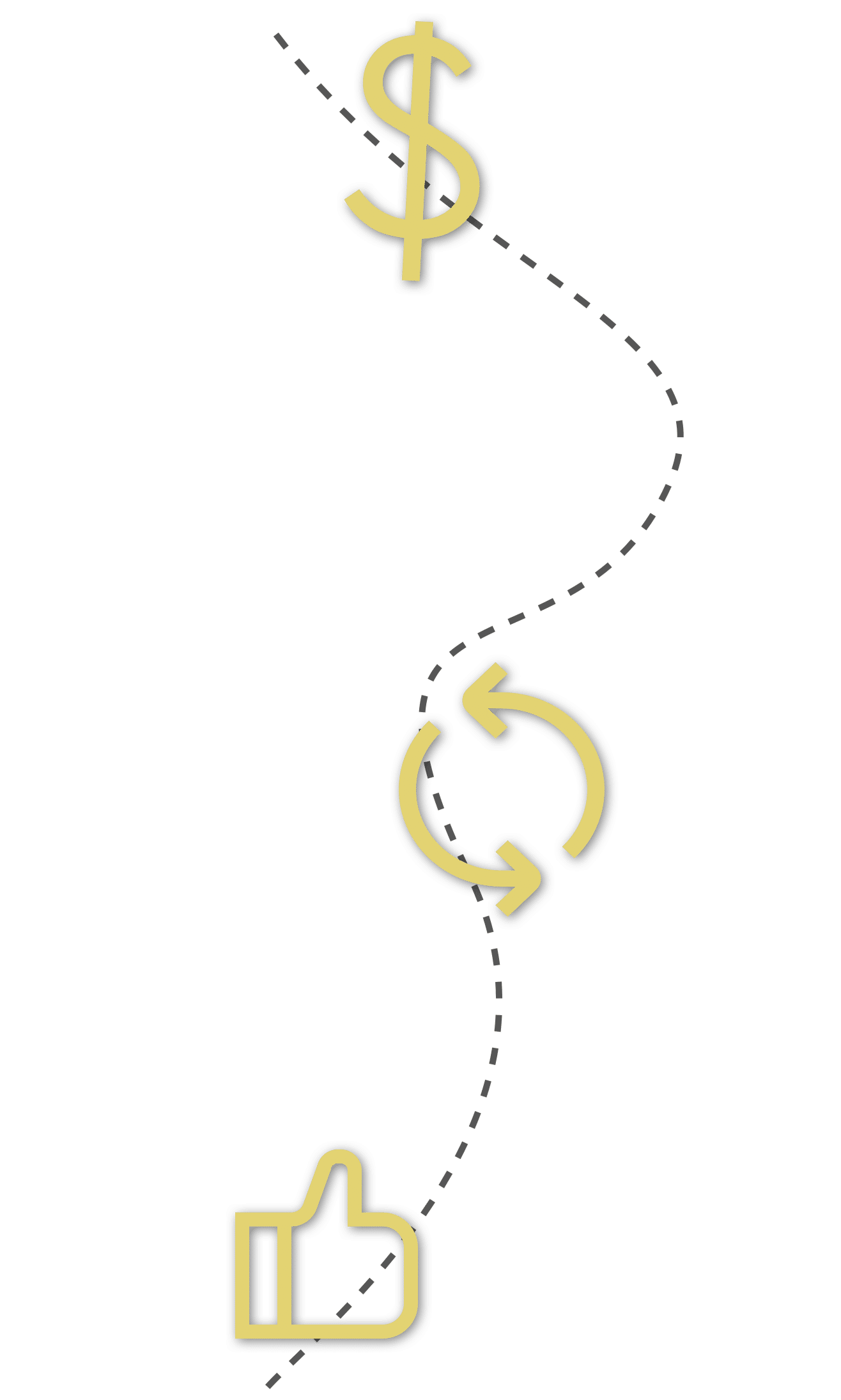 Contract Lifecycle Management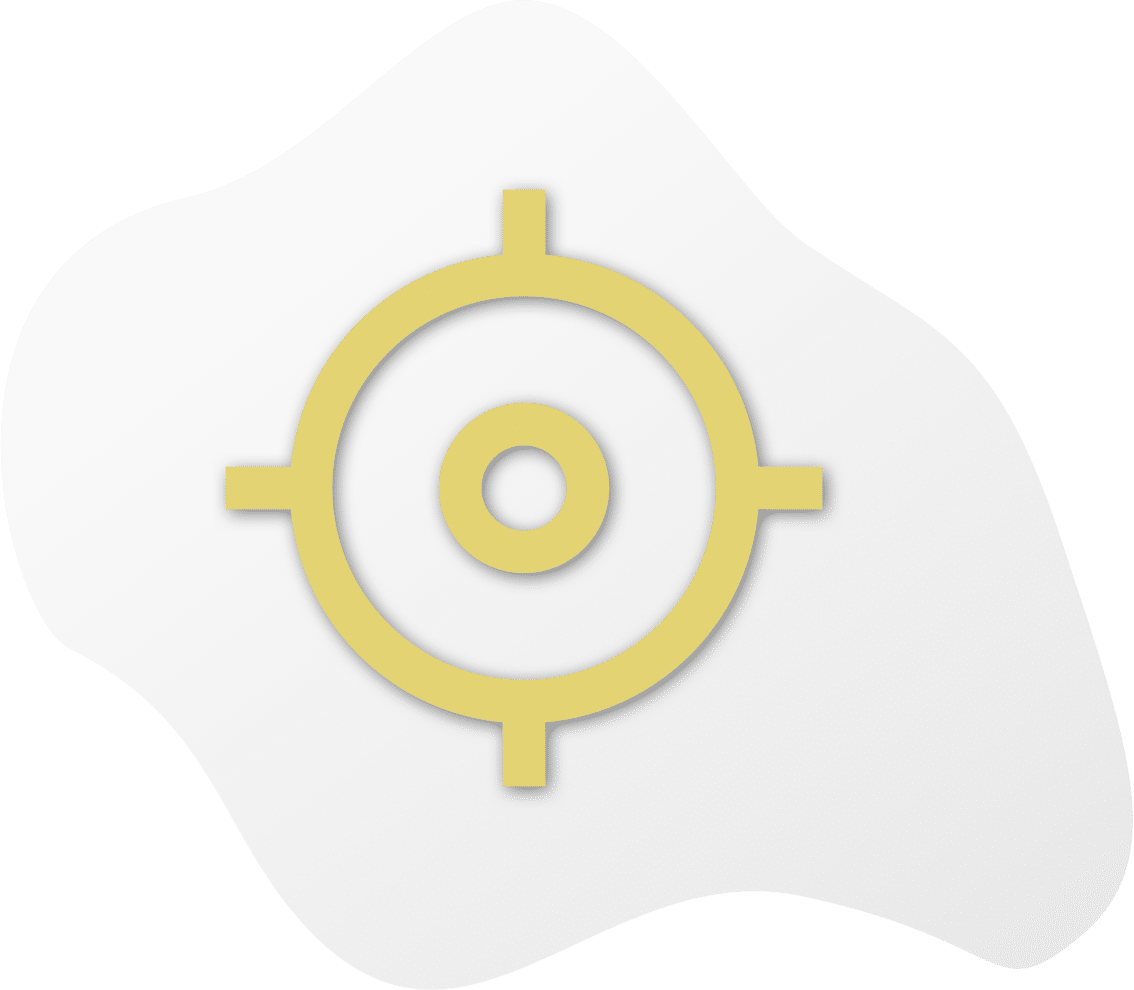 A new construction contract should touch a few specific bases, no matter what the project is specifically for. A new construction contract checklist includes:
Names and addresses of all businesses and clients involved

Site plans and graphic depictions of how the completed project will look, as well as drafted images of what the project will look like at various stages

Detailed section on how payment will work

Who will pay for what materials

What will happen if either party breaches the contract

A detailed and in-depth description of the work that is needed

An estimated timeline for the job that is to be completed
A residential construction agreement should be extremely thorough and should outline everything about, especially the payment and purchasing side of things. A residential construction contract should never be signed until all of the plans are completed and an actual job site walkthrough have been completed. This ensures that the site where the building will commence is stable and meets zoning requirements in order to build.
Whether you're writing a kitchen design contract or a simple contract for building a deck, Proposable is there to help with an excellent online template platform for writing contracts. A standard construction contract needs to be clear and concise, and that can be difficult to achieve if you're drafting a new home construction purchase agreement from scratch. This is where a home building contract example or construction contract template comes in handy. Being able to see samples of a labour contract agreement for construction of house can help those who aren't quite used to writing these specific contracts get a feel for their appearance. Just as well, a template that is fillable also makes drafting contracts extremely easy and quick. No graphic design expertise required. Give Proposable a try today!
Edit & deliver this template.