Creating a Business Proposal Template from scratch can be a long and tedious process, but if you have an existing website, you probably already have most of the content needed to create an engaging proposal. In this article, we will help you create an effective proposal template that will win more sales.
Proposal Template Structure
Cover Page – A cover page is an important component because it allows you to present the proposal and remind your customer of the date that it was sent. If your prospect has requested proposals from other competitors, it's important to have your logo, contact information and date in a clear and visible manner.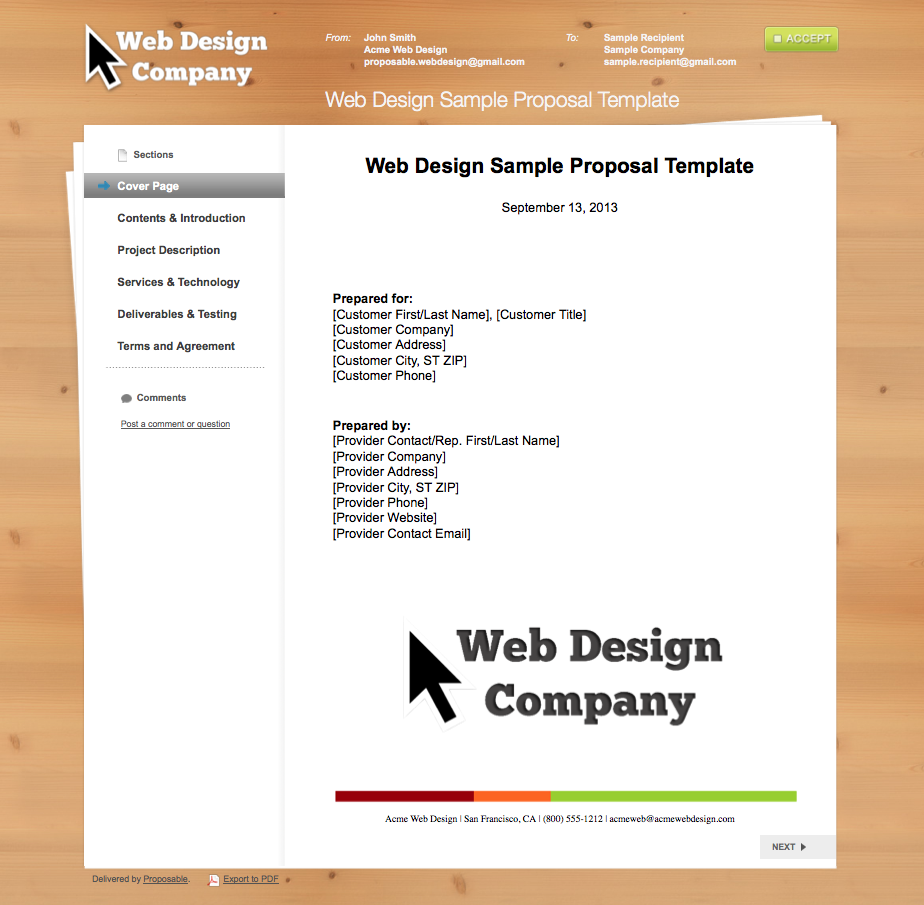 Featured Template: Web Design Sample Proposal Template
Executive Summary or About Us – Telling your prospects who you are and what you focus on helps them to ensure you are appropriately aligned. Include your credentials, experience and success stories to emphasize your ability to work with them. Share your profile and team members to gain customer confidence and acceptance. It's a great way to show that you're not a fly-by-night company and have what it takes to support them.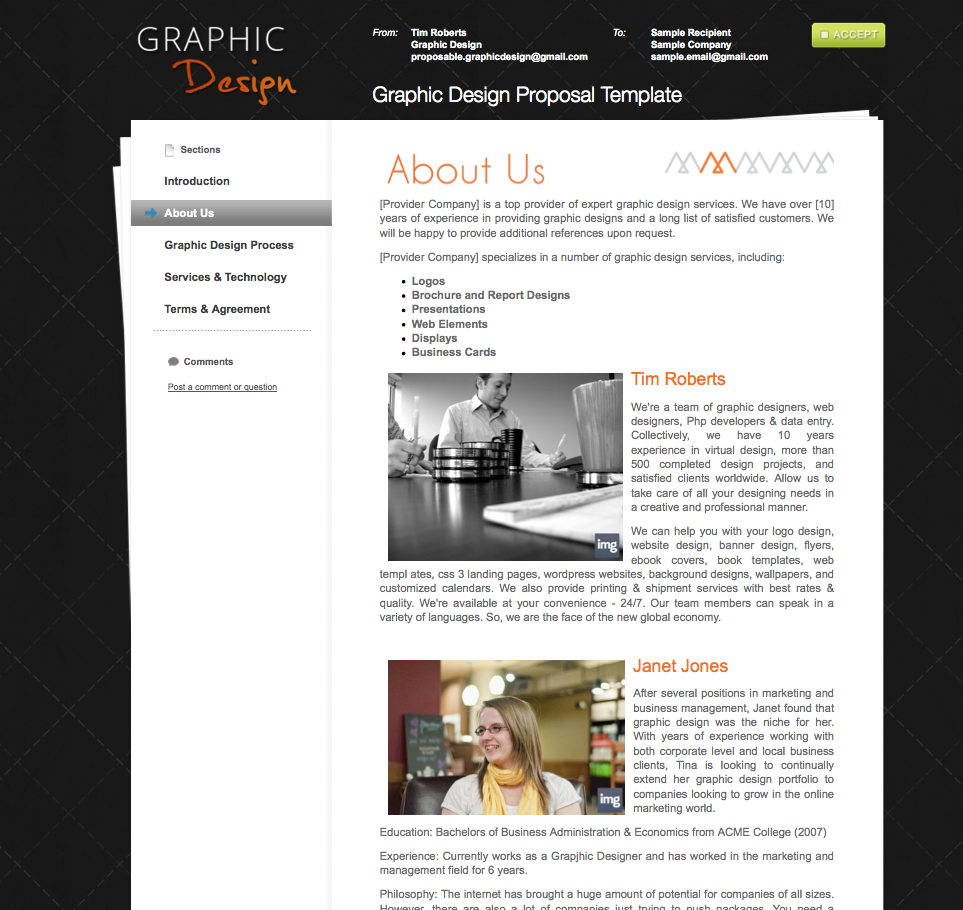 Featured Template: Graphic Design Sample Proposal Template
Products & Services – Give your customer the subtle up-sell by also presenting your other offerings in your proposal. Provide images, video and other product details to increase your sales. Within Proposable you can showcase your products with images and descriptions, thus providing more detail. Video is a great way to deliver a message or visual description of the actual product or service.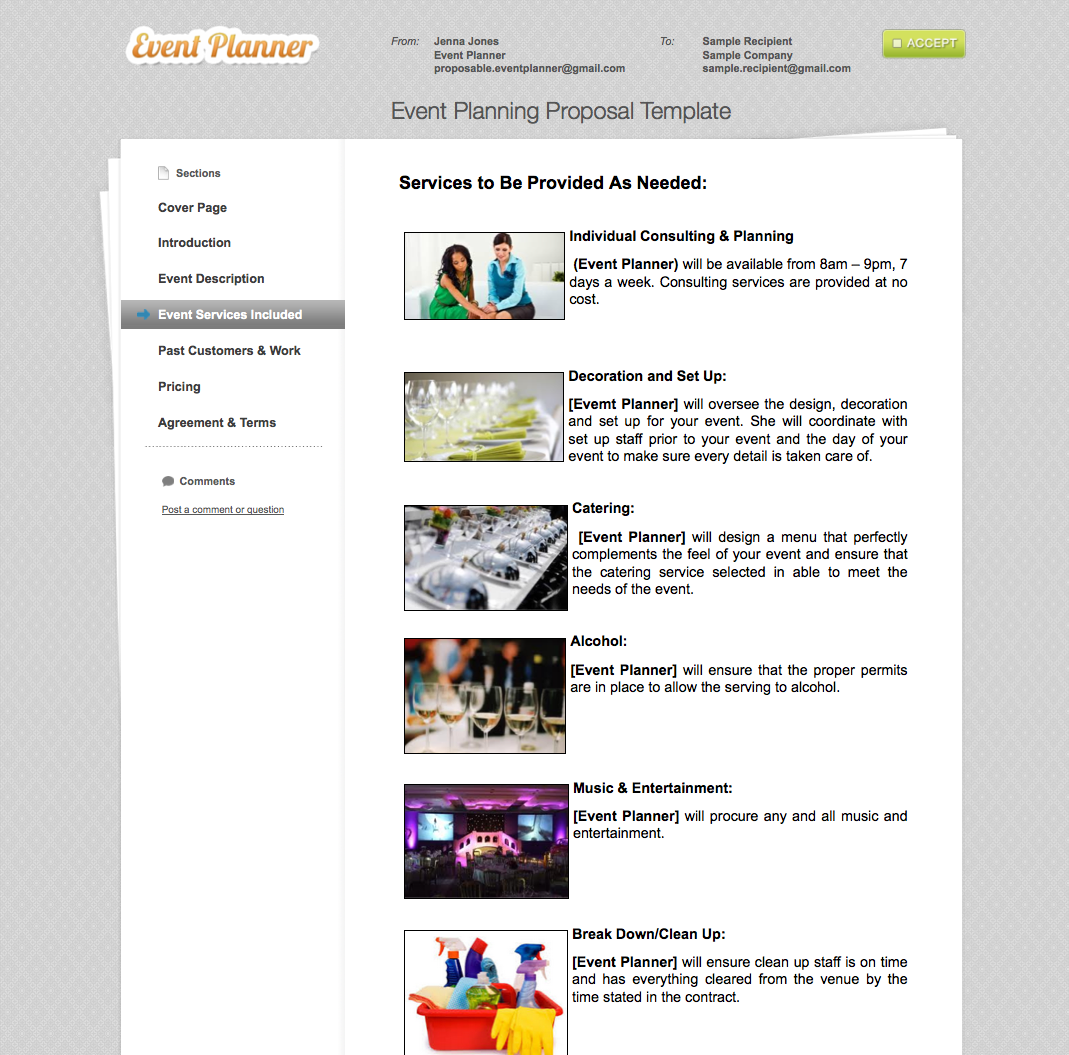 Featured Template: Event Planning Sample Proposal Template
Past Work or Testimonials – Including a section dedicated to past jobs or testimonials helps with showing satisfied customers. With Proposable, you can include video testimonials of real customers talking about your company. Make your company real and show that you have real satisfied customers.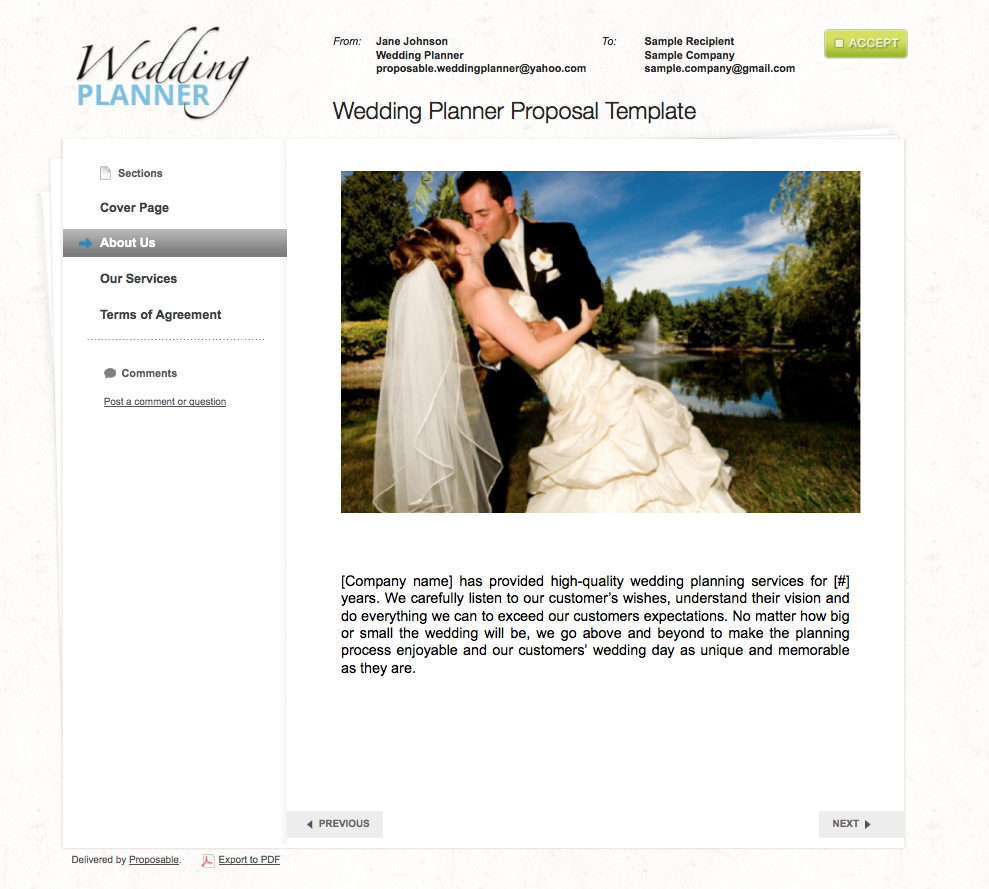 Featured Template: Event Planning Sample Proposal Template
Process – If you're offering a product or service that requires a framework or step-by-step project process such as AGILE, SWOT, etc., it's important to let your customers know. Giving them the ability to track your progress will instill confidence on your professionalism and methodologies. Include diagrams and images of your workflows to help them visualize the process.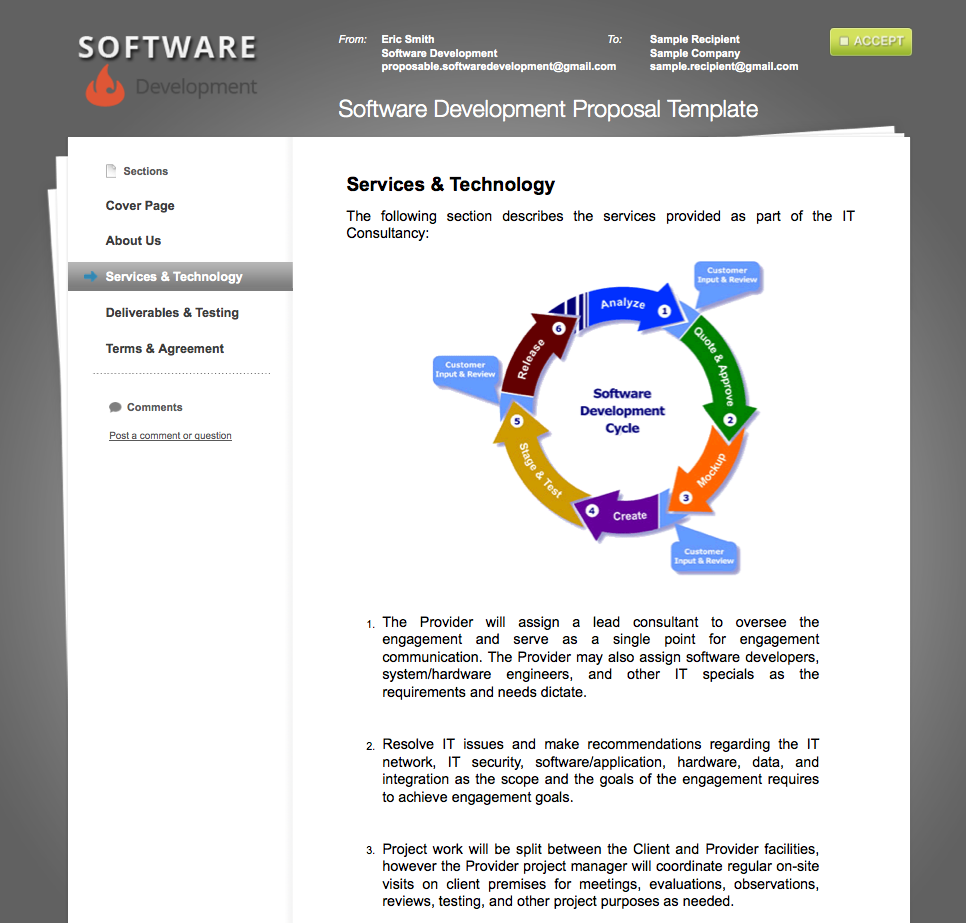 Featured Template: Software Development Sample Proposal Template
Price or Cost – Putting all of your pricing and costs involved on one page is vital. It sometimes will be the first place your potential customer will go to before looking at everything else. Give them the ease of accessing this information by naming this section accordingly. With Proposable, you can insert an estimate that automatically calculates the total. Include hours of work, number of units, recurring costs or even flat rate; one-time fees.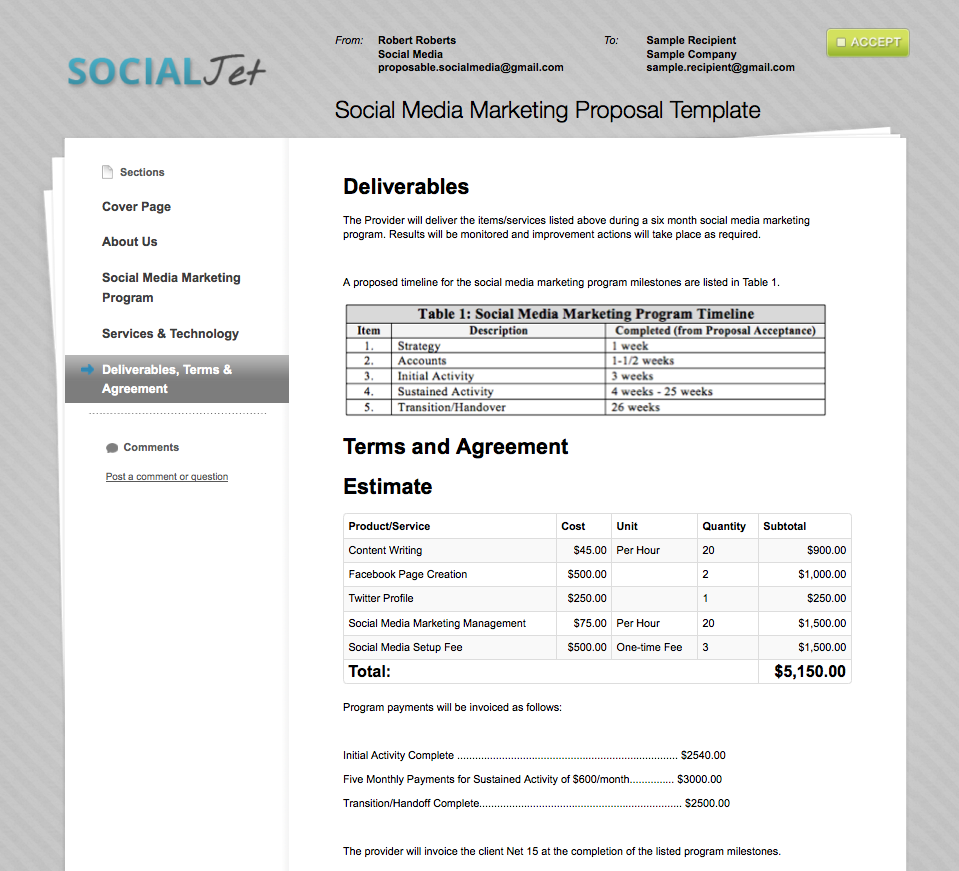 Featured Template: Social Media Marketing Sample Proposal Template
Terms & Agreement – Include everything from pricing to the final terms and agreement. Proposable will allow you to close more deals faster with our e-signature (e-sign) process. Avoid having your customer shop around and get them to buy your services on the spot. In some industries, having this capability can help you avoid additional paperwork going back and forth.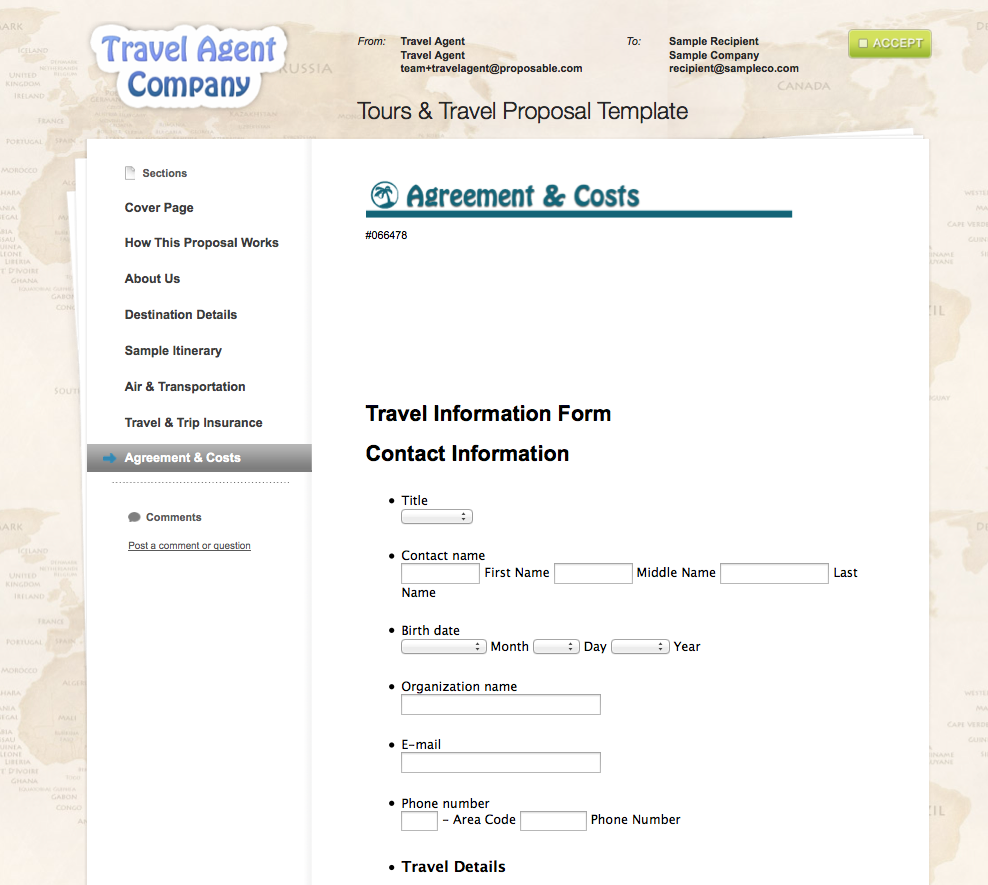 Featured Template: Travel Agent Sample Proposal Template
Stay tuned for our upcoming blog post: "Proposal Must Haves".  If you have any questions regarding the blog post or would like to see a Business Proposal Template for your industry, please feel free to reach out at team@proposable.com.