Book Proposal Template
You've worked hard writing your book but now you want to put together the best book proposal possible to make sure you can get it published. We've made it easy to put together an impressive proposal with our free and fillable book proposal template. Start customizing in minutes!
Best proposal software ever! 
I've tried soooo many proposal softwares and I'll never try another one after Proposable. It's so easy to use and it looks good, which all the others don't.
Smart, reliable, and constantly improving.
Proposable just works. I can make visually interesting sales presentations, dynamically insert content, and execute agreements. Proposable powers our entire sales process.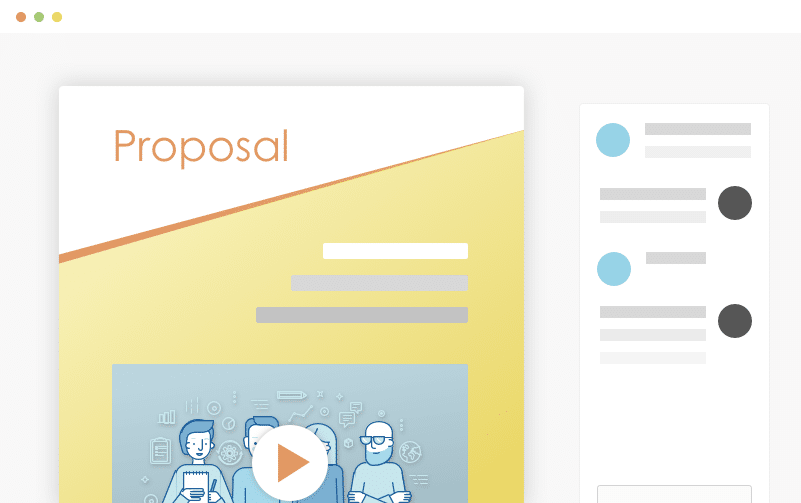 Wow Your Customers
Blow your clients away with a beautiful proposal that stands out above the rest. Add video and rich-media directly into your proposal pages for a more immersive sales presentation that's sure to make an impact.
Set Your Prices
Quickly build quotes, bids, and estimates with our flexible estimate block. With optional line-items, optional quantities, taxes, discounts and more, you can quickly represent your products and services in a polished and readable format. Organize all your products and services in the Pricing Catalog for instant recall.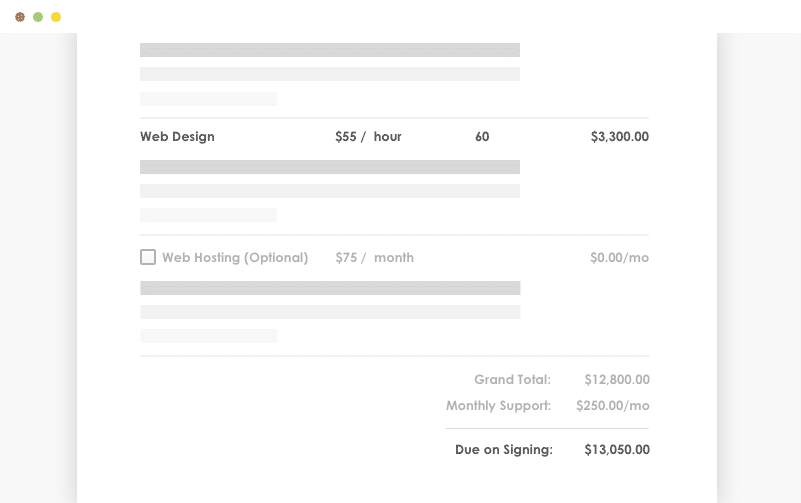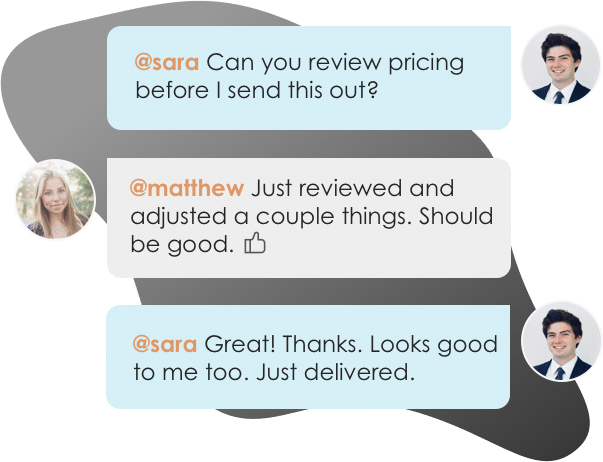 Work With Teammates
Easily collaborate with teammates on proposals. Mention team members to bring them into a proposal, or re-assign ownership when you need to handoff the proposal to another teammate.
Get It Signed
Close the deal faster with integrated e-Signatures. Place signatures, initials, and text field elements throughout your proposal wherever you need prospects to take action and your prospect is guided through a quick acceptance workflow to complete their acceptance. Counter-signing support is also included.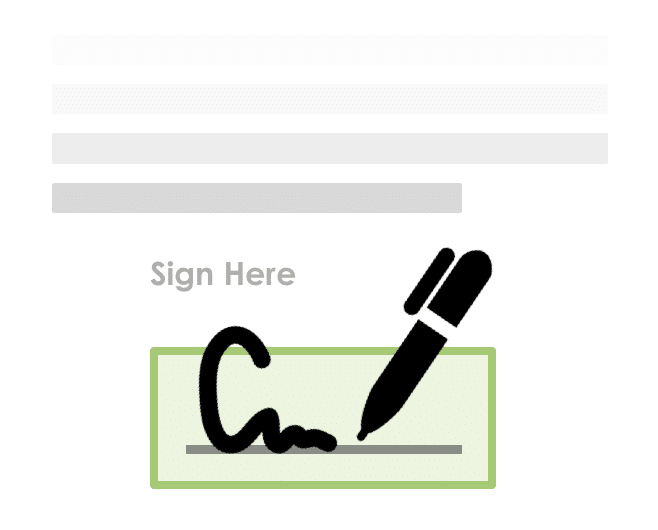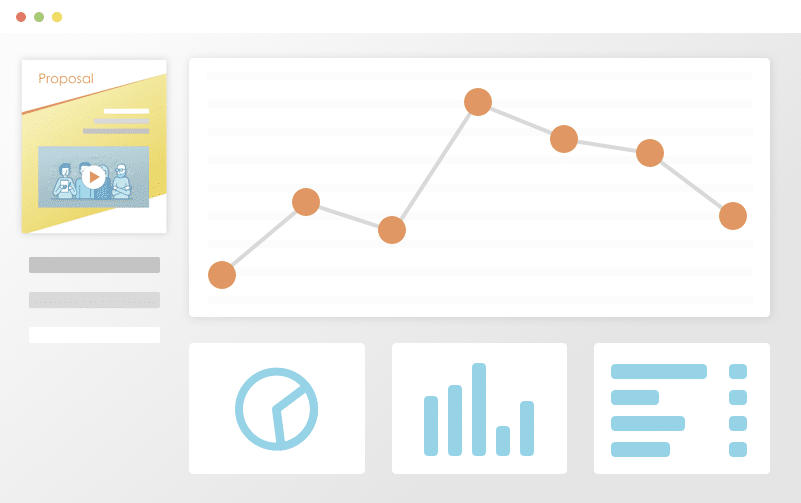 Track Everything
Ever wonder what happens to your proposal after you hit "send"? See detailed analytics and measure how each recipient is interacting with your sales material. Turn on real-time text or email notifications for proposal views and other key events.
Get Your Time Back
Save time and headaches by skipping the painful copy/paste and find & replace on all new proposals for your prospects and customers. Simplify your new proposal workflow to just a few clicks and go from spending hours on customizing new proposals to just minutes.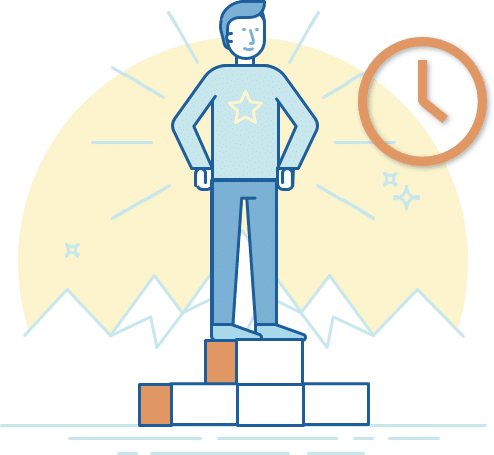 Better Proposal Start Here
If you're an author interested in getting one of your books published, there are a few different approaches you can take. You can self-publish (which is becoming increasingly popular these days), pay a company to publish your book, or go the traditional route of getting a book contract with a publisher. Most authors prefer the traditional route because it is the most likely to earn you profit, and it still tends to be the most respected option.
If you want to get your book published through a publisher, there are a few steps you can take. The first is writing your manuscript, polishing it, and getting it to a point where you are confident that it is ready for consumption. This is crucial; if you approach publishers with an unpolished, unedited manuscript, you may be wasting your time. Once you're happy with your manuscript, you'll have to research and find agents and publishers that are appropriate for the genre and audience you are writing for.
Then, you'll have to prepare submission materials to send to these publishers. Every agent and publisher requests different submissions materials, but one of the most common – especially in nonfiction – is the book proposal. This is a detailed document that shows what your book has to offer a reader. The better your book proposal, the more likely you'll be able to convince a publisher that your book is a good investment.
How long is a book proposal? Often between 20 and 30 pages. In starting the process of putting together your own book proposal, it can be a good idea to look at a book chapter proposal template or a book pitch template so that you can see how other people are doing it and get an example of what is standard in the industry.
As you can imagine, writing a good book proposal is a pretty important part of getting the attention of agents and the commitment of publishers. However, what makes a book proposal good depends on the genre. You'll want to approach writing your proposal differently depending on if it's a narrative nonfiction book proposal, a fiction book proposal, or an academic book proposal.
That being said, there are a few general tips that you should keep in mind when putting together your chapter outline for book proposal, regardless of genre. First, you need to make sure you know your target audience. A book proposal is a selling tool, and you can't sell something without knowing who you expect to buy it. Being clear about your target audience will help you know exactly how to reach them, and prove to a publisher reading your book proposal that they will be able to successfully sell your book.
It's also important to know your own unique angle. What are you bringing to the table that is new, fresh, and exciting? What sets your book apart from the thousands of others sold at any given bookstore? You need to be able to answer these questions and play them up in your proposal.
And, of course, it is critical that your book proposal is well-written, well-edited, and free of errors, typos, or formatting issues.
For more advice on book proposals, check out this article, and don't forget to browse for nonfiction book proposal example, sample author bio for book proposal, and book proposal chapter summaries sample, to get an idea of what a successful book proposal looks like.
When you look over any book proposal example, whether it's a memoir proposal example, a sample book proposal humanities, or another genre, you're likely to find the same few sections. These include:
An overview, which is a two to three page executive summary of your book proposal

A competitive title analysis, in which you list a few competing books in your genre/space and explain why yours is unique and worth publishing.

Analysis of your target market and target audience and why they'll be interested in your book

A marketing plan listing, in clear detail, exactly the steps you will take to market and promote your book.

An author biography that you use to convince publishers that you are qualified to write your book, that you have credibility, and that you are a worthwhile investment

A chapter outline, which is a table of contents with a brief summary of each chapter

A sample chapter. Ideally, you'll include your most impressive chapter, or the one you are most proud of. For best results, make sure you have a strong idea of how to write a book chapter regarding a topic.
Note that the focus here is less on the content of the book and more on its marketability. That's because a book proposal is essentially just a business plan, and it needs to be written like one. Ultimately, publishers want to be convinced that readers will pay money for the book you are describing.
What your book proposal should not include is any negative bad talk about your competitors, overemphasis on the book content, or generic statements about your target audience.
If you have any remaining uncertainty about what should and should not be included in your book proposal, we recommend taking a look at examples and templates. A sample market analysis for book proposal or a memoir book proposal example will help you see for yourself what works and what doesn't. And making use of a book proposal template Word or sample book proposal template will give you an outline to follow of what you should include.
Surprisingly, the process for publishing a children's book is quite similar to that of publishing any other fiction book. You'll have to have your polished manuscript, do your research about which agents and publishers you need to contact, and send picture book submissions materials. Some important points are that picture book publishers use very specific categories for their market:
Picture books are for children under 5 years old, with under 1,000 words per book

Chapter books are for children between 6 and 9 years old, with 2,000 to 5,000 words per book

Middle grade (MG) is for children between 8 and 12 years old, with 30,000 to 50,000 words per book

Young adult (YA) is for children between 12 and 18 years old, with 50,000 to 100,00 words per book
That means it's particularly important to know who your audience is, keep your manuscript at the appropriate length, and query the appropriate publishers and agents. You should note that you are not expected to illustrate your own book or find your own illustrators, unless you are already a professional illustrator. Otherwise, the publisher will take care of the pictures for the book.
A children's book proposal sample PDF will show you that, unlike a non-fiction book proposal, a children's book pitch is usually only one page in length. As part of learning how to write a children's book proposal, you'll need to practice being succinct. Using a children's book proposal template can help.
Academic Book Proposal Sample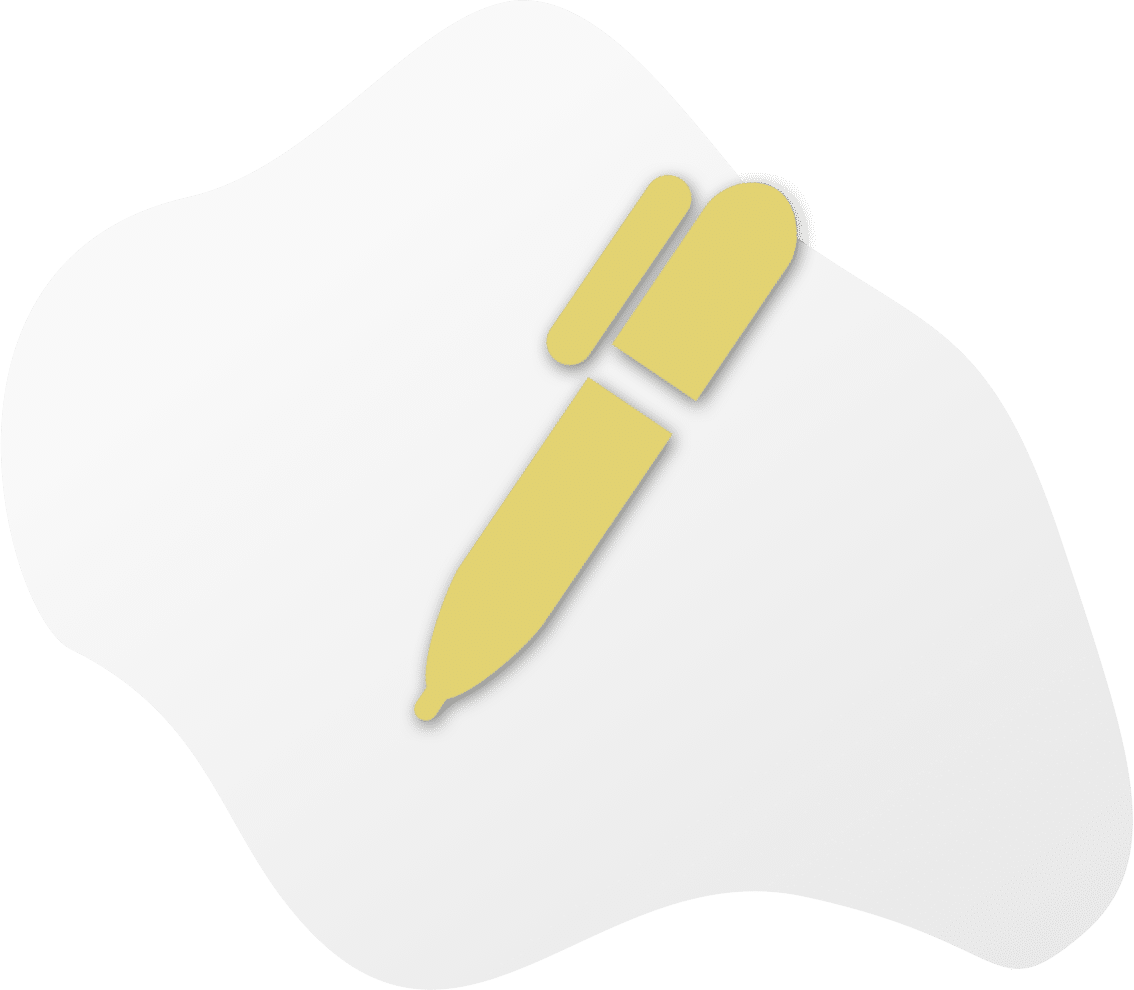 In general, the process of getting an academic book published is pretty similar to publishing any other type of non-fiction book, with a book proposal and submission to editors. However, there are not very many academic book publishers around, so you'll have fewer possible places to send your proposal. And, of course, the process of writing an academic book itself is unique, requiring a lot of research, citations, and following certain writing standards.
Further, there are specific requirements for how to write an academic book proposal that aren't necessarily relevant to other non-fiction book synopsis example types. If you know you want to go with a specific publisher it is a good idea to look up their particular proposal requirements, like Oxford University Press book proposal requirements or Cambridge University Press book proposal requirements.
Of course, as always, if you want to learn how to write an academic book chapter proposal, it is a great idea to start by looking at an academic book proposal sample or academic book proposal template to see what is expected, required, and how you should approach writing your own. That way, you'll have guidelines and context when you write your proposal, instead of just feeling like you're starting totally from scratch with nothing to rely on or help you.
Better Proposals Start Here