Online Proposal Software
We help businesses beat the big, bad, proposal process monster. Create, deliver, and track your proposals in minutes with online proposal software. It's free to try!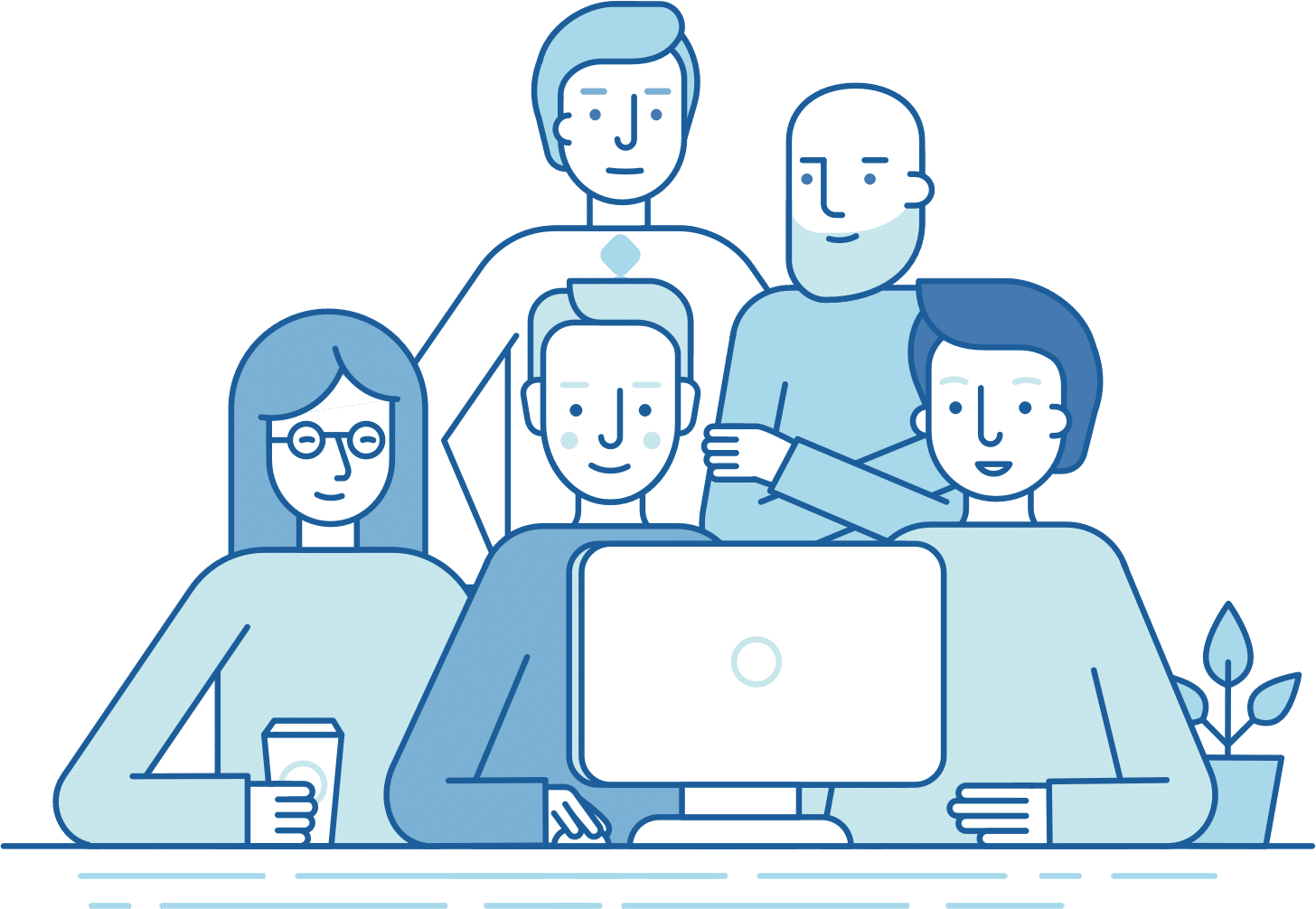 Best proposal software ever! 
I've tried soooo many proposal softwares and I'll never try another one after Proposable. It's so easy to use and it looks good, which all the others don't.
Smart, reliable, and constantly improving.
Proposable just works. I can make visually interesting sales presentations, dynamically insert content, and execute agreements. Proposable powers our entire sales process.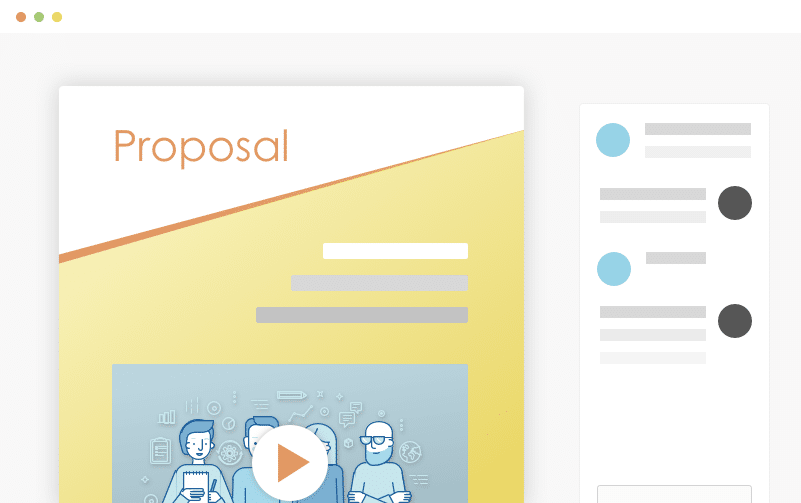 Wow Your Customers
Blow your clients away with a beautiful proposal that stands out above the rest. Add video and rich-media directly into your proposal pages for a more immersive sales presentation that's sure to make an impact.
Set Your Prices
Quickly build quotes, bids, and estimates with our flexible estimate block. With optional line-items, optional quantities, taxes, discounts and more, you can quickly represent your products and services in a polished and readable format. Organize all your products and services in the Pricing Catalog for instant recall.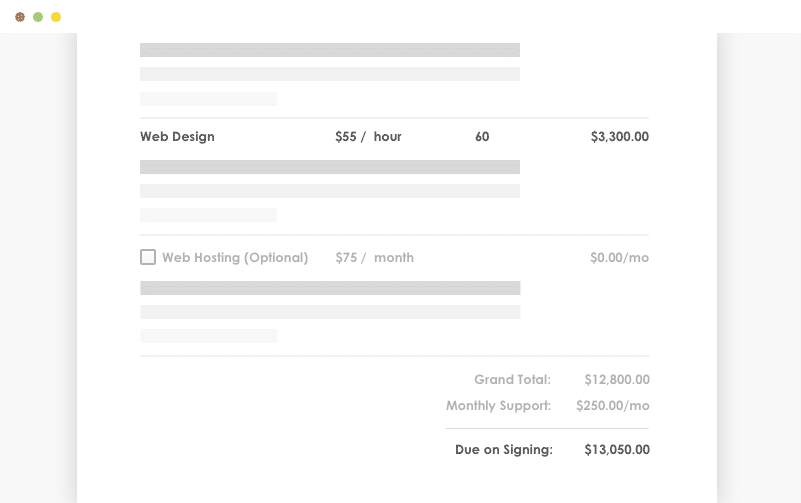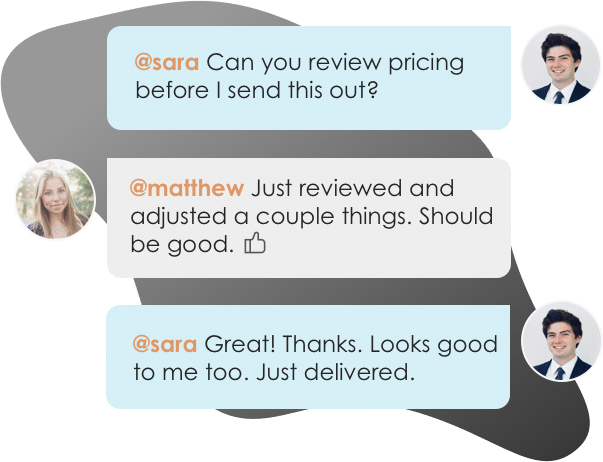 Work With Teammates
Easily collaborate with teammates on proposals. Mention team members to bring them into a proposal, or re-assign ownership when you need to handoff the proposal to another teammate.
Get It Signed
Close the deal faster with integrated e-Signatures. Place signatures, initials, and text field elements throughout your proposal wherever you need prospects to take action and your prospect is guided through a quick acceptance workflow to complete their acceptance. Counter-signing support is also included.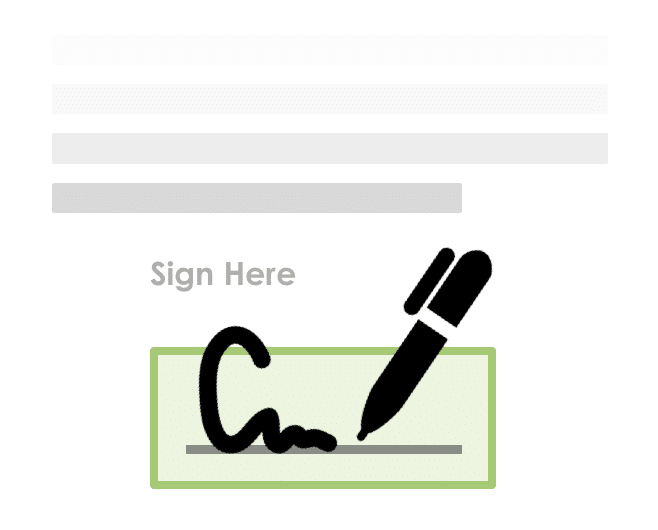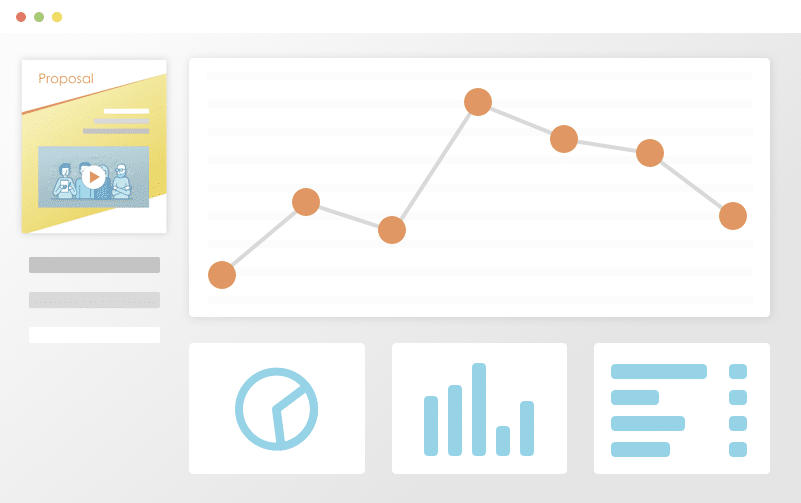 Track Everything
Ever wonder what happens to your proposal after you hit "send"? See detailed analytics and measure how each recipient is interacting with your sales material. Turn on real-time text or email notifications for proposal views and other key events.
Get Your Time Back
Save time and headaches by skipping the painful copy/paste and find & replace on all new proposals for your prospects and customers. Simplify your new proposal workflow to just a few clicks and go from spending hours on customizing new proposals to just minutes.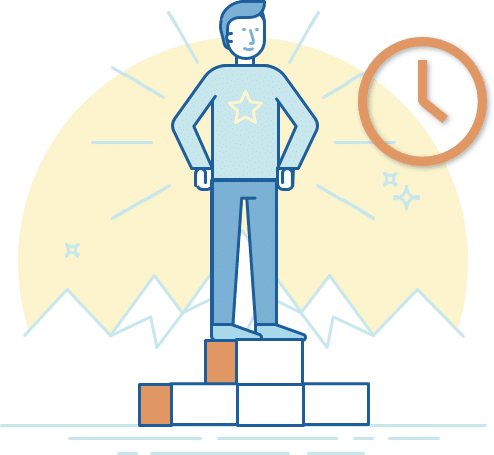 Better Proposals Start Here
Running a small business is no easy feat, especially in today's competitive business climate and consumers becoming more discerning. As a business, you want to maximize profits and be diligent to keep expenses to a minimum. To achieve this, companies have to continuously strive to find new and efficient ways of winning new business. One of the first steps a company must take in order to win new business is to create and submit a proposal to a prospective buyer. A proposal is nothing more than a pitch, an opportunity for you to showcase the key benefits of your product or service that will serve the needs of your prospective buyers. An online proposal software, like Proposable, can help a company create better proposals, manage the entire process with ease, win more business, and keep expenses at a minimum.
The power of online proposal software offers features such as using proposal templates to create proposals, built-in e-signatures, proposal analytics to see how recipients interact with proposals, and cloud-based proposal makers for easy collaboration with team members. These are just a handful of the features that we offer at Proposable that help companies and their sales teams create better proposals. A good online proposal software should help you create, share, and track proposals as smoothly as possible and relieve your employees of the mundane tasks involved in proposal writing.
The key features and functionalities that make online proposal software a time-saver for sales teams are what make it such a valuable tool to have for a company. If you are looking for the best proposal software of 2020, you don't need to look any further. While there are many options in the market, each with varying features, consider these four elements to help you choose the right online proposal software for your company. 
Acquiring new clients for your business can be an expensive and time-consuming process. Using a free proposal template will give you a great start on creating a proposal that will help you pitch your project to potential partners or stakeholders. Creating a proposal template is particularly important when you're a brand new business. As a new business, you have not built a reputation in the industry, and having the opportunity to make a solid first impression with any potential partner or stakeholder is important. Take a look at one of our free online proposal templates to learn how to structure your proposal and how to make that solid first impression.
There are hundreds of free templates online that can guide you in creating a proposal. By doing a simple internet search using terms like Google docs proposal template, business proposal template free download, or free proposal template InDesign, you will find an abundance of options to choose from. If you don't know where to start, doing a quick internet search can be a useful strategy to help get you off the ground and get your wheels turning.
Free proposal templates are a great place to start for any team. However, these proposals likely won't offer the same customization, back-end analytics, or ease of use compared to an online proposal software. A robust online proposal software will help you manage the entire lifecycle of the proposal beyond the creation stage and could help you land that first major deal.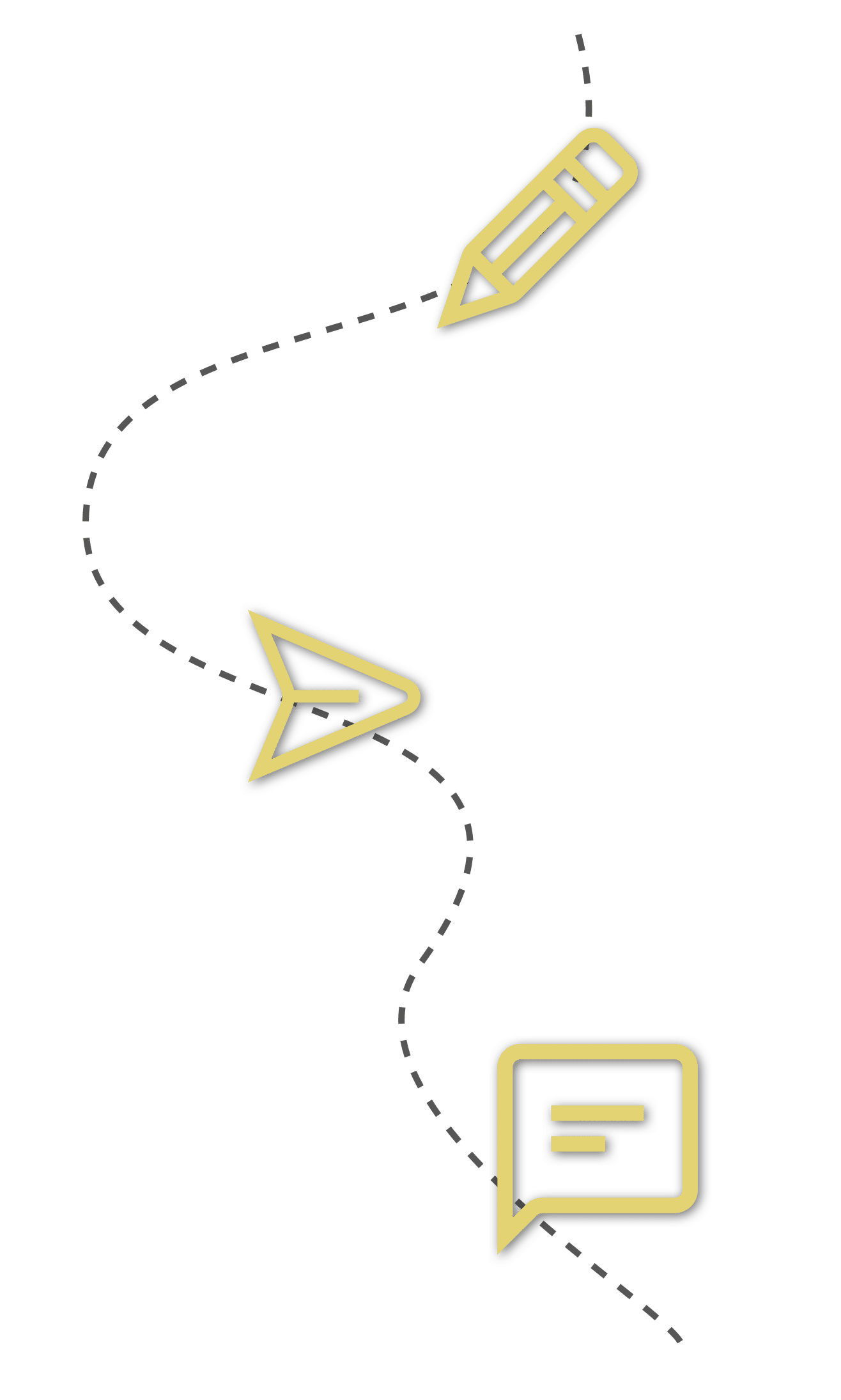 There is no doubt that proposals play a critical part in helping you win new business. Since your sales team is at the center of all sales and marketing efforts, they need a sales proposal software that will help them succeed at their job. Online proposal software will make their work easier and faster, effectively helping them boost efficiency and productivity.
A sales proposal template will ensure brand consistency across all your sales and marketing documents. This will make it easy for customers and prospects to identify your company and help create a strong brand. Your sales team will be better organized, have more clarity on where each proposal is in the process, and overall team collaboration will be more efficient. Online proposal software allows your sales representatives to update the proposals in real-time and send them for approval. This allows them to focus on the pitch as opposed to remembering the latest changes to each draft. Proposal software can also help eliminate procrastination among your sales team members and help keep everyone on task by allowing the proposal manager to monitor all activity in the proposals dashboard.
Proposal software can offer companies numerous benefits. However, if you want to enjoy the associated benefits of using a proposal generator, you need to choose the right software that will fit your needs.
Here are some benefits and features to look for when selecting proposal generator software:
Team Collaboration:

You want software that will enable you to communicate with each member of your team in one central location. This will save time by eliminating confusing email chains or you having to walk over to someone's desk ten times in one day.

Customizable Templates:

Look for software with an extremely intuitive editing process. Proposable offers a host of free online proposal templates where you only need to drag-and-drop elements on your proposal.

Proposal Analytics:

As a salesperson, you want the ability to see when or how long a prospect viewed your proposal and whether it was signed or not. By analyzing backend analytics, you're able to streamline and optimize your proposal process.

Ability To Support The Sales Process:

Your proposal software should allow you to follow through and deliver your proposal how you want to. Look for a proposal software that will allow you to view the progress of each submitted proposal at a glance, helping you automate needed follow-up and simplify your workflow. Our proposal software will help you make the most of your sales process.

Licensed vs Free:

Be sure to consider how much the software costs. A free proposal generator will typically not be able to keep up with your business needs as well as a licensed offering will. An initial low cost in the immediate future often leads to much more frustration and costs down the road.
Proposal Software for Freelancers
Proposal software is not for enterprise businesses alone. Freelancers should also consider using these applications if they are keen on saving time and becoming more productive. As a freelancer, you have to strike a balance between looking for new clients, following up on your marketing efforts, and delivering your services to them. Taking advantage of the opportunities that modern technologies present will free up hours, allowing freelancers to take on new business, and be in a better position to scale their business.
A proposal software for freelancers allows freelancers to put their focus where it's needed most, towards their clients. Proposable offers a free template for freelancers that will give you a solid foundation to pitch your company, services, and pricing. By using a service proposal template, you will save time when creating proposals for potential clients. You will also be in a better position to track and manage your proposals, responding to clients' questions and concerns in real-time and updating the proposals quickly to reflect the latest changes.
It is important for freelancers to ensure that the software they choose is mobile-friendly and can be accessed through apps on mobile devices. This way, you will still be able to access the information you need through your phone whenever you are away from your office or desk. By enhancing efficiency and productivity as well as helping you save time, the software will make it easier for you to dedicate most of your time to helping clients.
Beyond the impact proposal software has on the life of freelancers themselves, it also provides a much better experience for clients as well. From the clients' perspective, knowing that you're working with someone who's professional and takes every part of their process seriously—including proposal management—instills a sense of security and confidence that you made the right choice to work with this individual. Obviously, that feeling needs to be substantiated with the delivery of service, but it does make a huge difference in those initial phases of ramping up with a new vendor.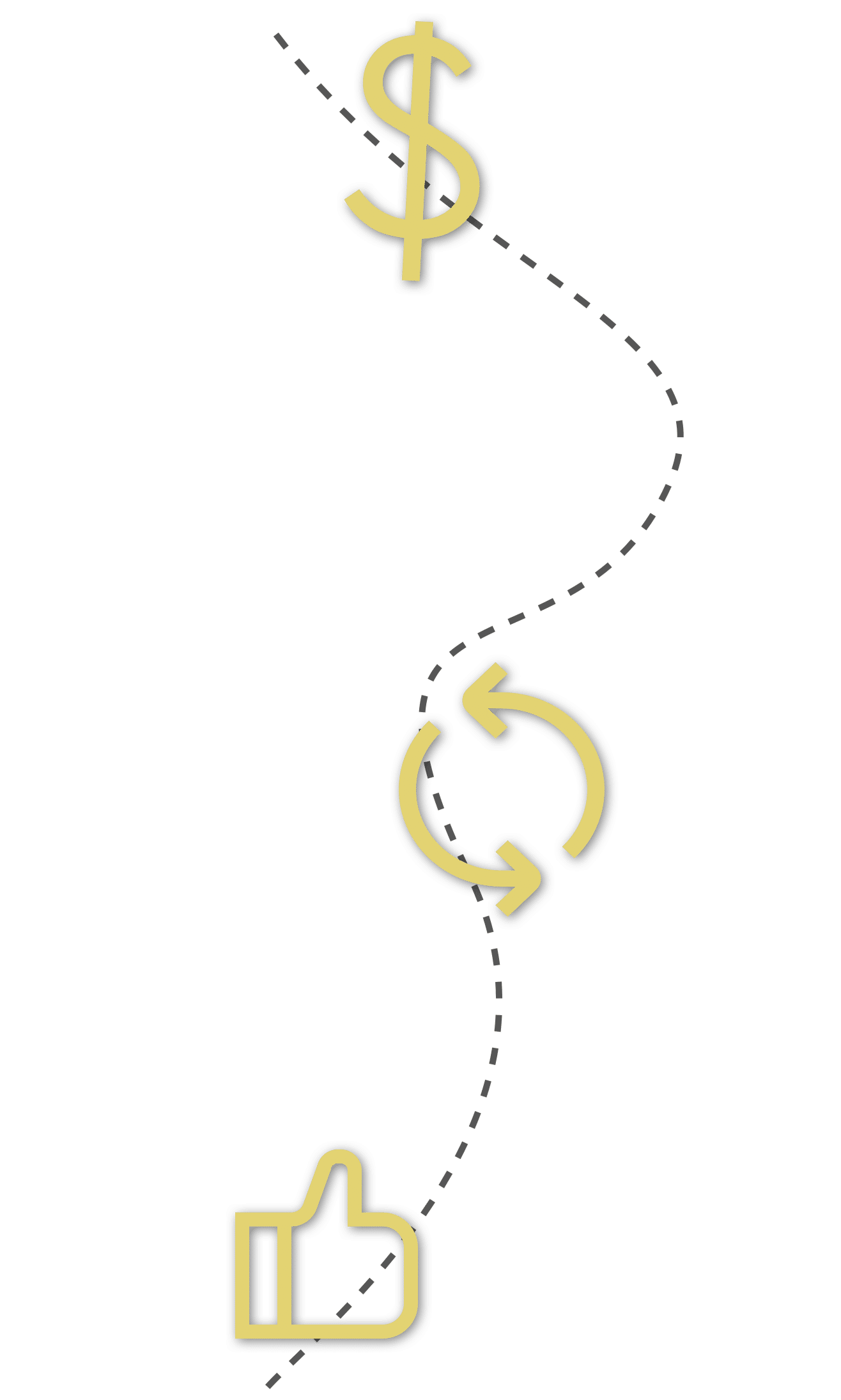 Open Source Proposal Management Software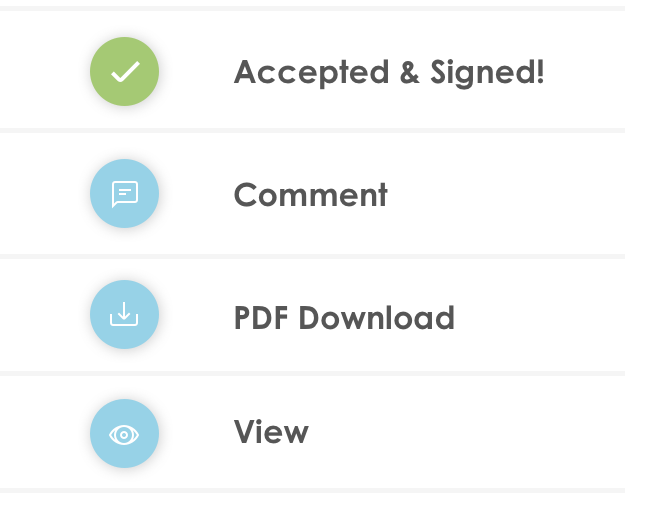 When it comes to your business or freelance work, you should always invest in quality. This requires that you do a little research before buying any products or services. While open source proposal management software won't cost you anything initially, it will end up being costly in the long run. Compared to the licensed software Proposable offers, free proposal management software solutions may not be safe because they most likely have a greater risk of being hacked. This exposes your business to malware, viruses, and numerous hacking attempts.
Free proposal software may also cost you a lot of time because the company behind the software does not have the same incentive as a paid licensed software to ensure you are happy with the product. This means that no expert will dedicate themselves to troubleshoot any issues you may experience with the product or be in a rush to fix any issues with the free online proposal software itself. The software also may not have the features and functionality you need for your business. Such software does not match the standards of licensed software that looks, feels, and is more user-friendly.
Better Proposals Start Here