Event Planner Contract Template
If you plan events, you've probably learned to expect the unexpected. Even if you do your job 100%, there will always be situations that arise that you couldn't have foreseen. That's why it's so important to have a strong contract in place to protect yourself from legal liability. We've taken the headache out of putting together contracts with our free and fillable event planner contract template with all the right legal language to ensure you are well protected. Deliver this agreement and get it signed in minutes with built-in eSignatures.
Best proposal software ever! 
I've tried soooo many proposal softwares and I'll never try another one after Proposable. It's so easy to use and it looks good, which all the others don't.
Smart, reliable, and constantly improving.
Proposable just works. I can make visually interesting sales presentations, dynamically insert content, and execute agreements. Proposable powers our entire sales process.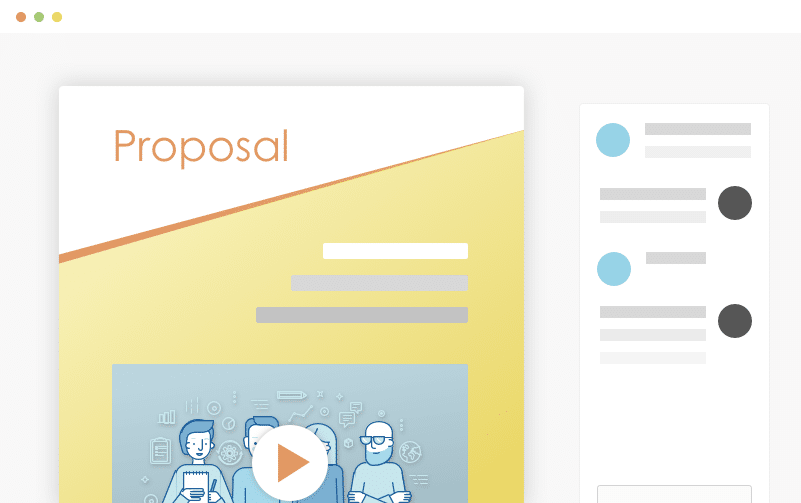 Wow Your Customers
Blow your clients away with a beautiful proposal that stands out above the rest. Add video and rich-media directly into your proposal pages for a more immersive sales presentation that's sure to make an impact.
Set Your Prices
Quickly build quotes, bids, and estimates with our flexible estimate block. With optional line-items, optional quantities, taxes, discounts and more, you can quickly represent your products and services in a polished and readable format. Organize all your products and services in the Pricing Catalog for instant recall.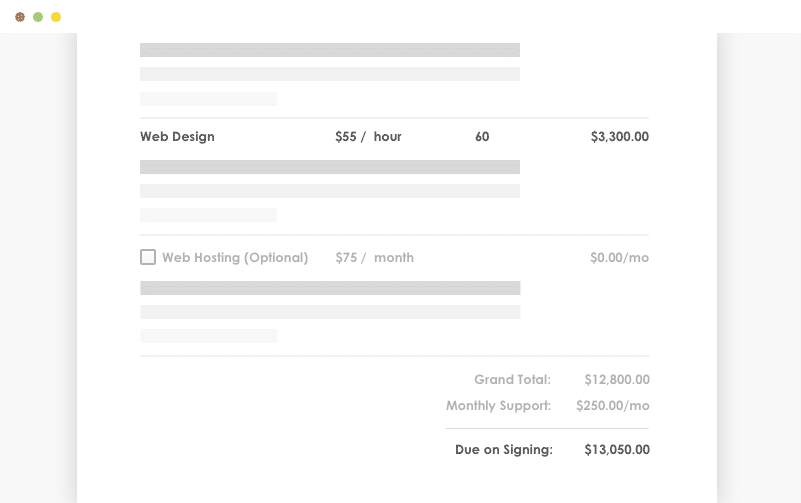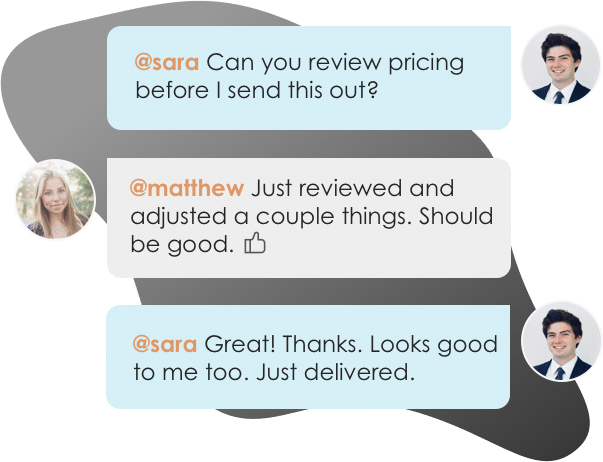 Work With Teammates
Easily collaborate with teammates on proposals. Mention team members to bring them into a proposal, or re-assign ownership when you need to handoff the proposal to another teammate.
Get It Signed
Close the deal faster with integrated e-Signatures. Place signatures, initials, and text field elements throughout your proposal wherever you need prospects to take action and your prospect is guided through a quick acceptance workflow to complete their acceptance. Counter-signing support is also included.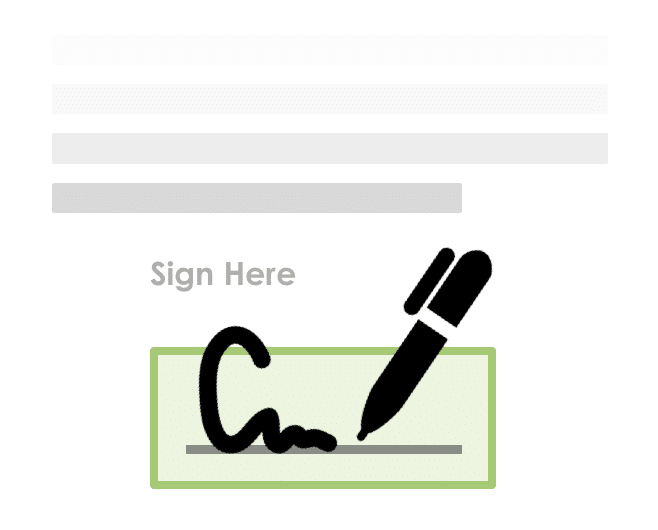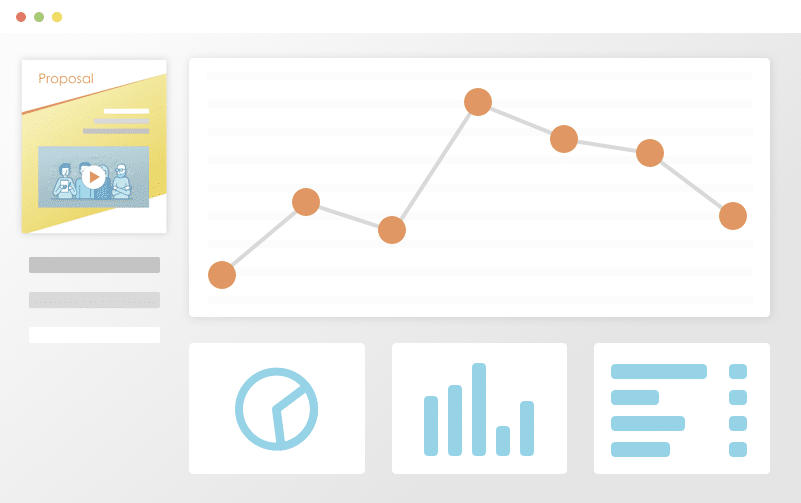 Track Everything
Ever wonder what happens to your proposal after you hit "send"? See detailed analytics and measure how each recipient is interacting with your sales material. Turn on real-time text or email notifications for proposal views and other key events.
Get Your Time Back
Save time and headaches by skipping the painful copy/paste and find & replace on all new proposals for your prospects and customers. Simplify your new proposal workflow to just a few clicks and go from spending hours on customizing new proposals to just minutes.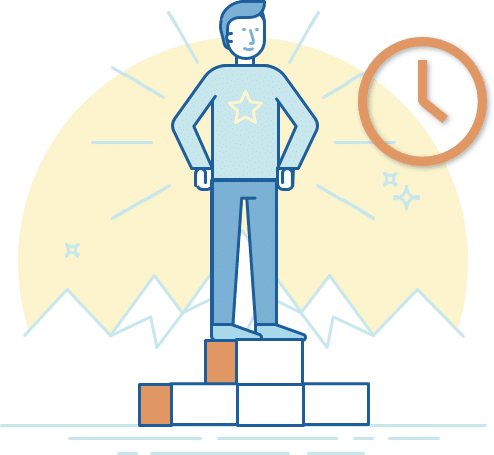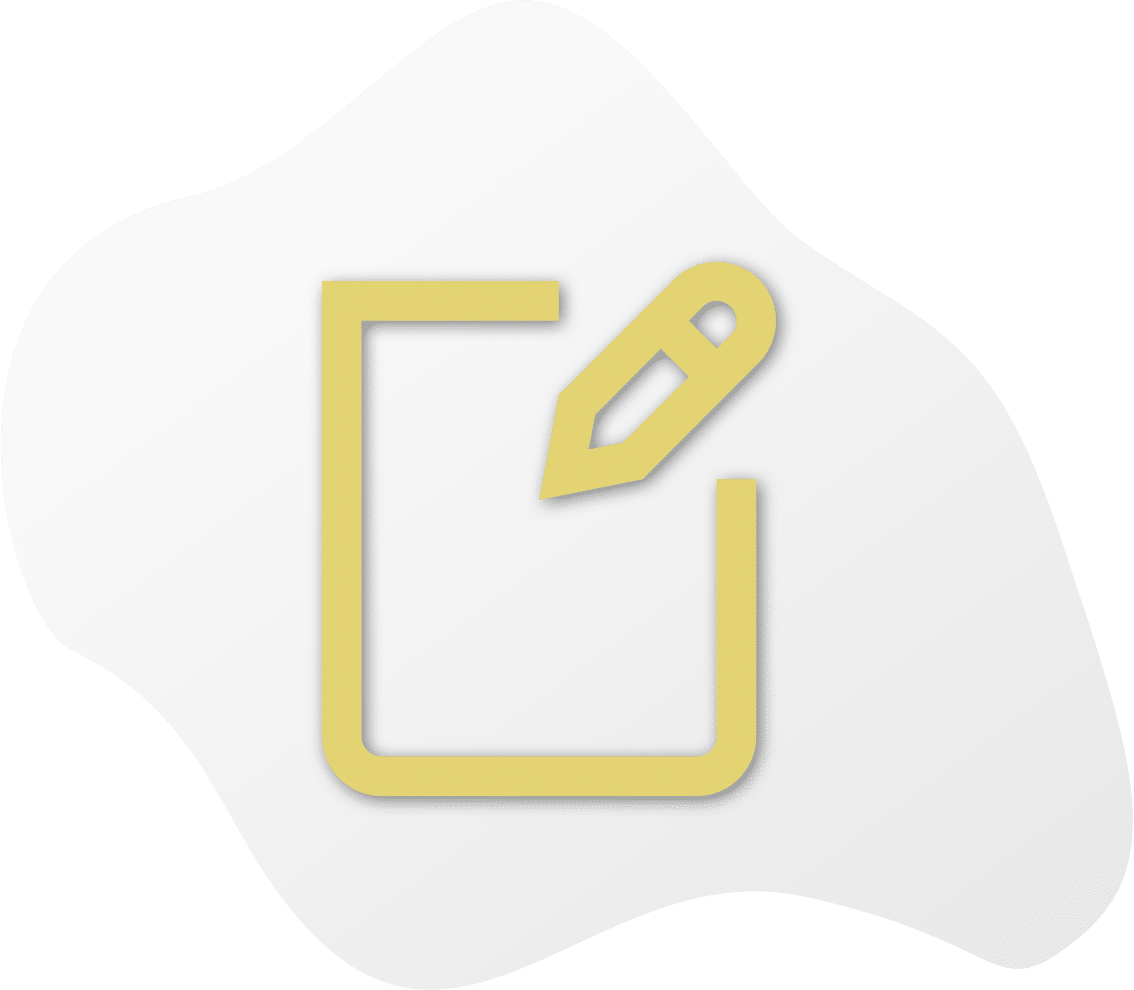 Event planning may seem like a glamorous career – putting together parties and celebrations seems like a lot of fun and glitz. But event planning is a lot more than glitter and champagne – it requires incredible attention to detail, the ability to multitask, and amazing people skills, to name just a few. An event planner must be able to manage multiple items at once, from scheduling to guest lists to menus, as well as managing people from caterers to entertainers to guests themselves. While there can be an element of glamour to event planning, there is a lot of hard work as well, making it a difficult, yet essential position.
Event planning can also be rewarding. Event planner income is not insubstantial depending on the complexity of the event, level of experience, and event management fees charged. For personality types who thrive on order and organization and yet have a flair for design and excellent people skills, it can be a rewarding career.
One of the most important pieces in an event planner's toolbox is a contract. Without that in place, all the moving pieces of an event can create liability – what happens if a venue cancels, or a guest contracts food poisoning, or a musician is injured on the job? You must plan for every variable. An independent contractor agreement checklist is a great place to start. Find a sample of a letter of employment contract basis, a sample bond agreement between employer and employee, an event cancellation clause example – all of these items will help you ensure you have all the pieces in place to make sure everyone involved is covered. Then it's time to go forth and sell your services, starting with getting the right contract in place.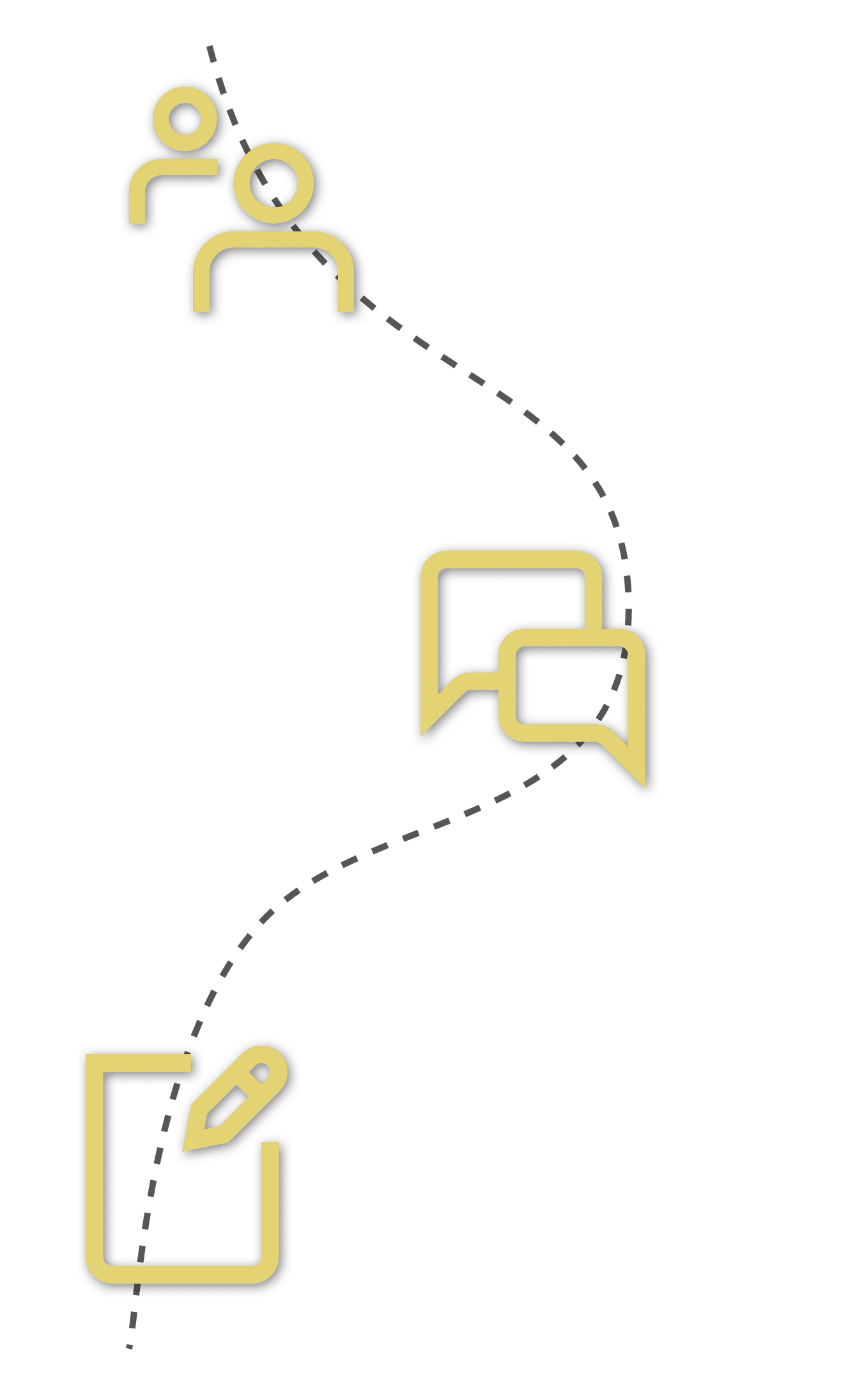 Simple Event Contract Template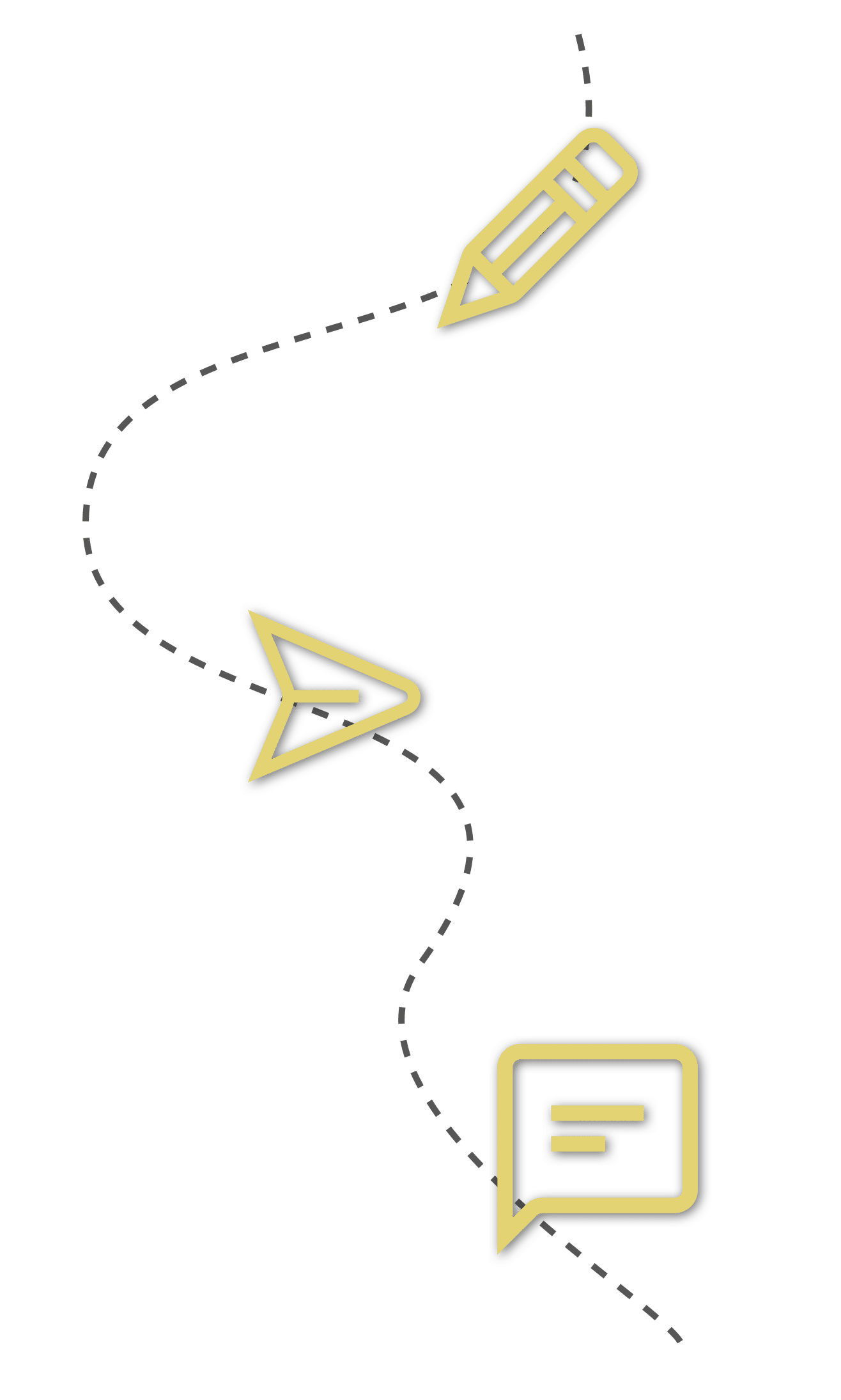 Having the terms of your event planning services in writing is essential – verbal agreements are not enough. If you're not sure where to start, how much to charge or what event planner contracts and fees usually involve, start with a simple event contract template or an event planner contract sample. This will help you understand some of the things that need to be covered, and why – for example, most event planners work on a retainer up front with the balance due after the event, although others work on a lump-sum basis. Why? Event planning expenses can vary depending on the type of event – search for an event planner price list PDF or event planning cost estimator, which will give you an idea of where the fee schedule should fall. Event planning packages pricing estimates will allow you to price out different packages for customers.
What could go wrong if you don't have a contract, you may ask? The client, venue, or any of the hired workers could cancel, and without a contract, who is liable, and how do you still get paid for work done? And what if no one is to blame? A force majeure clause ensures that in the event of unforeseen circumstances – for example, a global pandemic shuts down gatherings of more than 10 people at a time – no party is held liable. A force majeure clause in a catering contract, for example, would state that neither the caterer, host nor planner is responsible for the cancelation. A good event venue contract template will come complete with language of that nature already in place, ensuring that all parties are liable for only the things under their control. Event termination fees will otherwise be spelled out – in the event of a cancellation by the venue or planner, the client would get their deposits back, while if a bride canceled a wedding, the venue would still retain deposits.
Wedding Planner Contract Agreement
Weddings, of course, are one of the most common types of events one would need a planner for. Wedding planners handle everything – from professional staff, like caterers, florists, and musicians, to guests, family and the wedding party. Asking the same person to coordinate both a professional chef creating personalized hors d'oeuvres and crazy Aunt Gertie who needs to be kept away from the bride's dressing room is a tall order, and a wedding planner contract agreement needs to take that into account. Planning weddings tends to be a bit more complex than other events as well because there are so many people involved – you're usually dealing with a couple at minimum, and potentially one or both sets of parents.
Wedding planner contract clauses need to allow for a certain number of changes to the menu, for example, as well as establish office hours so you're not getting calls at all hours, and of course, itemize what happens if the wedding is canceled. Wedding planner contract terms and conditions cover the planner in all of these possible scenarios and more. Search for a wedding vendor contract template or wedding event contract template to make sure you have all your bases covered.
Baby Shower Planner Template
Weddings are one of the more common events that call for a wedding planner, but they are certainly not the only ones. Often, other types of events might call for a big party as well. Baby showers are a good example of this. Dating back to ancient times, the impending arrival of a child has been celebrated in many forms over the years. The idea of "showering" an expectant mother with gifts has, in some cases, evolved into a major event, and often the person responsible for hosting the shower – a sister or close friend – simply doesn't have the time or inclination. A baby shower planner can help shoulder some of this burden, coordinating a location, handling catering and invitations, and even keeping the party going with games during the shower. But is it worth it? How much do event planners charge for a baby shower? Baby shower event planner cost, of course, varies based on location. Searching for "baby shower event planner NJ" might yield different results than "baby shower event planner packages NYC." Do a search for "baby shower package prices near me" to get a better ballpark figure. Then create a baby shower planner template to help streamline the process.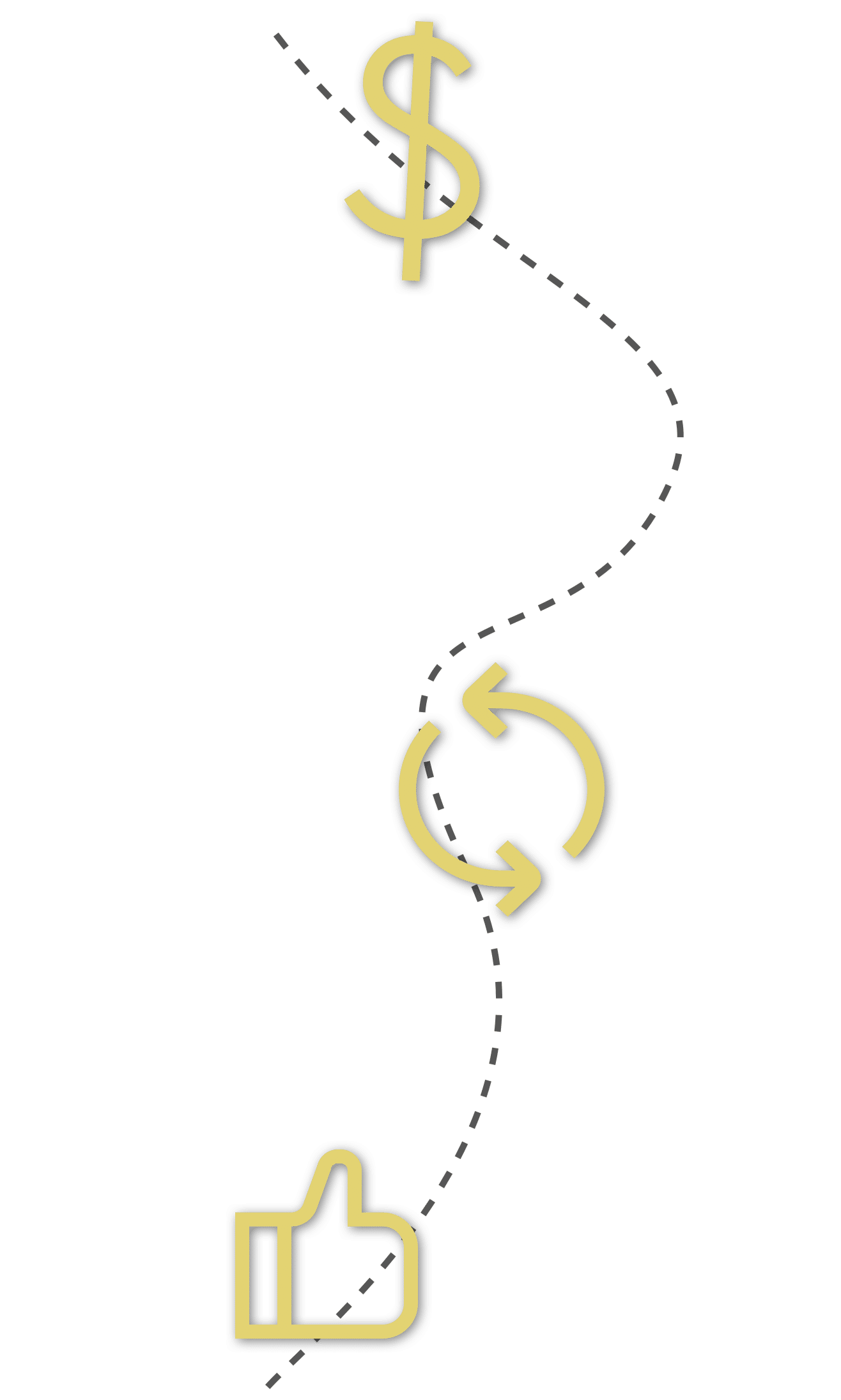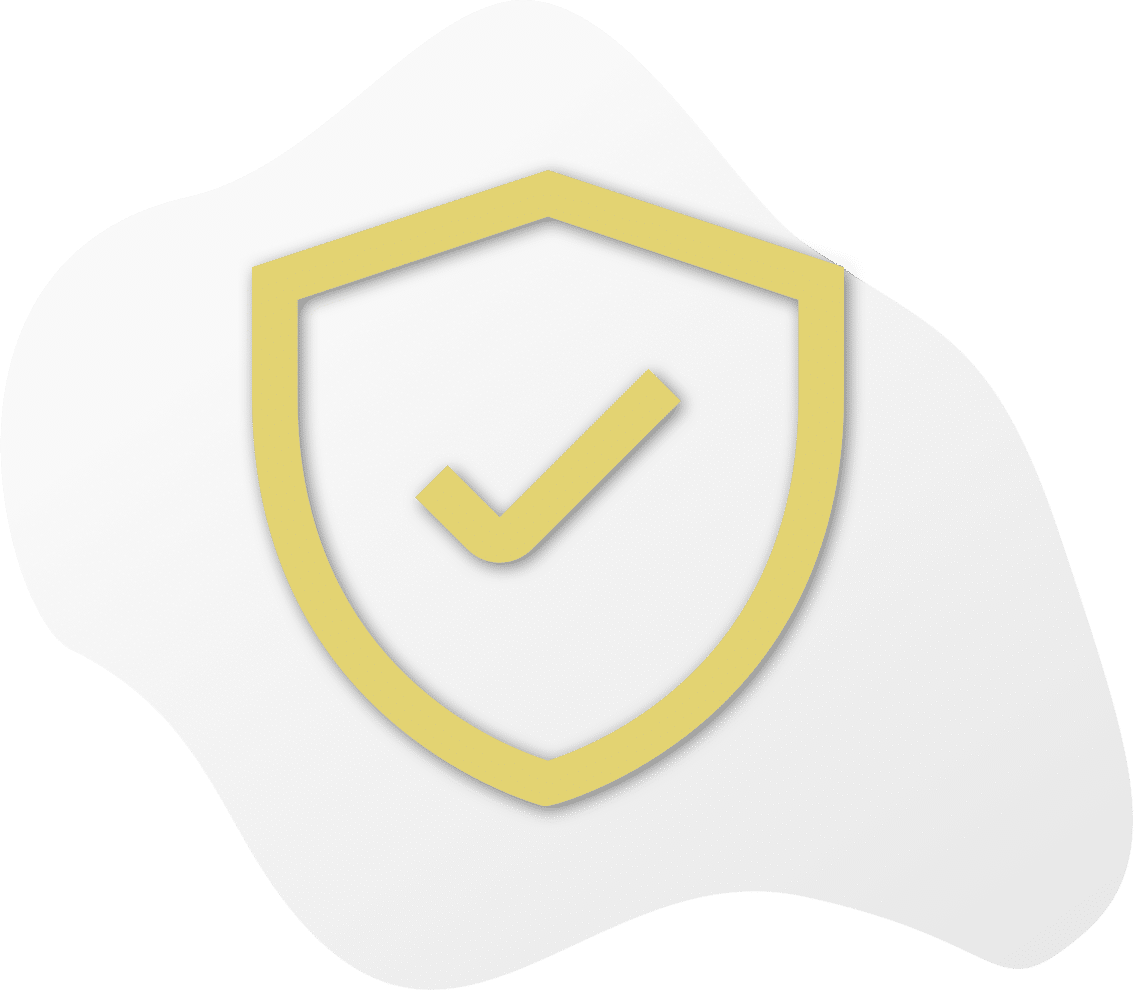 It's not only the planner who needs a contract, of course. An event host contract is an essential component, as the venue also stands to lose out if an event goes wrong. An event venue contract will include items like a deposit, refund terms, damage waiver and more. A hotel event contract template typically includes a hotel guest agreement form, as the hotel stands to benefit from selling guest rooms as well as the main venue, which is covered by the hotel meeting room contract. One thing for the planner to keep in mind when planning an event in a hotel that may have multiple ballrooms or event halls is the "no walk" contract – this prevents the hotel from moving your party in favor of a larger group that they might make more money from. Look at a no walk clause hotel contract example to know what to look out for here.
Other event venues may include rec rooms or community halls, or outdoor venues like parks. Regardless, a contract covers all parties. A community hall rental agreement template will provide a good example of some of the items needed – liability insurance, for example. A venue rental agreement insurance clause usually requires the renter to have insurance, which covers the venue legally and holds the renter responsible for loss, damage, injuries, etc. This type of insurance is necessary when contracted employees are performing work in a rented venue.
Types of Contract of Employment
Contract employment is different from full-time employment in many ways – one of which is that the employee is not covered under an employer's insurance, making the insurance clause essential. Other differences include tax structure – hiring a contract employee means the employer is not responsible for employment taxes, and typically a contract employee will not have the benefits of a full-time employee, such as vacation time, 401(k) contributions, etc. There are different types of contract of employment – sometimes contract employment takes the form of temporary or seasonal work, where a worker may be hired for a busy summer season, or during the winter holidays, or to fill in for an employee on medical leave.
The difference between temporary employees and independent contractors is often a bit fuzzy, and a good independent contractor agreement definition is provided by the IRS, which states "The general rule is that an individual is an independent contractor if the payer has the right to control or direct only the result of the work and not what will be done and how it will be done."
That control or direction is best laid out in a project contract template, which can be based on a free simple employment contract template found online. Simply search for a temporary employment contract template or a project contract template, and you'll be able to draw up a new employment contract that protects everyone involved. A sample letter of agreement between employer and employee should fill in any gaps and make sure all your bases are covered.
Independent Contractor Letter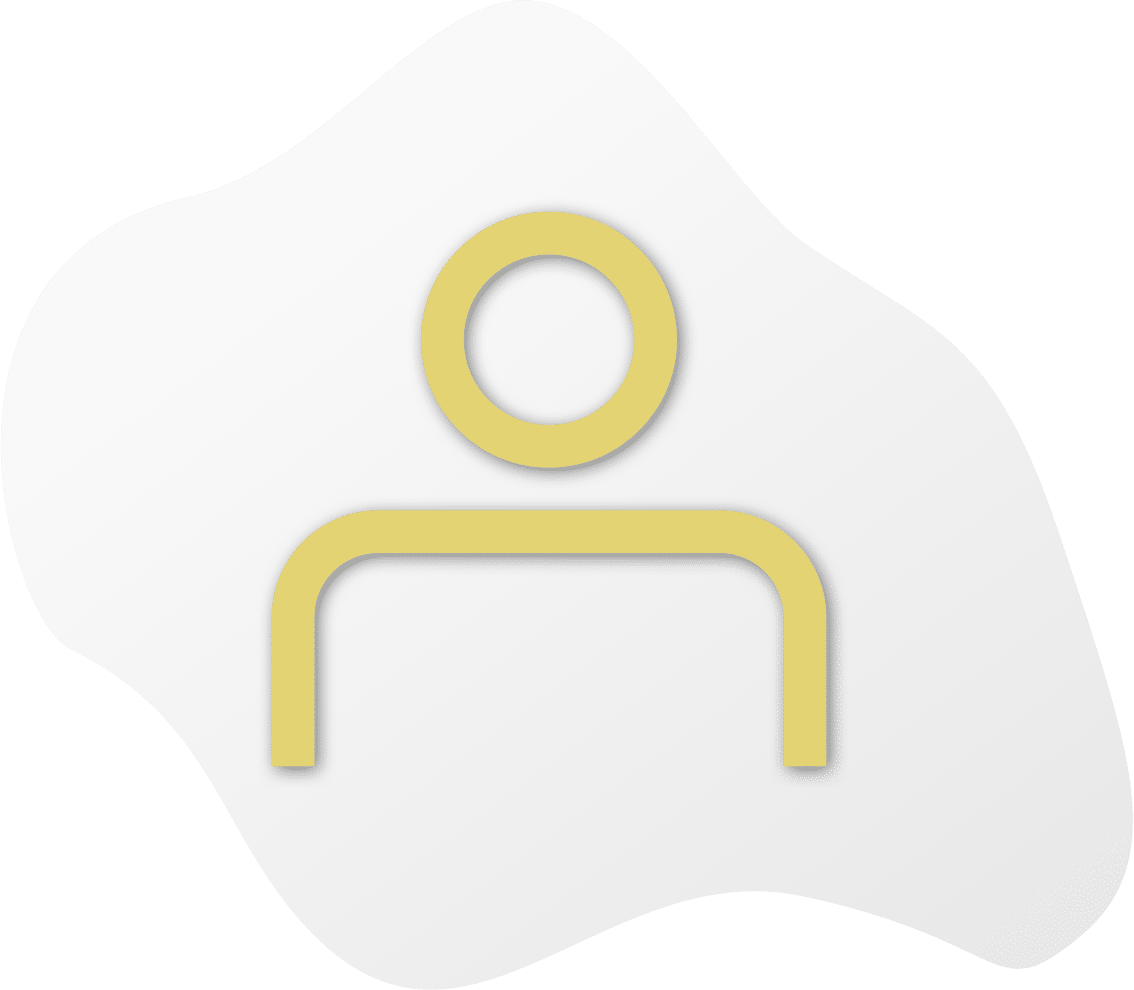 Why would a company choose to work with an independent contractor rather than a full-time employee? As mentioned above, there are tax benefits as well as cost savings in the form of employee benefits. It's essential, though, to make sure that you don't leave yourself open to legal action or risk not getting paid, so be sure you have a solid agreement in place. What should be included in an independent contractor agreement? An independent contractor letter must contain certain items, including stipulations of the business relationship, terms of payment and invoicing, a timeline and scope of work, responsibilities, and a statement on ownership of the finished product. Independent contractor agreement examples can be found online – Proposable, for example, offers an Independent Contractor Agreement Template. To meet your specific needs, simply add on the necessary terms, like geography: "independent contractor agreement California 2020," for example, or "independent contractor agreement Texas," or field, like "independent contractor agreement event planner" or "independent contractor agreement real estate." No matter what field or format, you can find something that will meet your needs.
Edit & deliver this template.