Contract Agreement Format
When putting together a contract agreement, you always want to make sure that it will make the maximum impact. In this article we take a look at some time-tested contract agreement formats and talk about when and why you should use them.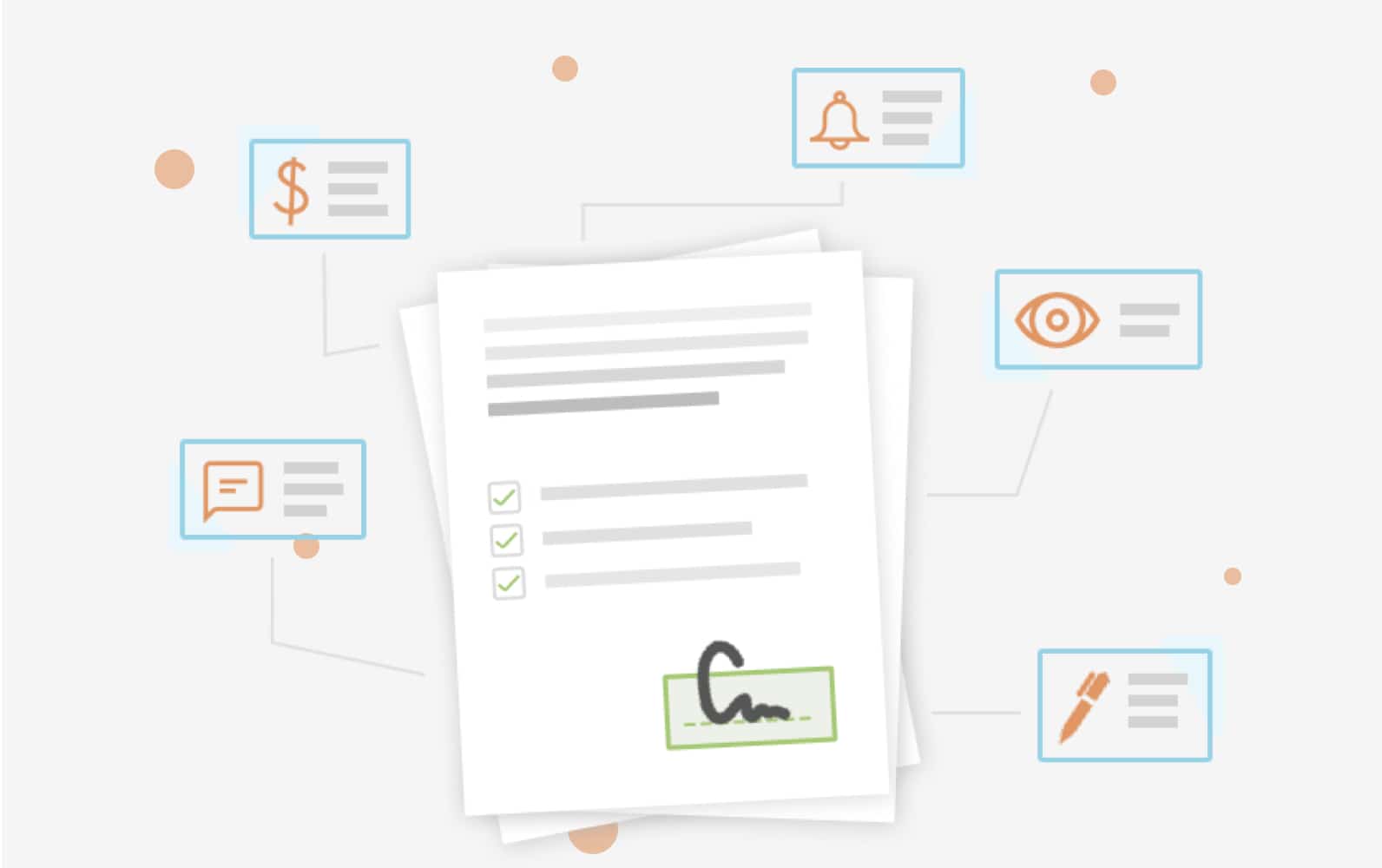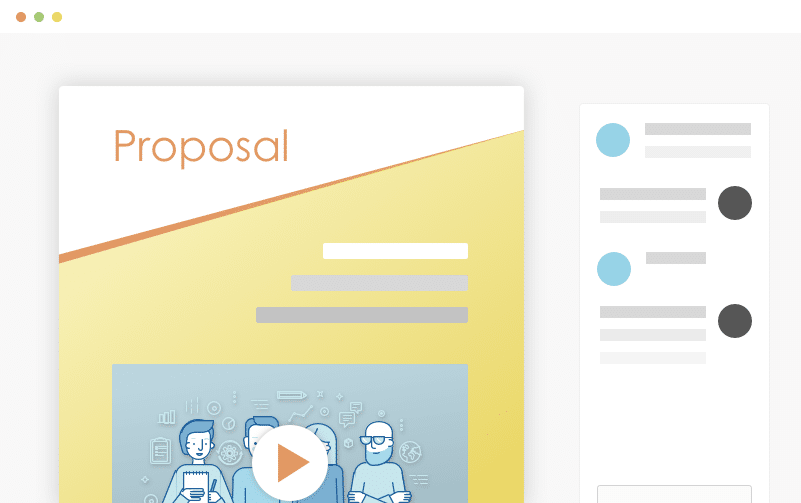 Wow Your Customers
Blow your clients away with a beautiful proposal that stands out above the rest. Add video and rich-media directly into your proposal pages for a more immersive sales presentation that's sure to make an impact.
Set Your Prices
Quickly build quotes, bids, and estimates with our flexible estimate block. With optional line-items, optional quantities, taxes, discounts and more, you can quickly represent your products and services in a polished and readable format. Organize all your products and services in the Pricing Catalog for instant recall.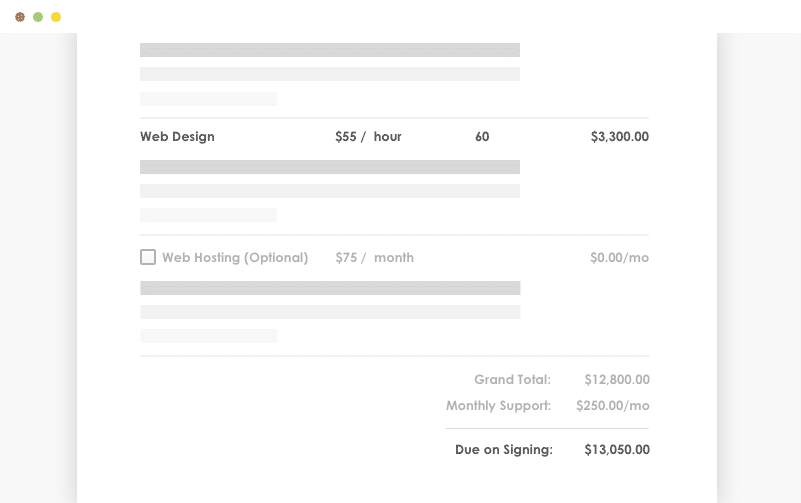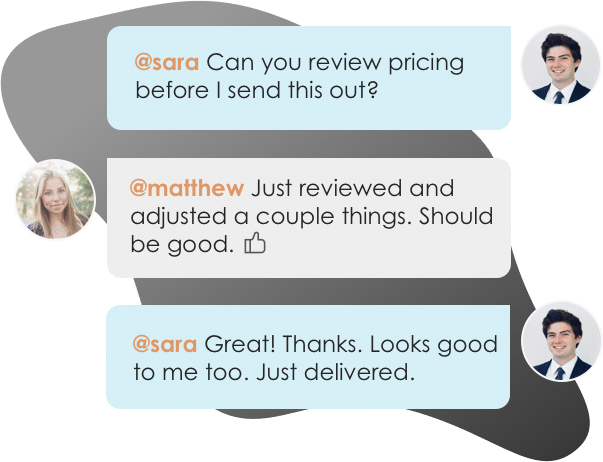 Work With Teammates
Easily collaborate with teammates on proposals. Mention team members to bring them into a proposal, or re-assign ownership when you need to handoff the proposal to another teammate.
Get It Signed
Close the deal faster with integrated e-Signatures. Place signatures, initials, and text field elements throughout your proposal wherever you need prospects to take action and your prospect is guided through a quick acceptance workflow to complete their acceptance. Counter-signing support is also included.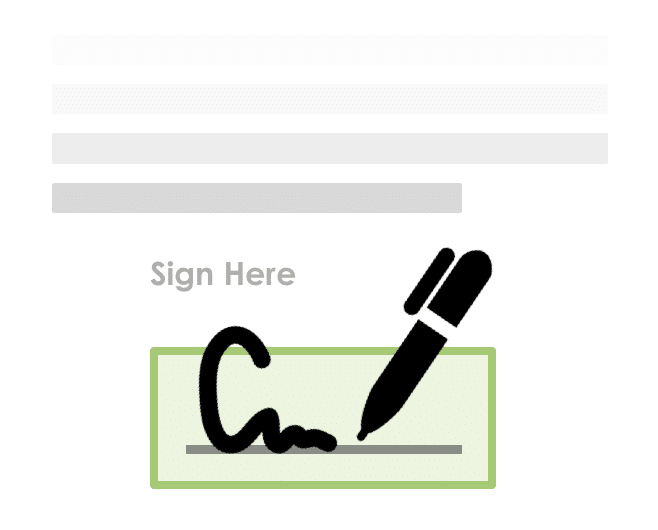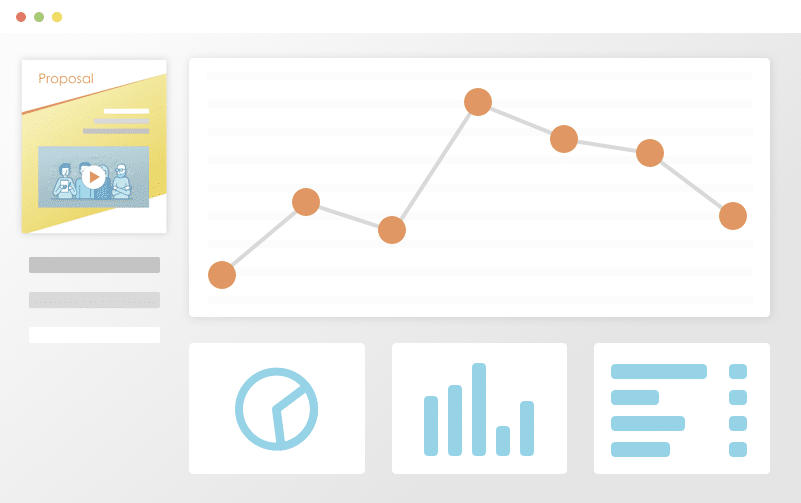 Track Everything
Ever wonder what happens to your proposal after you hit "send"? See detailed analytics and measure how each recipient is interacting with your sales material. Turn on real-time text or email notifications for proposal views and other key events.
Get Your Time Back
Save time and headaches by skipping the painful copy/paste and find & replace on all new proposals for your prospects and customers. Simplify your new proposal workflow to just a few clicks and go from spending hours on customizing new proposals to just minutes.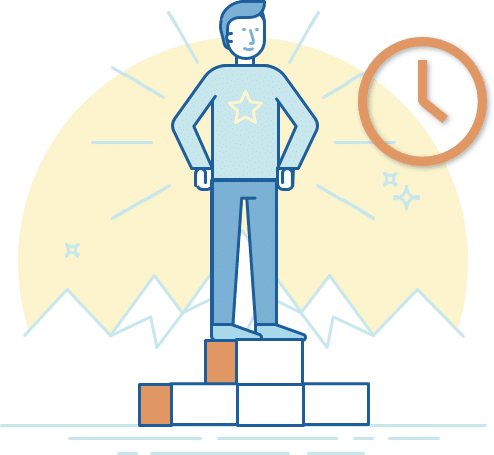 Best proposal software ever! 
I've tried soooo many proposal softwares and I'll never try another one after Proposable. It's so easy to use and it looks good, which all the others don't.
Smart, reliable, and constantly improving.
Proposable just works. I can make visually interesting sales presentations, dynamically insert content, and execute agreements. Proposable powers our entire sales process.
A contract is a simple agreement form that two parties sign when they're giving up something of value to each other. For example, with a contract between an employer and employee, the employer gives up a certain amount of money while the employee gives up their time and energy to perfect specific tasks.
Figuring out how to write an agreement letter or contract agreement form can be tricky at first. The formatting for these documents is actually pretty straightforward, though, especially when you have an agreement letter sample PDF to get you started.
A contract agreement letter needs to have the following characteristics:
Legal purpose (both parties agree to something that is legal)

A mutual agreement between both parties (both parties reach a "meeting of the minds" of some kind)

Consideration (something that each party is giving up)

Competent parties (those signing the contract are all of sound mind)

Genuine assent (those signing the contract are all agreeing to it of their own free will)
It doesn't matter if you're looking at a business agreement template between two parties or any other type of contract agreement letter. In any case, you'll find all of these traits included in it.
Contracts can also be classified as bilateral or unilateral. A bilateral contract is one in which both parties act to uphold a particular agreement, such as a contract between an employer and an employee. Unilateral contracts, on the other hand, occur when one party promises something in exchange for another party's action. An example of this is returning a lost pet in exchange for a reward.
Deeds are another example of a contract agreement. They're handwritten and sealed with signatures from both parties. They're then signed in front of a third-party witness. Examples of deeds include mortgage agreements and land transfers.
Simple Contract Agreement
A simple contract agreement is almost always preferable to a complicated one. Simple contracts set clear expectations for both parties and ensure everyone knows what they're getting into. This, in turn, ensures that neither party gets taken advantage of.
If you look at a simple contract agreement doc, whether it's a payment agreement letter or another type of mutual agreement between two parties, you'll find that it includes the five characteristics outlined above. The average simple contract example will also follow a basic structure, whether it's part of a money agreement between two parties, such as an employer and employee, or a rental agreement between a landlord and a tenant.
In general, a simple contract agreement will start with the names and addresses of all the parties involved in the agreement. It'll then feature a short description and mission statement of these parties, as well as a summary of the role of the contracted party as well as the relationship between the parties signing the contract.
Next, the contract will detail the specific promises each party is required to uphold. It will likely include timetable and location information, too, to explain when each party is supposed to work, how long the contract is supposed to last, and where the work will take place. If the contract is some type of money agreement it will include information about payment methods and schedules, too. It should also include information about increases in payment (cost-of-living increases, bonuses, etc.).
Contract agreements usually end with information on ramifications that each party will face if they violate the contract. This includes clarification about who will handle legal fees if the contract is breached. Finally, every contract ends with signature lines for both parties, as well as lines for the date on which the contract gets signed.
Even in the case of a simple contract or work agreement letter, there's a lot that goes into creating it. If you're feeling intimidated by the idea of putting together your own contract, consider using a simple contract template instead.
Templates help to streamline business processes and make the contract writing process much easier. You don't have to worry about specific language or structuring it so nothing important gets left out. All the heavy lifting gets done for you. All that's left is for you to fill in the blanks and make the contract specific to your business (or any other purpose for which you need a contract).
These days, there are lots of contract templates available online for free as well. Whether you need a simple event contract template, a business contract template free of charge, or a simple professional services agreement, Proposable has tons of fillable free business contract template downloads for you to choose from.
Proposable has lots of examples to give you inspiration and make sure you're on the right track. If you're looking for an example of a simple contract agreement or a sample agreement between two parties PDF, you'll find it on our site.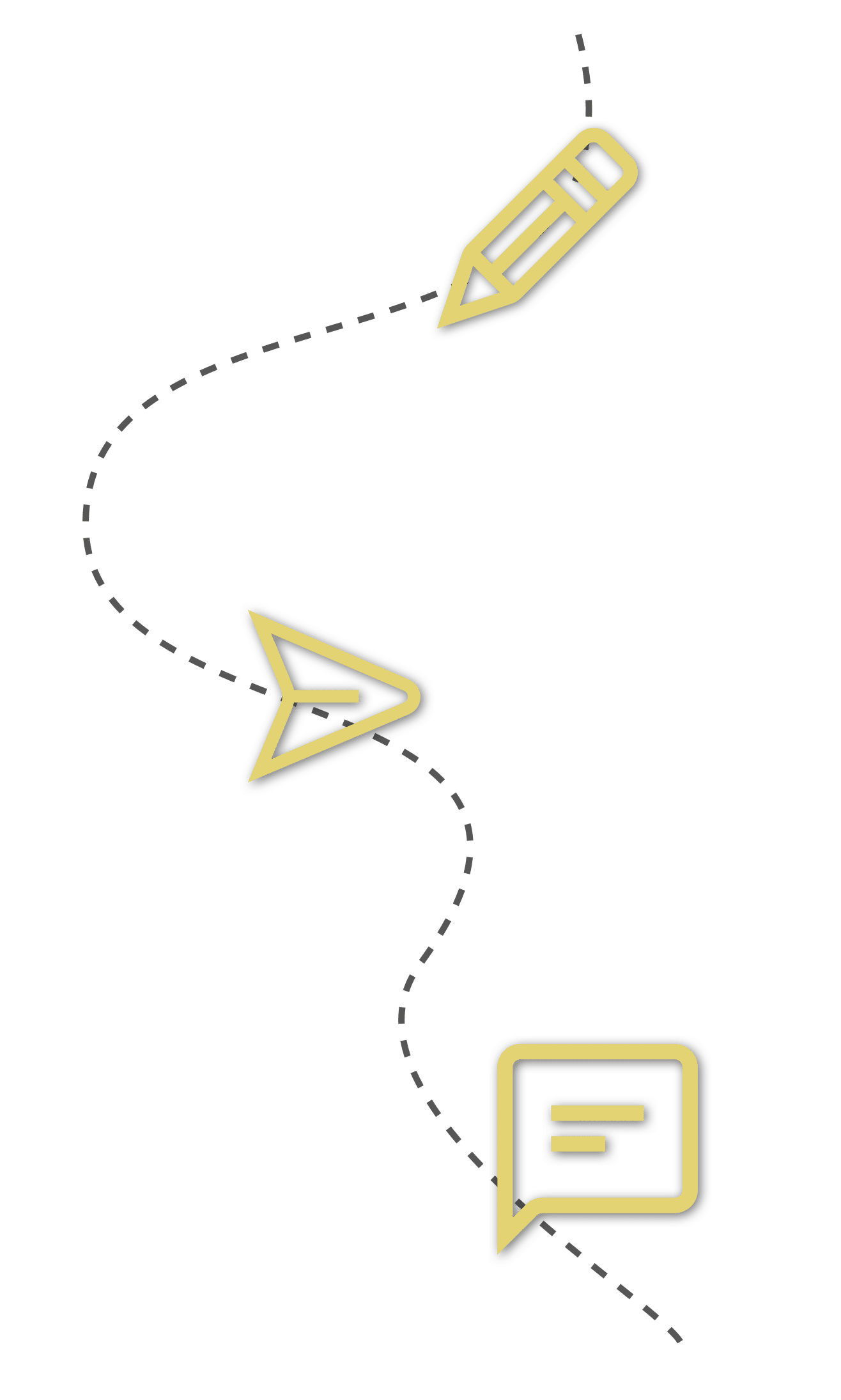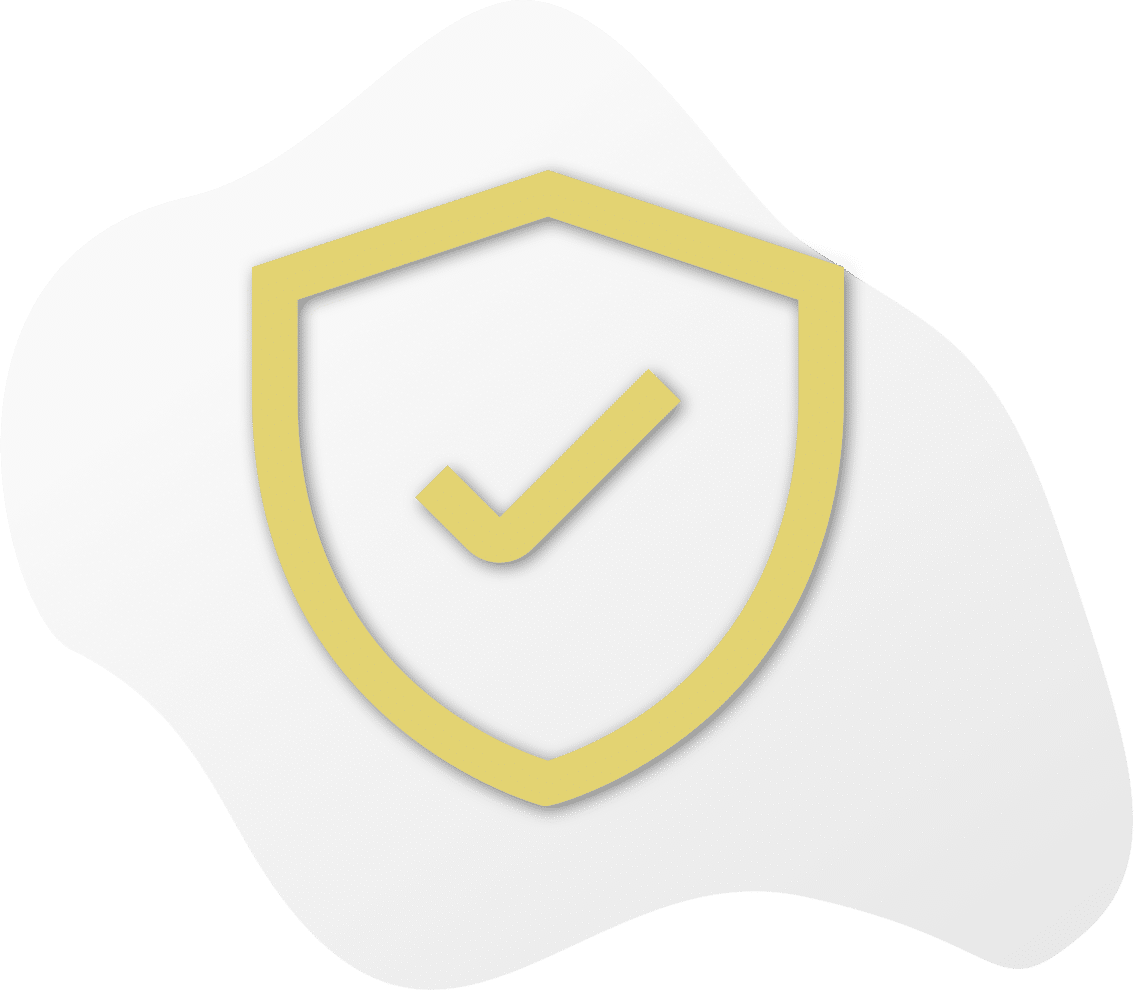 When you start researching contracts, you'll likely come across the term "service agreement" or "service agreement letter."
A service agreement letter is a document used by professional service providers and trading business partners. It clearly defines the terms and conditions for a particular service and ensures that the understandings between suppliers and customers match up in the appropriate way. All kinds of problems can arise when service agreement letters aren't used or aren't well-written.
Service agreement letters are very similar to contracts. There are some small but important differences between them, though.
First, contracts follow more formal outlines than service agreements. Agreements are less rigid and can be harder to enforce if there is a dispute. Basically, all contracts are agreements, but not all agreements are contracts. A contract must meet specific criteria, while agreements tend to be looser.
A service agreement will still typically follow a particular format to ensure that all bases are covered. A service agreement can function as a contract and provide security and peace of mind to all parties involved.
A service agreement letter is often used by individuals who perform specific services. For example, a business and a freelance writer or website developer might make use of a printable service agreement. Contractors and homeowners often use some kind of business services agreement template, too.
A typical service contract example or business services contract template will include the following:
Contact information for both parties involved

A description of the services provided and the scope of the work needed

Compliance and insurance requirements

Payment terms

Confidentiality agreements

Indemnification (compensation for harm or loss) information

Warranty information

Default terms
Any kind of free sample contract for services agreement will also include details about remedies and dispute resolution. This often shows up toward the end of the agreement.
There are lots of different ways that you can put together a contract. You could sit down with a lawyer and work with them to draft a contract for your business. You could also use a free program like Microsoft Word, which includes a contract-development feature.
Microsoft Word is currently one of the most popular programs that people use when creating a contract. It is fairly easy to use, which explains why so many people flock to it, but it definitely has its shortcomings. For example, Microsoft Word's contract template options are not as robust as those from other parties. It might take a lot of work to adjust a contract letter PDF you created using Microsoft Word to fit your specific business requirements.
Another downside of using a free business contract template Word put together for you is the fact that it can be edited easily. This is a problem because the other party could easily change the contract without you realizing it before they signed it. As a result, you could end up in a tough spot legally all because you used the wrong contract-making platform.
Instead of using the contract template Word offers, you'll be better off using a premium online service like Proposable. Proposable is much more secure, and it gives you access to tons of different templates for free. From agreements for rental agencies and photography businesses to lawn care companies and social media influencer guides, there's something for virtually every business. New templates are added all the time, too.
These templates are easy to fill out and can be customized to your specific needs within minutes. Whether you need a client contract template, a contract agreement letter PDF, or an agreement letter between two parties doc, Proposable has it all on one easy-to-navigate website.