It just so happens that one of our team members has an extensive background in tours and travel. It came to our attention when one of our Proposable users posted a link to a sample proposal on a private travel agent forum that in turn brought many Travel Agents to our site. Now, we've had many Travel Agents in the past, but not like this and we're excited to be able to support this industry.
Why is Proposable a good fit for travel professionals? Well, do you have (or want) repeat business? Do you work with groups or clients that travel every year? Do you offer the same packages and tours to a variety of customers? What if you could automate your annual sales push and know which customers are really interested in traveling? Well, here's an overview of what Proposable can do for your travel business:
Deliver proposals & itineraries that capture attention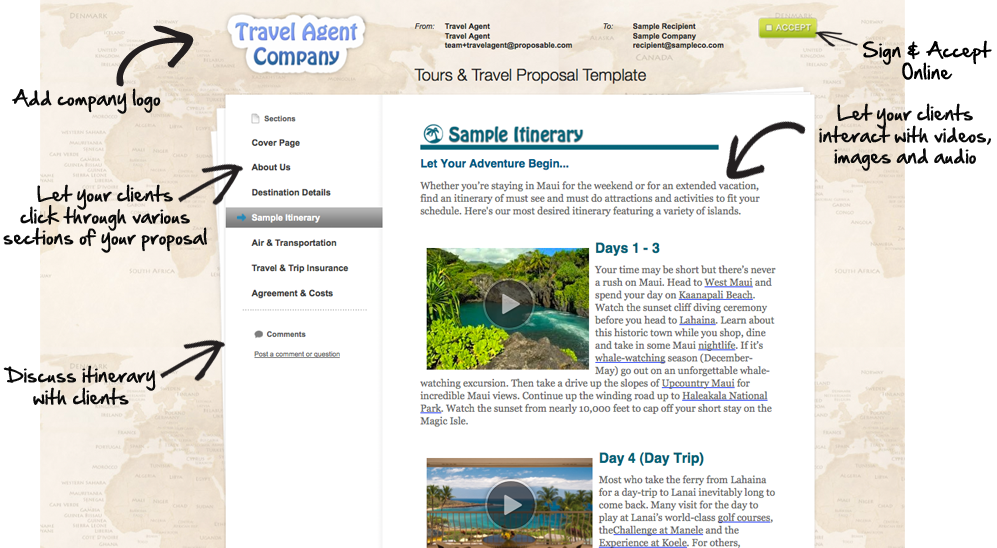 Like this Travel Agent Proposal Template? Get it Here:
Make your brand prominent – Your clients will see your proposals and itineraries like a micro-site. They will have the opportunity to interact by clicking around the proposal, making them more engaged and interested in your offering.
Show them what they'll get – Imagine your proposals coming to life. With Proposable, your clients will be able to see colorful images and engaging videos that highlight your destinations. Use your proposal to give them the most immerse experience possible.
Discuss and Approve – Now that you've peaked their interest, why not talk about adding additional days or talk about other destinations? With the Comments feature, your client can respond to your proposal, allowing you to keep the discussion going. In addition to discussing the proposal online, your clients can also accept your proposal online and electronically sign (e-sign). This is a great way to shorten your sales cycle and lock in your clients.
Know when proposals are viewed – Have you ever sent a proposal or sample itinerary to a client and wondered if they received it or if they were really interested? Well, wonder no more. With Proposable, you'll know the minute your client or clients open the proposal. You will receive an email notification or if you prefer, an SMS text, telling you when your client opened it. Not only will you close more deals, but work smarter by knowing which clients are interested in your products and services.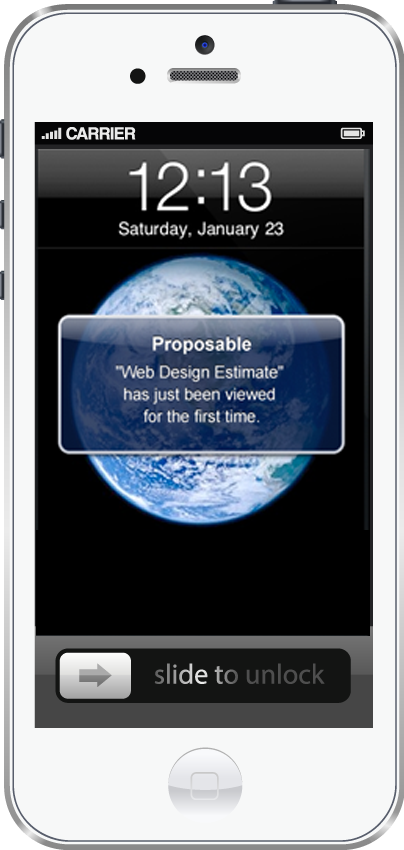 Proposal Analytics – Knowledge is power and with our proposal analytics, you'll be well informed and equipped to close the customer. You will have the ability to know how much time was spent viewing the proposal and how much time was spent on each section of proposal. This gives you enough information to build a strategy around what interests your client. Let's say you send a sample itinerary/proposal with two destinations to a couple looking to honeymoon. You will be able to see if the wife spent more time on one itinerary versus the husband spending time on another. If the wife is the ultimate decision maker, you'll know which destination to push more.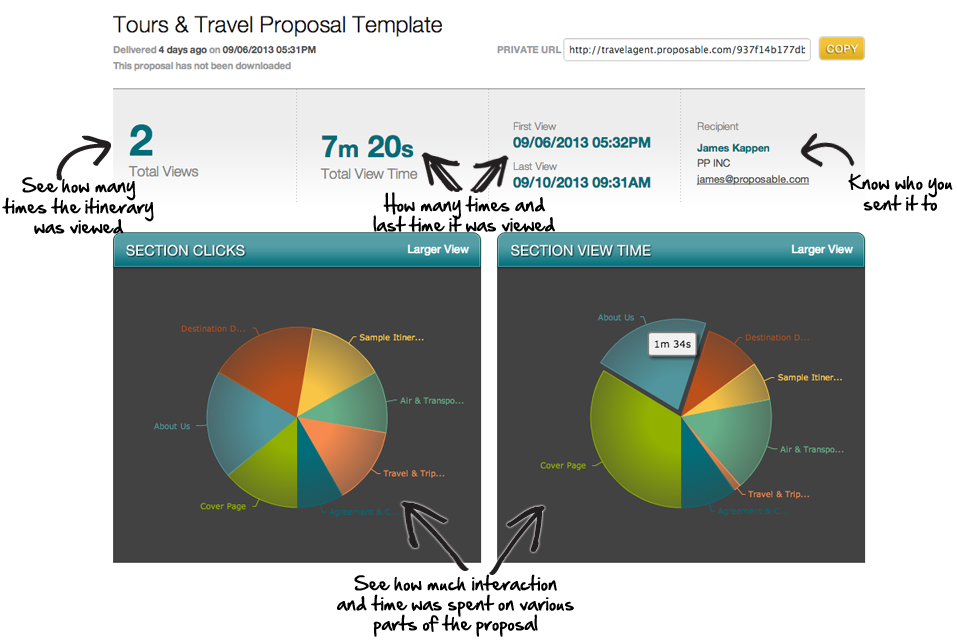 If you'd like to learn more about how Proposable can help you grow your Tour Operator or Travel Agent business, drop us a line or email us at team@proposable.com. Whether you work as an independent agent or have an entire team, we offer many years of expertise to help you get up and running very quickly.
Check out all of our Sample Proposal Templates at:

/templates