Introducing the Free Proposal Templates Library
Some of you may have noticed a new section on our website called "Templates". We realized that many of you wanted to have more choices and design ideas when it came to designing or redesigning proposal templates. So, we went ahead and created an entire section dedicated to free sample proposal templates for you to use. Our plans are to add 10 or more at a time to cover a wide area of industries. Currently you can find the following proposal templates:
• SEO Proposal Template
• Web Design Proposal Template
• Graphic Design Proposal Template
• Social Media Proposal Template
• Event Planning Proposal Template
• Wedding Planner Proposal Template
• Software Development Proposal Template
• IT Consulting Proposal Template

What's it all about?
Whether you're writing a bid, quote, sales proposal or estimate, we're hoping to provide sample templates for every industry. We've tried to keep it consistent and cover most areas that should be included in a proposal such as:

Cover Page Section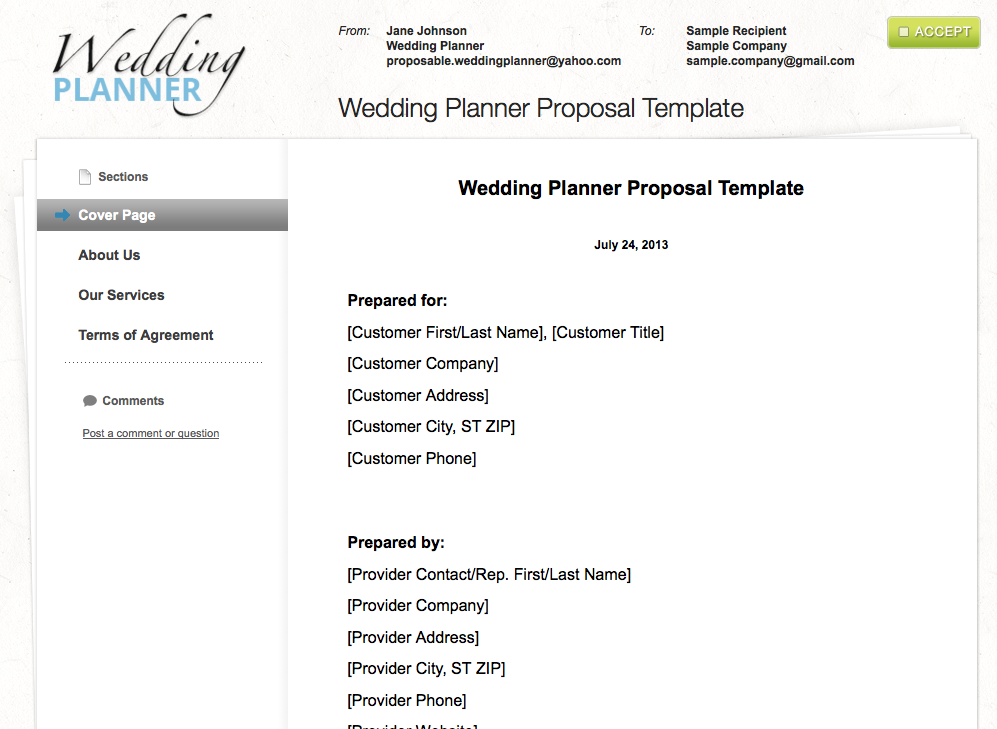 A cover page gives you the ability to visually date your proposal and include your potential customer's information and your personal information. Some of our customers have embedded video on the cover page using their webcam or smartphone. This gives it a personal and interactive wow-effect to your prospect.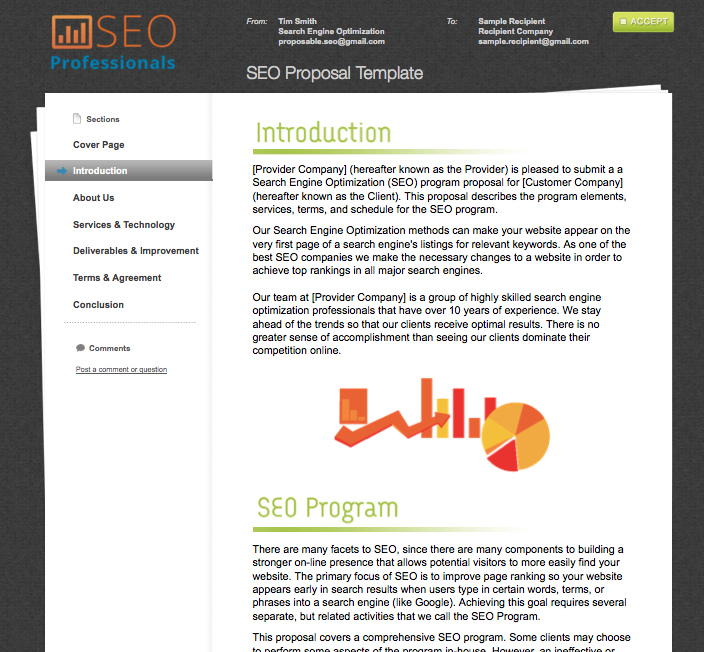 About Us or Introduction Section
Landing a customer consists of a professional looking brand and solid experience. Why not present your portfolio and a brief introduction about your company outlining achievements. This is your opportunity to add color, elegance and interactive elements to your proposal. This section is your ticket to show your prospects that your company is experienced and has various happy customers by including testimonials with images or video.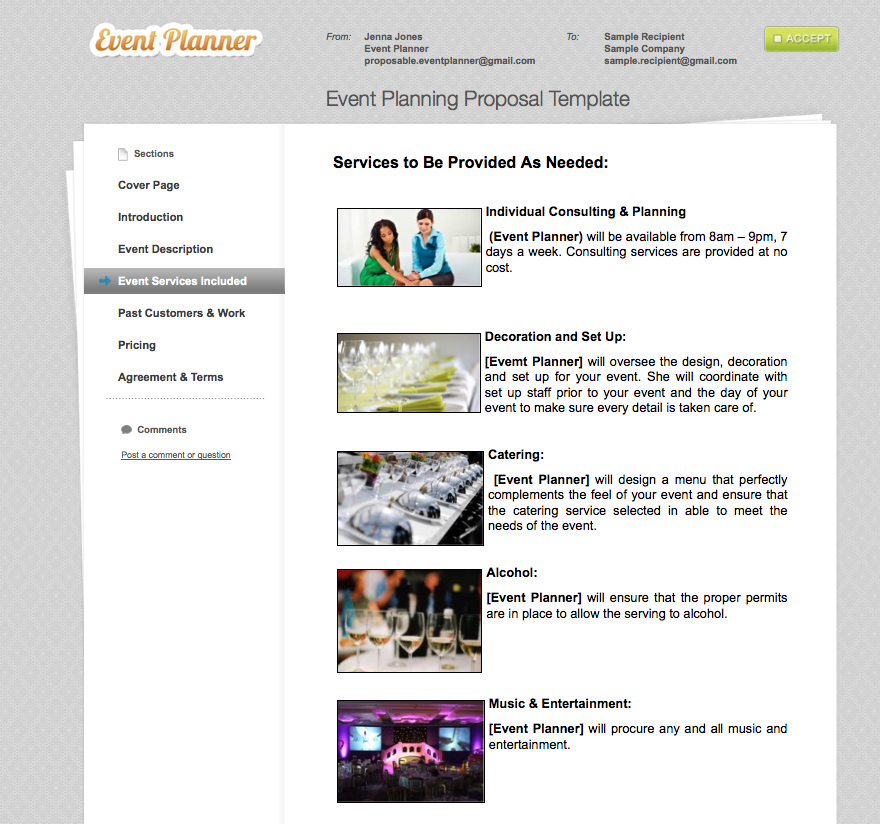 Description of Products & Services
Once you've caught their attention, it's time to show them your goods and services. Whether you're a plumber, construction builder, accountant, travel agent or marketing agency that's writing a quote or proposal, you should include video or images of you and your work within the proposal. This gives your potential prospect a visual of what they will be receiving. This will allow you to deliver your message quicker and allow your prospect to make a quick decision as well.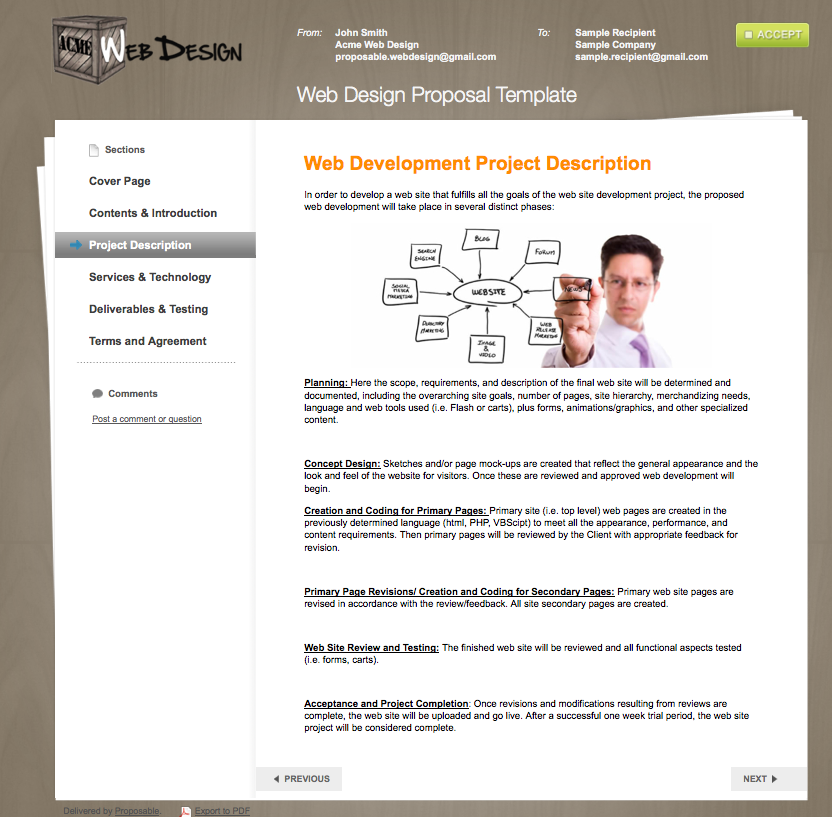 Project & Description/Milestones
If your client has specified their requirements, this section is your opportunity to visually explain how your process works. Provide everything from timelines to milestones can be crucial towards getting a customer. Giving your prospects a mental picture of how long it will take to complete a project or receive a product/service can be part of the decision process. It's important to cover this aspect in your proposal. Why not do it with interactive elegance.
Terms & Agreement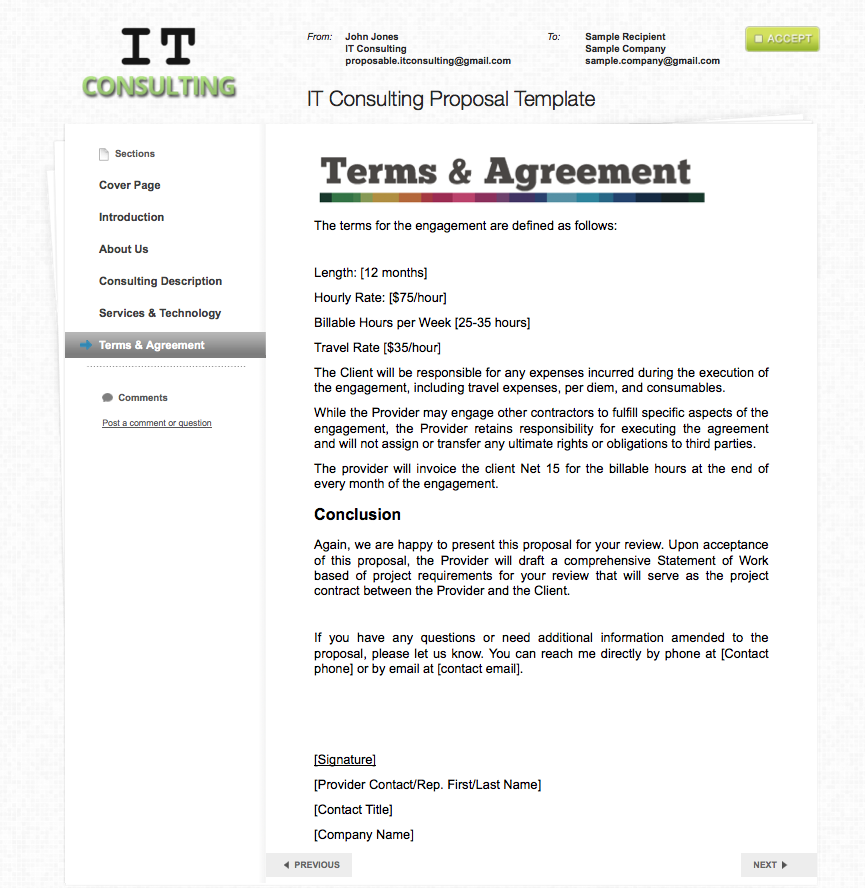 Of course it's important to include your estimate and payment terms. In this section you can breakdown everything from policies to procedures and billing information. You can also include disclosures, addendums or invoices within your proposal. Some clients have even embedded Paypal payment forms right into Proposable proposals. Keep your momentum moving forward and allow your potential prospects to accept and electronically sign (e-sign) your proposal online.
Like what you see and want to learn more? Simply sign up for a free trial and you'll have access to all of our templates. We will be covering more in future blog posts on how to structure a proposal and what to include based on your industry. If you'd like to get feedback on your industry, please comment on this post and we'll select the most popular requests.