We're constantly looking for ways to make our users lives simpler and so we've added a new service to both new and existing Proposable subscribers. We are now offering a Custom Proposal Building Service to help you get up and running in no time. Many of our clients either don't have the time or design skills to quickly build their first proposal within Proposable.  Get your proposal built by our experienced team for a one-time, small fee of $199. Here's how it works:
Send us an existing version of your proposal (PDF, Word, Napkin, etc.)
Send us your images, logos and links to videos (Youtube or Vimeo)
Try to be as detailed as possible what you would like changed in your new proposal
Your proposal must be 10 pages or less. Anything above this will be $250 for 20 pages
What are some advantages of having Proposable build your proposal template?
Save Time. Let us get it done while you focus on your business while we prepare your templates in your account.
Save Money. Why use precious resources to build your proposal template? We'll act as your team.
Best Practices. We'll incorporate important elements that will help you be more successful with your proposals
Elegant Branding. We'll keep your brand intact while delivering professionalism and elegance.
Let us know if you are interested in having us help you create a professional looking proposal.
Want to save some cash and do it yourself? Take advantage of our Proposal Sample Templates Library.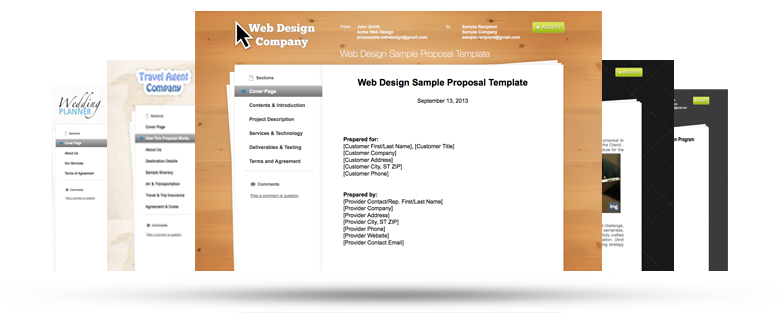 Proposable is an online sales proposal tool that helps small business professionals create, track and analyze proposals, quotes and estimates. With over 10,000+ subscribers in over 50 countries worldwide, we've focused to become the #1 Online Sales Proposal Software. Get your free trial today: