Over 10,000+ small businesses have subscribed to Proposable and many of them are SEO and Internet Marketing Professionals for a reason. With increasing competition and SEO training courses from companies like SeoBook, MarketMotive, Bruce Clay, and WSI International, it helps to have a competitive edge. We've worked hard to produce a ready-to-use SEO sample proposal template for free. Here's a breakdown of what you can do with the proposal template and how it will add value to your business.
Interact With Clients
Utilizing Proposable in your sales process will validate your expertise with optimizing someone's business. If you are able to show your clients that you can produce content that will engage them, it will be living proof that you are capable of helping them grow their business through online marketing.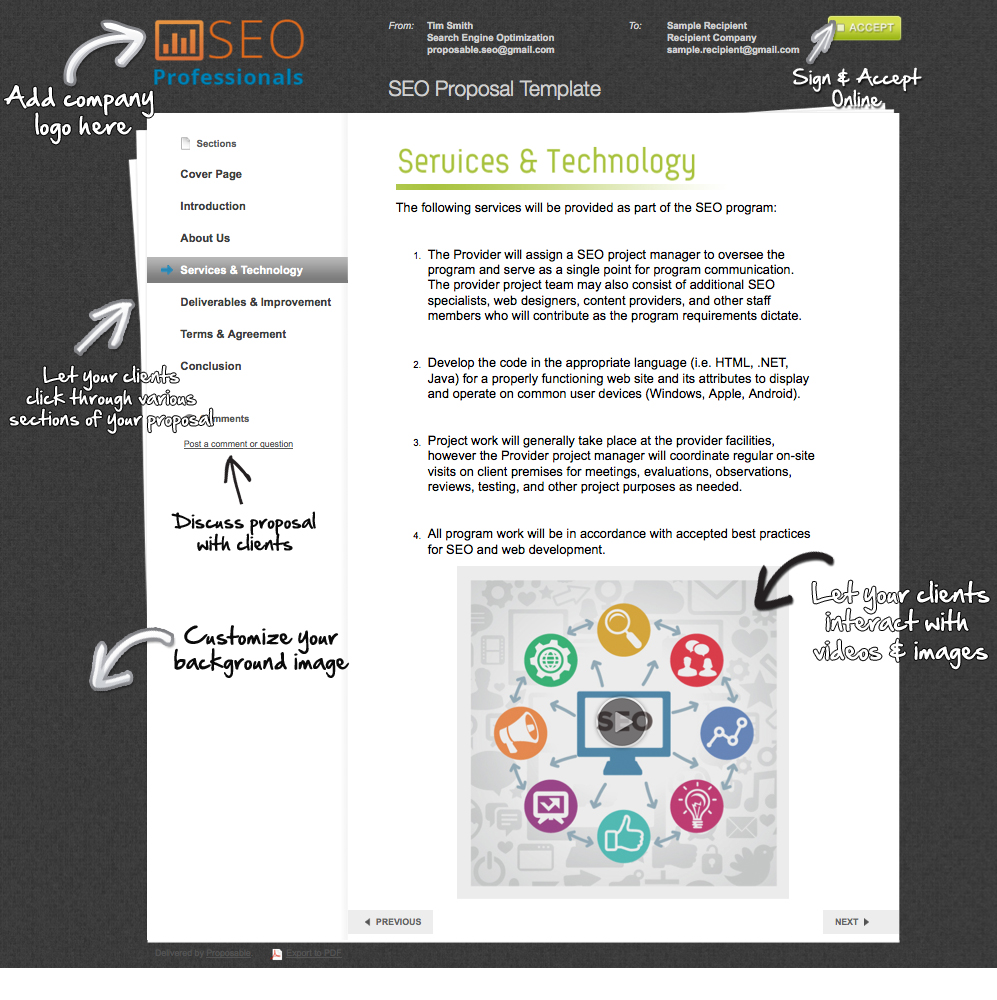 SEO Marketing Proposal Template
Measure Interest Level
Offering search engine marketing services requires extensive experience. Validate your expertise by capturing your potential customers interaction with your proposal. Arm yourself with knowledge such as how much time was spent on each section of your proposal or communicate with your client on specific parts of the proposal inside of Proposable. Clients will be impressed by your analytical capabilities and choose you as the best possible candidate. Here's a preview on some of the features included in Proposable:

Testimonial from a New Proposable User:
"For the last couple years, I have been using a Word document for my proposals.  Even though it looked neat, I wonder how I ever closed a new account.  I began the trial version of Proposable in September of 2013 and was so impressed by the ability to choose a template that was already geared for what I needed.  The ability to embed video and have all of the information displayed professionally is exactly what I needed.  I can even see when the potential client opened it and what parts of the proposal they viewed.  My very first proposal ever sent was accepted 1 day after it was received by the client.  The software is incredible."
If you are an Internet Marketing Professional and you're looking for a better and easier way to close more sales, take Proposable for a test drive. Join the thousands of businesses using Proposable to automate their sales process within minutes. Feel free to add comments below and tell us what other SEO topics you'd like to hear about.