Sponsorship Proposal Template
Getting sponsorships done and signed for your event can be a real challenge. Deliver a sponsorship proposal you can be proud of by starting with this sponsorship proposal template.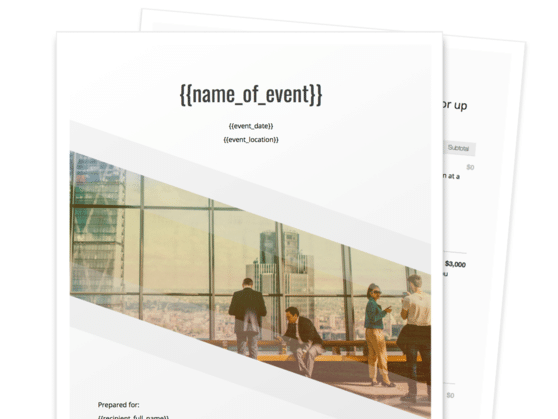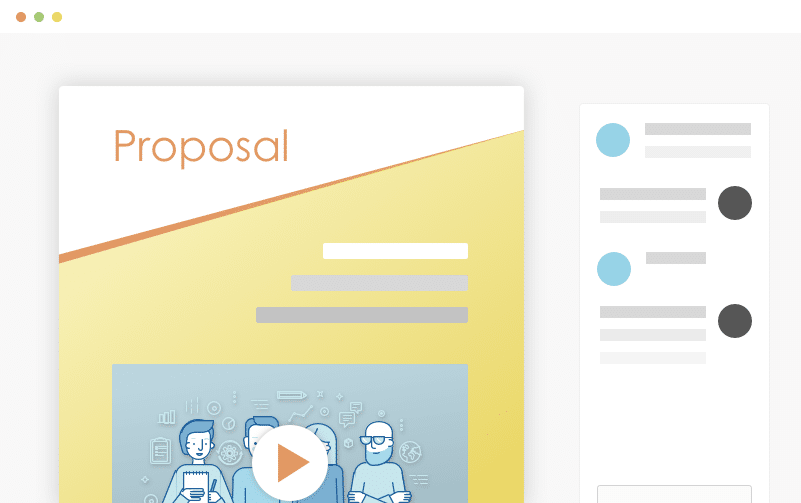 Wow Your Customers
Blow your clients away with a beautiful proposal that stands out above the rest. Add video and rich-media directly into your proposal pages for a more immersive sales presentation that's sure to make an impact.
Set Your Prices
Quickly build quotes, bids, and estimates with our flexible estimate block. With optional line-items, optional quantities, taxes, discounts and more, you can quickly represent your products and services in a polished and readable format. Organize all your products and services in the Pricing Catalog for instant recall.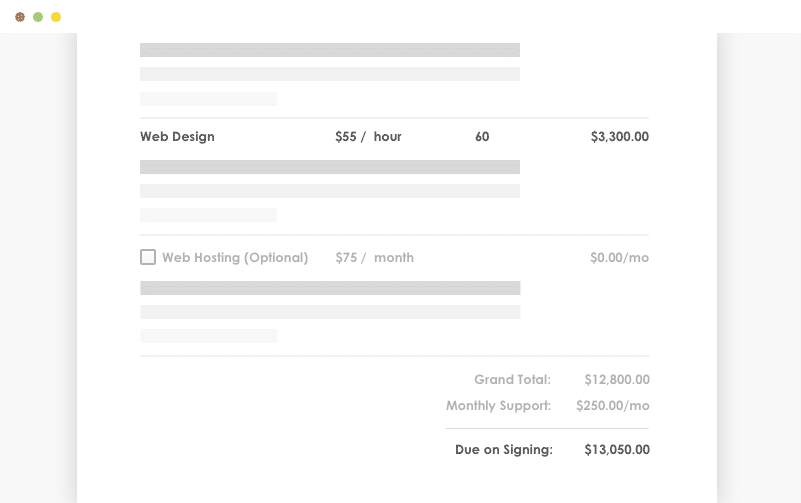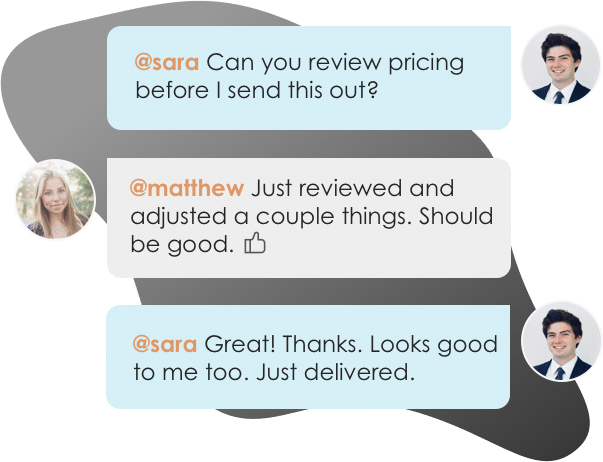 Work With Teammates
Easily collaborate with teammates on proposals. Mention team members to bring them into a proposal, or re-assign ownership when you need to handoff the proposal to another teammate.
Get It Signed
Close the deal faster with integrated e-Signatures. Place signatures, initials, and text field elements throughout your proposal wherever you need prospects to take action and your prospect is guided through a quick acceptance workflow to complete their acceptance. Counter-signing support is also included.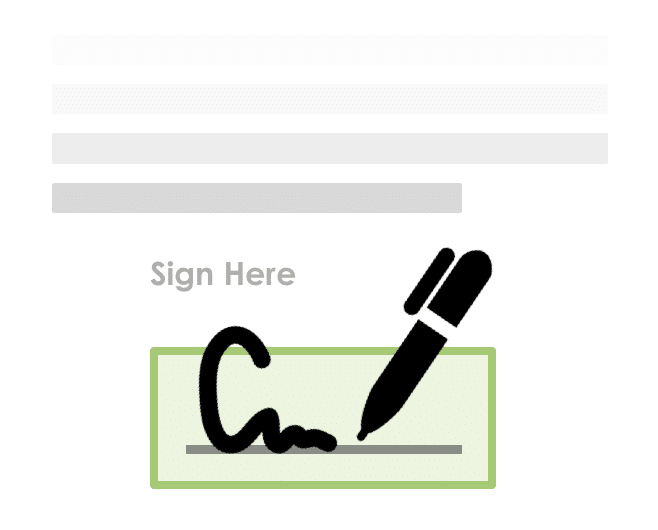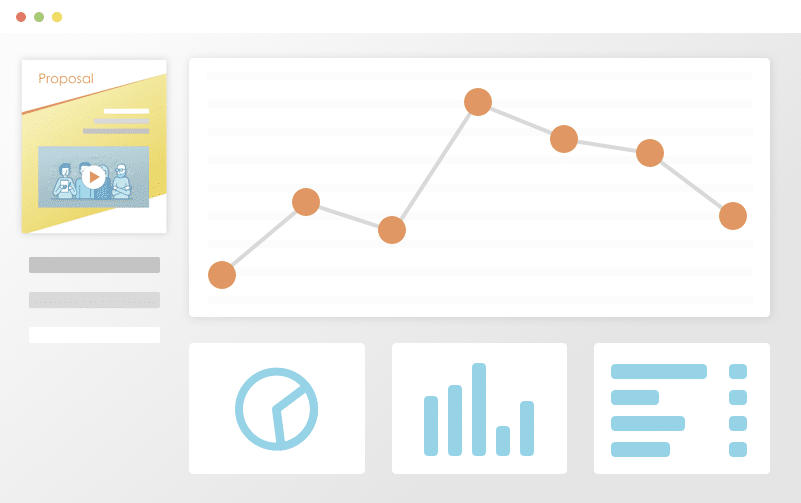 Track Everything
Ever wonder what happens to your proposal after you hit "send"? See detailed analytics and measure how each recipient is interacting with your sales material. Turn on real-time text or email notifications for proposal views and other key events.
Get Your Time Back
Save time and headaches by skipping the painful copy/paste and find & replace on all new proposals for your prospects and customers. Simplify your new proposal workflow to just a few clicks and go from spending hours on customizing new proposals to just minutes using painless proposal software.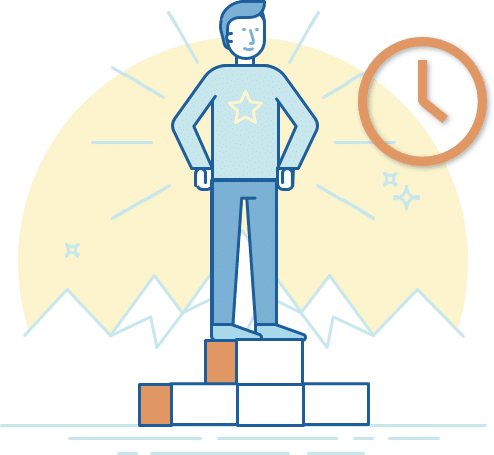 Best proposal software ever! 
I've tried soooo many proposal softwares and I'll never try another one after Proposable. It's so easy to use and it looks good, which all the others don't.
Smart, reliable, and constantly improving.
Proposable just works. I can make visually interesting sales presentations, dynamically insert content, and execute agreements. Proposable powers our entire sales process.
Edit & deliver this template.
Template Overview
Get the sponsorship and support you need for all future events by using our fully customizable sponsorship proposal template. This sponsorship proposal template makes it easy to create an irresistible offer that'll build lasting partnerships for all your events to come.
Benefits
Introduce the goal of your event and the positive impact that it can have on your community.
Clearly communicate the practical benefits that participating sponsors will enjoy.
Create sponsorship packages that are designed to fit the budget and business objectives of your prospective sponsors.
Present your sponsorship proposal to your recipients with a private web-link, and track all recipient views and activities as they happen.
Template Sections
Here are the sections that are included with this free template. Each section can be customized to fit your business.
The Event
This brief description of the event sets the tone for your proposal by introducing the merits of your planned event and describing succinctly what it is all about. Here you can talk about the purpose of your event, its target area and demographics, and how many attendees you are expecting. It is the perfect opening to formally ask your potential benefactors for donations.
Benefits of Sponsorship
Naturally, you can't ask prospective sponsors for funds if you're unable to tell them what exactly is in it for them. This section lets you set forth the general benefits that sponsors of your event will enjoy. These can include having direct access to one's target audiences, increased brand exposure through local media coverage, an opportunity to strengthen customer engagement and to engender brand loyalty, as well as being able to enjoy a high return on investment.
Sponsorship Packages
The sponsorship package underpins the agreement between your organization and your sponsor. Having a summary of the different sponsorship packages lets you describe the extent of benefits that your sponsors will enjoy. Typically, this is based on their level of involvement, which is—in turn—defined by the amount of donation they are willing to provide. Sponsorship packages are made up of individual benefits like the following: naming rights to the event, the ability to install marketing collaterals at the event venue, live plugs by event speakers, promotion through press releases and social media posts, booth space, VIP tickets, and so on.
Terms and Conditions
This section states the terms and conditions that govern the contractual agreement between your organization (the event organizer) and the company that is sponsoring your event.
Edit & deliver this template.