Painting Proposal Template
If you run a commercial painting business, chances are you've had to put together a painting proposal in order to get a deal signed and delivered. These proposals are time consuming but important because they help secure higher-paying jobs. In order to make the process more efficient, we've put together a professional looking painting proposal template that will be sure to wow your clients and get them excited about working with you. Create, deliver, and track all your proposals in minutes, then collect signatures and payments all within your proposal for a seamless sales proposal workflow.
Best proposal software ever! 
I've tried soooo many proposal softwares and I'll never try another one after Proposable. It's so easy to use and it looks good, which all the others don't.
Smart, reliable, and constantly improving.
Proposable just works. I can make visually interesting sales presentations, dynamically insert content, and execute agreements. Proposable powers our entire sales process.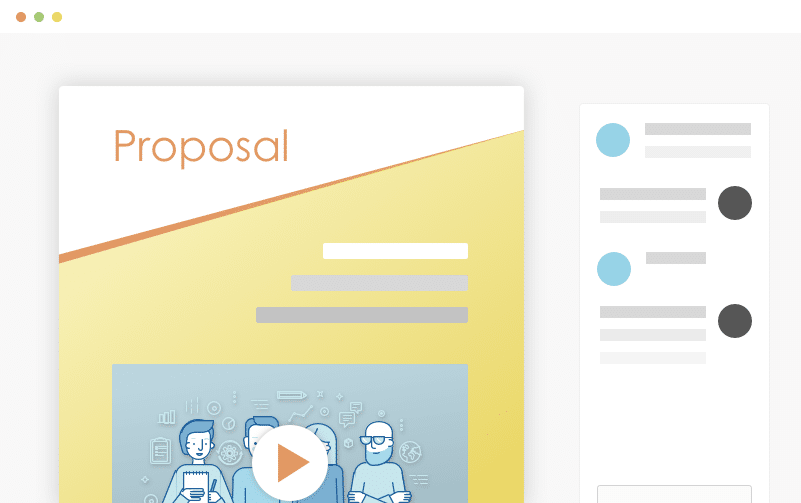 Wow Your Audience
Blow people away with a beautiful proposal that stands out above the rest. Add video and rich-media directly into your proposal pages for a more immersive sales presentation that's sure to make an impact.
Set Your Prices
Quickly build quotes, bids, and estimates with our flexible estimate block. With optional line-items, optional quantities, taxes, discounts and more, you can quickly represent your products and services in a polished and readable format. Organize all your products and services in the Pricing Catalog for instant recall.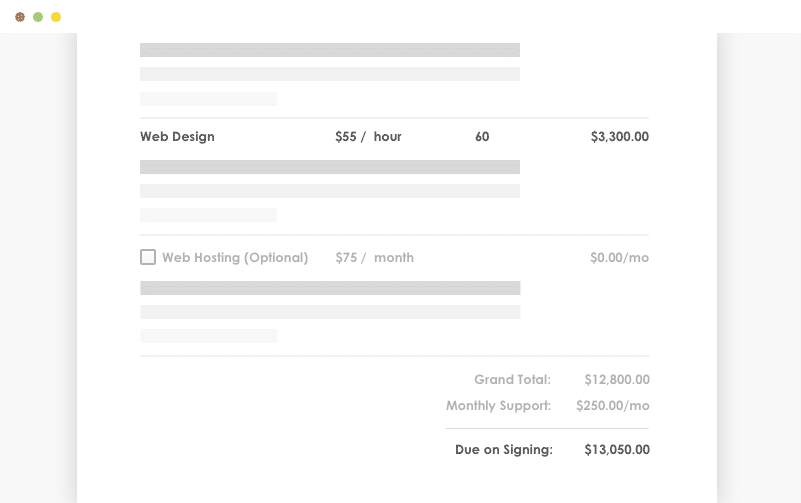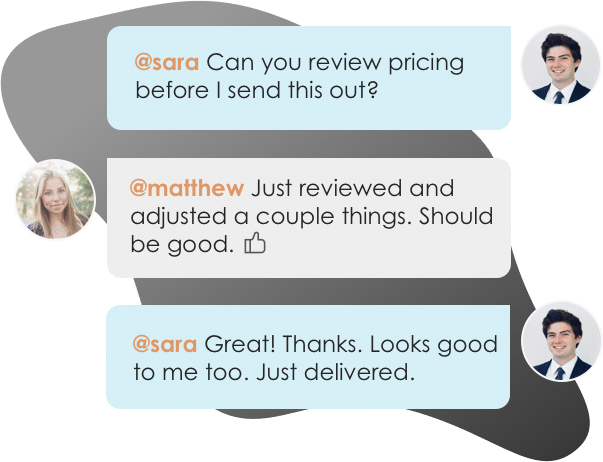 Work With Teammates
Easily collaborate with teammates on proposals. Mention team members to bring them into a proposal, or re-assign ownership when you need to handoff the proposal to another teammate.
Get It Signed
Close the deal faster with integrated e-Signatures. Place signatures, initials, and text field elements throughout your proposal wherever you need prospects to take action and your prospect is guided through a quick acceptance workflow to complete their acceptance. Counter-signing support is also included.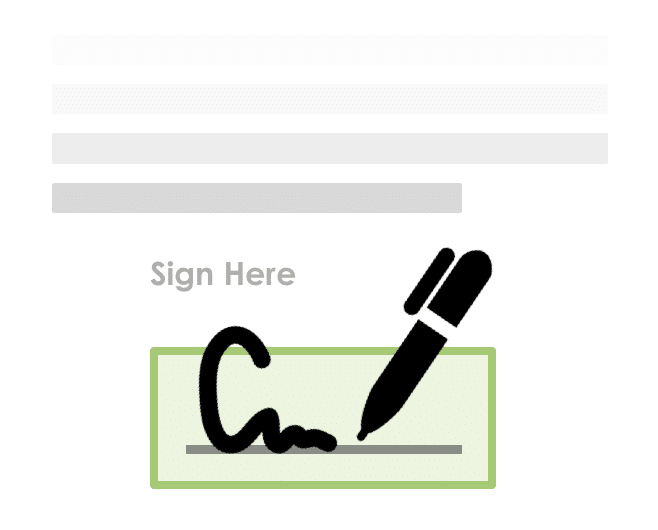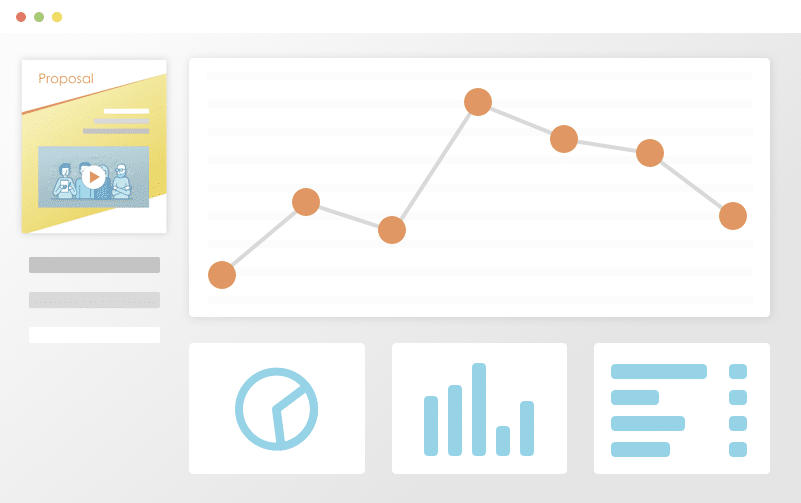 Track Everything
Ever wonder what happens to your proposal after you hit "send"? See detailed analytics and measure how each recipient is interacting with your sales material. Turn on real-time text or email notifications for proposal views and other key events.
Get Your Time Back
Save time and headaches by skipping the painful copy/paste and find & replace on all new proposals for your prospects and customers. Simplify your new proposal workflow to just a few clicks and go from spending hours on customizing new proposals to just minutes with proposal software.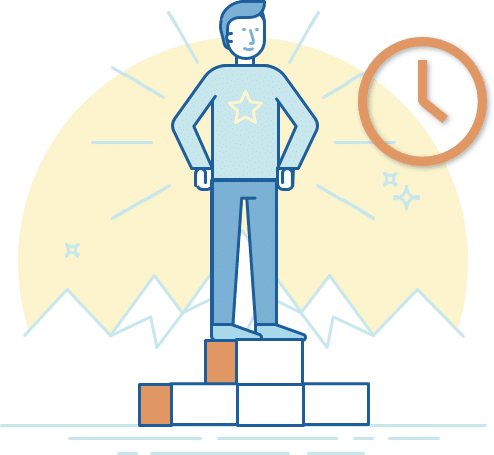 Edit & deliver this template.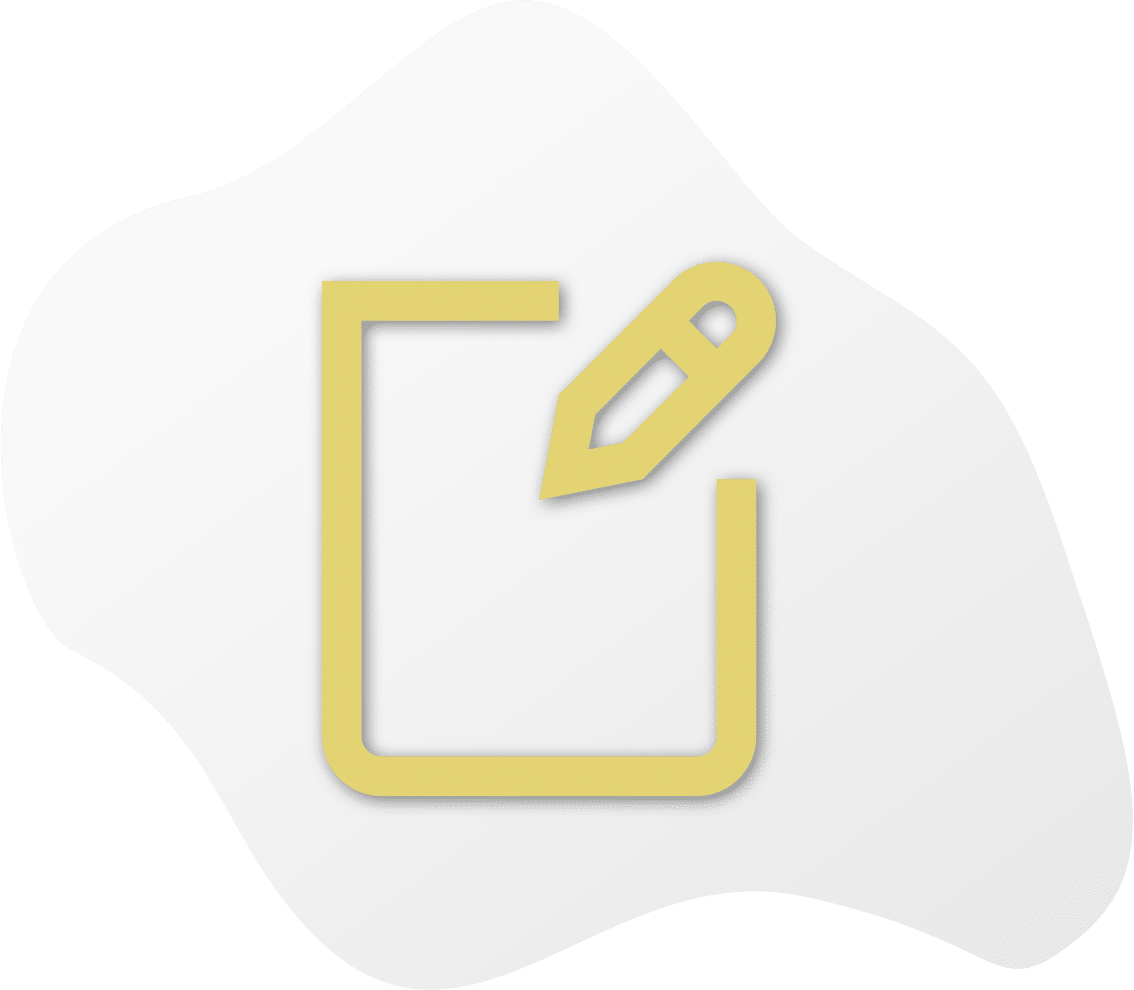 The painting business offers a lot of opportunity for entrepreneurs who enjoy creative work and for those who are getting started in business on a shoestring budget. Types of painting jobs include residential and commercial projects; and knowing a bit more about each type can help you when you're putting proposals together for potential clients.
Residential painting clients are typically either homeowners who want to hand off the labor to a professional either to free up time or to get better results than they can gain by doing their own painting. Commercial clients are likely to be either property owners or managers who need to get a job done quickly and efficiently at the best price possible; and using a commercial painting cost estimator provides an easy way to pitch to them.
What are some of the biggest challenges facing painting contractors?
Painting contractors face a variety of challenges, including the fact that painting is intense physical labor due to carrying heavy materials and climbing up and down ladders or scaffolding. Painting is also highly competitive, with many providers offering services in most areas. Painters also face uncertainty from fluctuations in the amount of work that's available due to seasonal changes, and economic fluctuations. 
Picking up new painting work and getting clients to sign contracts for the work is the impetus behind a successful painting business, and using a quick painting proposal template, such as Proposable's Painting Proposal Template makes the task of getting connected to new clients easier.
When you use a painting estimate proposal for that's free, you gain a quick painting proposal that looks professional and contains the information potential clients expect to see when reading your pitch. The information you present when filling out your free sample painting proposal form is worth the bit of extra time you spend filling it out properly because it may make the difference in whether you get the job or not.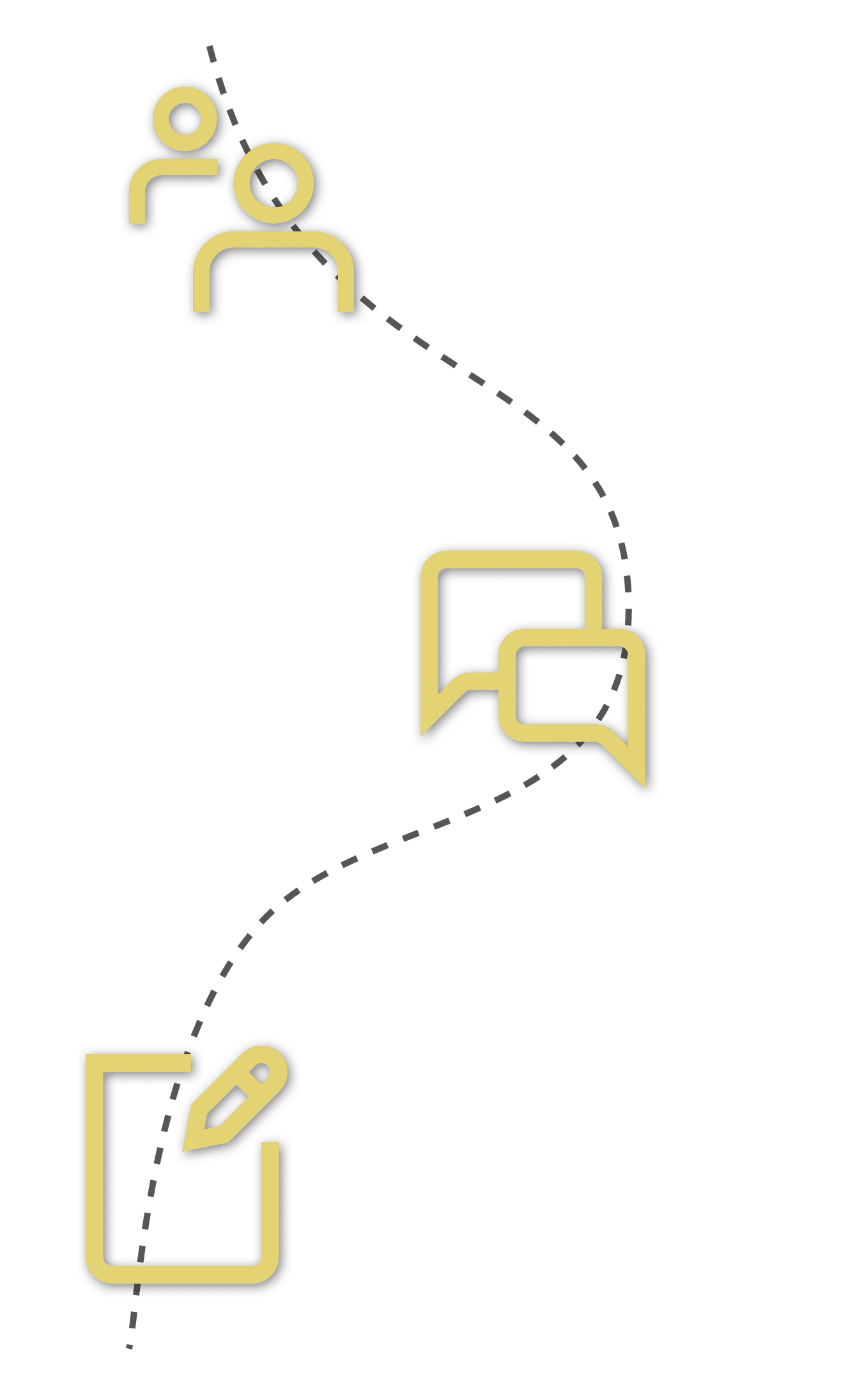 As a painter, a good contract is essential for limiting liability because it specifies the service you'll provide and the conditions under which you'll be working. A painting contract template makes it easy to prepare this type of document because you simply add your information and print it out to submit to the client.
For an example of a key detail to add to a simple painting estimate template, the contract will indicate when the payments are due, so you know which accounting cycle it will fall into for your record-keeping purposes.
People looking to hire a painter also look to the information the painter provides in a sample painting contract to determine their liability if a problem arises. For example, the property owner may check to see if the painter is bonded and licensed, which should ideally be disclosed under the under terms of the contract.
What are some general terms you should include in a painting contract?
Some general terms to include when filling out a painting proposal sample PDF include your business information and the contract date followed by specific details about the proposed work. Make sure the contract includes the location where the work will be performed as well as the scope of the job. Add details about when payment is required and terms regarding what happens if either party chooses to terminate the contract.
How to Estimate Interior Painting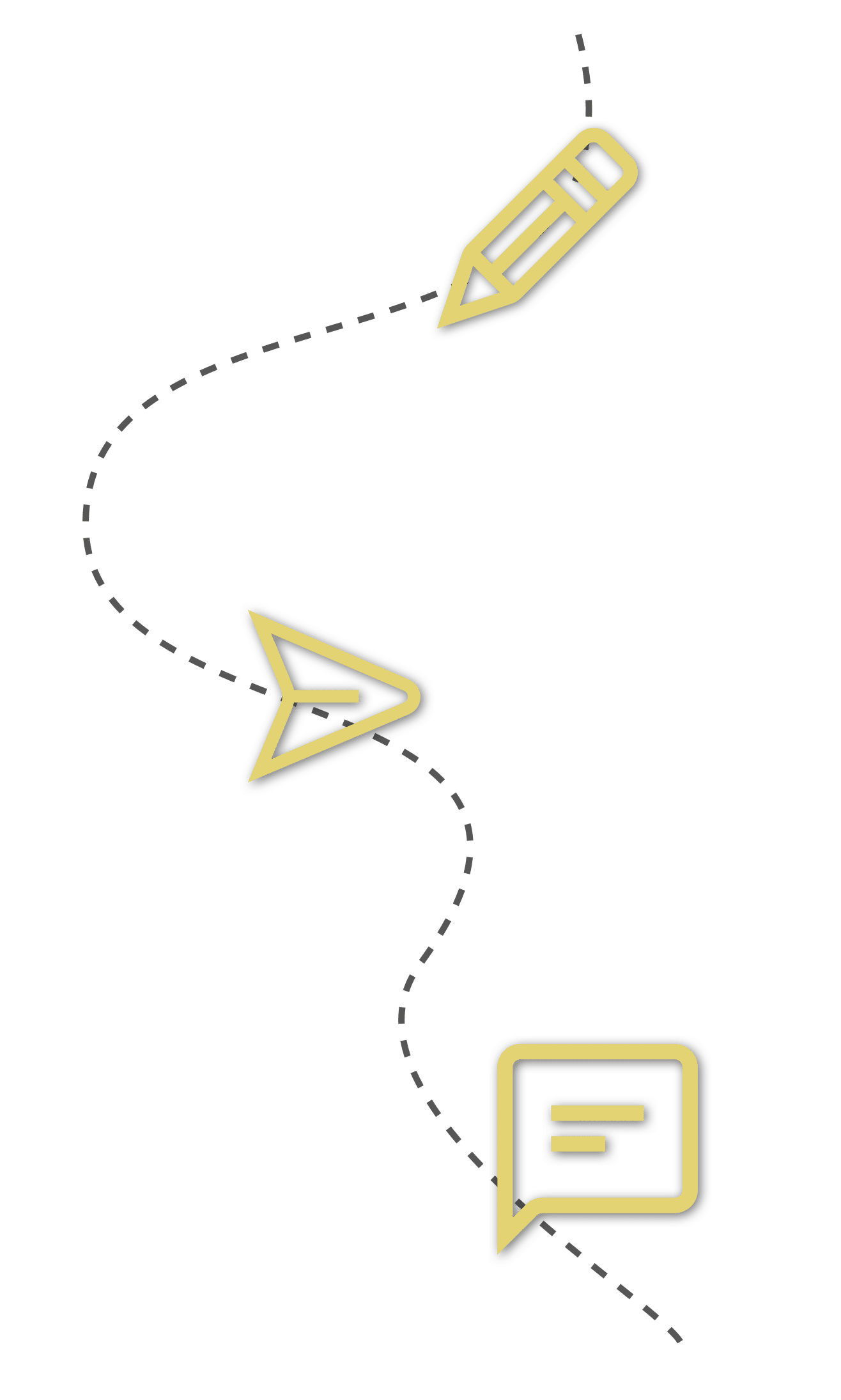 When you need to know how to estimate interior painting, there are a few details to establish, and a painting quote template takes the guesswork out of it. As a general guideline, the key details to include in the template, such as a painting estimate template in Word, are the cost of materials and supplies, the size of the painting project, and the estimated labor hours and cost per labor hour.
When you need to take it outdoors and determine how to estimate a painting job for an exterior project, an exterior painting estimate calculator can help you quickly get the document you need ready for submission to a potential client.
An exterior painting estimate will include the same basic information as the interior estimate for painting work; however, different materials may be required, and weather conditions may be a consideration you want to add. This is because weather variations, such as rain or extreme cold may delay the date the job can be completed.
What is included in the process of preparing a painting estimate?
Free printable painting estimate forms make it much easier and faster to prepare estimates for painting jobs. Other tools that help when preparing the data needed to create a painting estimate include an online estimate calculator tool or Excel estimating for painting for users who enjoy using spreadsheets.
With both tools, you enter the data and you get back numerical information about the cost estimate to use in your proposal; however, Excel spreadsheet have more of a learning curve while online estimator tools may be more intuitive for some users.
How to Write a Letter for Your Painting Service
With the details from your research and online estimator or spreadsheet, you have the data you need to include in your proposal letter. Include your contact information and the facts you used in preparing the estimate, such as the material and labor cost, so your client understand what is included for the price you're quoting.
How to Write a Painting Estimate
Painting estimates are typically offered in response to a query or request letter for painting work from a potential client who need to update the appearance of a room or building exterior. That means you aren't cold calling and the client has already expressed an interest in your services. That puts it in your hands to show how quickly and professionally you respond with a painting bid package that tells them what you will do as well as when and how much it will cost.
The answer to how to write a painting estimate begins with using a painting bid template or painting estimate spreadsheet to write the actual cost estimate. It doesn't end there, though, because you also need to consider how you will present the estimate. Just like applying for a traditional job, a cover letter is the best answer.
When you prepare a cover letter for a painting proposal, it provides you with an extra opportunity to show your professionalism and to tell the client you would like to work for them. Attach the cover letter to the top of the project proposal for painting before submitting it to the client.  Attaching a cover letter may seem like a small detail, but it can deliver solid results.
A properly formatted cover letter and painting quotation sample PDF that includes the data about each job you write an estimate for can determine how much painting work you get. In fact, a cover letter and a proposal created with Proposable's painting proposal software can be the deciding factor in whether you get the job or not.
Understanding all the variable you need to include in a good proposal can help you get really good at bidding on and winning jobs. Using painting bidding websites, or more specifically, using Proposable's Painting Proposal Template puts the easiest way to achieve that at your fingertips so you can prepare accurate pitches at lightning speed and get them out to clients. You also gain access to Proposable's helpful tracking data for proposals, so can stay on top of what estimates you have submitted.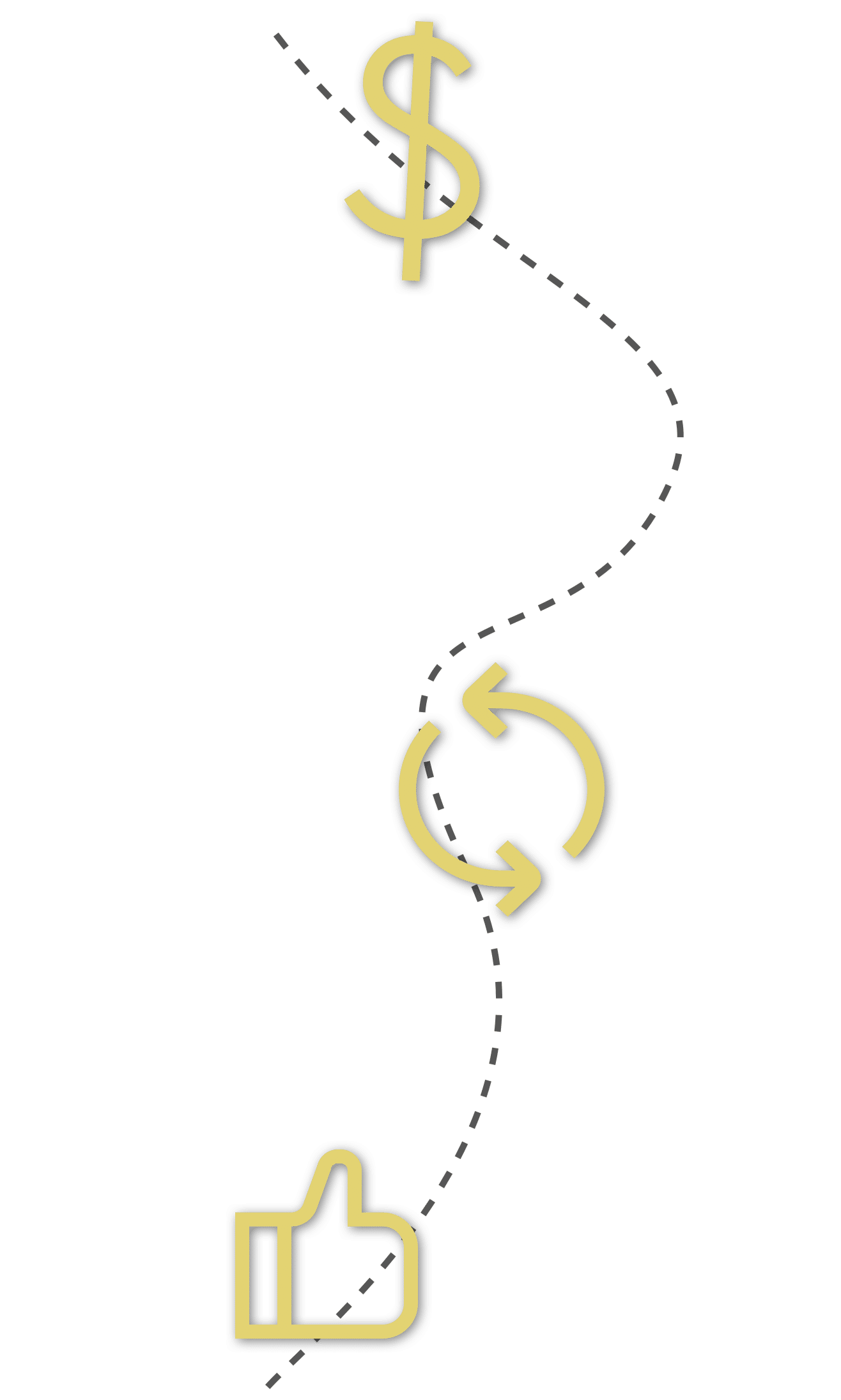 Edit & deliver this template.