Legal Services Proposal Template
Are you trying to grow your legal business and want to showcase your team's experience and knowledge to prospective clients? We've made it easy to wow clients and set their minds at ease with our free and fillable legal services proposal template.  Edit, deliver, and track your proposal, then get approval with built-in eSignatures.   
Best proposal software ever! 
I've tried soooo many proposal softwares and I'll never try another one after Proposable. It's so easy to use and it looks good, which all the others don't.
Smart, reliable, and constantly improving.
Proposable just works. I can make visually interesting sales presentations, dynamically insert content, and execute agreements. Proposable powers our entire sales process.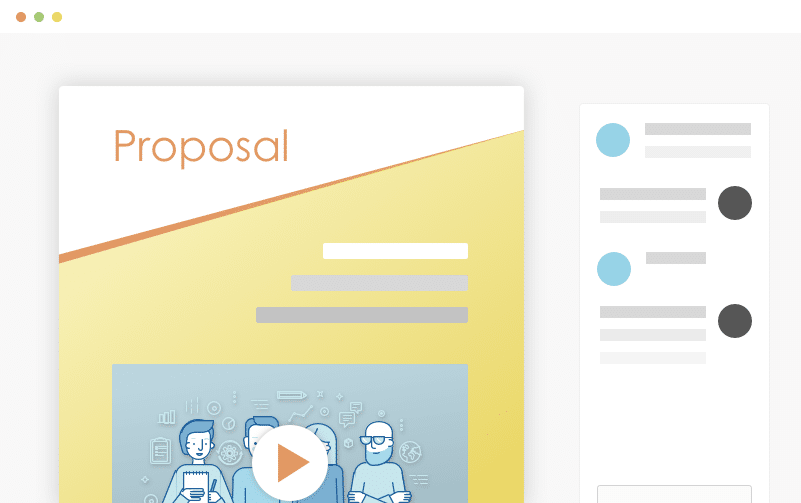 Wow Your Audience
Blow people away with a beautiful proposal that stands out above the rest. Add video and rich-media directly into your proposal pages for a more immersive sales presentation that's sure to make an impact.
Set Your Prices
Quickly build quotes, bids, and estimates with our flexible estimate block. With optional line-items, optional quantities, taxes, discounts and more, you can quickly represent your products and services in a polished and readable format. Organize all your products and services in the Pricing Catalog for instant recall.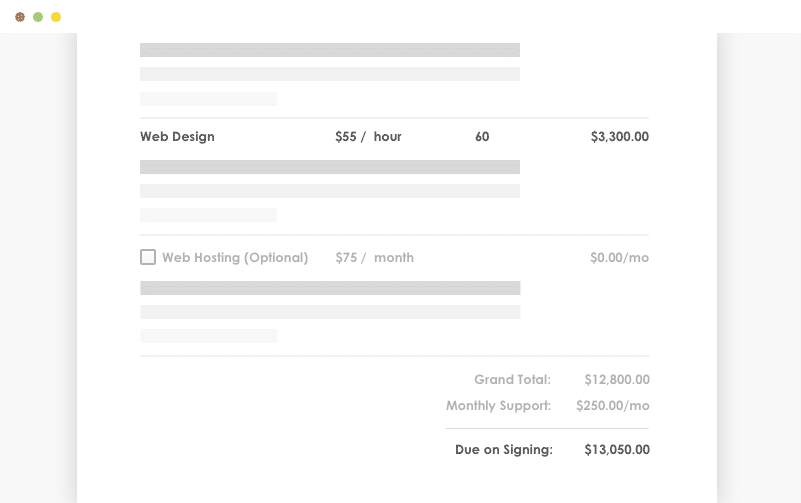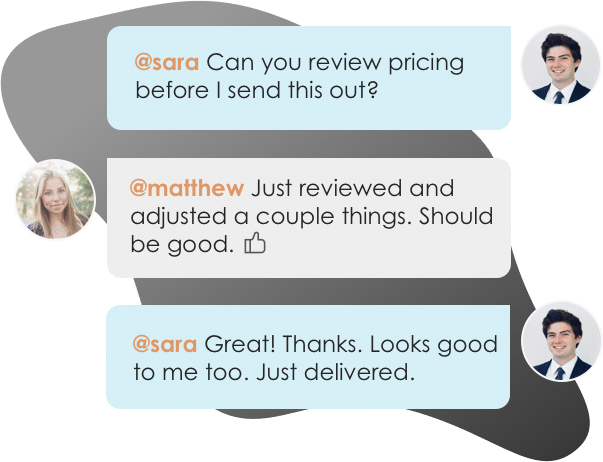 Work With Teammates
Easily collaborate with teammates on proposals. Mention team members to bring them into a proposal, or re-assign ownership when you need to handoff the proposal to another teammate.
Get It Signed
Close the deal faster with integrated e-Signatures. Place signatures, initials, and text field elements throughout your proposal wherever you need prospects to take action and your prospect is guided through a quick acceptance workflow to complete their acceptance. Counter-signing support is also included.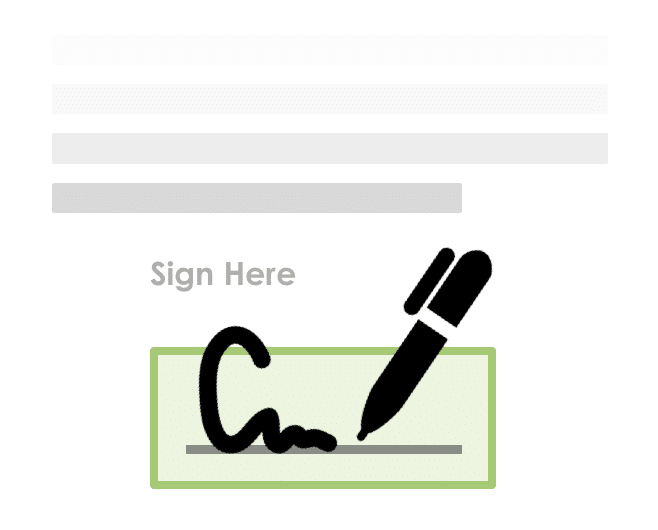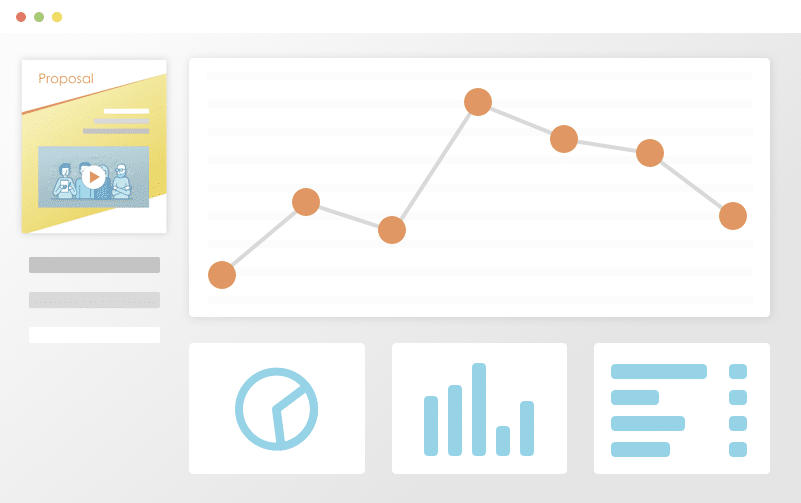 Track Everything
Ever wonder what happens to your proposal after you hit "send"? See detailed analytics and measure how each recipient is interacting with your sales material. Turn on real-time text or email notifications for proposal views and other key events.
Get Your Time Back
Save time and headaches by skipping the painful copy/paste and find & replace on all new proposals for your prospects and customers. Simplify your new proposal workflow to just a few clicks and go from spending hours on customizing new proposals to just minutes with proposal software.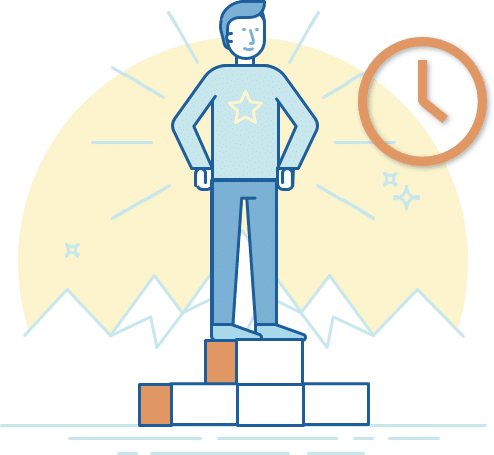 Edit & deliver this template.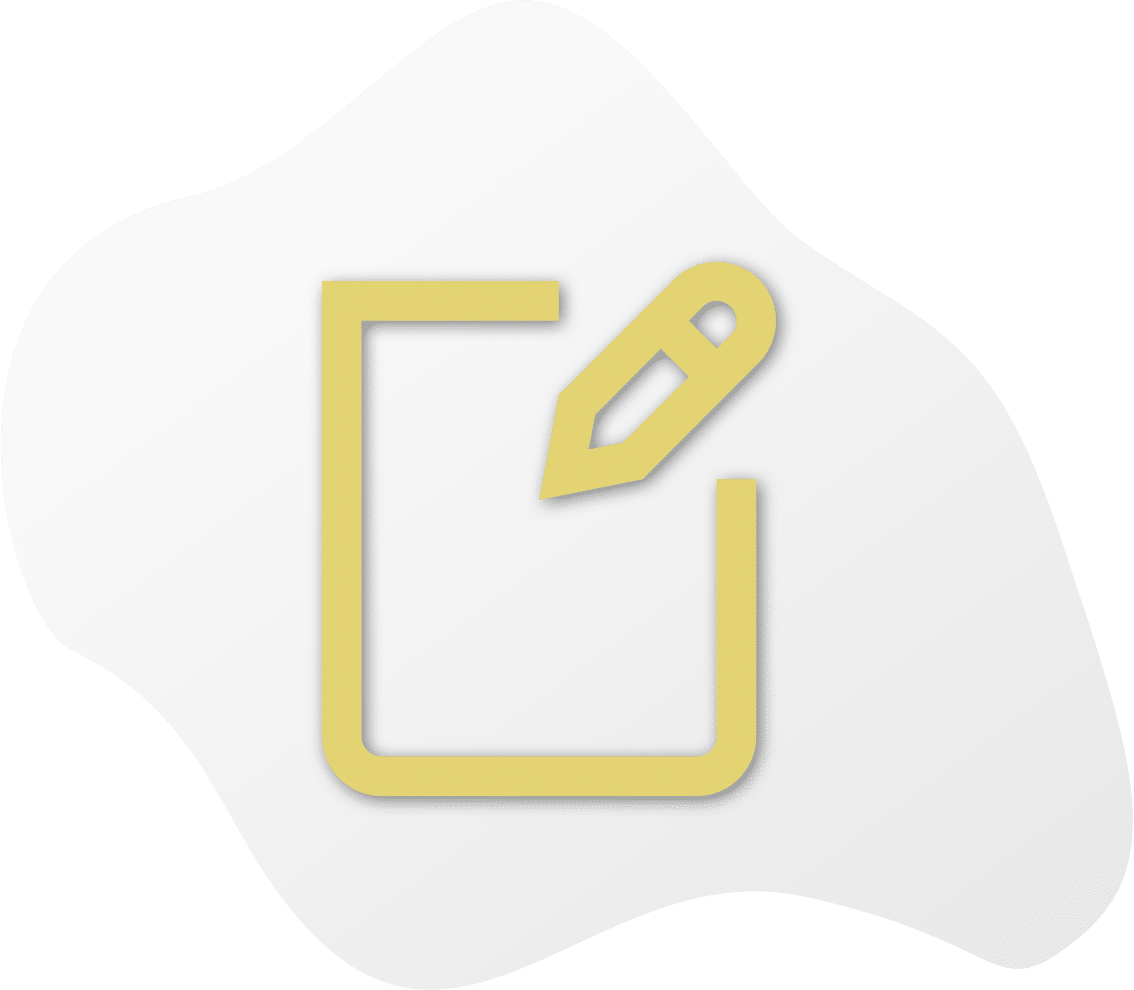 The legal service industry includes many different types of lawyers. Some of the most common areas of legal practice in the United States include commercial litigation (business law), real estate law, personal injury law, labor and employment law, family law, bankruptcy law, immigration law, and insurance law.
There are several types of legal services, and it's important for potential clients to know about the different options before they make any kind of bid for legal services. There's more to the story than just being aware of the various law firm examples available throughout the country, though.
For lawyers who want to grow their firms and increase the number of clients they see, it's important to know how to describe your services so people know what they can gain from working with you. Being able to craft a well-written proposal for legal services can have a big impact on your ability to attract new clients.
A legal services proposal is a document lawyers can provide to potential clients. It's similar to a proposal a business owner might provide to get someone interested in hiring them.
When you look at a sample consulting proposal letter or legal proposal template doc, you'll see that it often contains a brief description of you as a lawyer, as well as your law firm. It'll also anticipate the needs of the client and explain in detail the way that your services will help to fulfill them.
The goal when writing a legal services proposal is to persuade the reader to reach out and learn more about what you can do for them. If you're successful in writing your proposals, you'll be able to bring in more clients and grow your firm until it becomes a prime example of the best law firm USA has to offer.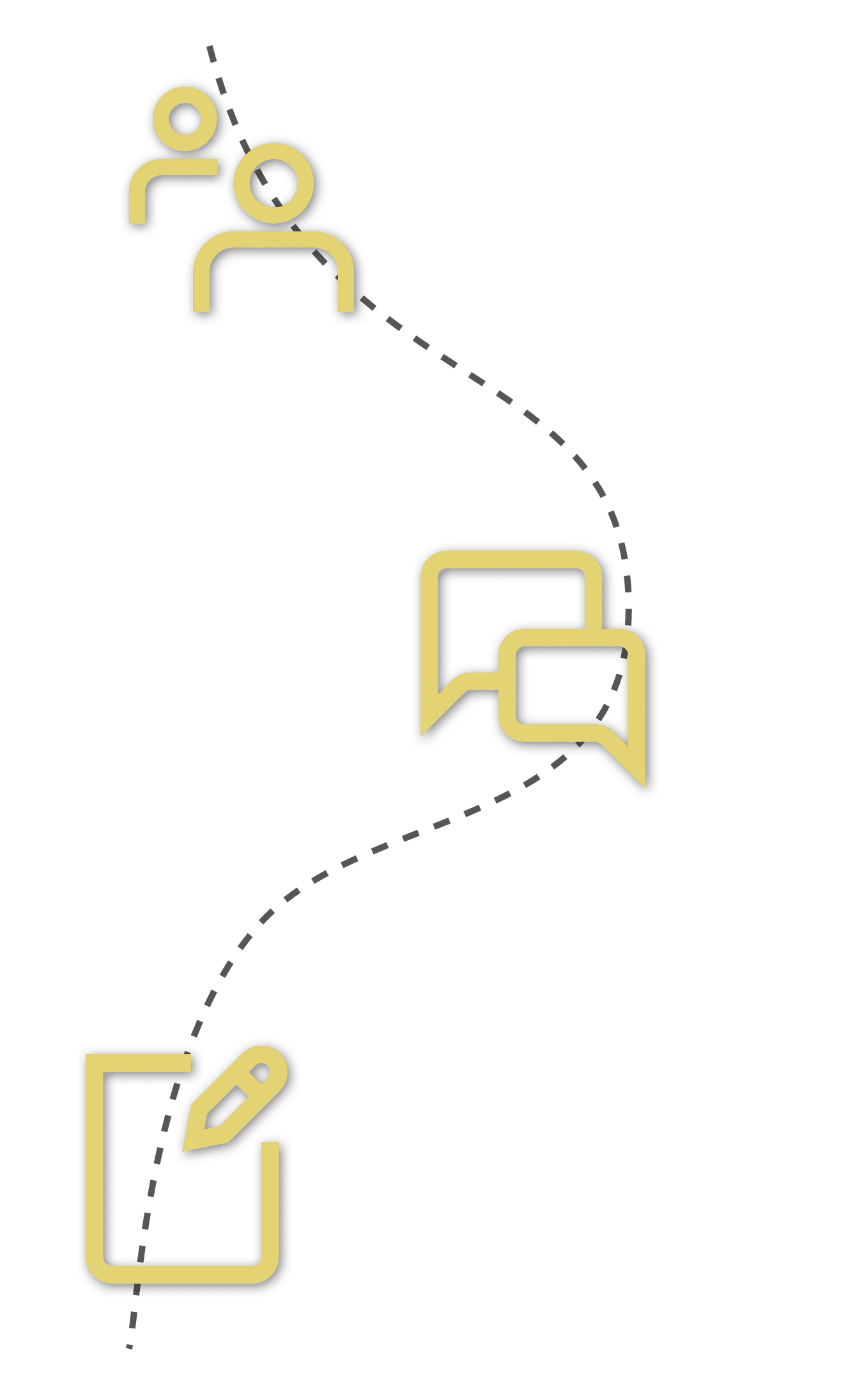 What is a law firm? It's a business entity formed by at least one lawyer. Firms advise clients and often focus on a specific type of law (immigration law, commercial law, etc.).
There are various ways lawyers handle their law firm organization structure. When a firm is made up of multiple people, labor is usually divided according to the following law firm hierarchy:
Managing partner (senior-level lawyer, possibly the firm's founder)

Law firm partners (shareholders who are joint owners)

Associates (younger attorneys who may become partners)

Summer associates (law students who intern at the firm)
There are many benefits lawyers can enjoy when they join top law firms. Being part of a firm allows a lawyer to earn a higher salary and receive mentorship from others with years of experience in their field.
On the other hand, some lawyers may choose to strike out on their own or form a partnership with another lawyer. Forming a partnership allows for more independence and provides each lawyer with someone to whom they can turn when making decisions.
Law firms are often called on for RFPs (short for Requests for Proposal) for their legal services. These are requests from potential clients looking to learn more about the firm. All lawyers should know how to write a good legal services proposal.
When writing a legal services proposal, a lawyer will often begin with a law firm introduction and perhaps a brief explanation of their law firm partnership structure. They then dive deeper into the client's needs and provide a detailed explanation of how they can fulfill those needs.
If you examine a request for proposal legal services 2020 or legal services agreement sample, you'll get a better idea of what clients want to know and which questions you need to answer within the proposal.
Legal Consulting Proposal Template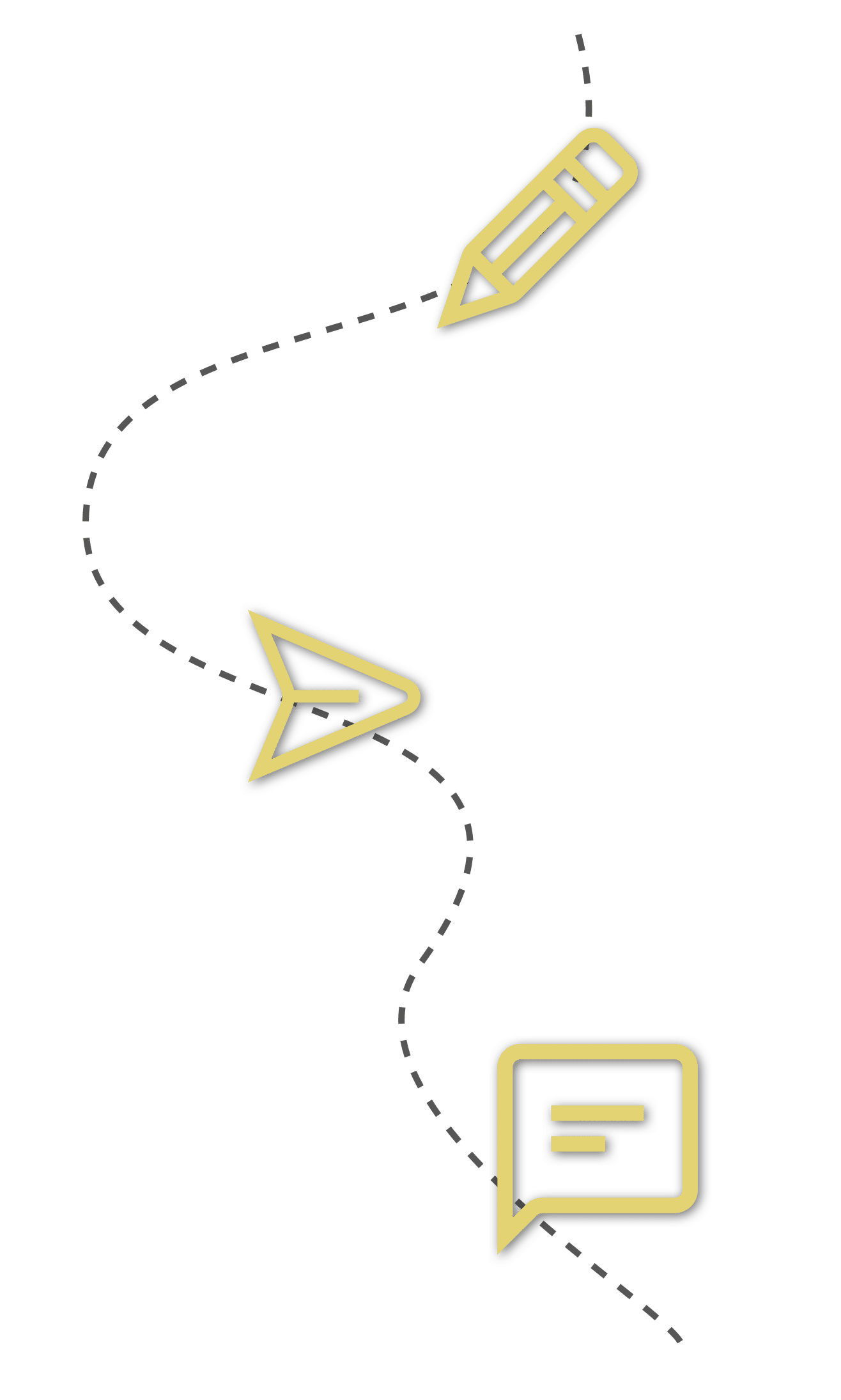 Some lawyers and legal experts choose not to practice law by working in a traditional firm. Instead, they become legal consultants. Legal consulting involves providing legal advice to clients (often business owners looking to ensure all aspects of their company are in compliance with the law).
Legal consultants receive the same training as lawyers, but they rarely practice in the courtroom and instead offer guidance behind the scenes. Working as a legal consultant provides a lot of advantages that traditional lawyers don't always get to experience. Legal consultants enjoy more flexibility, for example, and don't have to worry about rising through the law firm hierarchy. They can run their own businesses in a way that makes the most sense to them.
When hiring a legal consultant, it's common for potential clients to submit a request for a proposal, similar to the way clients will request a proposal from a law firm. Consulting proposals help legal consultants to showcase their skills and prove that they are the right person for businesses (and other clients) to hire for the job.
Some legal consultants may struggle at first when it comes to writing a consulting proposal and sending a letter offering consulting services, especially if they're new to the consulting world. Referring to a consulting engagement letter sample or a sample quotation for consultancy services makes it easier for consultants to ensure they're providing adequate information and giving potential clients the details needed to make the right decision.
When looking for a consulting proposal template PDF or consulting proposal template PPT, it's common to start with the consulting proposal template Google Docs has to offer. This template is fine, but it's definitely not as thorough as Proposable's Consulting Proposal Template. The consulting proposal template Mckinsey provides is also lacking in comparison to Proposable's.
Sample Attorney Client Letter
Besides being able to write a legal services proposal or short business proposal PDF, attorneys also need to know how to communicate with clients after they've been hired. Their scope of work legal services includes staying in touch and handling written correspondence in the appropriate way.
Attorney-client letters are, in most cases, confidential. It's important for lawyers to include confidentiality terms in their contracts, though, and explain them to their clients so that they understand exactly when the information they share is confidential and when it isn't.
When they're first getting started, it's common for attorneys to struggle when writing letters to their clients. They might find that they're using language that goes over their clients' heads, for example. It's important for them to remember their target audience and keep in mind the fact that most don't have much (if any) understand of legal jargon or the specifics of the legal code.
It's a good idea to review different attorney-client letters. Looking at a sample attorney client letter, for example, as well as a sample legal representation letter and a sample of letter of engagement for legal consultancy services, can help them know what to include in their own letters.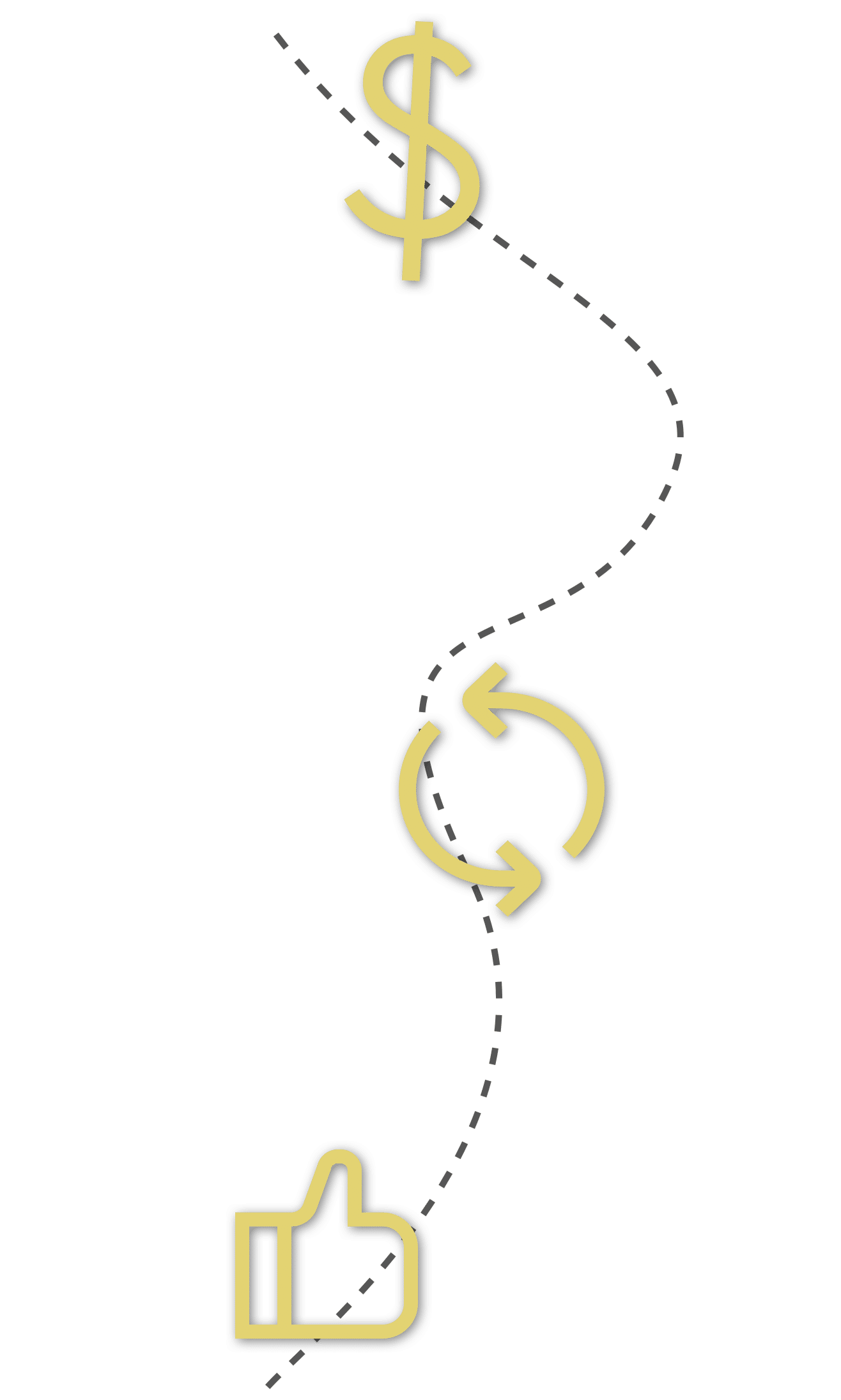 Edit & deliver this template.