CRM Implementation Proposal Template
Implementation Services for CRMs are a popular topic within organizations in order to keep up with competition. Be sure to have a professional looking proposal when approaching prospects. Include videos, specs and more to make your proposals more engaging.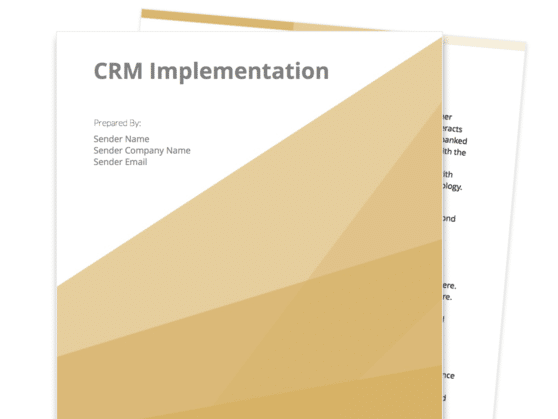 Best proposal software ever! 
I've tried soooo many proposal softwares and I'll never try another one after Proposable. It's so easy to use and it looks good, which all the others don't.
Smart, reliable, and constantly improving.
Proposable just works. I can make visually interesting sales presentations, dynamically insert content, and execute agreements. Proposable powers our entire sales process.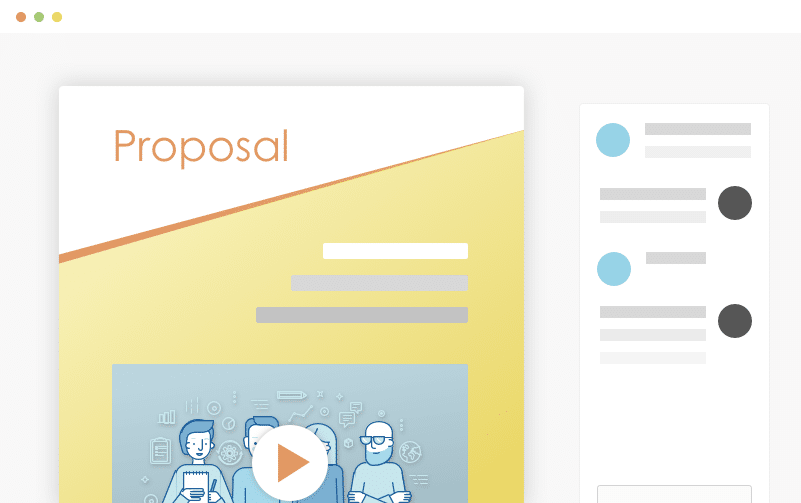 Wow Your Customers
Blow your clients away with a beautiful proposal that stands out above the rest. Add video and rich-media directly into your proposal pages for a more immersive sales presentation that's sure to make an impact.
Set Your Prices
Quickly build quotes, bids, and estimates with our flexible estimate block. With optional line-items, optional quantities, taxes, discounts and more, you can quickly represent your products and services in a polished and readable format. Organize all your products and services in the Pricing Catalog for instant recall.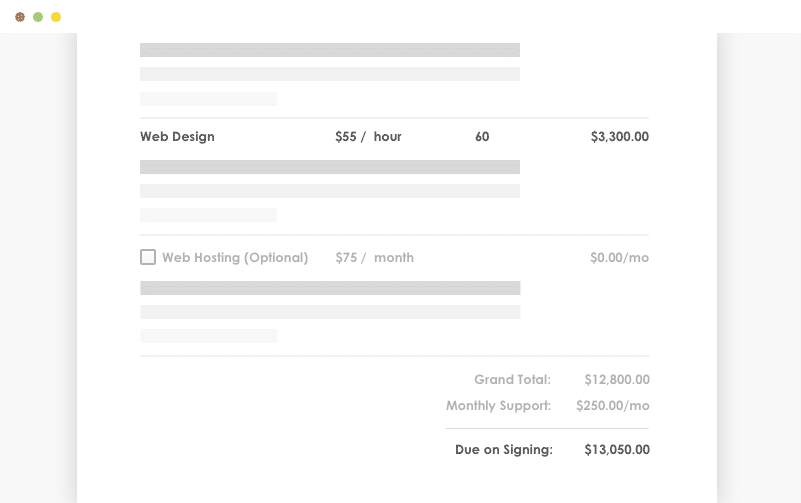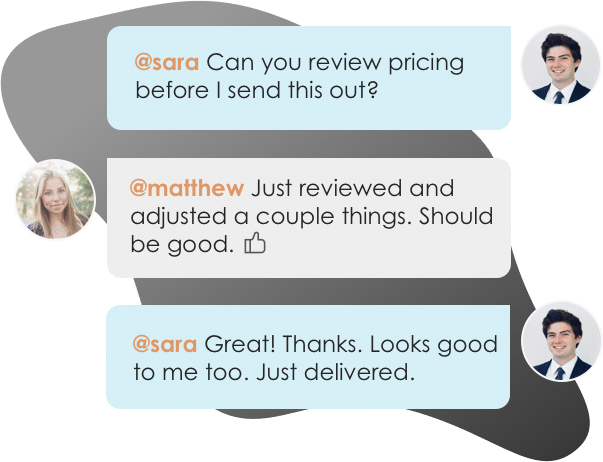 Work With Teammates
Easily collaborate with teammates on proposals. Mention team members to bring them into a proposal, or re-assign ownership when you need to handoff the proposal to another teammate.
Get It Signed
Close the deal faster with integrated e-Signatures. Place signatures, initials, and text field elements throughout your proposal wherever you need prospects to take action and your prospect is guided through a quick acceptance workflow to complete their acceptance. Counter-signing support is also included.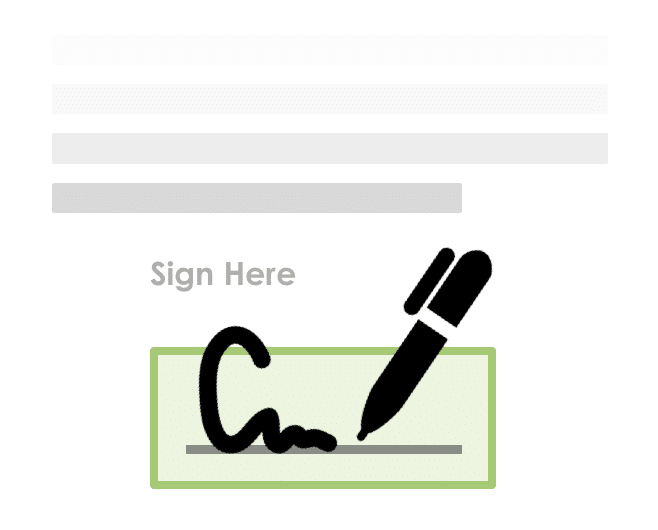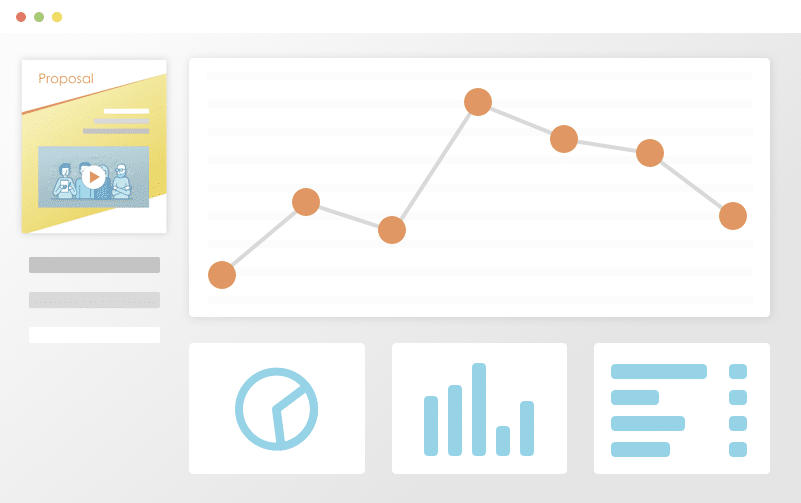 Track Everything
Ever wonder what happens to your proposal after you hit "send"? See detailed analytics and measure how each recipient is interacting with your sales material. Turn on real-time text or email notifications for proposal views and other key events.
Get Your Time Back
Save time and headaches by skipping the painful copy/paste and find & replace on all new proposals for your prospects and customers. Simplify your new proposal workflow to just a few clicks and go from spending hours on customizing new proposals to just minutes.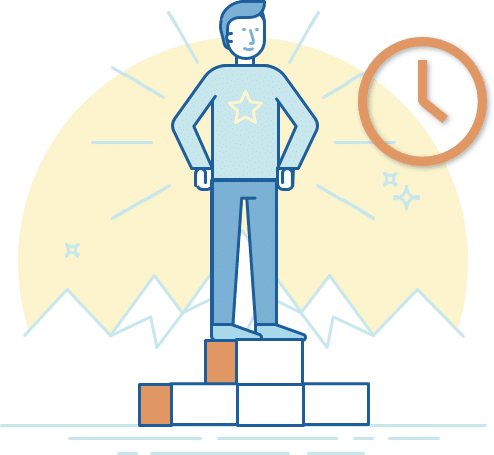 Edit & deliver this template.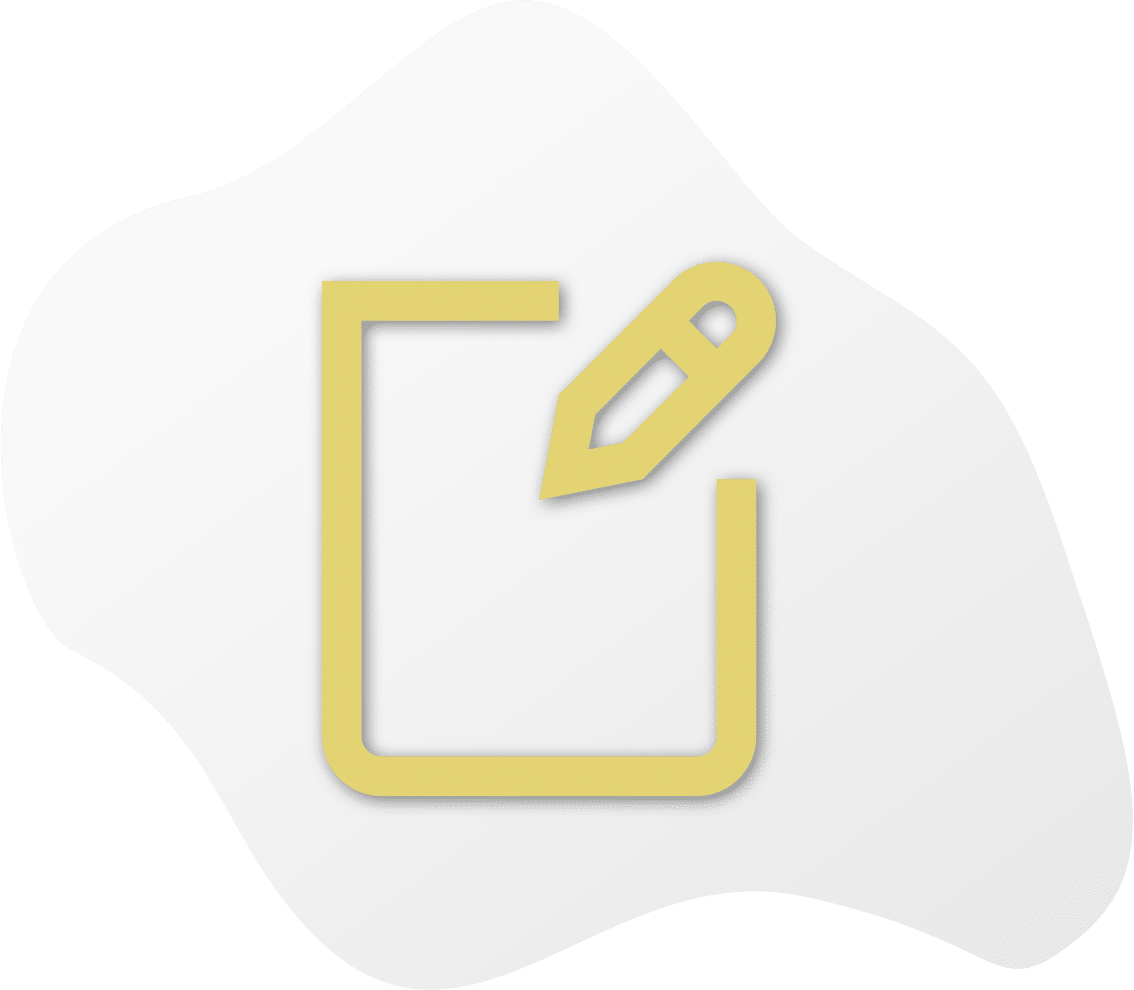 Template Overview
Keeping customers happy can be a difficult task for many companies. When they look for customer relationship management solutions, make sure your company stands out in the crowd. Our CRM implementation proposal template provides sections for techniques, services, a contract, and more.
Benefits
Take advantage of this professionally designed customer relationship management implementation proposal template that's a cinch to customize according to your needs.

Impress your potential clients by highlighting your firm's qualifications, experience, and expertise in managing customer relationships and customer retention.

Create a proposal that clearly and transparently outlines how your company works—defining the workflow that will start once the deal is finalized. Describe what the expectations will be in terms of outcomes and final costs.

Protect your company and your client with an implementation agreement that outlines your obligations and requirements in a legally sound and binding language.
Template Sections
Here are the sections that are included with this free template. Each section can be customized to fit your business.
I​​ntroduction
Before your prospective client can trust you with helping them manage their customer relationships, you have to make them open to the idea of considering you as a viable choice over your competitors first. This section gives you an opportunity to set the mood and tone for the rest of your proposal, while also suggesting the kind of quality and expertise that you're set to deliver once they close that deal with you.
About Us
This section gives your prospective clients a bird's eye view of what your company is all about, from the service offerings you provide, the major responsibilities you attend to during the provision of your service, to a detailed but brief summary of your past projects. This section should be as accurate as possible, as it's a good chance to convince your prospect that you're the right company for the job.
Our Mission
Show your potential client that your company not only has the skills and qualifications to do the job well, but also a clear vision about where it's headed in the future. This will cement your prospects' perception of your company as a service provider with a viable, long-term strategy for success, which will then inspire further confidence in your work.
How We Work
Help your client close that big deal with you by giving them a detailed sneak peek into your operations and services. In this section, for instance, you can describe the meticulous step-by-step process that would begin as soon as they sign the dotted line. This way, they can have a good idea about the kind of attention to work quality that you will no doubt extend to the fullest once your company gets hired.
Estimate
This section formally breaks down the individual services they can expect from you once the official work begins, itemizing them by cost, unit, quantity, and duration. A grand total is also provided at the very end.
Implementation Agreement
This is a detailed agreement laying out the obligations your company and your client will be required to fulfill during your contract period. This serves as both a legally binding document as well as a formal reminder of your responsibilities to each other.
Agree and Sign
Close your proposal with a section where you and your client can agree to fulfill your obligations until the engagement has been completed.
Edit & deliver this template.