How To Close A Deal
Finding deals is an art unto itself but if you can't get your client to sign, you're out of luck. In this article, we go in depth into how to close a deal and share some time-tested techniques for ensuring you end up on top in your next pitch.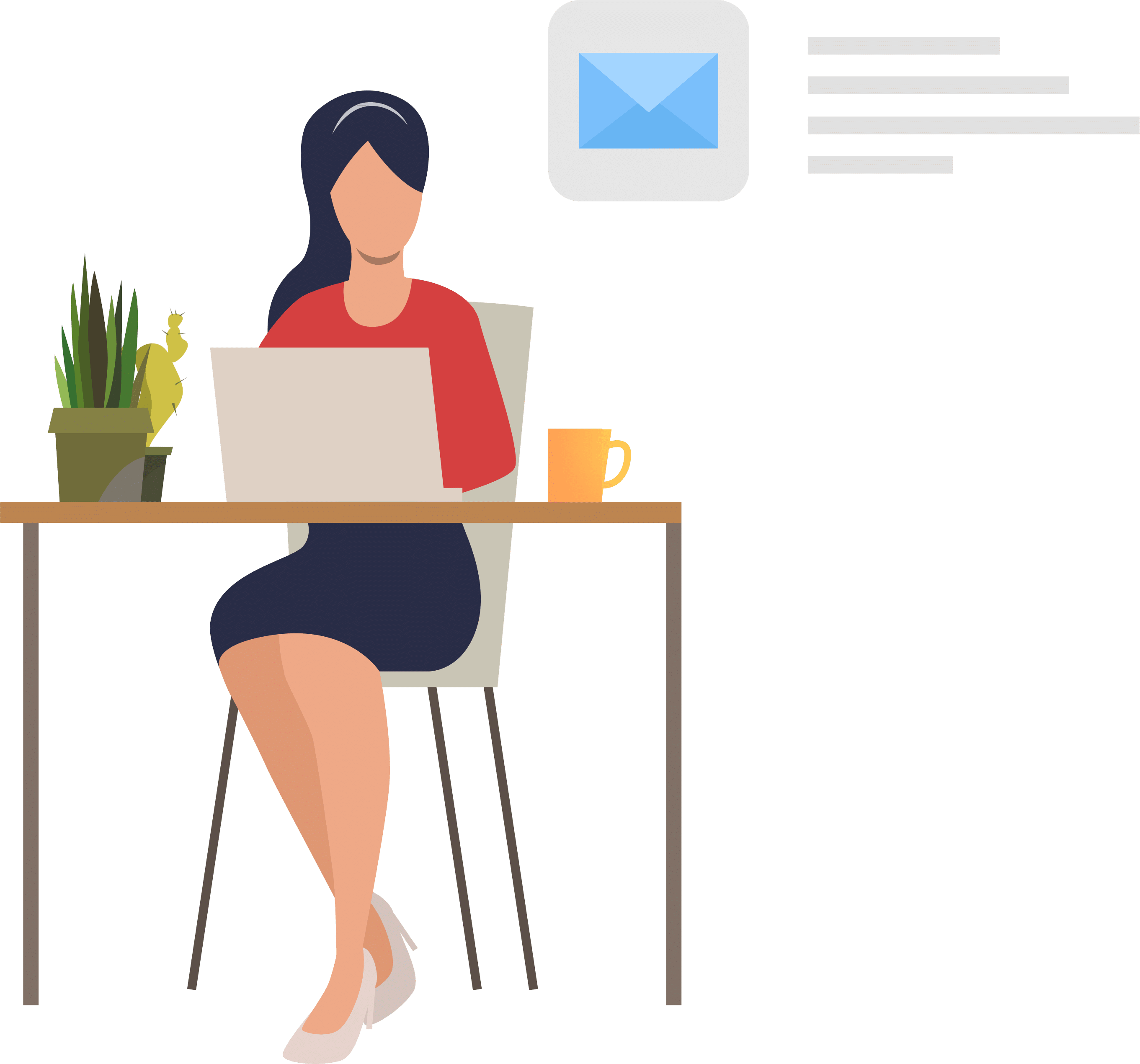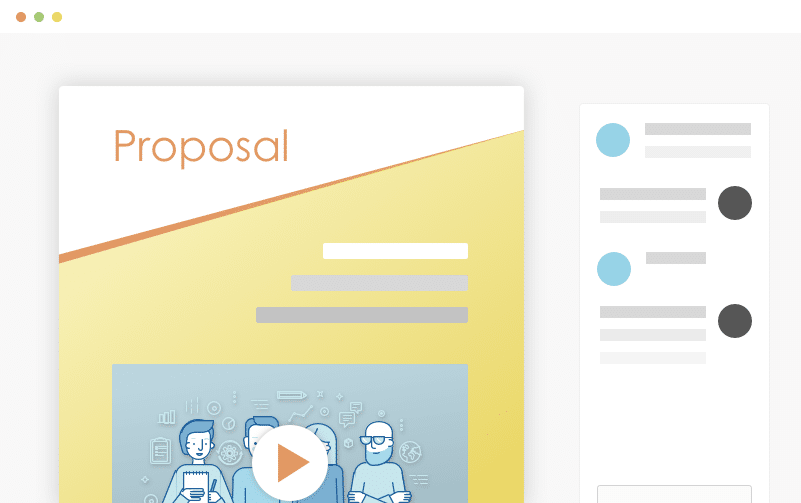 Wow Your Customers
Blow your clients away with a beautiful proposal that stands out above the rest. Add video and rich-media directly into your proposal pages for a more immersive sales presentation that's sure to make an impact.
Set Your Prices
Quickly build quotes, bids, and estimates with our flexible estimate block. With optional line-items, optional quantities, taxes, discounts and more, you can quickly represent your products and services in a polished and readable format. Organize all your products and services in the Pricing Catalog for instant recall.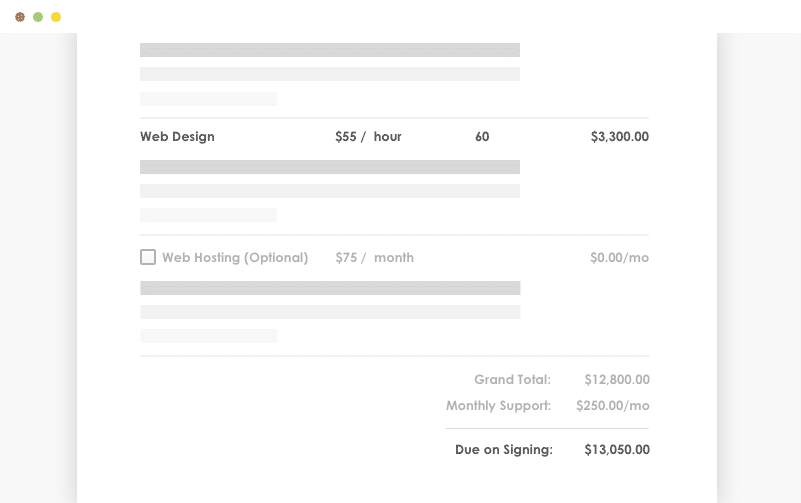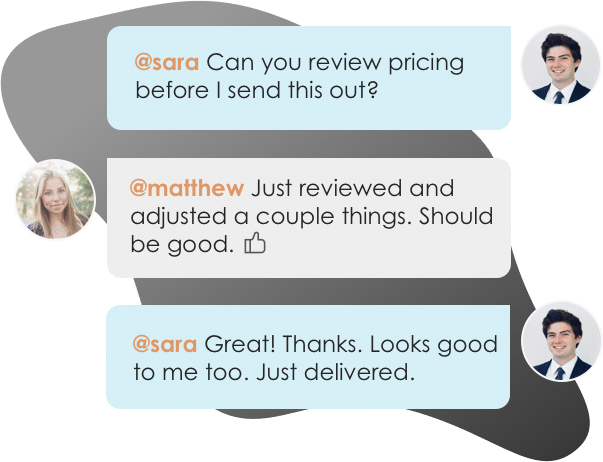 Work With Teammates
Easily collaborate with teammates on proposals. Mention team members to bring them into a proposal, or re-assign ownership when you need to handoff the proposal to another teammate.
Get It Signed
Close the deal faster with integrated e-Signatures. Place signatures, initials, and text field elements throughout your proposal wherever you need prospects to take action and your prospect is guided through a quick acceptance workflow to complete their acceptance. Counter-signing support is also included.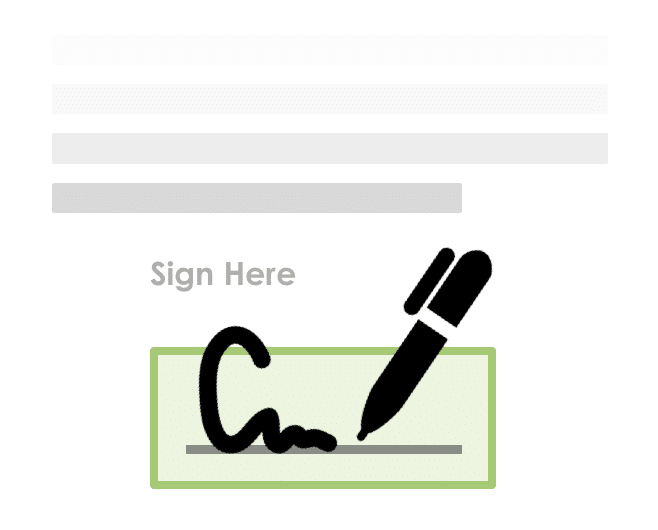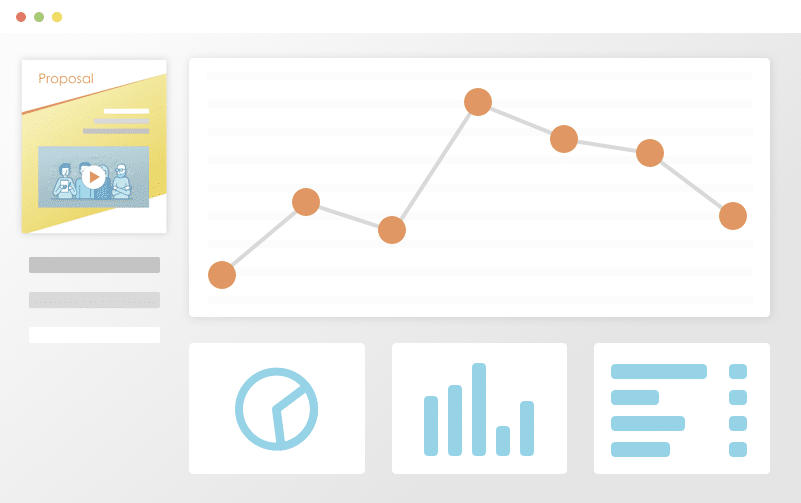 Track Everything
Ever wonder what happens to your proposal after you hit "send"? See detailed analytics and measure how each recipient is interacting with your sales material. Turn on real-time text or email notifications for proposal views and other key events.
Get Your Time Back
Save time and headaches by skipping the painful copy/paste and find & replace on all new proposals for your prospects and customers. Simplify your new proposal workflow to just a few clicks and go from spending hours on customizing new proposals to just minutes.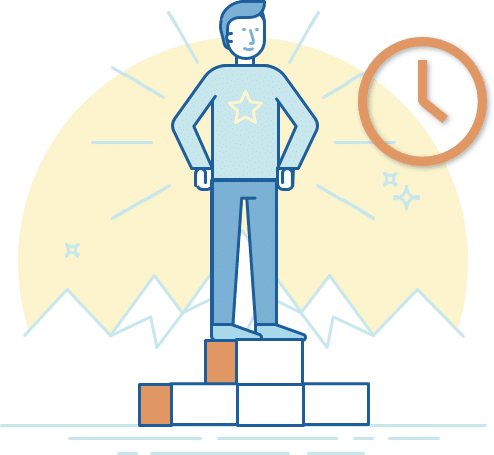 Best proposal software ever! 
I've tried soooo many proposal softwares and I'll never try another one after Proposable. It's so easy to use and it looks good, which all the others don't.
Smart, reliable, and constantly improving.
Proposable just works. I can make visually interesting sales presentations, dynamically insert content, and execute agreements. Proposable powers our entire sales process.
One of the essential points to remember when learning how to close a big business deal is understanding how to be genuine and real in your closing process. We could run through a million closing sales tips, but if we overlook the most important points, we wouldn't be helping you to learn how to close a prospect.
In the digital age, we see more people looking to learn how to close a deal via email, and this is a possibility now with advanced meeting and proposal software that makes it easier to get your point across without ever having to meet face to face.
You must learn how to close a deal with a client; otherwise, you'll find yourself in the endless cycle of always trying to keep your pipeline super full without ever reaping the rewards of that labor.
In this article, our goal is to help you with the necessary steps to learn how to close a prospect quickly and easily. There are many different tips and tricks to follow, but we're focusing on the ones that will make the biggest impact for you.
Now, you're sitting across the table, on the phone, or on the other side of the webcam. You've likely put in a little work to get the prospect to this point, and you've prepped all your sales closing lines and sales closing phrases. What now?
Learning how to close a sale is a lot more of a mind game than you think. It's a lot about coming in with the right attitude and showing interest in the prospect more than yourself. You need to make sure to ask a lot of sales closing questions right up until the end.
Throughout the entire meeting, the prospect should feel like you're not trying to build yourself up, but rather, you care about their results, and you want to cater your services to meet their needs.
At this point, you might have some success, but you want to know how to close more deals. Many people struggle with phone sales techniques that close, and as a result, they need to learn how to close a sale over the phone.
When closing on the phone, it's important that you ask a lot of questions and give the prospect the time to respond. Show them that you're more interested in listening than you are in talking about yourself and your accomplishments. It's interesting how sales is a lot more about listening than it is talking.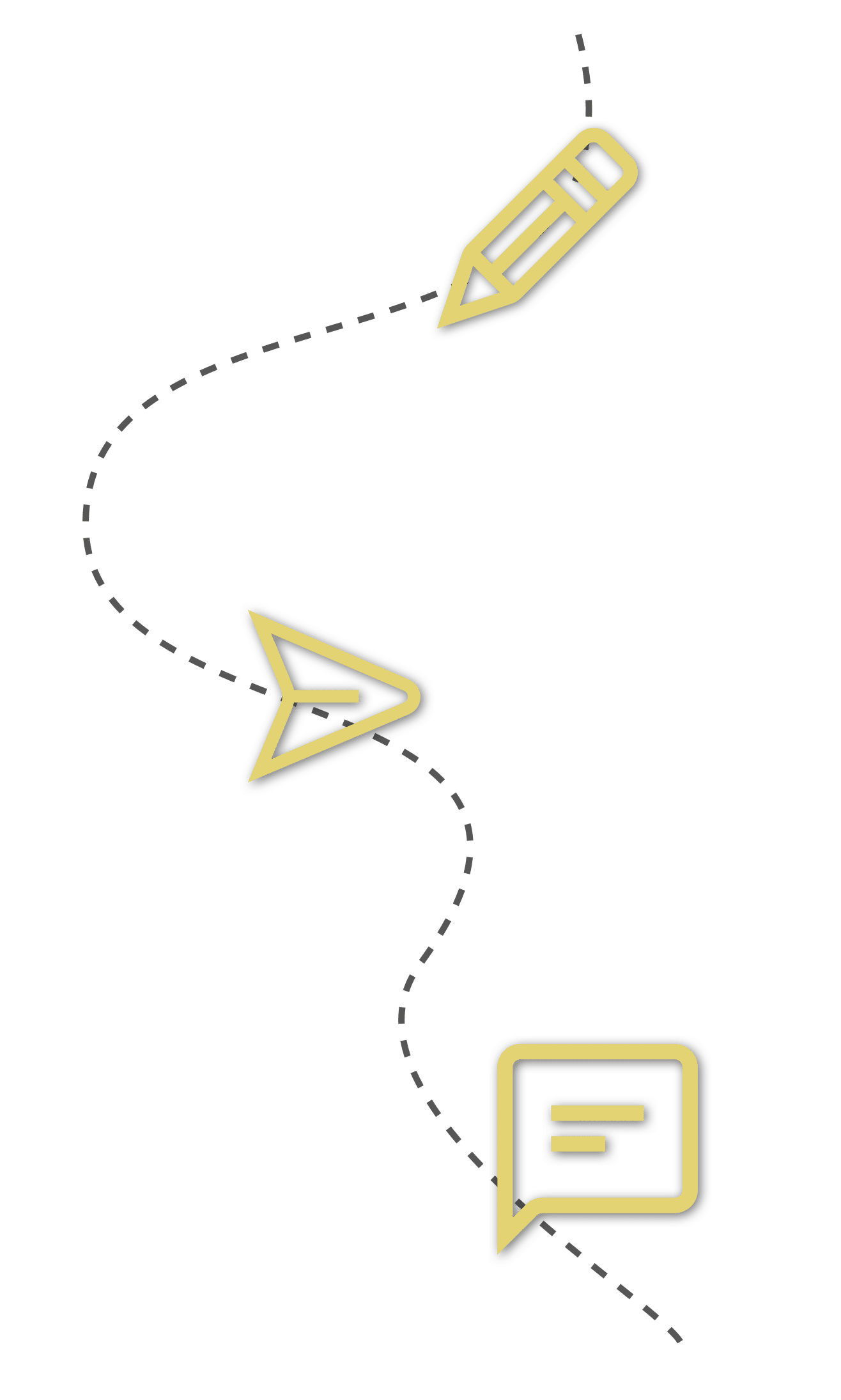 In this section, we're talking about some of the most common sales closing techniques with examples of the closing sales statements.
Suggestion Close
The suggestion close works by making the prospect feel like they already have the results they seek. For example, if you're a car salesperson, you could say, "You're going to love the way this car goes from 0-60 in 2.5 seconds." You're making them feel something as if they already have it.
Alternative Close
Here is where you offer the prospect a few different options to let them choose the best for their needs.
Assumptive Close
An example of the assumptive close would be, "so, I'll just need your license and credit card, and we'll get this process going." They might not have agreed to that yet, but you're trying to shortcut the steps and get right down to business.
Direct Close
Direct close examples are simple; it would go something like this. "What do you think? This facial cream will get rid of those wrinkles in a few weeks, would you like two or three bottles?" You're being direct and asking for the sale.
Choice Close
The choice close is like the alternative close, but instead, you're asking the prospect to choose between two options.
Summary Close
This close happens when you go back and highlight all the main reasons why the prospect should buy. (Ex. This cream eliminates wrinkles, sun spots, aging spots, and it tightens skin)
Trial Close
A trial close is interesting because you close before the actual closing. You're using this strategy to gauge the level of interest you have in the prospect before you go any further. You'll make them feel like you're about to close to deal, and if they're showing any interest, you will continue with more benefits and features.
Urgency Close
The urgency close definition is simple. It means that you're creating a sense of urgency to show the prospect that they need to take action quickly. For example, if you're selling life insurance, you would want to explain to the prospect that anything can happen at any minute, so they need to be prepared. That might make them feel like they need to act right away.
Sharp Angle Close
The sharp angle close is used when the prospect is interested but has one objection. For example, someone might want to buy a house, but they want you to replace the appliances. You would ask them if that is the only thing preventing them from buying. If they say yes, you promise to fix it and close the deal.
Standing Room Only Close
We see this used all the time in today's marketplace. Standing room only is when you create scarcity for your product by saying it's in "limited supply" or "only available today." You fill the prospect with fear of missing out.
Real Estate Closing Techniques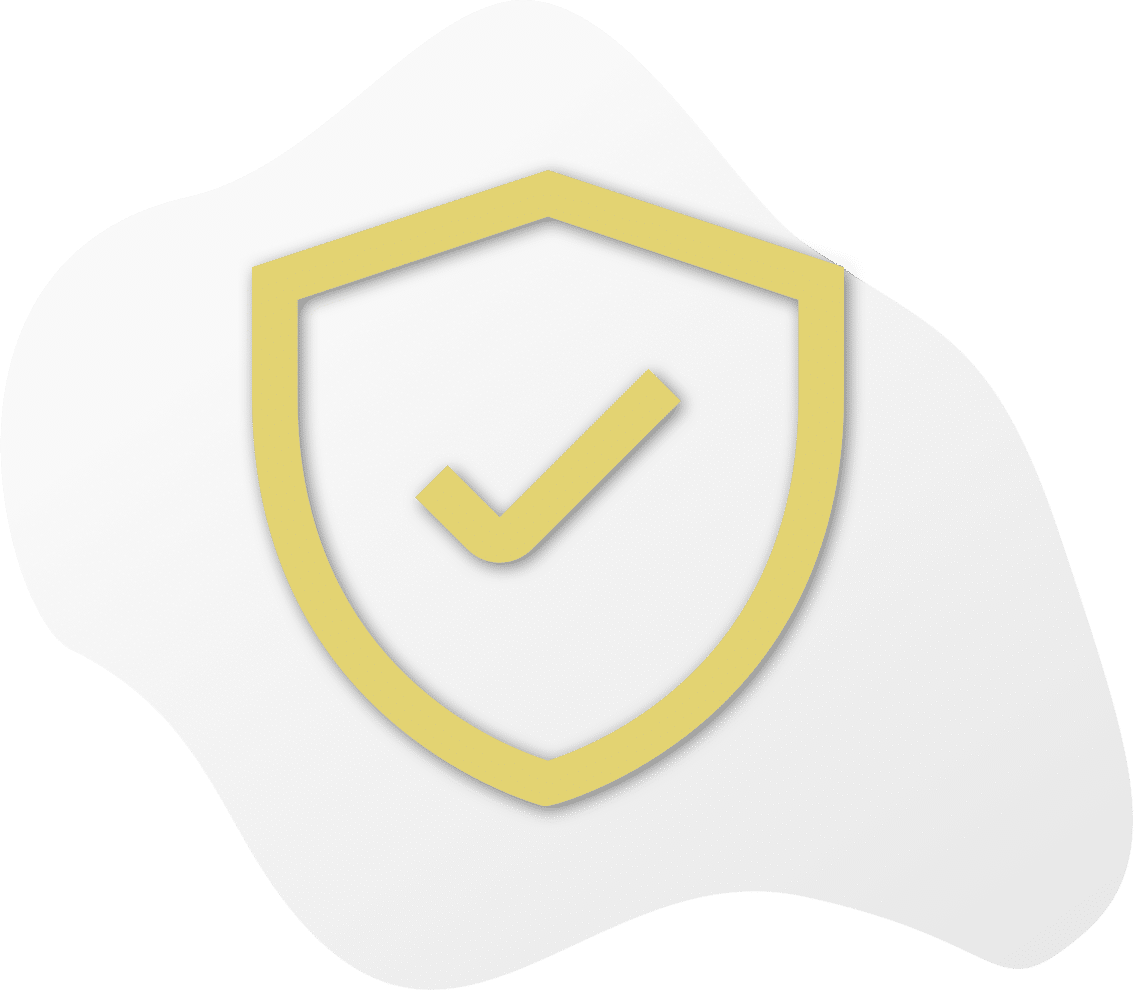 Now let's talk about some real estate closing techniques. There are many reasons why you would want to learn how to close a real estate deal without an agent. It's just important to educate yourself and know how to conduct a real estate closing before you get in too deep.
First, you'll want to get your house on the MLS, but you'll have to pay for it. Once you have a buyer, you'll have to do all your own negotiating, so you need to know how to close a deal in real estate. Knowing your home's primary selling points, and having an understanding of what else is selling locally will help.
For step by step real estate transaction information, here is a helpful guide.
Car Sales Closing Techniques
In this section, let's take a look at the five basic car sales closing techniques and how you can apply them.
The Assumptive Close
We talked about this one previously, but this is where you assume the deal is done. You could say something like, "Okay, so let me get your pay stubs and bank statements, and I'll get those over to the lending department so we can get working on that loan."
The Open-Ended Close
Here is where you ask a question that either results in a close or useful information. You might ask, "Do you feel like this car is the right one for you?" If they say yes, you have a sale. If they say no, you can find out what is holding them back and make it right. It's more successful than the direct close because the "no" isn't a "real no."
The Personal Close
This close is all about building a personal relationship and creating trust. A big part of sales is making the prospect trust you. Just be sure that you're not getting them into something they don't need or want.
Summary Close
Here is where we recap everything they're gaining. It's important to focus on the benefits of the car rather than the features. The brand new tires aren't just tires; they're the safe tires that will last longer and ensure they always get their daughter to soccer practice.
The blind-spot assist isn't just a safety feature, but it's what helps them get home from work when the day starts to get heavy on their eyes. Preach how these features will positively impact their life, and you'll have the sale.