Wedding Photography Contract
When you're ready to land your next wedding photography client, why not use our polished wedding photography contract template to seal the deal? State your pricing & terms, and then deliver to your client to have them sign with built-in eSignatures. Fill and deliver this contract in minutes!
Best proposal software ever! 
I've tried soooo many proposal softwares and I'll never try another one after Proposable. It's so easy to use and it looks good, which all the others don't.
Smart, reliable, and constantly improving.
Proposable just works. I can make visually interesting sales presentations, dynamically insert content, and execute agreements. Proposable powers our entire sales process.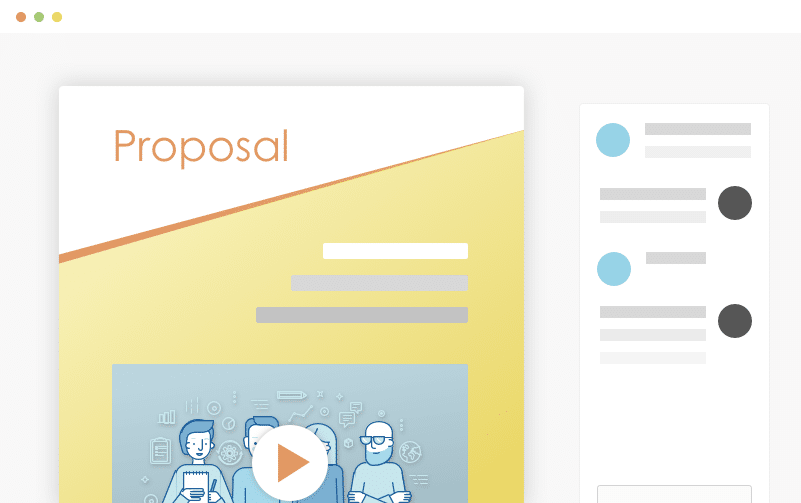 Wow Your Customers
Blow your clients away with a beautiful proposal that stands out above the rest. Add video and rich-media directly into your proposal pages for a more immersive sales presentation that's sure to make an impact.
Set Your Prices
Quickly build quotes, bids, and estimates with our flexible estimate block. With optional line-items, optional quantities, taxes, discounts and more, you can quickly represent your products and services in a polished and readable format. Organize all your products and services in the Pricing Catalog for instant recall.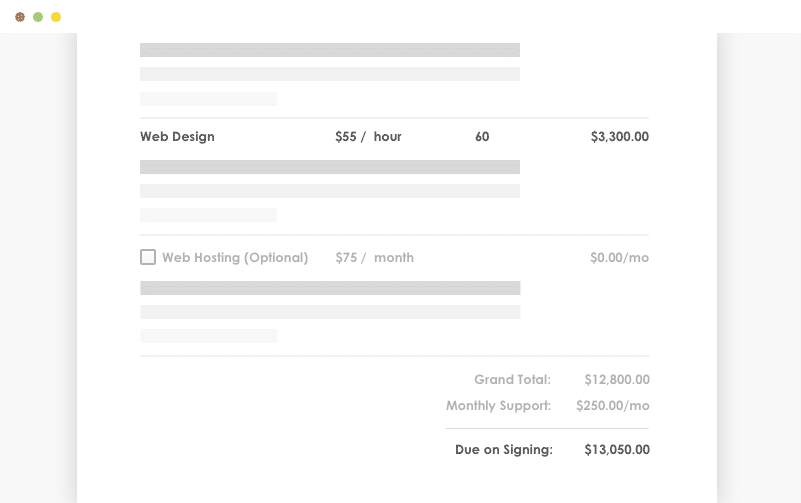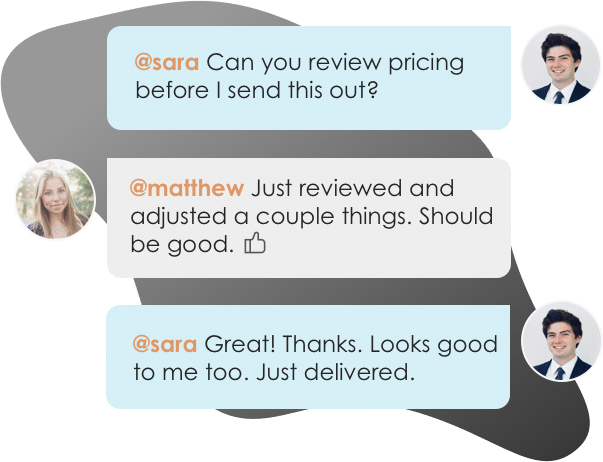 Work With Teammates
Easily collaborate with teammates on proposals. Mention team members to bring them into a proposal, or re-assign ownership when you need to handoff the proposal to another teammate.
Get It Signed
Close the deal faster with integrated e-Signatures. Place signatures, initials, and text field elements throughout your proposal wherever you need prospects to take action and your prospect is guided through a quick acceptance workflow to complete their acceptance. Counter-signing support is also included.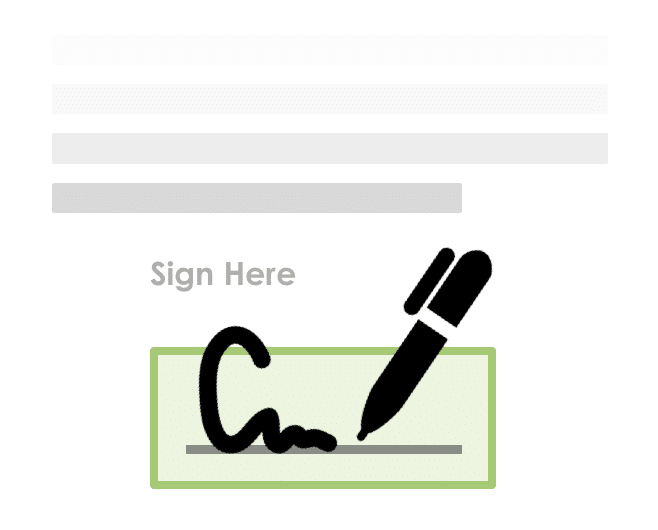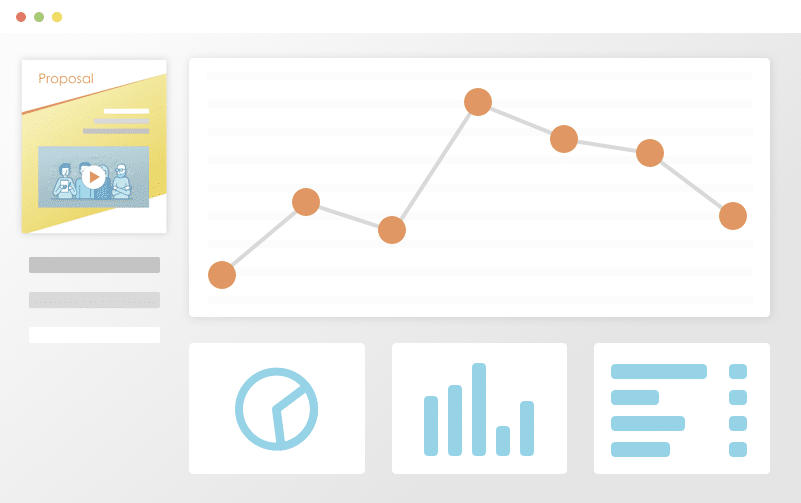 Track Everything
Ever wonder what happens to your proposal after you hit "send"? See detailed analytics and measure how each recipient is interacting with your sales material. Turn on real-time text or email notifications for proposal views and other key events.
Get Your Time Back
Save time and headaches by skipping the painful copy/paste and find & replace on all new proposals for your prospects and customers. Simplify your new proposal workflow to just a few clicks and go from spending hours on customizing new proposals to just minutes.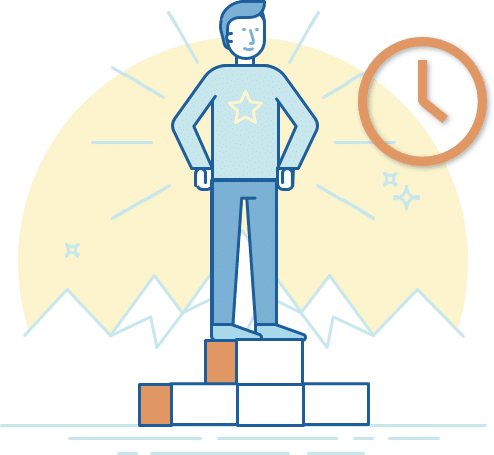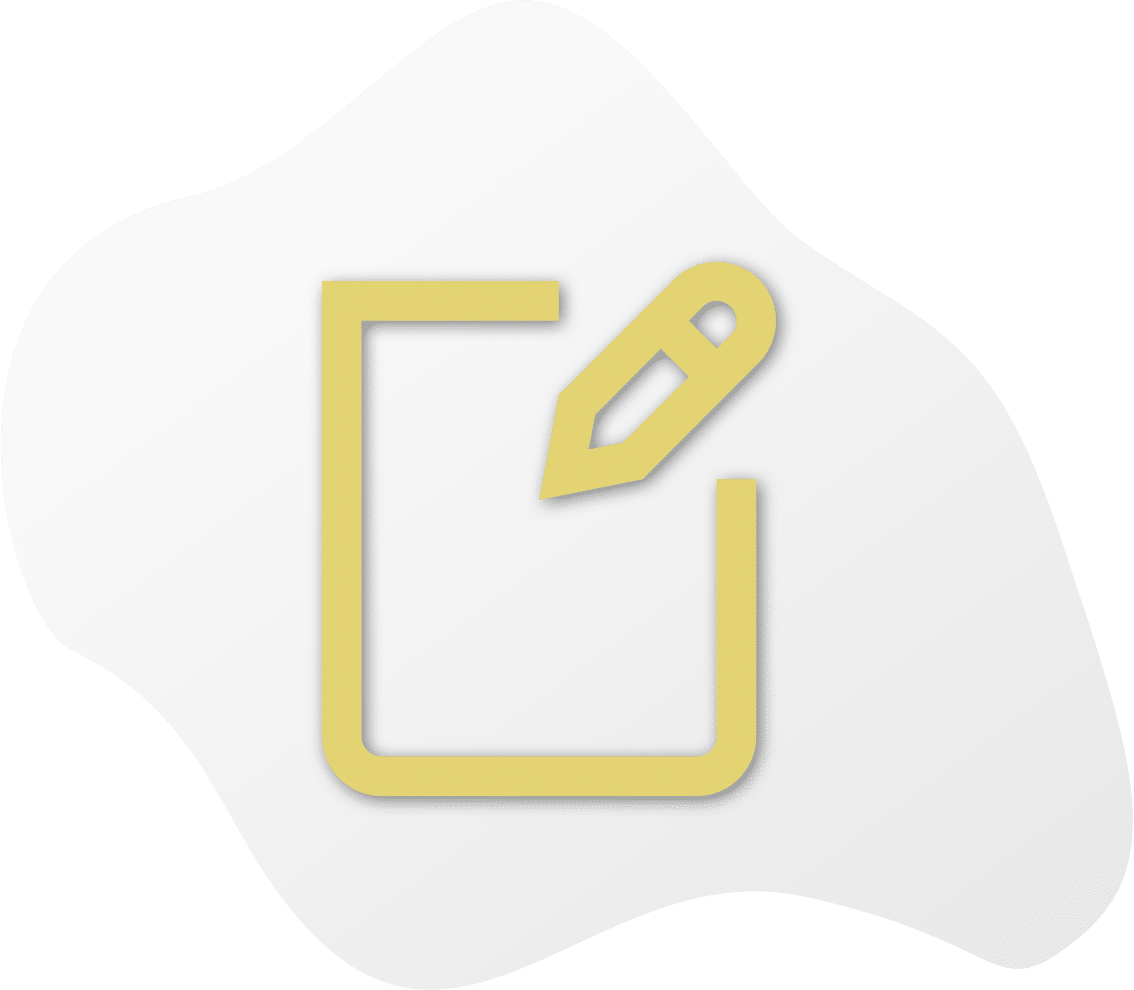 A wedding photographer's job can be quite a stressful one. Not only are photographers responsible for taking photos throughout the wedding and reception, but they are also responsible for composing the photos thoughtfully and processes sing the images with their own (expensive) equipment.
One was to alleviate some stress in this field is to invest in a wedding photography contract or engagement photography contract. Such a contract can be used to govern all of the photographer's jobs and keep all the expectations clear for their clients. For example, one can use a wedding photography contract doc to outline exactly when the photographer will show up to the event, how long they will stay at the event, and how many photos they plan on taking at different parts of the event.
Typically, a wedding photography contract in 2020 would be given to the potential client digitally, along with a portfolio of past work that accurately shows the type of style or composition that the photographer's work has. However, it is usually a good idea to meet the client in person or speak over the phone in order for all concerns about the contract to be voiced.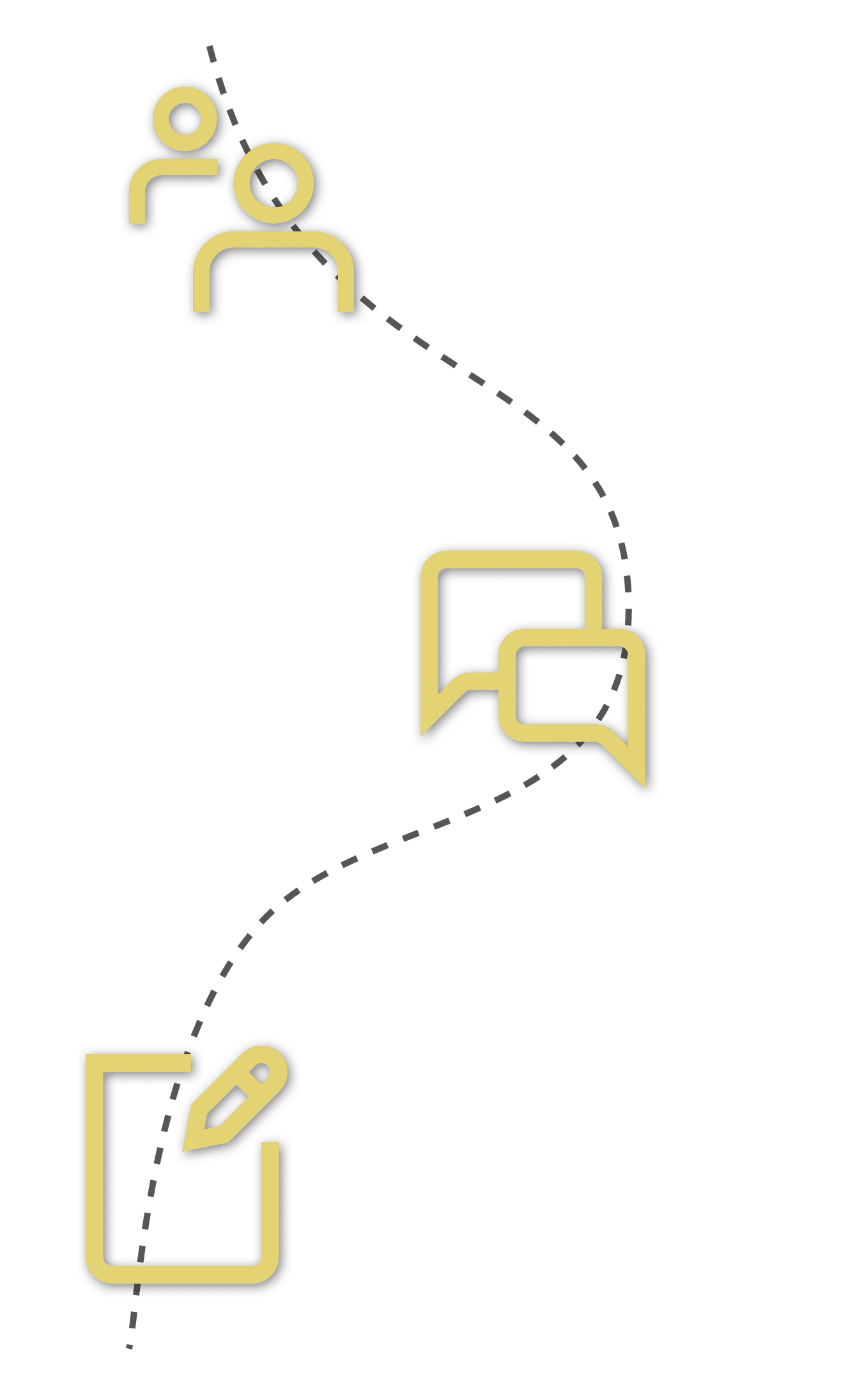 Wedding Contract Template
Drafting a wedding contract is unfortunately not as simple as typing up some guidelines and rules. IT is very important to use a wedding contract template to properly outline each and every detail that the client needs to agree to. An online wedding photography contract template will also make the document easier to read through the use of sections and headers, so nobody involved will be confused about what exactly the photographer will be doing.
Just as well, a template can be used to break up the contract into wedding contract clauses. Clauses are sections of a contract that go into detail about a specific requirement or agreement in the contract.
Let's look at a few examples. A wedding photographer deposit contract clause will detail how much money the client is required to pay up front before the event and how much money will be owed to the photographer after the event. A print release wedding photography contract clause will detail all the costs owed if the client decides to hire the photographer themself to physically print the photos. One could also consider including a wedding photography contract cancellation policy or a wedding photography contract meal clause. It all depends on the preferences of the individual photographer.
There are also some niche clauses that you could consider putting into your contract. For example, an act of god clause in a wedding contract would denote that in the event of a natural disaster or other uncontrollable and unforeseen event, the photographer will still be compensated for their time.
Our simple wedding photography contract doc template is a fantastic choice for building the ideal wedding photography contract for your business or freelance efforts. You can add as many clauses and details as you please with our simply form-filling editor.
General Photography Contract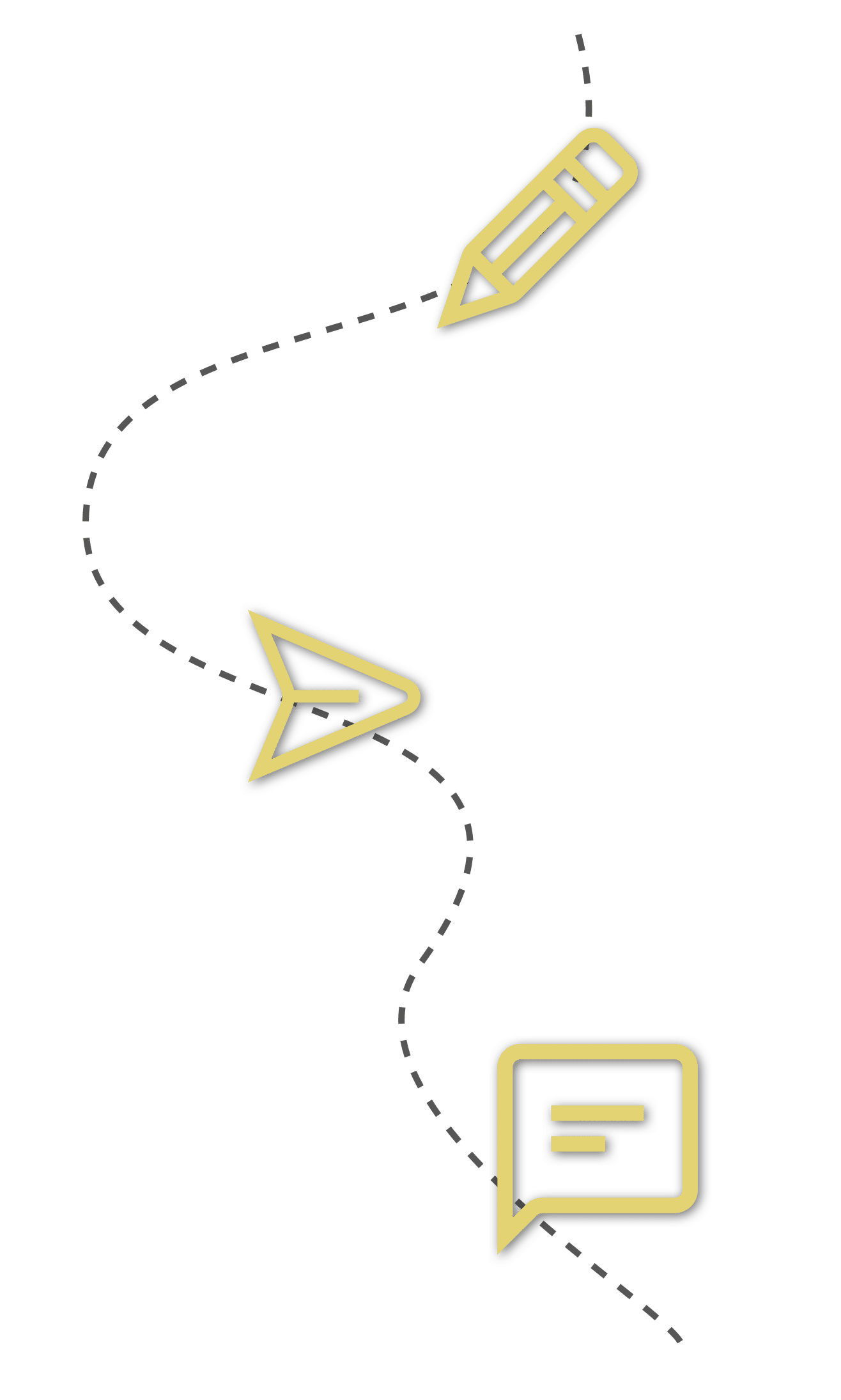 So what's the difference between a general photography contract and a wedding photography contract?
General photography typically is a bit simpler in terms of clauses and can be as short as an image waiver. In general photography, the photographer almost always owns the photos. In wedding photography, however, the contract can be a bit lengthier.
There are some clauses that are specific to each type of photography. For example, wedding photography may produce valuable photos that a photographer may want to add to their portfolio. A clause should outline the release of photography rights. Though, in general, all photography event contracts should detail the photographer rights to images (also known as "digital rights to photos) and a photography contract cancellation agreement.
Regardless of the type of event or photography involved, one should always opt to create a free simple event photography contract.
Building a corporate photography contract or a wedding photography contract should be difficult. Luckily, Proposable has a wide range of fantastic event photography contract PDF
templates and free wedding photography contract DOC templates. We offer great alternatives to Jotform photography contract templates and feature a variety of free sports photography contract templates as well.
Photography Contract Template
Starting out with a good photography contract template has a ton of benefits.
For starters, a commercial photography contract template is typically much easier to work with when compared to starting a contract from scratch. They also generally come out more visually attractive and easier to read– which only adds more value to your services. And having an easy-to-read contract reduces the chances of a misunderstanding.
Just as well, a contract template denotes sections for different clauses. You may be surprised by the types of clauses you should be including in your contract. A template can help guide you in the right direction.
There are also many different kinds of formats for contract templates out there. Typically, you'll find these templates online as PDF or DOC files. Both are ideal for printing out contracts for an in-person meeting. However, if a contract template is going to be used to draft a digital or online photography contract, a PDF file is usually a bit easier to work with and read across all devices.
There are many types of contract templates available on Proposable, including photography deposit contract templates, portrait photography contract templates, family photography contract templates, and photography cancellation contract templates.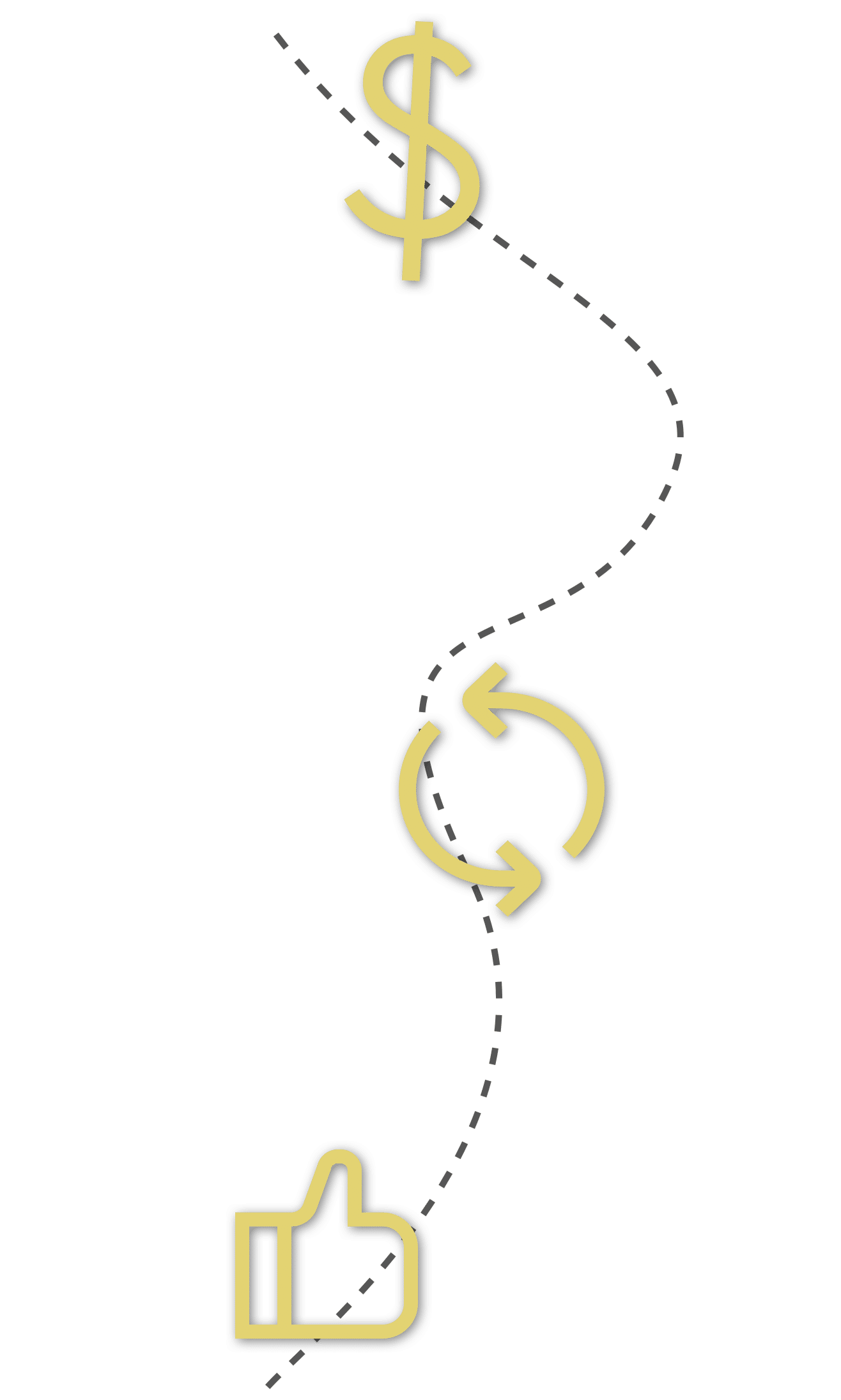 Edit & deliver this template.