Painting Contract Template
If you run a painting business or want to contract one, it's really important that expectations are clearly set before any work begins. We've made it easy to start customizing your own agreement immediately with our free, fillable painting contract template. This template gives you a simple framework for creating, delivering, and getting your agreements signed quickly. Customize and deliver in minutes, then get it signed with built-in eSignature.
Best proposal software ever! 
I've tried soooo many proposal softwares and I'll never try another one after Proposable. It's so easy to use and it looks good, which all the others don't.
Smart, reliable, and constantly improving.
Proposable just works. I can make visually interesting sales presentations, dynamically insert content, and execute agreements. Proposable powers our entire sales process.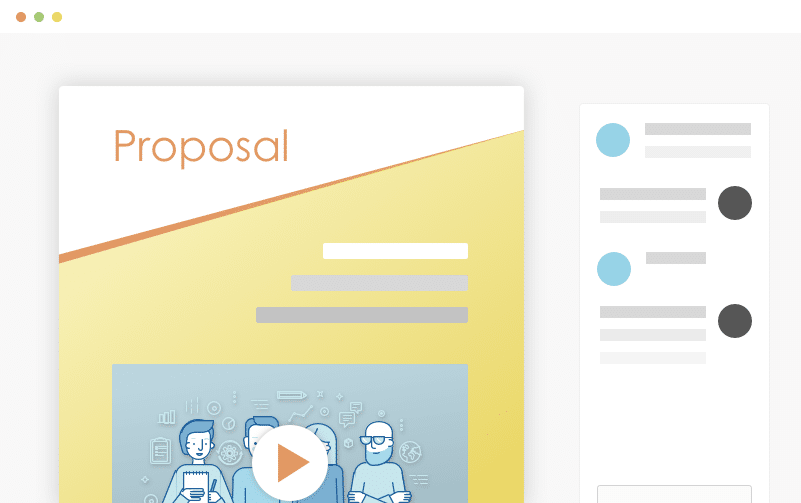 Wow Your Customers
Blow your clients away with a beautiful proposal that stands out above the rest. Add video and rich-media directly into your proposal pages for a more immersive sales presentation that's sure to make an impact.
Set Your Prices
Quickly build quotes, bids, and estimates with our flexible estimate block. With optional line-items, optional quantities, taxes, discounts and more, you can quickly represent your products and services in a polished and readable format. Organize all your products and services in the Pricing Catalog for instant recall.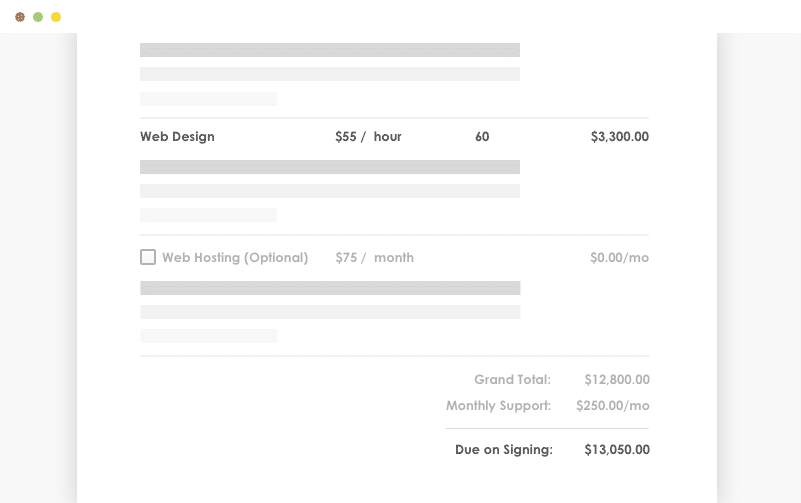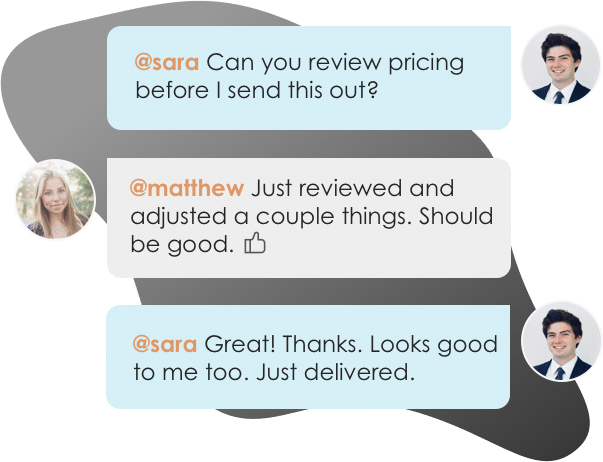 Work With Teammates
Easily collaborate with teammates on proposals. Mention team members to bring them into a proposal, or re-assign ownership when you need to handoff the proposal to another teammate.
Get It Signed
Close the deal faster with integrated e-Signatures. Place signatures, initials, and text field elements throughout your proposal wherever you need prospects to take action and your prospect is guided through a quick acceptance workflow to complete their acceptance. Counter-signing support is also included.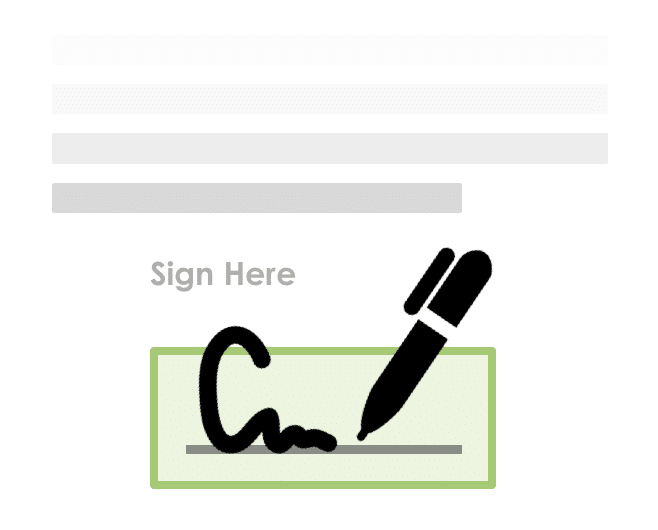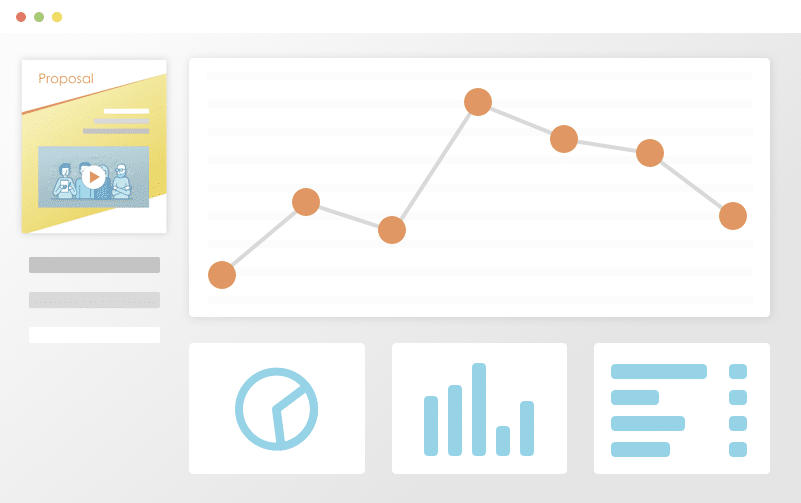 Track Everything
Ever wonder what happens to your proposal after you hit "send"? See detailed analytics and measure how each recipient is interacting with your sales material. Turn on real-time text or email notifications for proposal views and other key events.
Get Your Time Back
Save time and headaches by skipping the painful copy/paste and find & replace on all new proposals for your prospects and customers. Simplify your new proposal workflow to just a few clicks and go from spending hours on customizing new proposals to just minutes.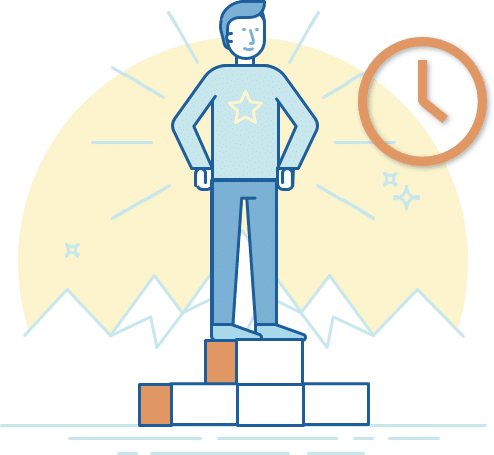 Edit & Deliver This Template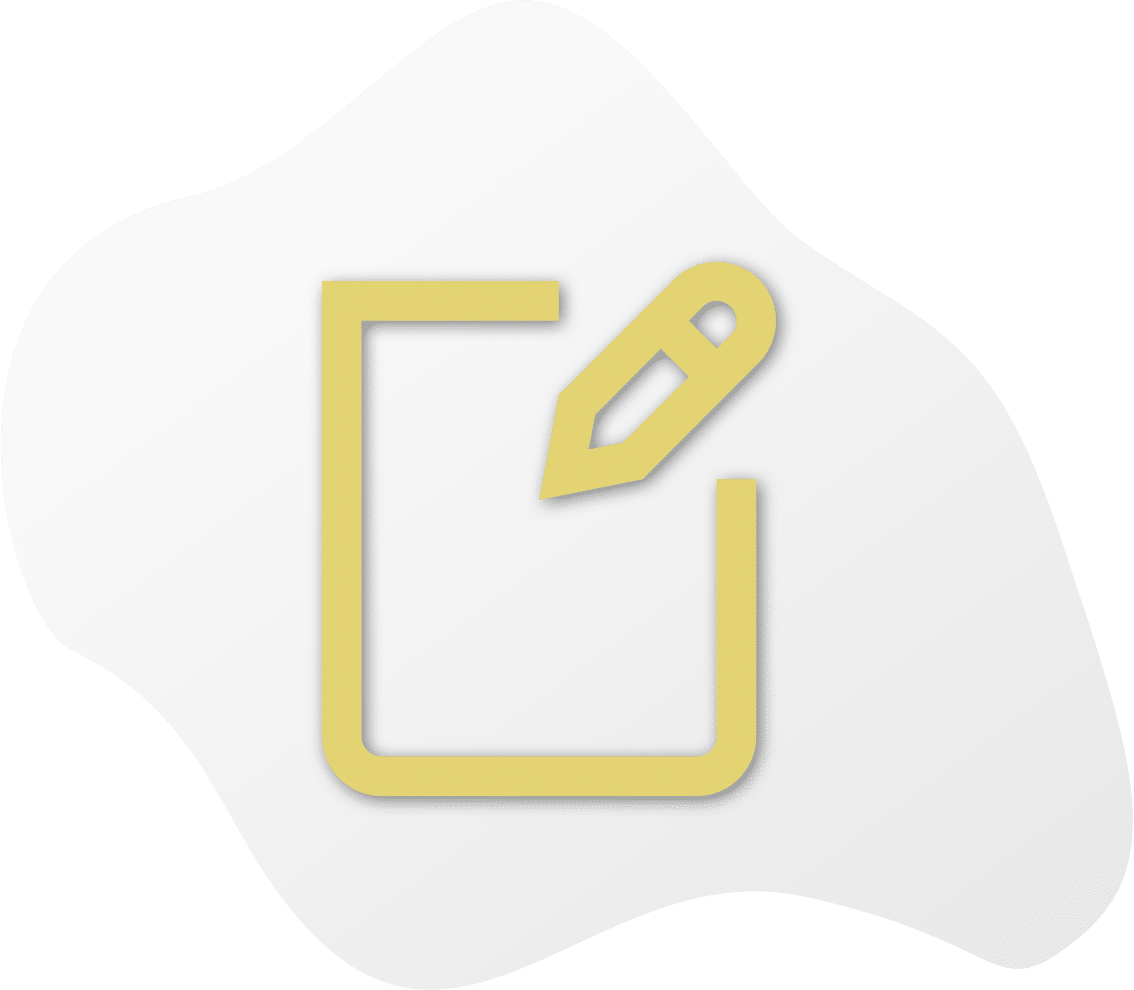 When hiring a professional painter, you could need them for any piece of property, facility, or other real estate buildings you can think of. From someone's home to condos, shopping malls, recreational centers, and office buildings, everything needs to be painted at some point.
In some situations, it might be to add a new coat of paint during renovations, while other jobs will be during the initial build process.
Either way, painting – while not necessarily a foundational element of any piece of real estate – plays a pivotal role in the aesthetic result of any structure.
Given the importance of painting and how much it can cost, when you hire a painter, you'll want that person or company to sign an agreement form. Some manner of work agreement letter will clearly lay out your expectations and parameters of a given job. 
Furthermore, an agreement paper will establish what will happen if the terms of your contract are breached. 
Alternatively, creating an agreement letter between two parties doc also works from the opposite end of the spectrum. If you're a painting contractor, the strength of your agreement letter sample pdf can be a lifesaver. Especially when it comes to protecting your own business and preventing any liability-related issues. 
Of course, if you don't have a sample agreement between two parties in some kind of template, it's something that can cause headaches. You'll before forced to draft up a contract from scratch every time without a simple professional services agreement template.
With such a template, you can plug and play. 
When you have a sample contract agreement between two parties or a business agreement sample pdf, the process of ironing the details is seamless. You can be either a painter, or a company/person in need of a painter, and a templated contract agreement will save you time and headaches.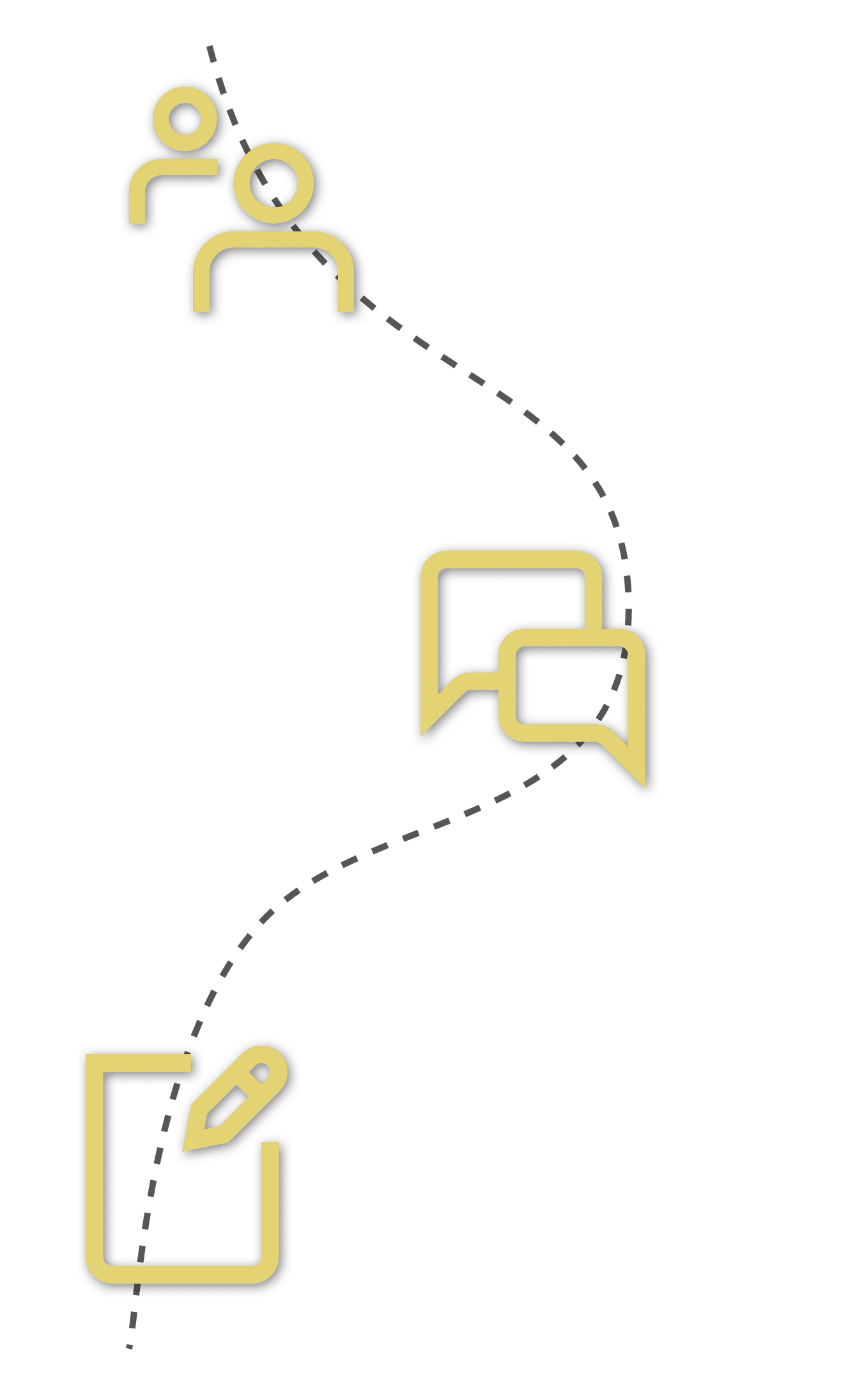 After all the work you put into getting a painting license, you'll want to thrive with your business. 
To succeed as a painting contractor, you must think beyond the brush, ladders, and cans. More specifically, matters such as strategy, model, revenue streams, budgeting, and many other intricate facets come into play.
One quintessential part of your company's inner workings should be your painting business plan. Painting business profits can be tough to come by, otherwise.
Plus, you must know the fine art of producing a competitive estimate. Namely, there's the perfect balance to offering a price conducive to favorable margins that won't scare a client off for being too expensive. 
Also, you can't promise clients the world. You must manage their expectations while executing your job with the utmost professionalism and attention to detail.
The best way to communicate with your clients about fair expectations is through a painting proposal sample pdf. Naturally, you don't want to spend hours drafting an agreement up from scratch.
Luckily, with the essential painting proposal software, you can establish clear terms with clients in no time at all. Such technology makes it simple to put together a painting subcontractor agreement template that requires you to just fill in the blanks. 
And the right tools allow you to generate a seamlessly printable contract for painting services. These templated contract-builders provide an array of viable options when you need a sample contract agreement between two parties. 
When you do business the right way, you'll offer painting contract terms and conditions mutually beneficial to both sides. As such, it'll be that much easier to find new work. Your reputation will reach the masses because of word-of-mouth. 
So, always ensure you have your sample painting contract proposal on hand that you can create with state-of-the-art, intuitive painting contractor forms software. 
Simple Contract Agreement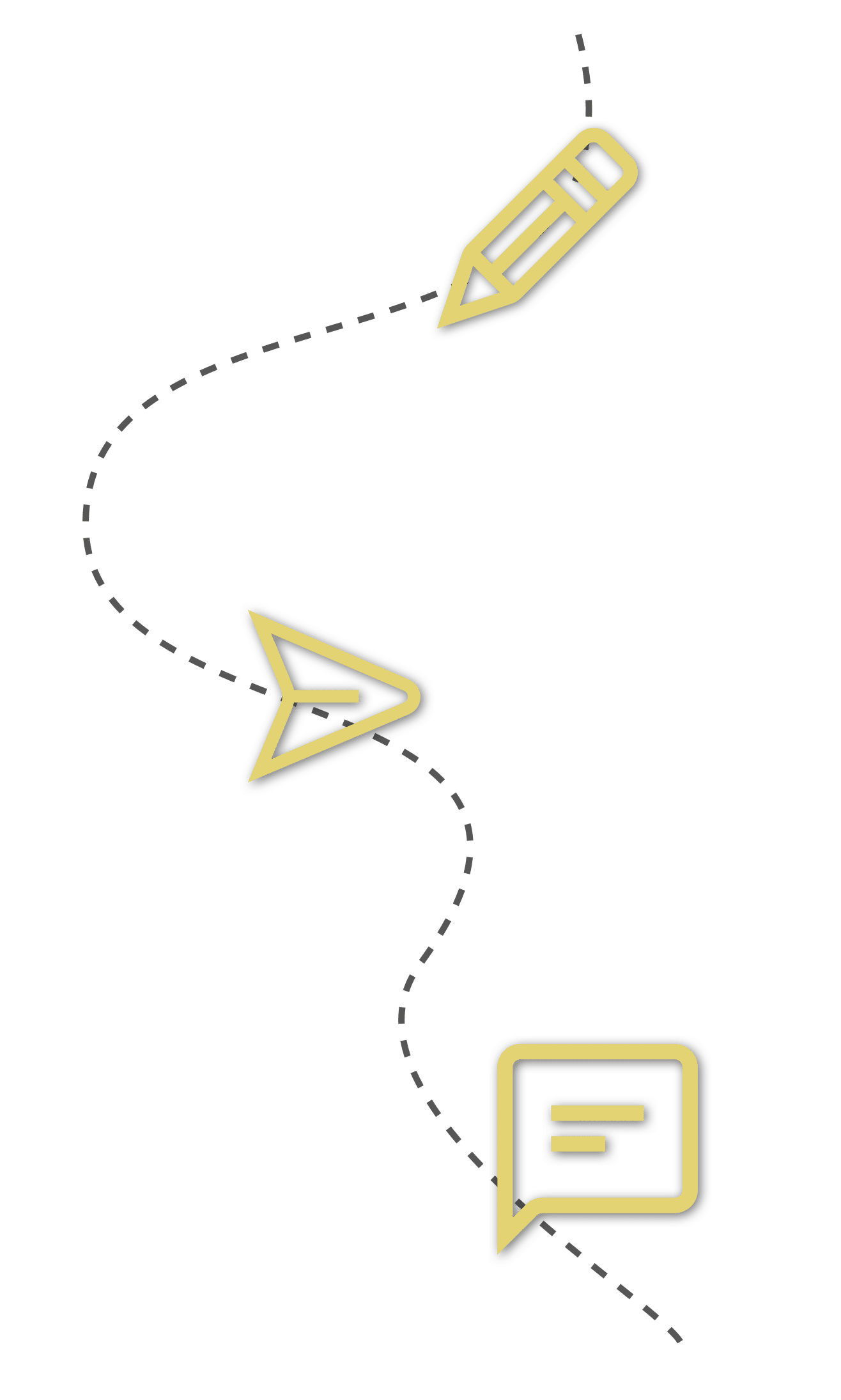 A simple contract agreement is integral to protecting your painting business. Because it gives your clients a layout of precisely what should be expected.
If you look at any simple contract example or a simple painting estimate template, you'll see the kinds of terms discussed, such as:
The service being provided

The price being paid

The expected duration of the job

The location and areas where work will be done

What happens in the case that a contract has been breached
Are you a painter, but don't know where to find painting contracts or have never seen an example of a simple contract agreement? Then you need to rectify that problem immediately. 
Without a professional painting contract pdf or a contract proposal template, your clients have more leverage to mistreat you. This could lead to you not being adequately compensated for your work, all because you didn't provide a favorable painting contract form for your client to sign. 
If you're unsure about things like the right contract format, there are plenty of resources for painters that'll tell you everything you need to know. 
Are you unsure about how you would use a work order template pdf or work order template doc?
Well, here's what you need to know about putting together any kind of construction work order format in Word or through PDF:
Work orders are a job for a client that can be scheduled or assigned to one of your employees. It can be requested by a client, or you can dole these orders out internally. In most cases, however, these documents are prepared by the buyer.
A work order for painting generally isn't provided by the painter. They would instead be responsible for providing an invoice. 
In a nutshell, a work order is generated when the customer places the order. And the invoice is created after the completion of a work order.
Much like other contracts, both a construction work order template and a free printable work order template, etc., are a superior choice to anything customized. With a templated document in place, it saves you a wealth of time. Plus, it'll ensure fewer mistakes since you'll have the majority of correct the information already input.
A painting work order will likely possess the following features:
Respective columns in a 'Materials' chart for individual quantities, units, and amounts on the left of the document

There'll be another chart for 'Labor' with respective columns for hours, rate, and amount

A section for terms and conditions along with a complete summary of totals for labor and material

There will be a company name from the requesting client and dedicated space for a description of the work being done
Work orders are ideal if you're a client and want to ensure that your painter is above board. And that they're someone who can perform the work you expect at a standard that's acceptable.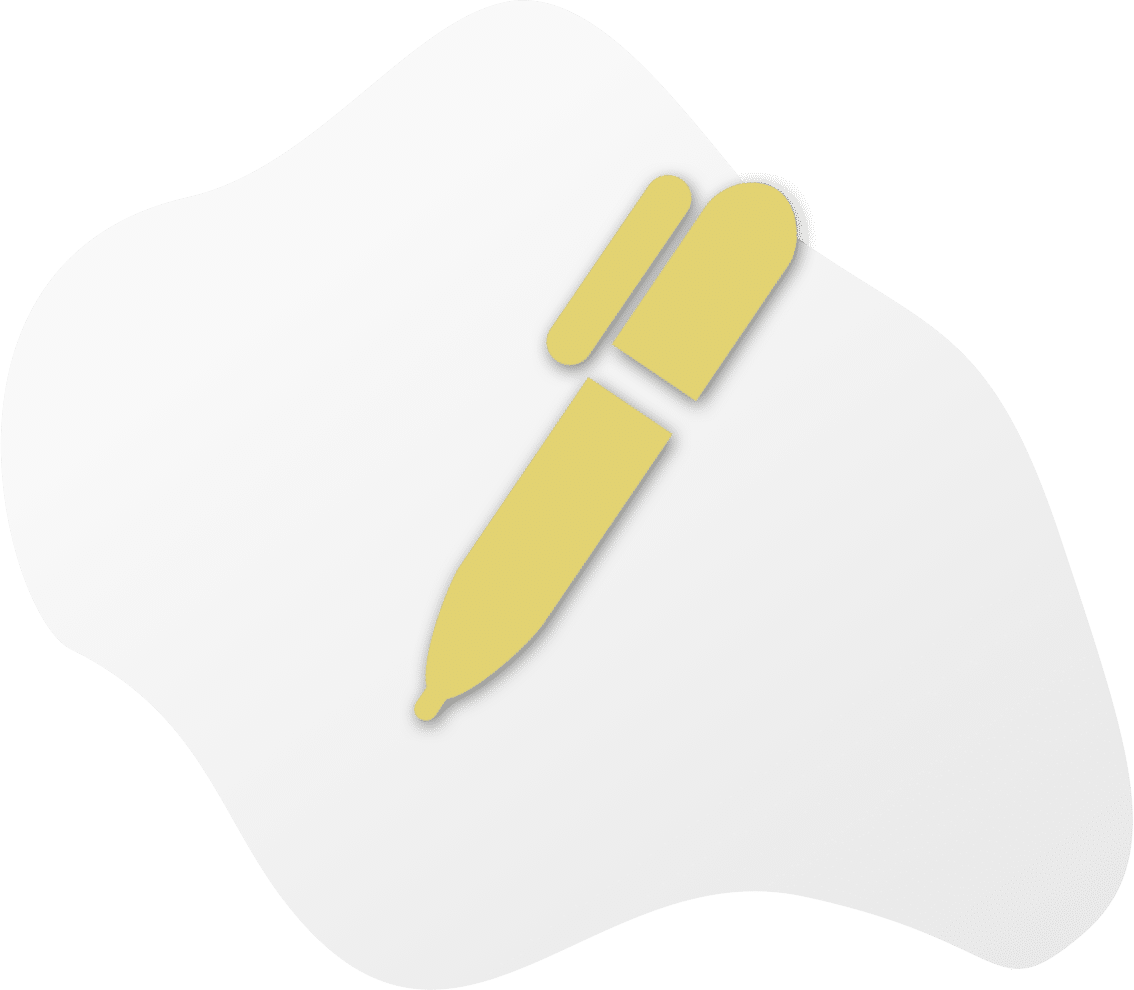 How to Get Painting Contracts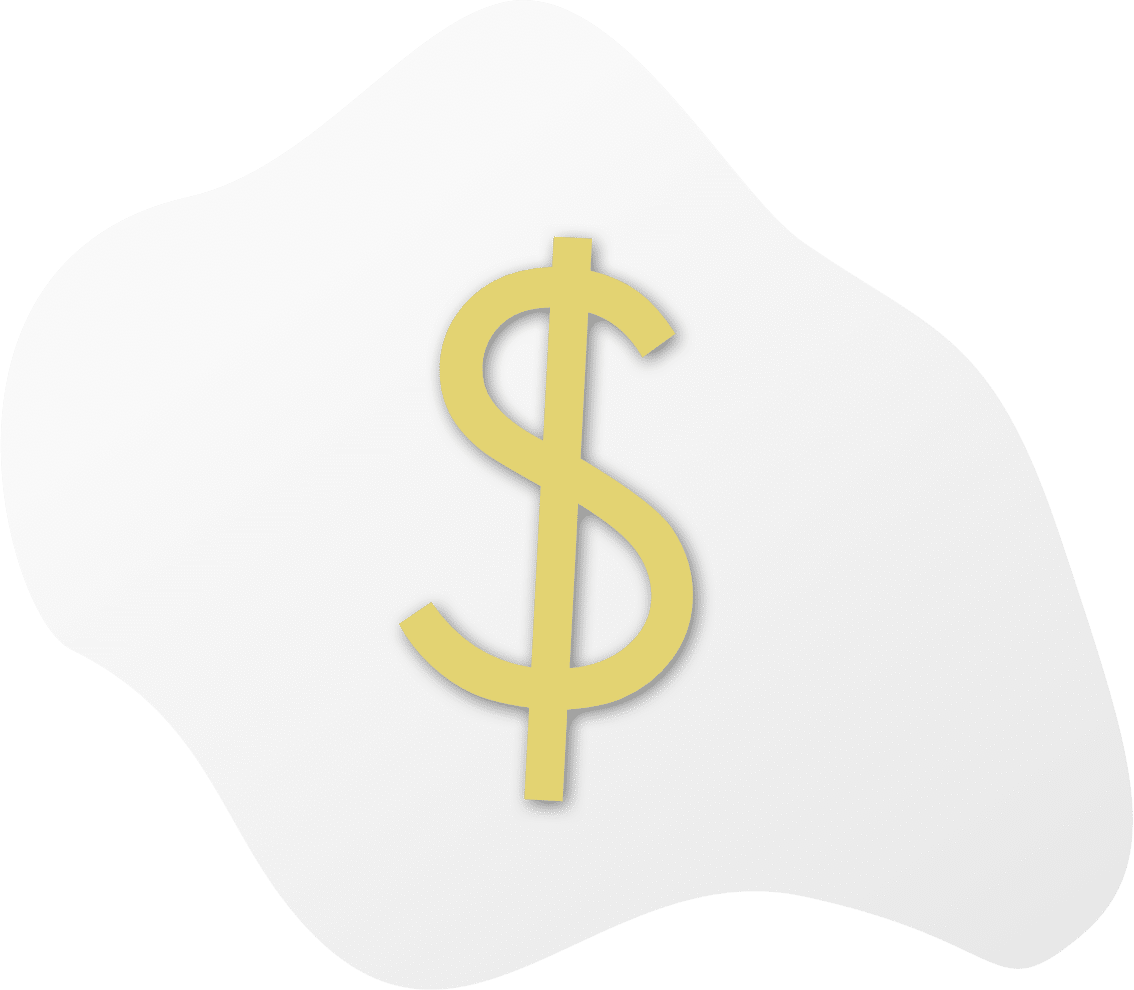 If you're wondering about how to get painting contracts or how to get painting leads, we have some answers for you.
First and foremost, there are marketing measures you can take. You don't even have to spend too much money on a campaign these days. Social media offers plentiful opportunities to spread the word of your services without spending a dime on ad space. 
Plus, you can also encourage your customers to give you that coveted word-of-mouth marketing, perhaps by offering discounts for referrals. 
And if you're wondering how to find painting jobs to bid on, look no further than cheap painting leads.
Yes, you can – in fact – pay for prospective clients. You can find an advertiser that can bring you a list of prospects for a commission fee. There are plenty of affordable options. But note that you get what you pay for. 
Some leads could end up being more expensive upfront but be high quality enough to give you a sizeable return on your investment. 
Another valuable tip on how to run a painting business has to do with bidding on painting contract work. 
This measure can lead to working on some incredibly high-level contract jobs for massive corporations or government entities. Some websites offer a bidding platform for you to land some lucrative gigs. 
Naturally, these bidding sites work similarly to advertisers that find you leads. You pay them a fee for plugging you into a network of available jobs and allowing you to bid. 
Ideally, you wouldn't have to bid for contracts—but that's the reality of business. Your best bet, however, is providing a service level that makes you a client's preferred choice when they're looking for a painter. That way, you'll always be the first person they call to come in for an estimate. 
Edit & deliver this template.