Equipment Lease Agreement
If you're in the business of leasing equipment, you're going to want a strong contract to set expectations and protect yourself legally. We've made it easy to start customizing your own equipment lease agreement immediately with our free, fillable template. This template gives you a simple framework for creating, delivering, and getting equipment lease agreements signed quickly. Customize and deliver in minutes, then get it signed with built-in eSignature.
Best proposal software ever! 
I've tried soooo many proposal softwares and I'll never try another one after Proposable. It's so easy to use and it looks good, which all the others don't.
Smart, reliable, and constantly improving.
Proposable just works. I can make visually interesting sales presentations, dynamically insert content, and execute agreements. Proposable powers our entire sales process.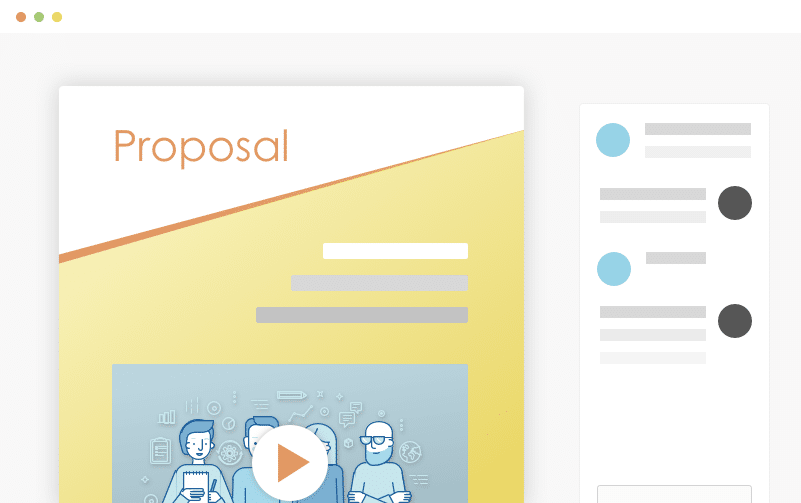 Wow Your Customers
Blow your clients away with a beautiful proposal that stands out above the rest. Add video and rich-media directly into your proposal pages for a more immersive sales presentation that's sure to make an impact.
Set Your Prices
Quickly build quotes, bids, and estimates with our flexible estimate block. With optional line-items, optional quantities, taxes, discounts and more, you can quickly represent your products and services in a polished and readable format. Organize all your products and services in the Pricing Catalog for instant recall.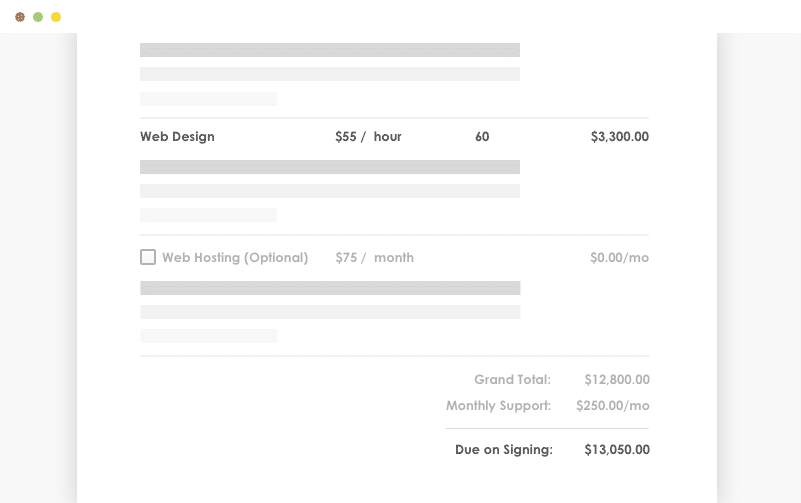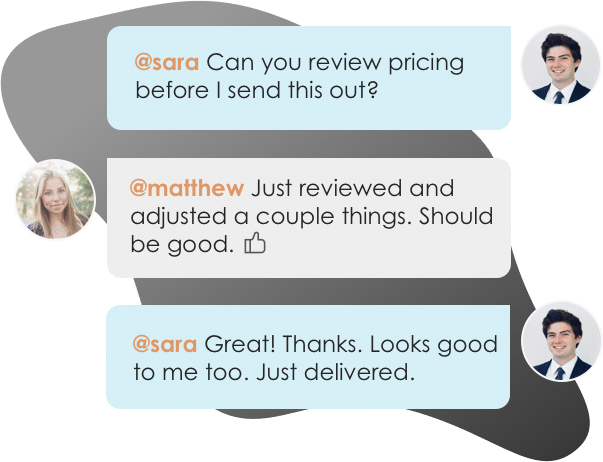 Work With Teammates
Easily collaborate with teammates on proposals. Mention team members to bring them into a proposal, or re-assign ownership when you need to handoff the proposal to another teammate.
Get It Signed
Close the deal faster with integrated e-Signatures. Place signatures, initials, and text field elements throughout your proposal wherever you need prospects to take action and your prospect is guided through a quick acceptance workflow to complete their acceptance. Counter-signing support is also included.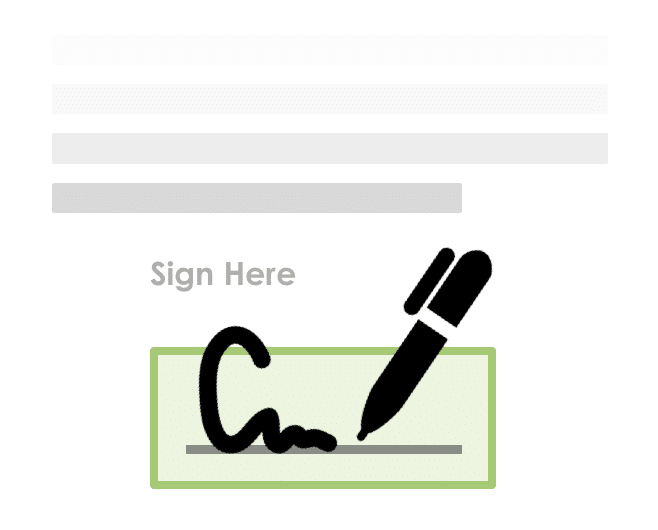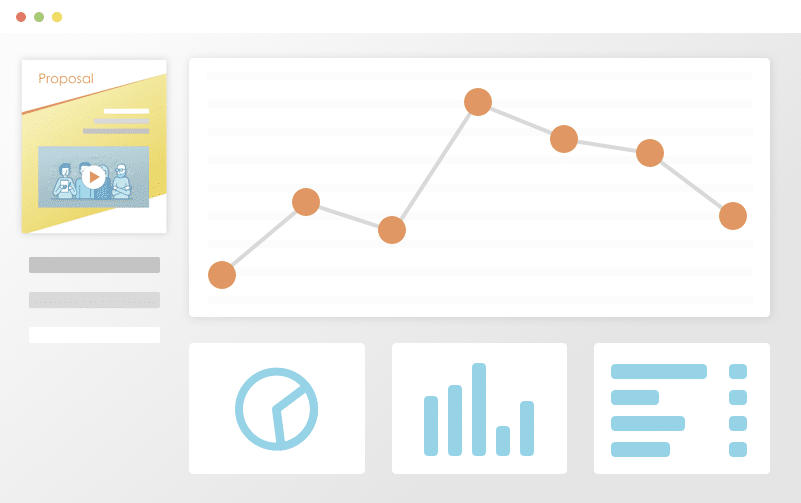 Track Everything
Ever wonder what happens to your proposal after you hit "send"? See detailed analytics and measure how each recipient is interacting with your sales material. Turn on real-time text or email notifications for proposal views and other key events.
Get Your Time Back
Save time and headaches by skipping the painful copy/paste and find & replace on all new proposals for your prospects and customers. Simplify your new proposal workflow to just a few clicks and go from spending hours on customizing new proposals to just minutes.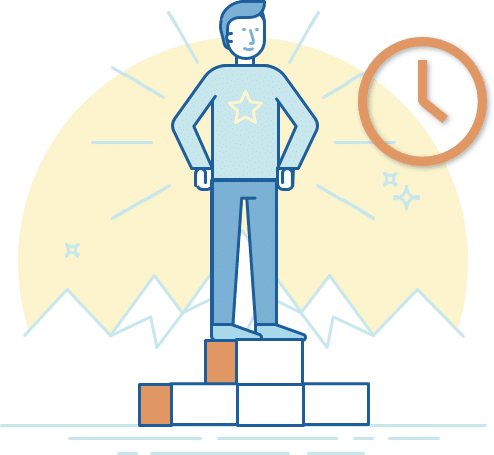 Edit & Deliver This Template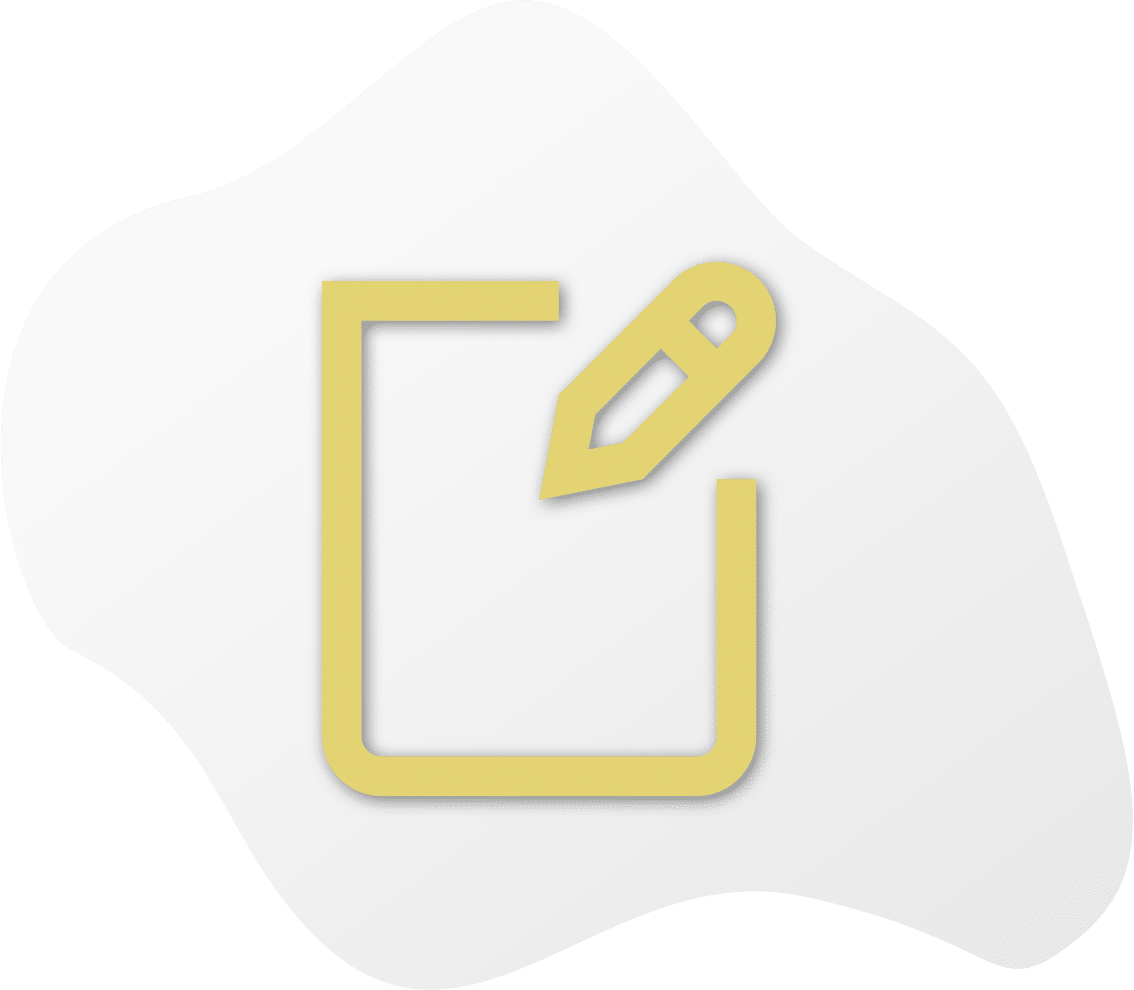 An equipment lease agreement, otherwise known as an equipment rental agreement, is a document in which two parties agree to enter into a deal in which one (the lessor) allows the other (the lessee) to use a piece of equipment for a specified length of time. These are important because they create a binding commitment to previously chosen and agreed-upon equipment lease terms, making sure that both parties are bound to the terms they agreed to. Equipment lease agreements are commonly used in industries such as film production, construction, farming and agriculture, commerce, 3D printing, and service. 
If you are a business owner or an equipment owner looking to make some money off of leasing your goods, an equipment lease agreement is critical to protect your transaction. Lessors are protected by having the lessee's promise to provide the equipment. And lessees are protected from the lessee returning the equipment late, damaging the equipment, or failing to return the equipment at all.
Like an agriculture land lease agreement, an equipment lease agreement template tends to have terms regarding the lease duration, financial terms, payment, market value, tax responsibility, cancellation provisions, and options for renewing the lease. In these sections, both parties make clear how long the equipment will be leased for, how much money it will cost and how that money should be paid, data on the market value of the equipment, information about who will pay tax on the equipment, guidelines for how the agreement can be canceled (if at all), and details on how to renew the lease after it expires. Most if not all of these terms should appear in any equipment lease purchase agreement template Word that you download.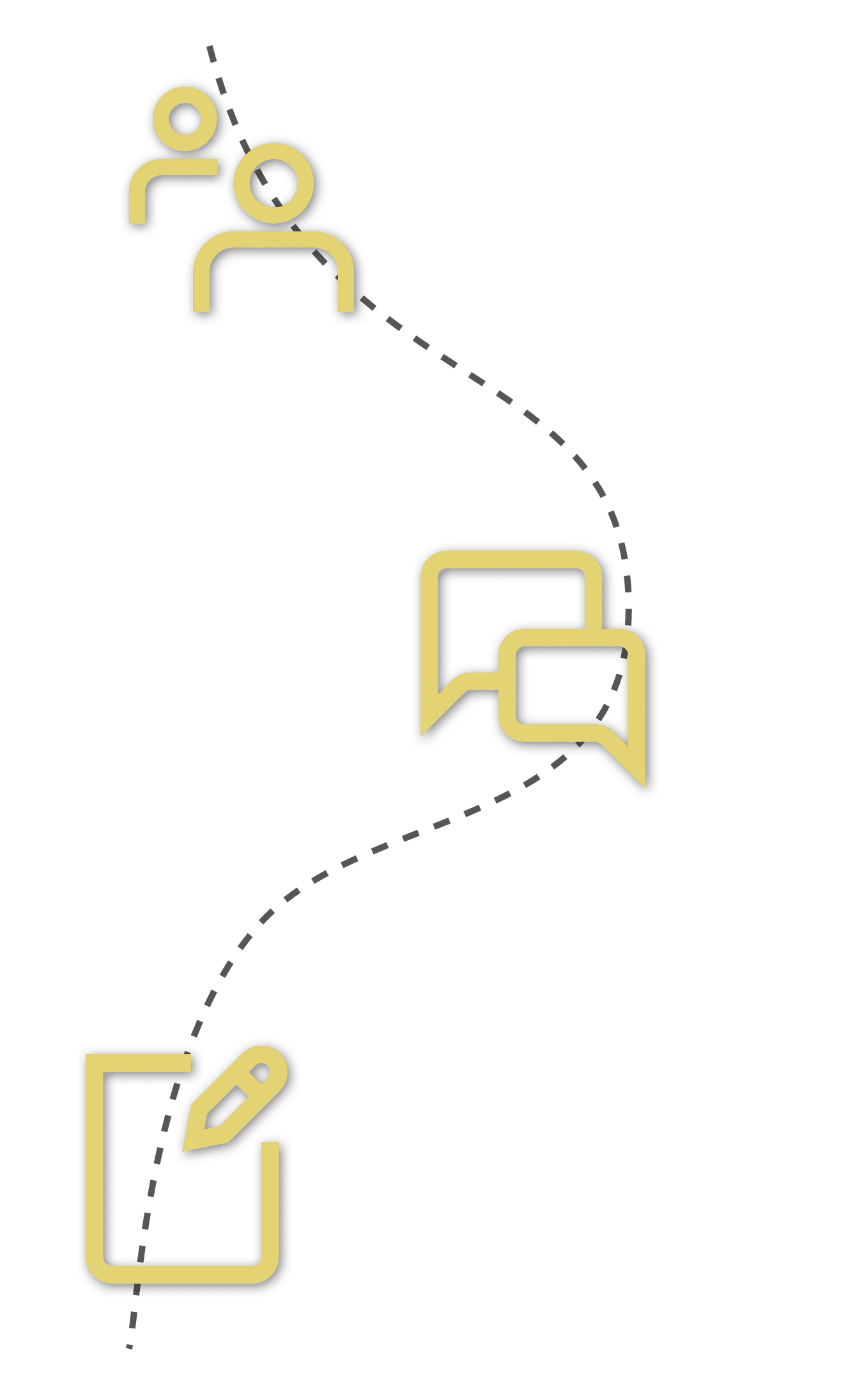 Simple Equipment Rental Agreement Doc
If you need to put together an equipment rental agreement, as either a lessee or lessor, there are several approaches you can take. You may choose to use a simple equipment rental agreement doc (meaning an equipment lease agreement Word document), a free equipment rental agreement PDF, or go the template route with a free equipment rental agreement form template.
If you're considering using Microsoft Word or PDF, you'll have to decide which file format and computer program you're more comfortable using. Word may be more accessible and easy to use for many, but PDFs tend to allow your more control over design elements. PDFs also have the advantage of being a very versatile file type that appears the same no matter where it is being viewed. It's also worth considering that Microsoft Word has the disadvantage of being easily edited and altered, meaning that you run the risk of somebody else changing the equipment rental agreement terms and conditions on your master equipment lease agreement.
On the other hand, choosing to use a template is a great option because it gives you all of the necessary sections and legal terminology, requiring you only to fill in a few blanks. If you want to use a template, it's a good idea to pick one that is relevant to your specific equipment lease scenario. For example, if you are leasing out a bounce house that you happen to own for children's parties, you might want to look for and use a party equipment rental contract template, which will have terms specific to your particular needs.
Examples of Equipment Lease Agreements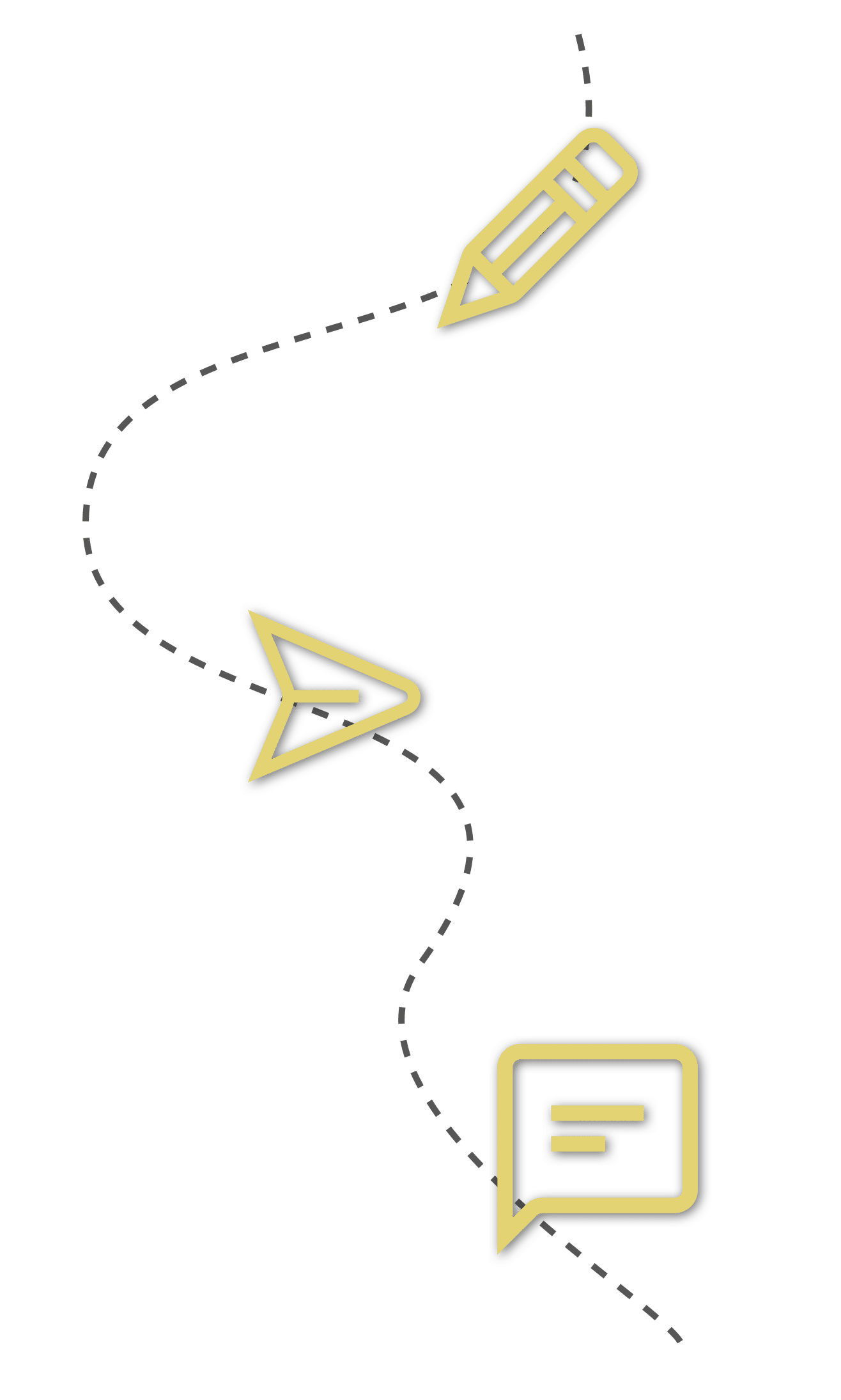 Now that you have a good idea of what an equipment lease agreement is, let's go over some examples of equipment lease agreements. Some of the most common types of equipment lease agreements that exist include short term equipment rental agreement, lease to own, capital lease, and operating lease.
Your typical simple equipment lease agreement will usually fall under the short term category, in which a lessee leases a piece of equipment for a period of time of a few days, weeks, or months. This will typically include rentals of filmmaking equipment for several days of film production or maybe a week's rental of a 3D printer for a specific project. On the other hand, businesses will sometimes need to rent equipment on a longer-term basis. A commercial equipment lease agreement will often last for months or years.
Sometimes, lessees will want to lease a piece of equipment as part of the process of deciding whether or not they are willing to purchase that equipment in the future. That's where an equipment lease agreement with option to purchase comes in. This is an agreement with built in terms of how the lessee can permanently buy the equipment if they choose to. This can occur both for private lease agreements and commercial equipment lease purchase agreement.
A capital lease is a lease in which the equipment still belongs to the lessor for the duration of the lease, but the lessee takes on the economic burden of owning the asset for accounting purposes. That means that, as far as generally accepted accounting principles are concerned, the equipment belongs to the lessee. In contrast, an operating lease allows the lessee to use the piece of equipment, but without any of the rights of ownership. Unlike with capital leases, businesses do not have to account for the equipment they rent with an operating lease on their balance sheets.
One of the industries that most commonly uses equipment lease agreements is farming and agriculture. This field requires the usage of specific farm equipment leasing practices, which differ slightly from general equipment leases. This is because farm equipment is generally so large, expensive, difficult to transport, and is most often needed for long-term leases.
Generally speaking, a farm equipment rental agreement, whether that be a dairy farm lease agreement, a farm with strictly produce, or something else, will need to have terms about how the equipment will be transported, where it will be kept, and how it must be maintained.
There are significant advantages to entering into a farm equipment lease agreement as opposed to buying your own farm equipment. First, leasing farm equipment will usually not be considered as a direct liability on your credit statements, making it easier for you to maintain credit availability and borrow money. Leasing farm equipment also lets you have only the equipment you need when you need it, so you don't have to keep around and pay for maintaining equipment you can't use because of the season. 
It's also important to note that leasing farm equipment is inflation friendly. That means that, as the market value and cost of the equipment goes up year after year, you'll continue to pay the original negotiated lease rate (provided that your lease duration was long enough to begin with). Finally, you should know that many a farm lease agreement form is made from a free equipment lease to own contract template, allowing you the option of keeping the equipment if you decide you want to.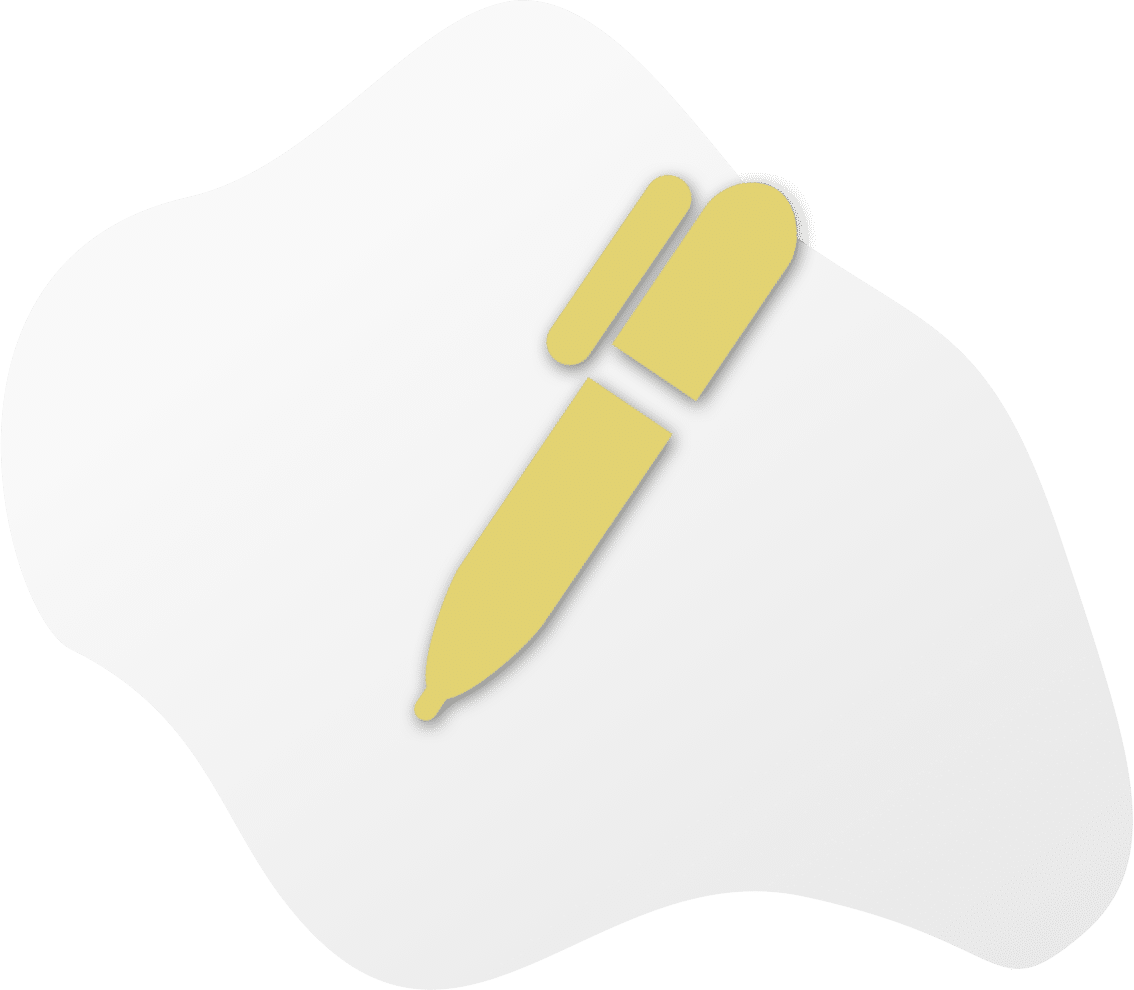 Edit & deliver this template.