Consignment Agreement Template
In the consignment business, having a clear contract is a must. We've made it easy to start creating your own consignment contracts with our free and fillable consignment agreement template. This template gives you a simple framework for creating, delivering, and getting consignment agreements signed quickly. Customize and deliver in minutes, then get it signed with built-in eSignature.
Best proposal software ever! 
I've tried soooo many proposal softwares and I'll never try another one after Proposable. It's so easy to use and it looks good, which all the others don't.
Smart, reliable, and constantly improving.
Proposable just works. I can make visually interesting sales presentations, dynamically insert content, and execute agreements. Proposable powers our entire sales process.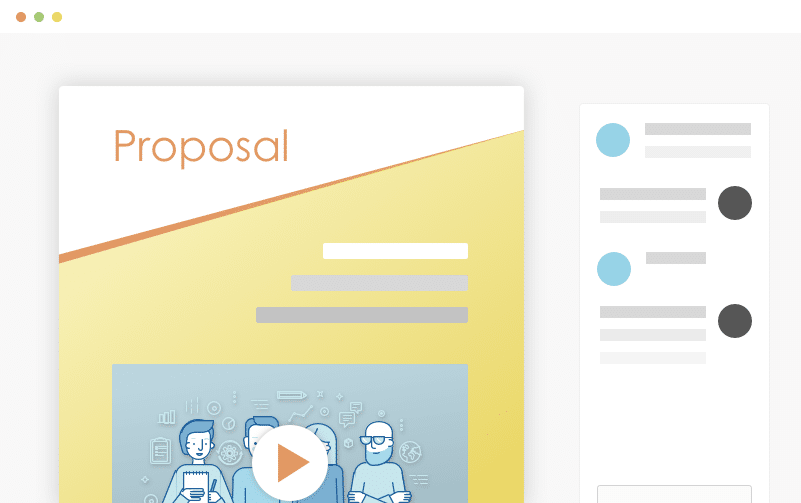 Wow Your Customers
Blow your clients away with a beautiful proposal that stands out above the rest. Add video and rich-media directly into your proposal pages for a more immersive sales presentation that's sure to make an impact.
Set Your Prices
Quickly build quotes, bids, and estimates with our flexible estimate block. With optional line-items, optional quantities, taxes, discounts and more, you can quickly represent your products and services in a polished and readable format. Organize all your products and services in the Pricing Catalog for instant recall.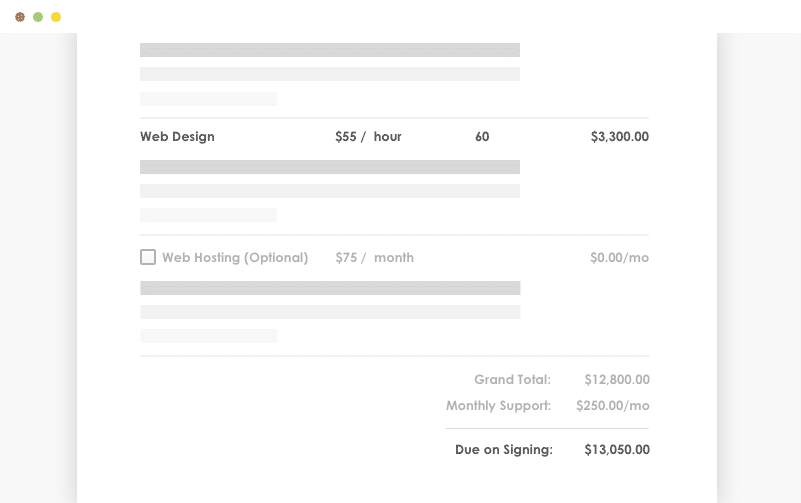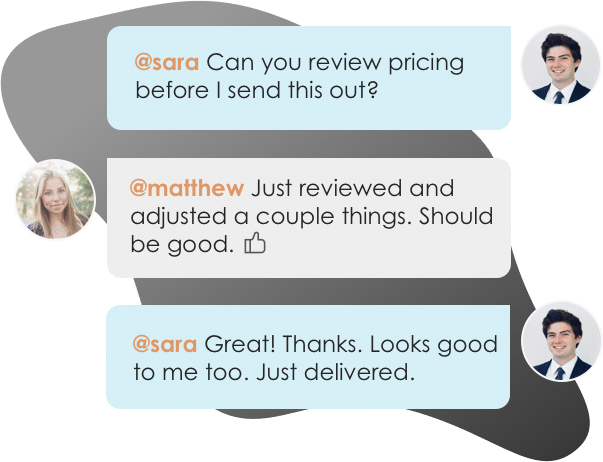 Work With Teammates
Easily collaborate with teammates on proposals. Mention team members to bring them into a proposal, or re-assign ownership when you need to handoff the proposal to another teammate.
Get It Signed
Close the deal faster with integrated e-Signatures. Place signatures, initials, and text field elements throughout your proposal wherever you need prospects to take action and your prospect is guided through a quick acceptance workflow to complete their acceptance. Counter-signing support is also included.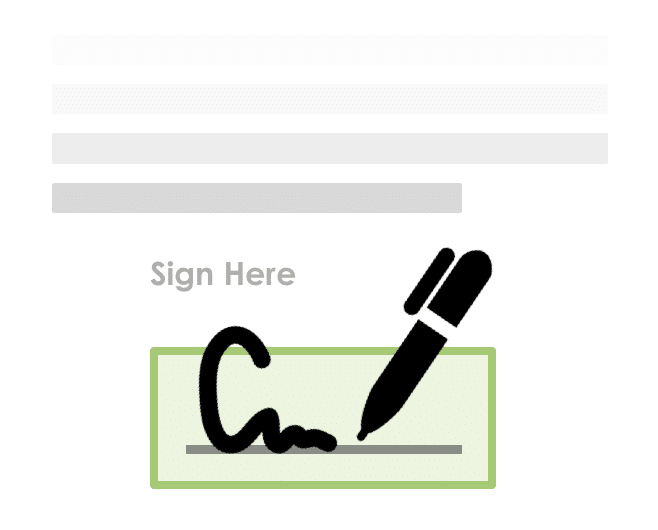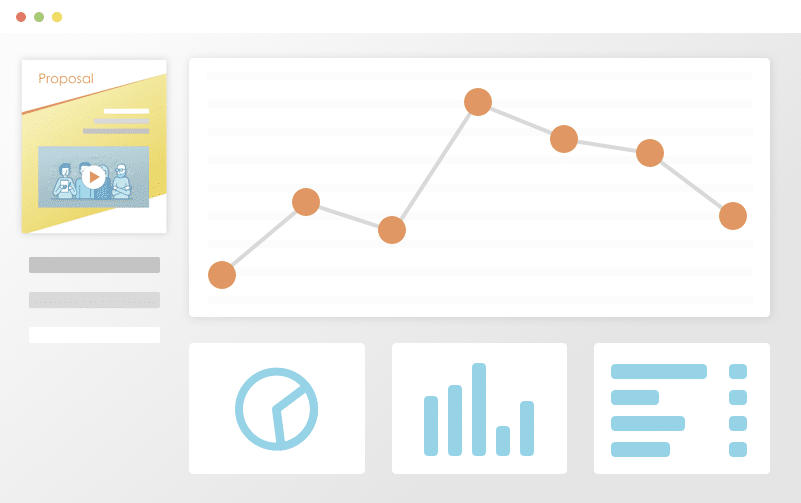 Track Everything
Ever wonder what happens to your proposal after you hit "send"? See detailed analytics and measure how each recipient is interacting with your sales material. Turn on real-time text or email notifications for proposal views and other key events.
Get Your Time Back
Save time and headaches by skipping the painful copy/paste and find & replace on all new proposals for your prospects and customers. Simplify your new proposal workflow to just a few clicks and go from spending hours on customizing new proposals to just minutes.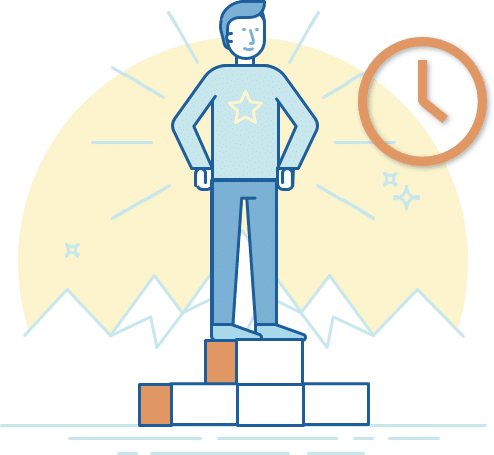 Edit & Deliver This Template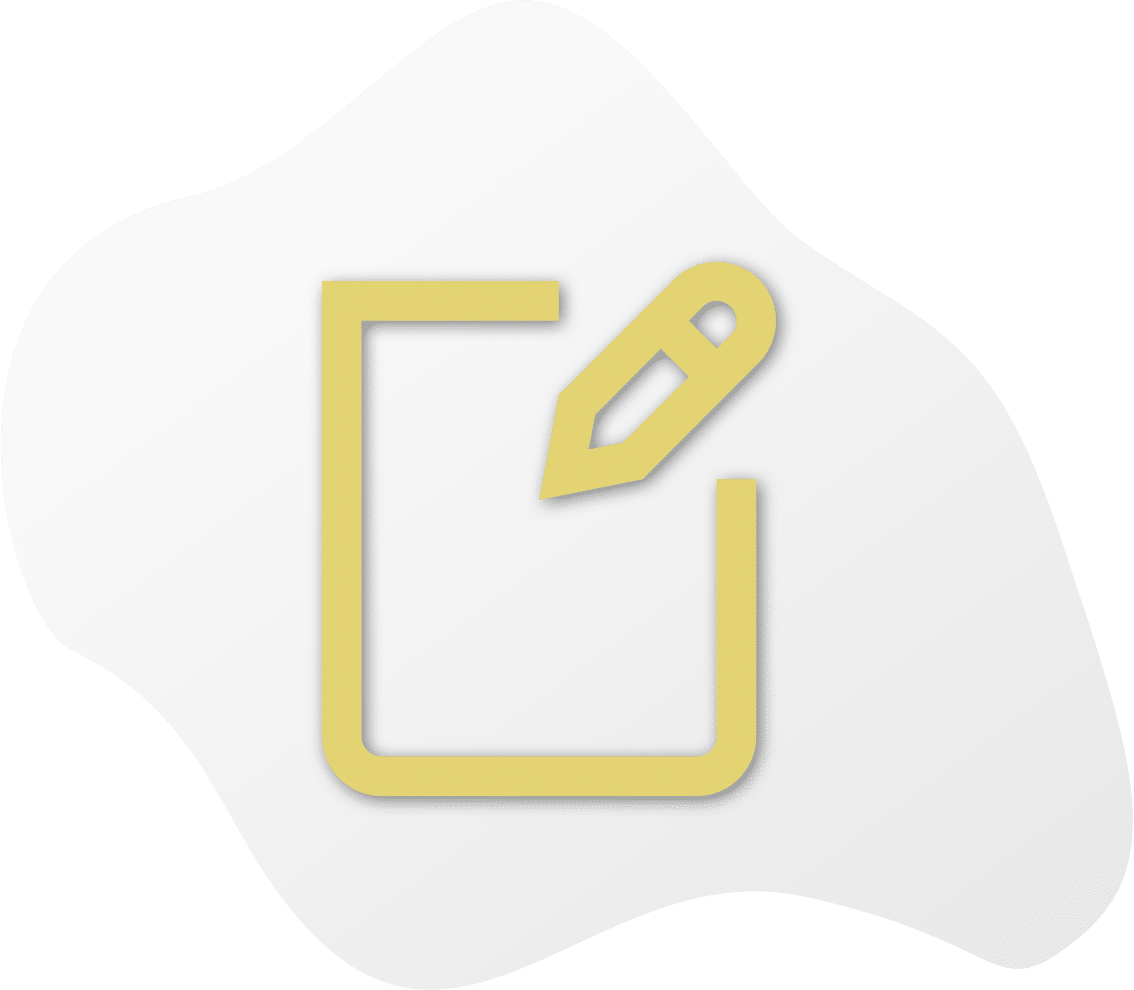 Buying and selling goods on consignment is a pretty neat business for small business owners. Consignment sales are a safe way of learning how goods are sought, marketed, and sold in order to gain maximum profits. When we study a consignment agreement in detail, there's a lot that varies with each business. When it comes to setting the terms in a consignment agreement Florida and other states may follow slightly different policies than consignment insurance in India.
Selling on consignment can be a typical risky business where you buy the goods from a consignee and hope to profit from them. This is why having consignment insurance is just as crucial as other documents in this business. A consignment agreement insurance and a simple consignment agreement PDF can give you some basic ideas of the consignee's dedication and honesty. 
Every consignor has to be extremely particular and clear about the consignment terms and conditions. Signing a deal with trustworthy consignment partners can take businesses to great heights even during recessions. At the very least, consignment businesses such as jewelry, clothing, accessories, food items, and other similar items can save merchandise from bankruptcy.
Another aspect of being clear on is the difference between a consignment agreement and a distributor agreement. Consignors buy goods from consignees, sell them, and pay a part of the sales to the contributors. The distributor is merely responsible for selling and keeping a commission on the sold goods.
Of these two, consignment agreements often turn out to be the most profitable. This is because both parties are involved in equal footing. One is responsible for quality manufacturing, and the other is responsible for quality marketing and sales. Creating a comprehensive and clear-cut consignment agreement involves ensuring the best consignment experience on behalf of each partner involved.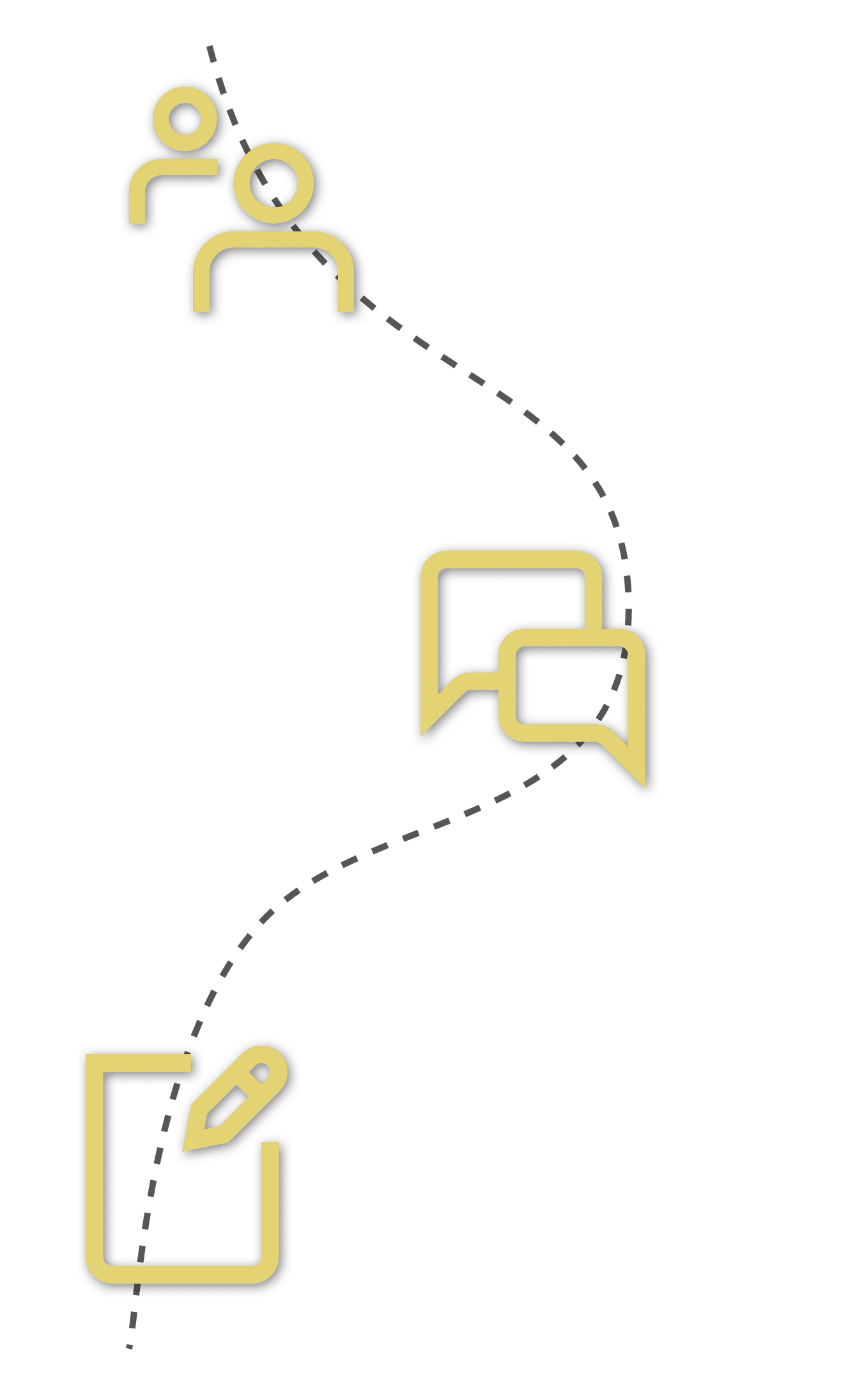 There are a number of types of consignment stores that you can operate. All sorts of consignees produce all kinds of marketable goods. From a furniture consignment contract to a jewelry consignment agreement, your opportunities are endless. You can pick any of your interests, choose a consignee, buy their goods, and set up a consignment store.
One popular example of a successful consignment niche is the jewelry consignment online business. Jewelry consignment shops have a variety of consignees and items of popular demand. Both online and offline jewelry consignment stores sign a jewelry consignment agreement and run widely successful businesses.
Even in specific businesses, you can sign various consignments. Let's consider the jewelry consignment business again. You can sign a handmade jewelry consignment agreement as well as a jewelry equipment consignment agreement. The specific consignment store you set up, or sign a contract with, depends on your skills and interests.
However, before a store starts to sell jewelry, the consignment should be clear on the shares between both consignees and consignors. The stocks, revenue shares, prices, etc., should all be fairly distributed before the business starts. There's a strong guarantee that the sales will be beneficial for all partners with a mutual consignment agreement.
Consignment Store Agreement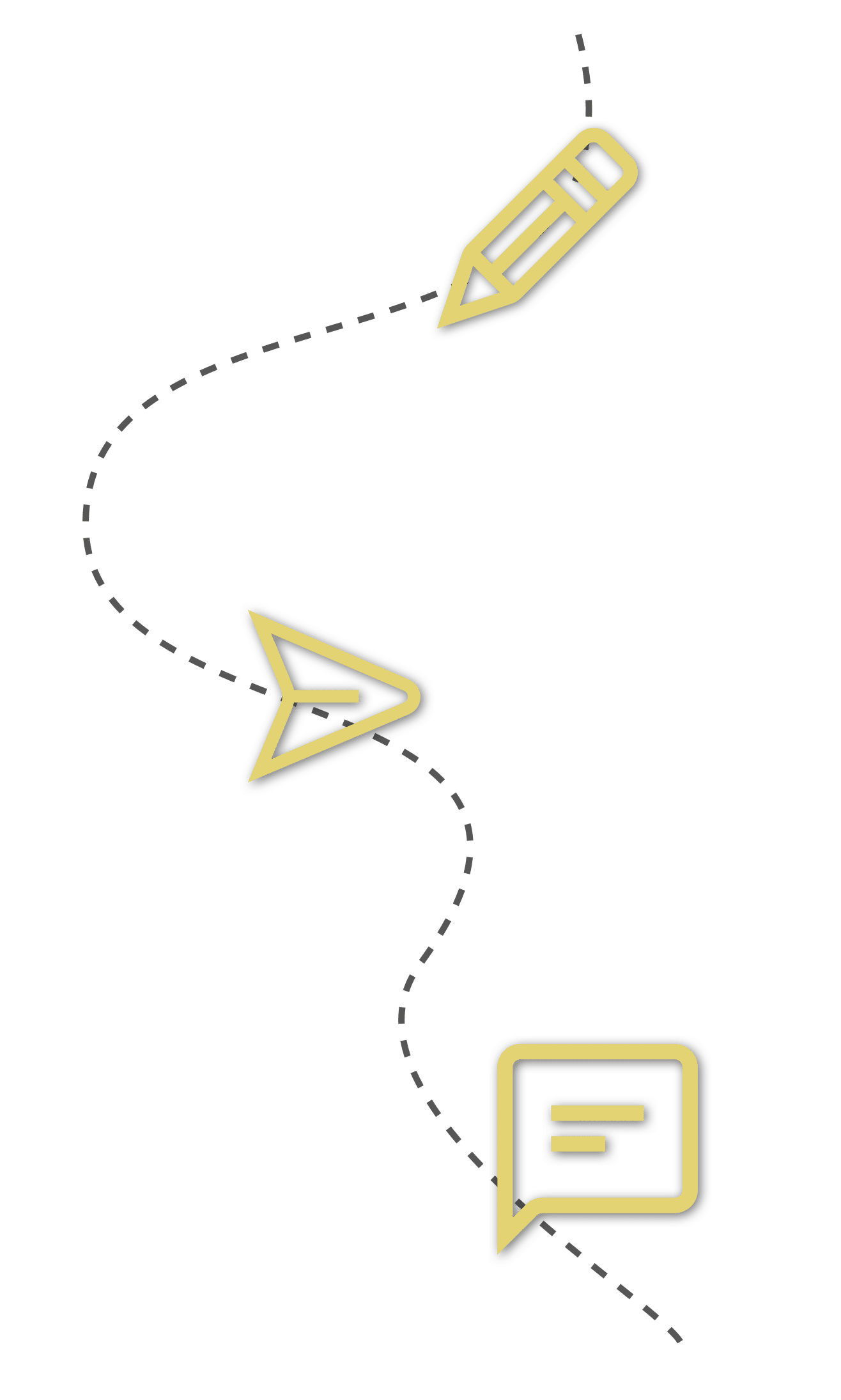 A consignment store agreement is one that forms the basis of a lasting relationship between the consignee and the consignor. The consignment agreement form should be studied thoroughly before getting signatures. The consignment rules guidelines on the agreement are meant to be suggested and designed by both the consignee and consignor. A standard manufacturer consignment agreement contains information about the signees.
It mentions the prices, specifications of items, store expenses, insurance policy, termination conditions, as well as record-keeping policies. When choosing online consignors, eBay is one of the most popular and promising platforms. An eBay consignment contract is somewhat similar to that of a conventional offline consignment store.
However, eBay consignment fees and the eBay selling contract may differ in a few terms. The fees for any regular eBay store depends on the type of items and desired sales goals. A lot of merchandise sold on eBay gets honest and valuable feedback from customers, so the owners often prefer online platforms. Online distribution and record-keeping are also much more manageable. 
Regardless of the platform and area under consideration, a professionally written consignment agreement or contract is everybody's best bet. It's best to involve or at least consult legal help so that the terms on paper are absolutely clear. With a comprehensive agreement at hand, any sort of litigation has a lot of credibility and weight.
On the opposite side, the absence of a consignment agreement puts all the investment, capital, human effort, and time spent at stake. Whether the consignee works online or offline, there should be no leniency in terms of the agreement. This agreement forms the foundation of a smooth, reliable business. It ensures that both the consignors and consignees will make their best effort to make the business successful.
The consignment business also includes a consignment intake form, a consignment release form, and a consignment inventory form. The inventory in a consignment basically refers to the status of sold and unsold goods. These forms record the status of the consignees' shares and the stocks sold by the consignor, so it's important to be familiar with them.
A stock sheet format designed by the two parties is also a high-profile document that describes the distribution and sales data. The stock register template for any sort of consignment business can be found at plenty of online platforms. An excel inventory template with formulas is really helpful for both the parties and ensures neat and transparent record keeping. In turn, this makes sure that the inventory consignment agreement stays in action, and there's no violation of business rules.
From a food inventory template to a furniture inventory template, each business makes use of these forms. Whether you're selling clothes, toys, athletic gear, or collectibles, having a consignment intake, inventory, and release agreement will always ensure your store runs smoothly.
However, every type of item and every company will have different agreement requirements. These forms will have to clarify payment thresholds and procedures. Moreover, the inventory and release forms also allow to maintain quality standards and exercise quality control.
On the consignor's part, this means that the quality of the product is up-to-the-mark. The consignee, on the other hand, ensures the best safety and maximum profit of the sales. In case things don't sell or there's a loss, the agreement also helps in planning a future course of action. In fact, consignment business forms also ensure the legal and financial safety of all those involved. With consignment intake forms, in particular, your sales and all your hard work won't go waste in any case.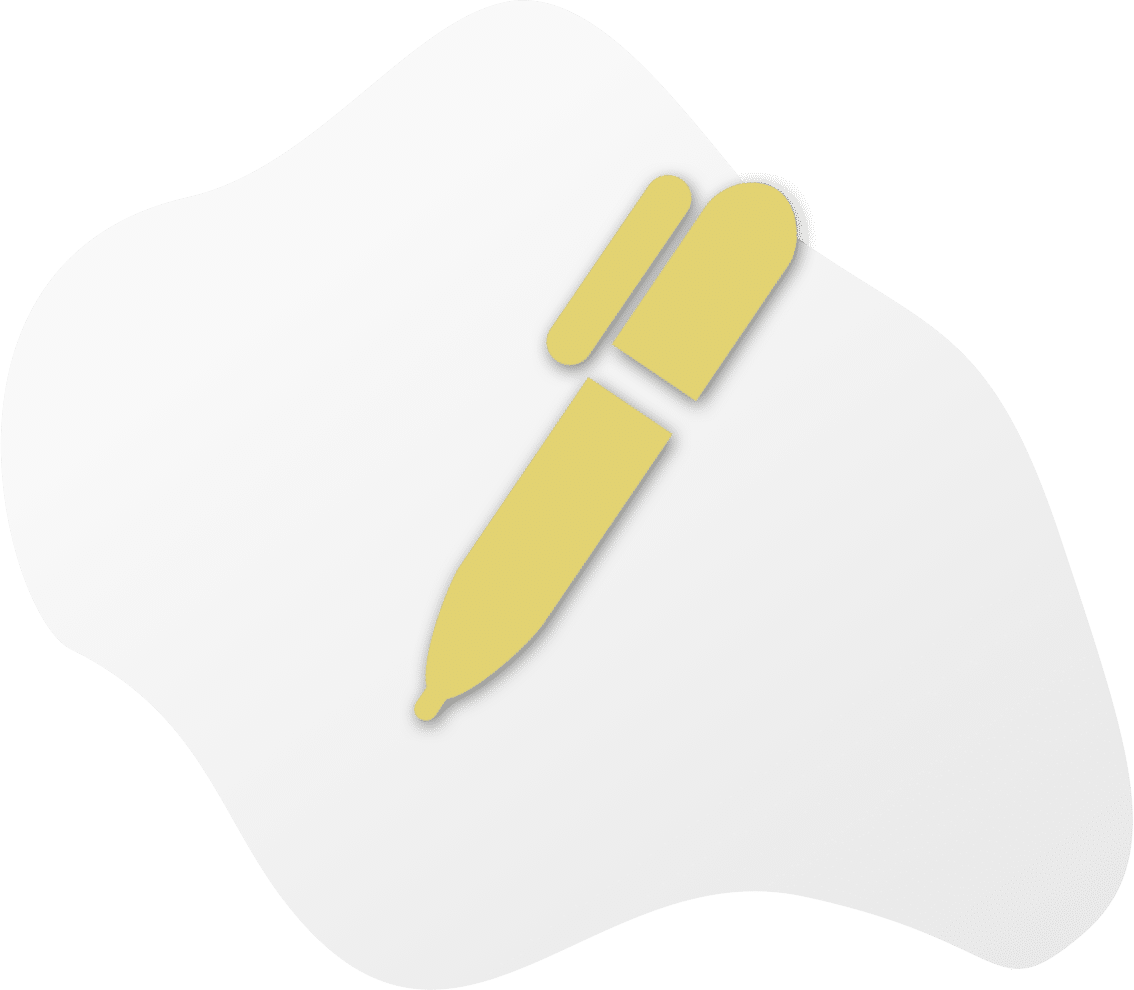 Edit & deliver this template.