Contract Letter
When you're contracting someone to work for you it's a good idea to use a contract letter to make sure you're both on the same page. In this article we dive into where contract letters came from, why they are important, and explore how they can help your business today. Come join us!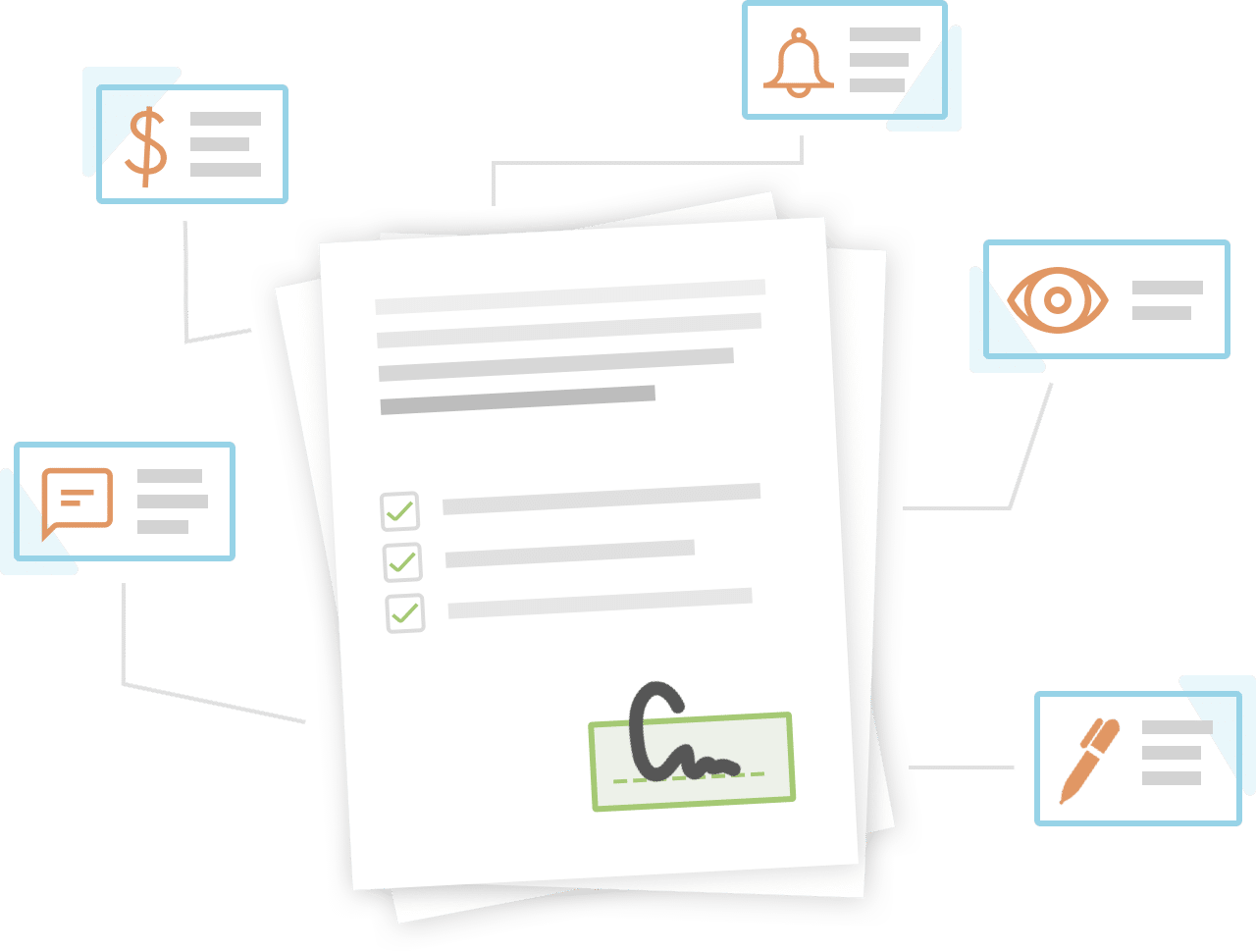 Send Proposals + Collect E-Signatures
Contract letters are used in a variety of situations, and they are one of the most common ways that a business relationship or an agreement letter between two parties is set into motion. They are also somewhat standard when an offer of work is made by a firm or a private individual, and it is important to know that essentially, a contract letter when properly executed functions as a normal contract, and they are in most situations legally binding.

Part of the function of a contract letter is to memorialize the terms of an agreement between two parties. As one would see in any business agreement letter sample pdf, a good contract letter will remove ambiguity and will make the expectations and the considerations for both parties very clear. Sometimes these letters will function as a vehicle to keep a talented candidate interested in continuing through the recruitment process to seek work at a company and for that to take place, details will need to be included. For example, the amount of compensation and/or salary reviews at a given interval/s could easily become part of the language of your contract letter.
It is highly possible to see a contract letter in the context of a "work agreement letter" when you're coming into a firm as a contractor or on a "temporary to permanent" basis. These letters are very often written by Human Resources, but they can also be drafted by legal counsel or an executive's office.

Conveniently with a little research one can find an agreement letter sample pdf in numerous places around the Internet. There are also contract letter formats in word, sample contract agreement between two parties, and many other free resources to draw from, although free templates may not fit your company's needs exactly. 

Accordingly, there are of course many professionally written and formatted contract letter sample docs available for purchase. You can find a contract agreement letters in pdf or any other format that you need.
Simple Contract Agreement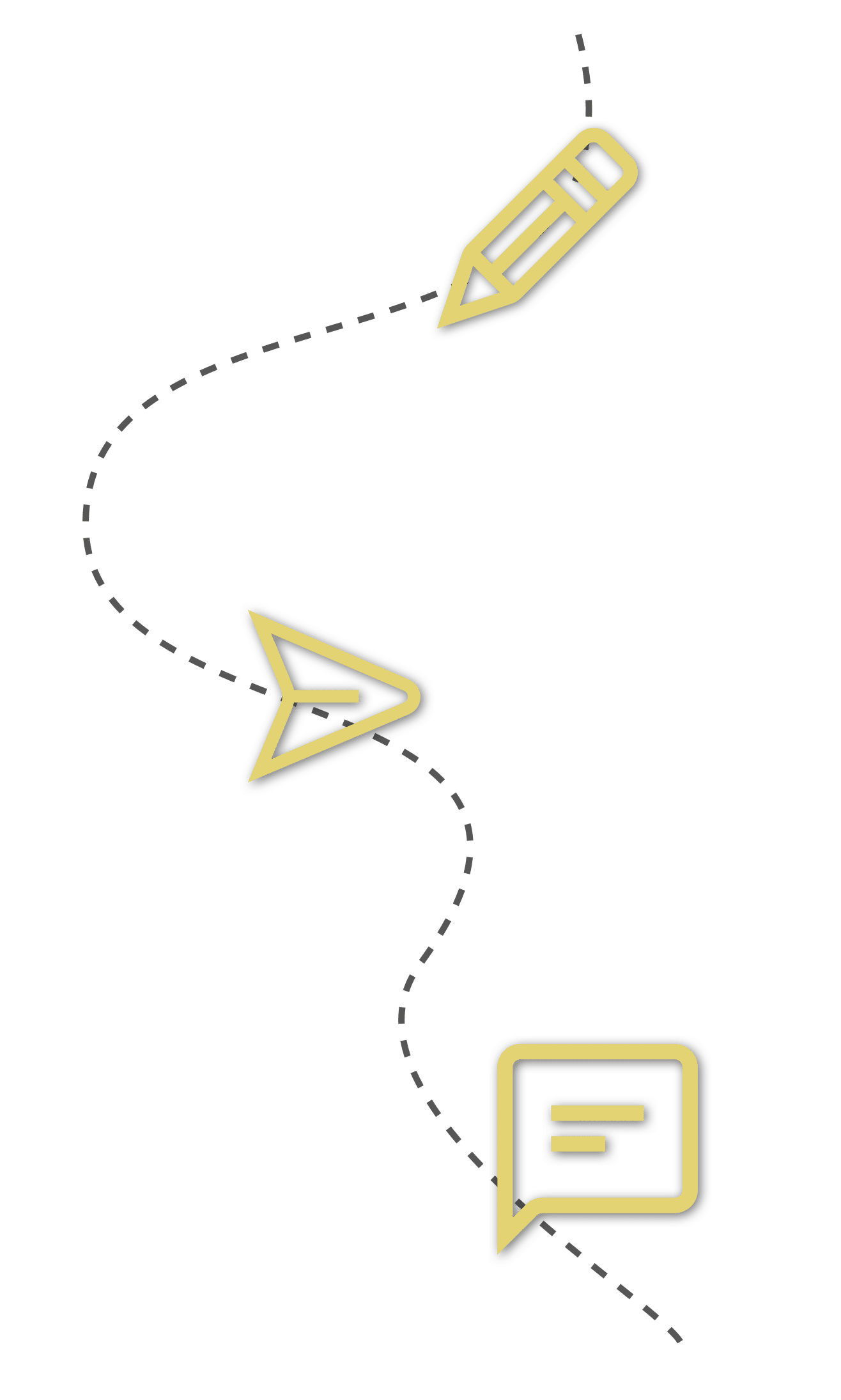 For any contract to be legally binding, it must at minimum contain several elements: there must be an offer, acceptance of the offer, and there must be consideration of some kind that is being given in exchange. One of the quickest ways to understand this is to carefully read some simple contract agreements that are available online. No one needs to start from scratch with these important documents.

It is also important not to over-complicate your contract agreement letter because that can have the opposite of the intended effect; it could make your contract more difficult to enforce, rather than less so.  Both parties in this contract will need to sign the document in order to make it binding. Clarity and conciseness are very important as your agreement is drafted, printed, and sent.

A contract agreement letter between two parties can be used in many different situations apart from offers of employment or bringing on a contract worker or firm. For example, many businesses will draft a contract letter when they take on a new client. Many client contract templates are available online both for purchase and for research so that you can be sure that you have covered what you need to cover. When you examine a sample contract letter pdf online, you should be able to see that the elements of a contract are all there and simply put; there should be no real ambiguity.

To put it another way the formula for a  simple contract template is this: "Entity A will do Action B for Entity C in exchange for D money or goods/service and it will be done by  by E date." If your contract agreement letter between two parties covers all of that, the proverbial bases are likely to be essentially covered.
The first step in creating anything is getting very clear about exactly what you are trying to accomplish. Obviously if the situation that you are writing a contract for is mission-critical or extremely sensitive, you may want or need to have your attorney draft your contract letter for you. But the truth of the matter is that in many situations, working from an already existing contract template is going to do what is needed.

Proposable offers a  business contract template free of charge. Several are located here: https://proposable.com/proposal-templates. It is critically important to bear in mind that any contract is only as good as the legal language within it. Even if a business ultimately decides to completely offload contract drafting to a lawyer or legal team, the clearer that management can be as to the way any contracts need to be structured is a good thing. The legal team is accountable, but ultimately where the proverbial "buck" stops is with the executive in charge. So, clarity of communication is key.

Of course, it would be ill-advised to assume that even the best written service contract template Microsoft Word or any other entity puts out into the wild is going to cover all of a given business' concerns and interests. But working from a free sample contract for services, for example, can help a  businessperson understand all the elements that need to be in a contract letter, as well as all the things that might not need to be there. Proposable offers contract template docs, and contract template pdfs, and there are a number of  free sample contract for services agreement sources available online there as well. 
It would make sense first read some samples and some information about contract law, and then perhaps to search for "how to write a contract letter template." This should provide the information that is needed to write a strong contract letter that protects all parties concerned.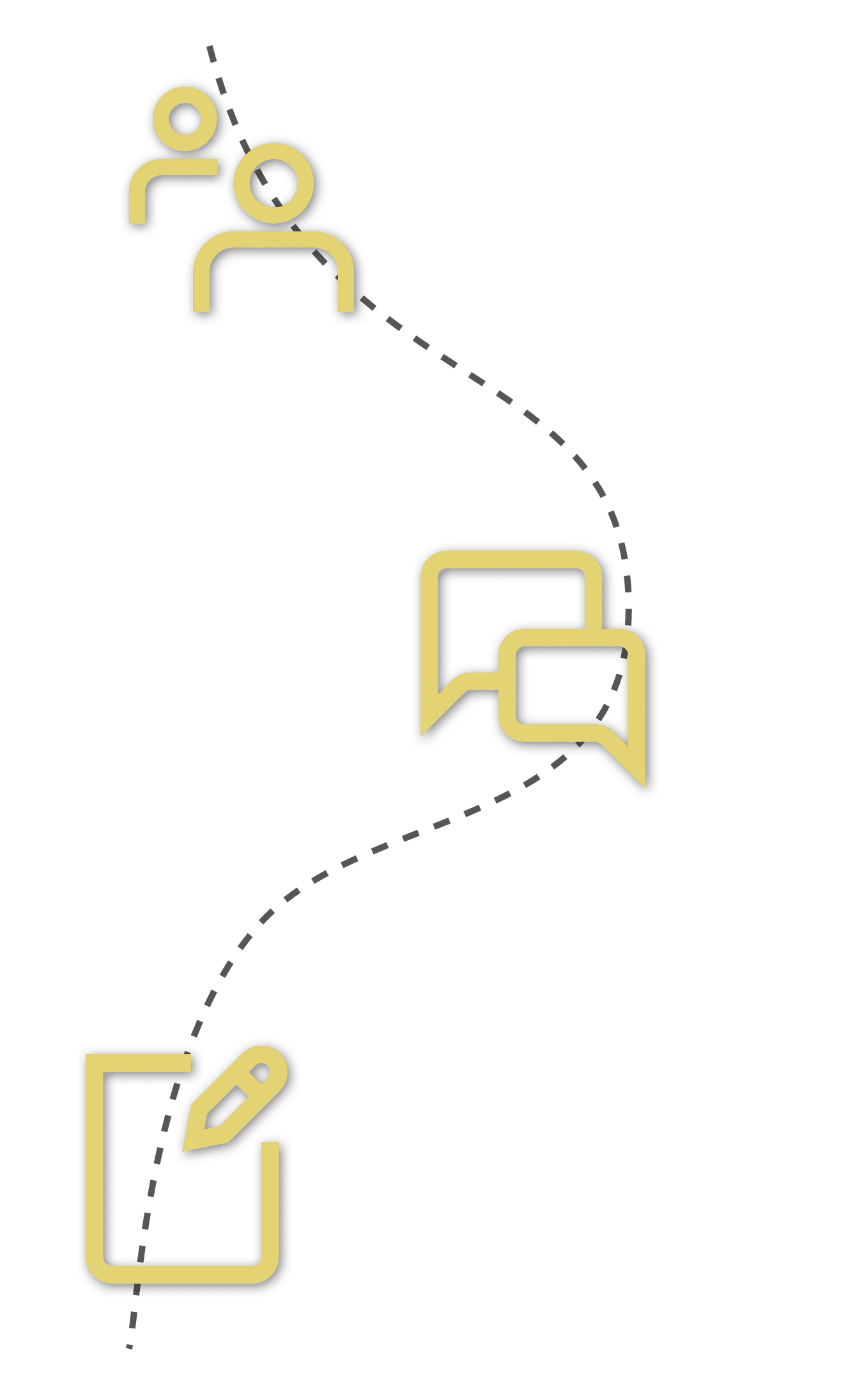 Standard Employment Agreement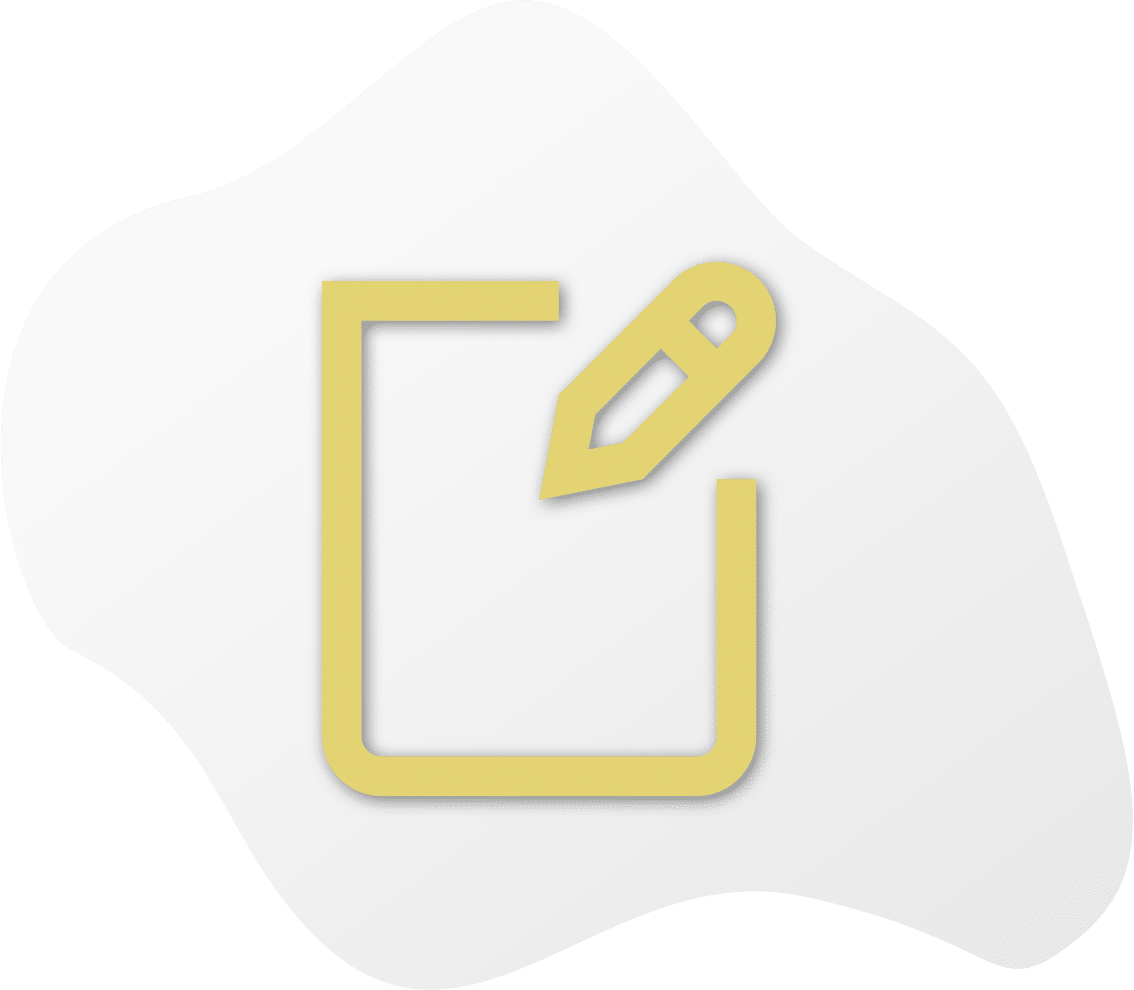 As mentioned before, one of the most common uses of a contract letter is for an offer of employment or to create an employment agreement. Many companies develop a standard employment agreement that is used as a "boilerplate," for any new incoming personnel.

It is considered best practice to have an employment agreement even for temporary employees. A temporary employment contract template is available through Proposable and there are also other free employment contract templates available at https://app.proposable.com/contract-templates/employment-contract-template/interactive-preview.
It is important to realize that without close attention to the wording in these documents, employers may inadvertently tie themselves to do or provide something that they my not wish to provide indefinitely. For example, with the COVID-19 crisis, some companies may decide to only allow employees to work from home until the "stay at home" orders are lifted. But if the language in the letter says "Employee X shall work from home," An employer may not be able to tell the person in that contract that they must work in the office once the COVID crisis is much calmer. This kind of thing is the reason why many firms choose to use the free employment contract template word suggestions that Proposable offers.

There are several basic elements that are should be included in every employment agreement. These include: The title of the position, the term of employment, exclusivity (if necessary) compensation and benefits, confidentiality, termination, severance pay, and arbitration requirements if applicable.
Proposable prides itself on providing information that the business community needs; from free printable employment contracts to information about writing a bond agreement between employee and employer sample. Proposable offers many other types of document template, both free and paid versions.
There are also sample employment contract letters, free printable employment contracts, and many others to choose from. Whether a business is looking to find and deploy contracts that are ready made, or whether they simply want to find ideas and information as to how these documents are structured, the good news is obvious: a great deal of the proverbial legwork has already been provided with these templates and there are many more options available to get your contract letters in good order on the first try.
Send Proposals + Collect E-Signatures
Best proposal software ever! 
I've tried soooo many proposal softwares and I'll never try another one after Proposable. It's so easy to use and it looks good, which all the others don't.
Smart, reliable, and constantly improving.
Proposable just works. I can make visually interesting sales presentations, dynamically insert content, and execute agreements. Proposable powers our entire sales process.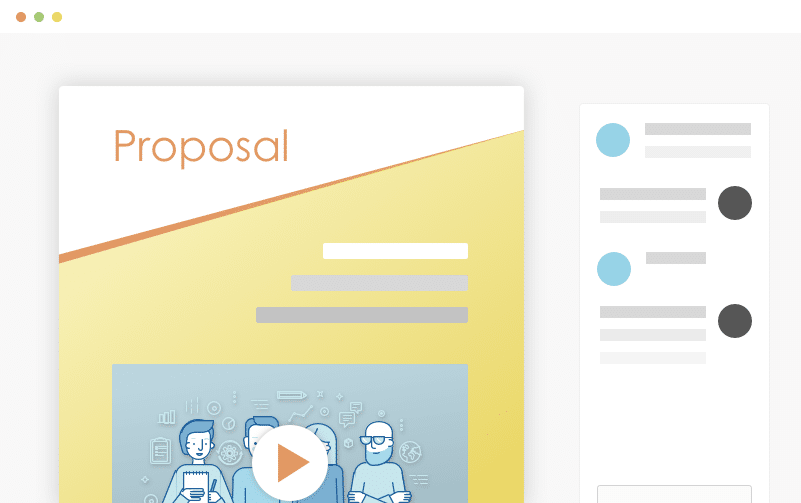 Wow Your Customers
Blow your clients away with a beautiful proposal that stands out above the rest. Add video and rich-media directly into your proposal pages for a more immersive sales presentation that's sure to make an impact.
Set Your Prices
Quickly build quotes, bids, and estimates with our flexible estimate block. With optional line-items, optional quantities, taxes, discounts and more, you can quickly represent your products and services in a polished and readable format. Organize all your products and services in the Pricing Catalog for instant recall.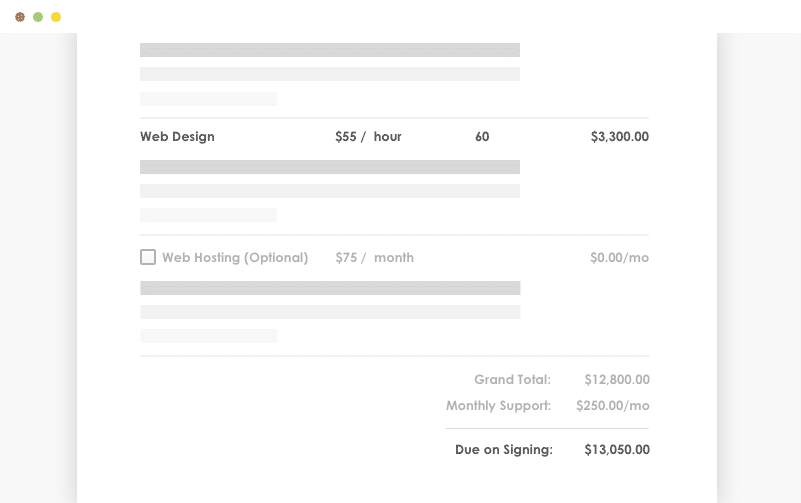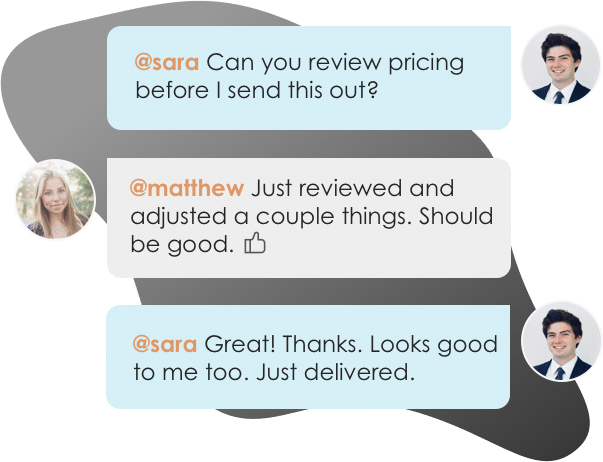 Work With Teammates
Easily collaborate with teammates on proposals. Mention team members to bring them into a proposal, or re-assign ownership when you need to handoff the proposal to another teammate.
Get It Signed
Close the deal faster with integrated e-Signatures. Place signatures, initials, and text field elements throughout your proposal wherever you need prospects to take action and your prospect is guided through a quick acceptance workflow to complete their acceptance. Counter-signing support is also included.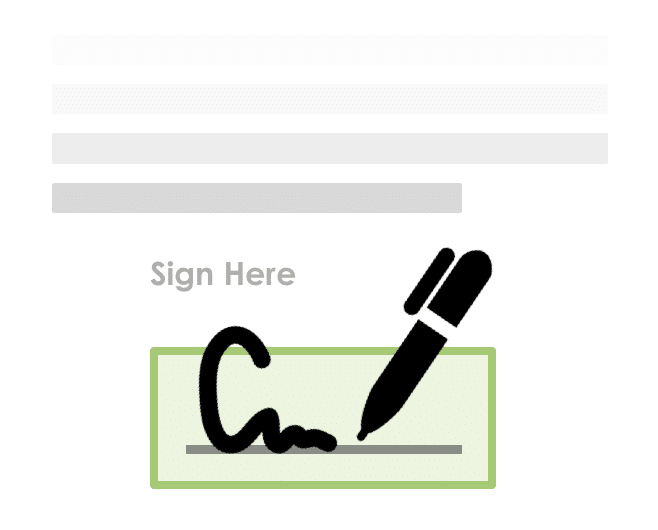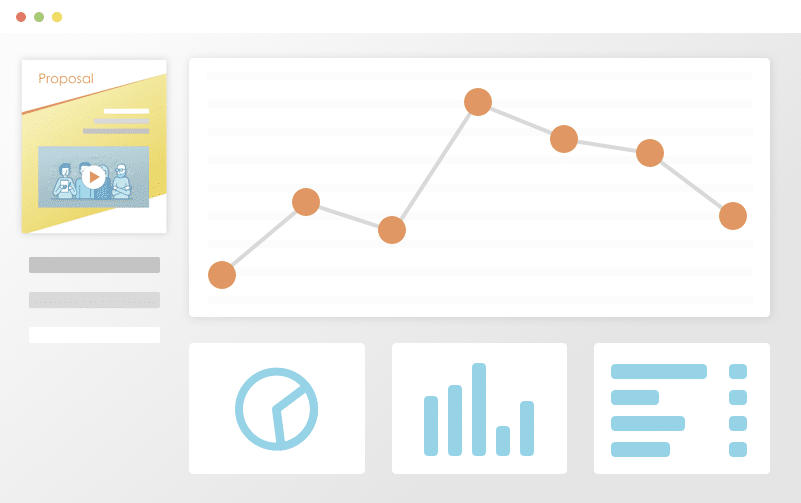 Track Everything
Ever wonder what happens to your proposal after you hit "send"? See detailed analytics and measure how each recipient is interacting with your sales material. Turn on real-time text or email notifications for proposal views and other key events.
Get Your Time Back
Save time and headaches by skipping the painful copy/paste and find & replace on all new proposals for your prospects and customers. Simplify your new proposal workflow to just a few clicks and go from spending hours on customizing new proposals to just minutes.