Contract Creator
Create, deliver, and eSign your contracts like a pro with easy contract creator software.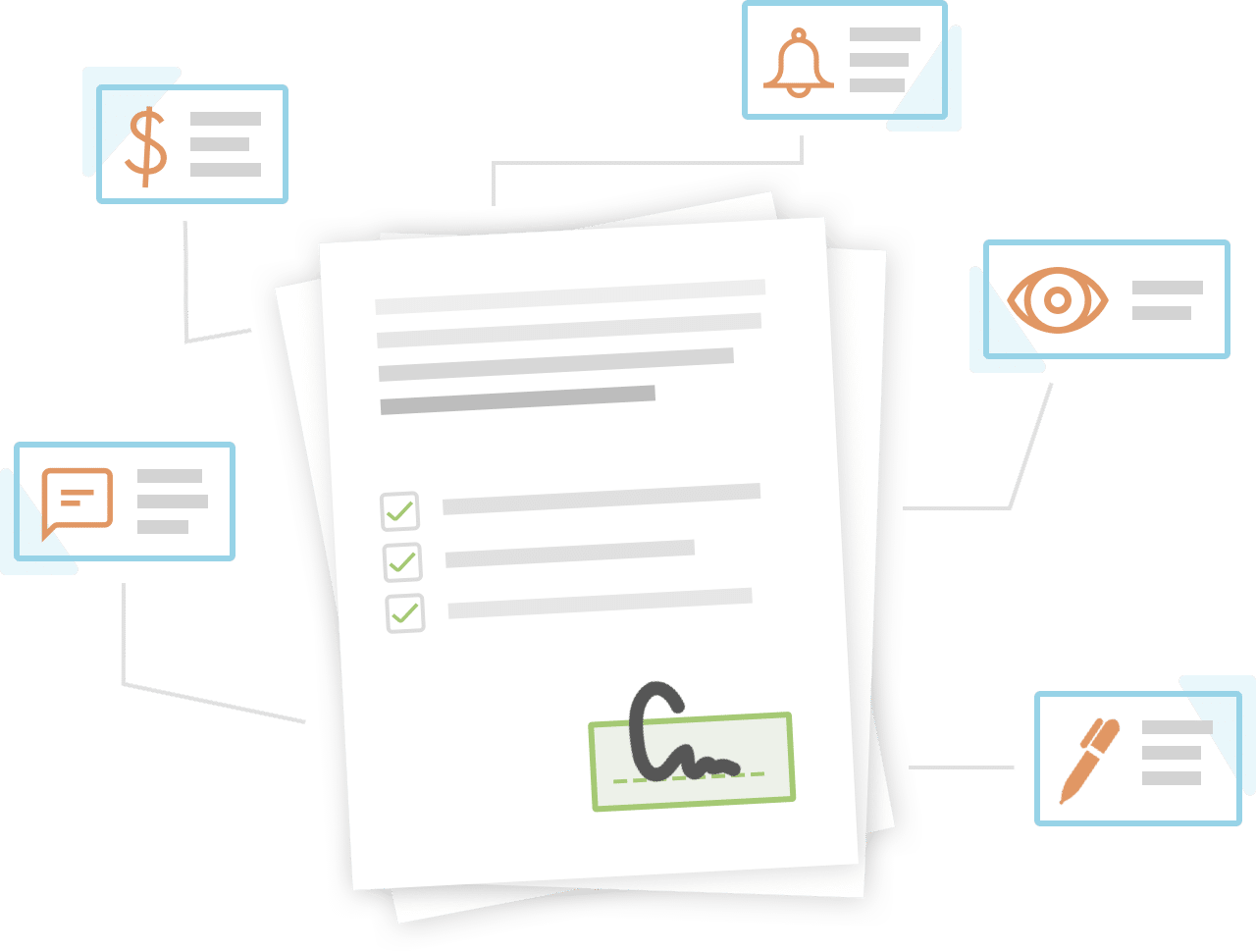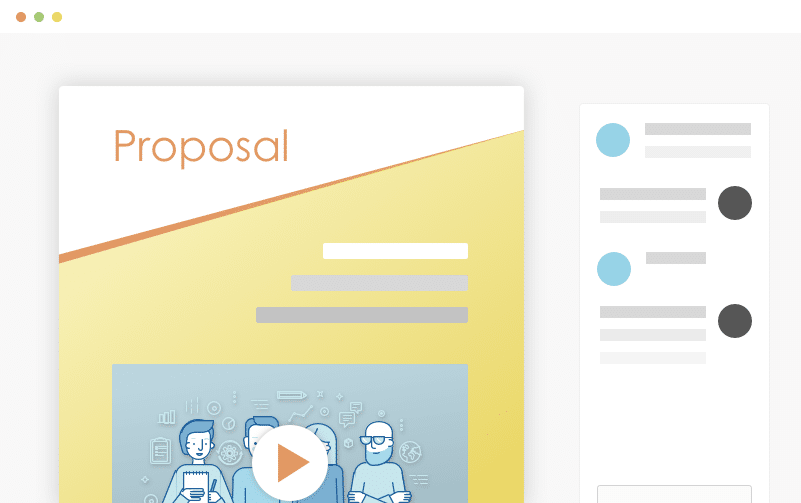 Wow Your Customers
Blow your clients away with a beautiful proposal that stands out above the rest. Add video and rich-media directly into your proposal pages for a more immersive sales presentation that's sure to make an impact.
Set Your Prices
Quickly build quotes, bids, and estimates with our flexible estimate block. With optional line-items, optional quantities, taxes, discounts and more, you can quickly represent your products and services in a polished and readable format. Organize all your products and services in the Pricing Catalog for instant recall.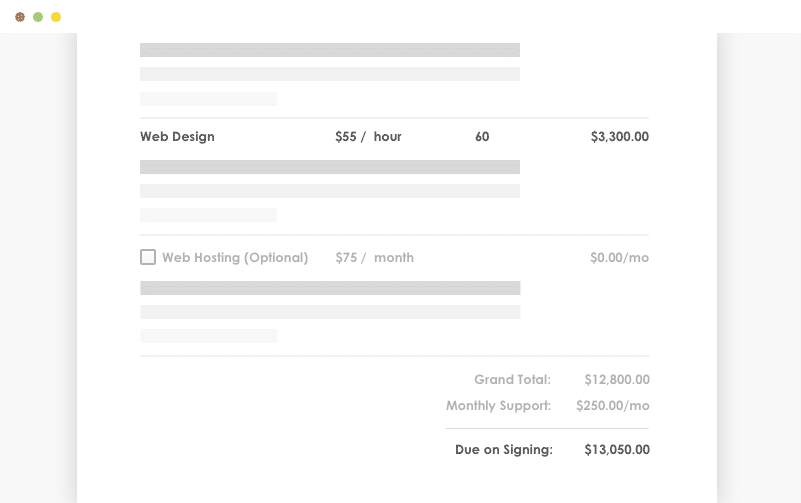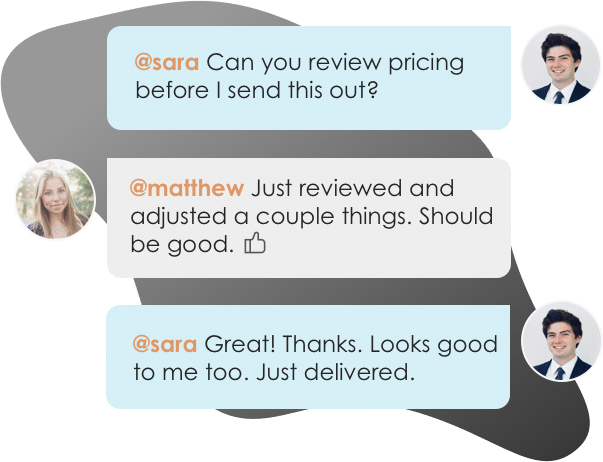 Work With Teammates
Easily collaborate with teammates on proposals. Mention team members to bring them into a proposal, or re-assign ownership when you need to handoff the proposal to another teammate.
Get It Signed
Close the deal faster with integrated e-Signatures. Place signatures, initials, and text field elements throughout your proposal wherever you need prospects to take action and your prospect is guided through a quick acceptance workflow to complete their acceptance. Counter-signing support is also included.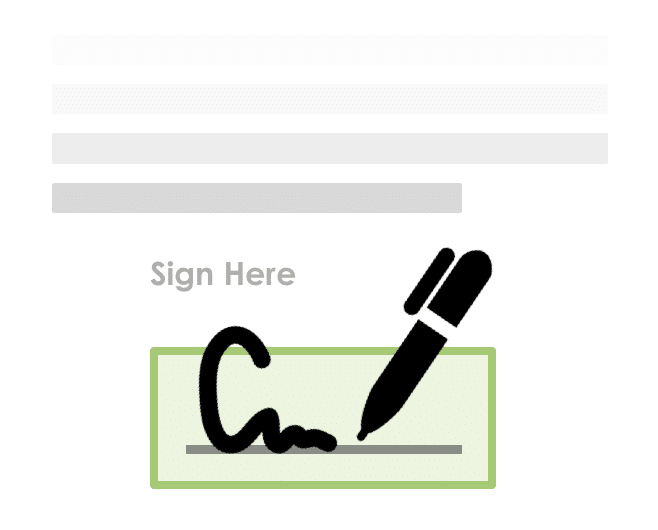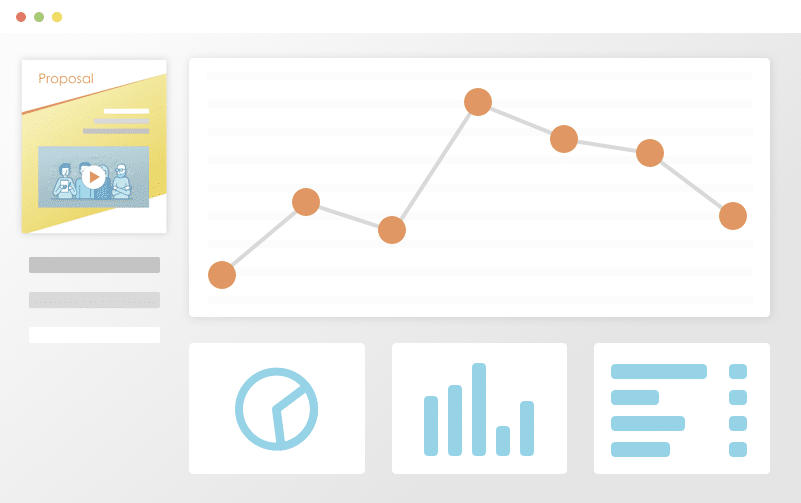 Track Everything
Ever wonder what happens to your proposal after you hit "send"? See detailed analytics and measure how each recipient is interacting with your sales material. Turn on real-time text or email notifications for proposal views and other key events.
Get Your Time Back
Save time and headaches by skipping the painful copy/paste and find & replace on all new proposals for your prospects and customers. Simplify your new proposal workflow to just a few clicks and go from spending hours on customizing new proposals to just minutes.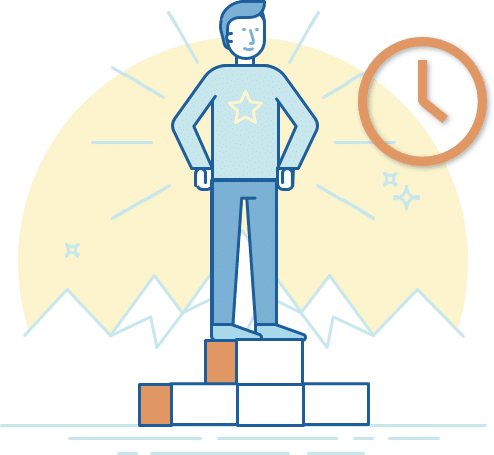 Best proposal software ever! 
I've tried soooo many proposal softwares and I'll never try another one after Proposable. It's so easy to use and it looks good, which all the others don't.
Smart, reliable, and constantly improving.
Proposable just works. I can make visually interesting sales presentations, dynamically insert content, and execute agreements. Proposable powers our entire sales process.
Better Contracts & Proposals
A contract creator lets you create your own contracts for business, real estate, management, construction or renovation, consulting, seasonal or short-term work, or any other business arrangement.
Use a contract creator app to fill in details of your contract information. A contract maker app adds any necessary legal language while you fill in the details: dates, names, and financial information. Contract generator software can be used multiple times, saving you time and money. When you use a contract creator, you don't have to worry about using the right legal jargon. You can focus on your contract terms and save time and money.
If you're a contractor providing services, contract generator software is a must. Any time you receive a job, you can get the details right in minutes. Employers and businesses should use a contract maker app to standardize the contracts they offer to short-term or longer-term contractors or vendors. Save time and money by using a contract maker app. Eliminate costly lawyer fees or confusion about legal terms and contract sections. Have confidence that your contracts will be written properly while you put contract terms and information into an easy-to-use contract creator app and generate your contract.
Have you heard the phrase, "time is money?" You will save both time and money if you use a contract template. Don't waste effort searching for a Microsoft Word contract template in endless directories. Use a contract template software that you can customize to fit your needs at any time you need it.
Create a smooth, efficient workflow for hiring independent contractors using a freelance contract template. Compare how you've contracted for jobs in the past with current work with reusable contract templates. If you're on the other end of the transaction as a freelance worker, keep track of your jobs and quickly offer terms to new clients using a freelance contract template.
Store and re-use pre-approved contract clauses with contract templates. No need to constantly consult attorneys or wait for printed copies when you've got an approved contract template that you can simply fill out. In today's complex business regulation environment, a contract template can keep your contracting problem-free and compliant with all necessary regulations.
If you need to revise a contract because the other party has made suggested revisions, a contract template will make this process much faster. Contract templates can also help you track any changes from pre-approved contract language. A freelance contract template could also speed your negotiations with independent contractors.
Contract Management Software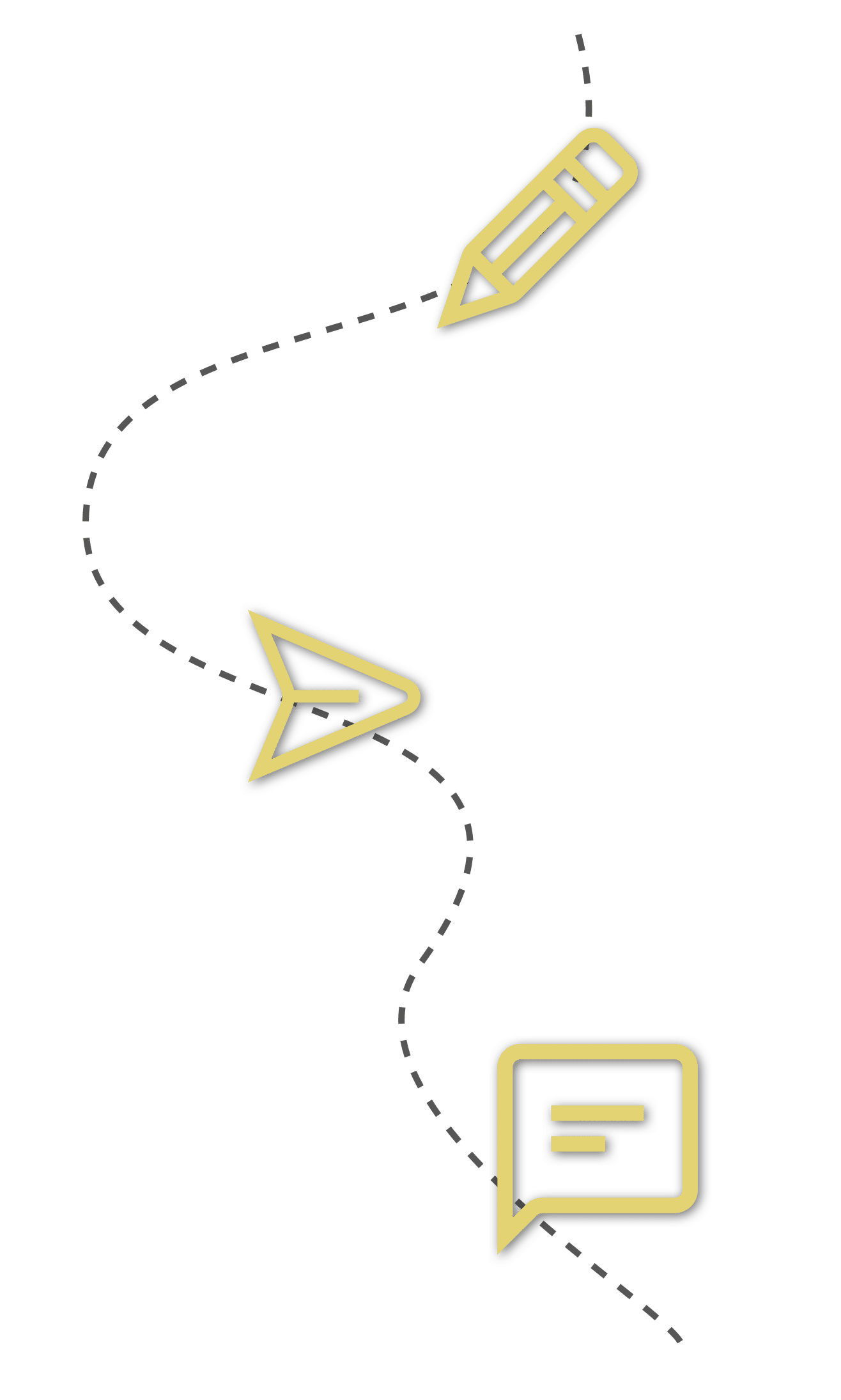 Use contract management software to your advantage in business. Instead of viewing each contract as a chore to accomplish before the actual work gets done, use contract management software to make the process of contract development, approval, execution, and reporting more efficient. Compare contracts and work processes of prior tasks with ones you're planning to undertake. If you're working with government agencies, government contract management software is essential. Your work process and reimbursement could be slowed or even stopped if your work process and other documents don't match your signed, executed government contract.
Will your contracts need to be revised? Speed up the change order process with contract management software. When work begins on a contract, do you see that teams have challenges in understanding the contract or becoming engaged? Contract management software can help you pinpoint problems and remove bottlenecks. You can also use contract management software to make your contracting process more flexible, introducing changes quickly, easily, and with more transparency.
Save time, because contract management software can speed up the contracting process. You can use the software to compare clauses, agreements, and other contract-specific language. Make contracts easy to understand, easy to access, and consistently-written with contract management software.
Few things are more frustrating than trying to use software to simplify your work and discovering that it's more complicated than using Microsoft Word or writing information by hand. A simple contract maker not only makes your work easier, it lets you focus on what's really important in contracts: making sure everyone involved understands what they are supposed to do, when they are supposed to do it, and what successful contract completion looks like.
You can use a simple contract example to get an idea of what the right contract for your job will look like. Don't waste time reviewing dozens of complex contracts that don't really fit your business or job. Locate an example of a simple contract agreement to use as a template. You can easily and quickly change details using a simple, intuitive contract software. Not all contract making apps are created by people who understand your industry. A simple contract maker can solve this problem. You choose contract terms, financial details, dates, and deliverables. Best of all? You won't need to struggle with complicated, difficult-to-use software made by people who don't understand your industry.
Contract Assembly Software
If your business works with complex contracts, whether with other businesses or government organizations, contract assembly software can speed up your process, from RFP to award, to contracting, execution, and reporting on deliverables. Some contract management software only allows you to create a contract. Contract assembly software lets you work on each segment of the contract separately. You can manage the contract drafting and creation process and then create a complete contract with contract assembly software.
Contract assembly software stores defined terms and contract definitions that can be used throughout the contract. Add annexes or support documents using assembly software for contracts. Contract modules help to build complex contracts and automate some aspects of contract creation. Edit information in modules when changes are required. Contract assembly software can streamline the process for contract review, change orders, and renewals. Create conventions for your contracts that will streamline your contract creation, management, and execution process.
Contract assembly software also allows you to establish a knowledge library which can store commonly-used terms, approved legal language, and clauses for different contract circumstances. If you have ever fought with creating the right page numbers on RFPs, RFIs, or other documentation, contract assembly software is a must.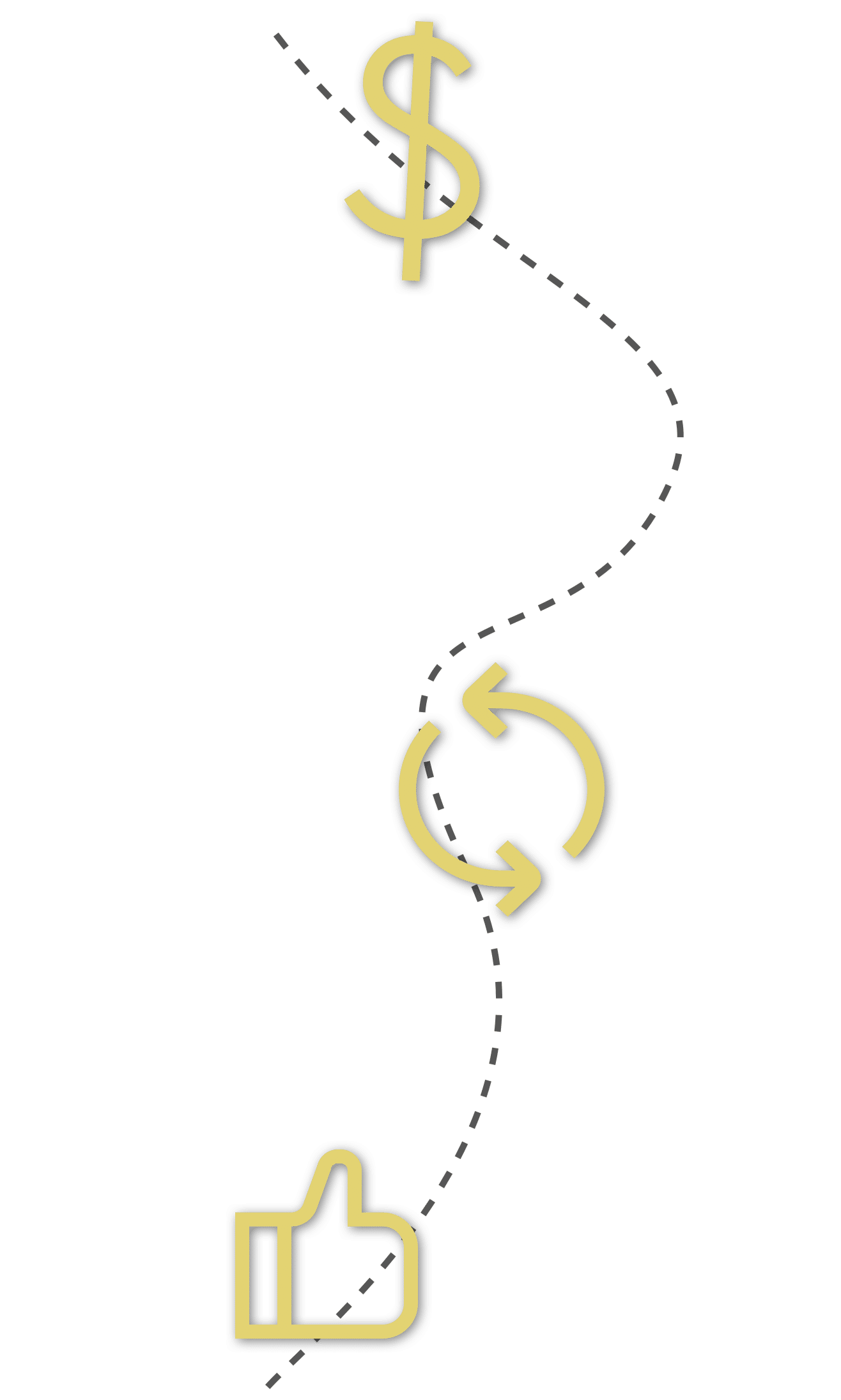 Reviewing contracts can be one of the most time-consuming parts of the contract process. People review contracts that are filled with boring, difficult-to-understand language, and can often miss important clauses or significant details. If you're involved in a complex business or real estate transaction, and your contract review is less than thorough, serious consequences can result—sometimes months or even years after the contract is executed.
Contract review software is designed to speed up contract reviews, reduce or eliminate human error, and organize the process. Good contract review software should produce reports that identify any problems and present findings in a clear, easy-to-understand way. This type of software should create reports that support due diligence. Contract review software can be either stand-alone or can be part of an overall contract management software platform.
In most businesses and organizations, contract review software is most effective when found inside a more-encompassing contract management system. You can quickly review indemnity clauses, change of location or owner, insurance requirements, and contract deliverables using contract review software. Applying the results across different contracts and standardizing contract processes will require contract management software. For most companies, contract management systems that incorporate contract review will serve their needs.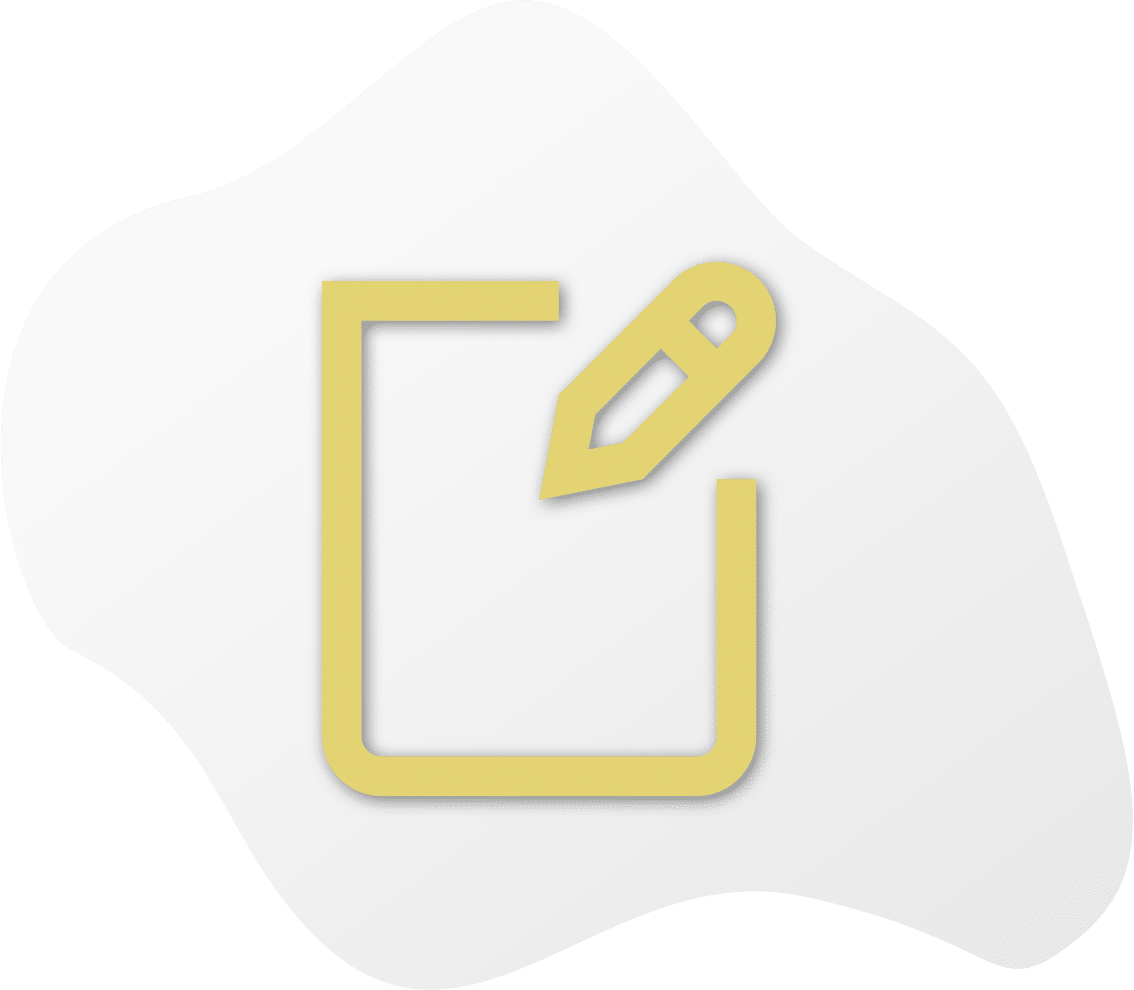 As a business grows, so will the number of transactions and customers. This could result in a change in the business' needs as well as how the company conducts business. Although using contract management software is mostly associated with the contract process, there are many other documents that the application can help with. This can be done by integrating document automation software into contract management software.
Different business departments and processes use different types of documents. Some types of documents that can be created using document generation software include PDF, Excel, Word, and PowerPoint documents. However, this will require that you deal with a lot of offline document management or that you take time to merge templates in the cloud. It's preferred to begin, manage, and complete the process using software to save time.
There are numerous document assembly programs that you can use to turn frequently-used forms and template documents into intelligent workflows. In order to ensure that you will generate accurate and compliant documents in less time, you have to choose the most suitable program. Open source document assembly software would be an option to consider depending on the size and needs of your business, although, as previously stated, it's recommended to use licensed software with such an important part of your business.
Compared to licensed software, purchasing a contract generator for free will most likely be a limited experience. Free tools can lack storage capacity and flexibility. A free contract generator won't integrate and compare contracts. A free contract maker may be created by people who copy documents without understanding what the documents represent. Contracts use language that sounds similar, but the details of every contract vary. We recommend integrating all functions of your business and manage sales and deliverables with licensed contract management software instead. A free contract maker may save money, but it won't save time when changes are needed, and it can cost both time and money in the long run.
Did you find a fake contract creator online? A fake contract maker can help you to understand how contracts and proposals work. You can use a fake contract for fun. Analyze different contract components and create "dummy" contracts or contract templates with a fake contract generator. When it's time to do actual business, however, the time for using a fake contract for fun should be over. Turn to a real, licensed contract maker. Ideally, you will turn to Proposable. We give you the tools you need to create contracts quickly, easily, and reliably.
Better Contracts & Proposals