Contract Cleaning Services
Contract cleaning services are essential to so many different businesses and homeowners. The peace of mind that comes from having a clean and neat space to do business cannot be understated. In this article we explore the world of contract cleaning services and look at different ways they can help you and you business.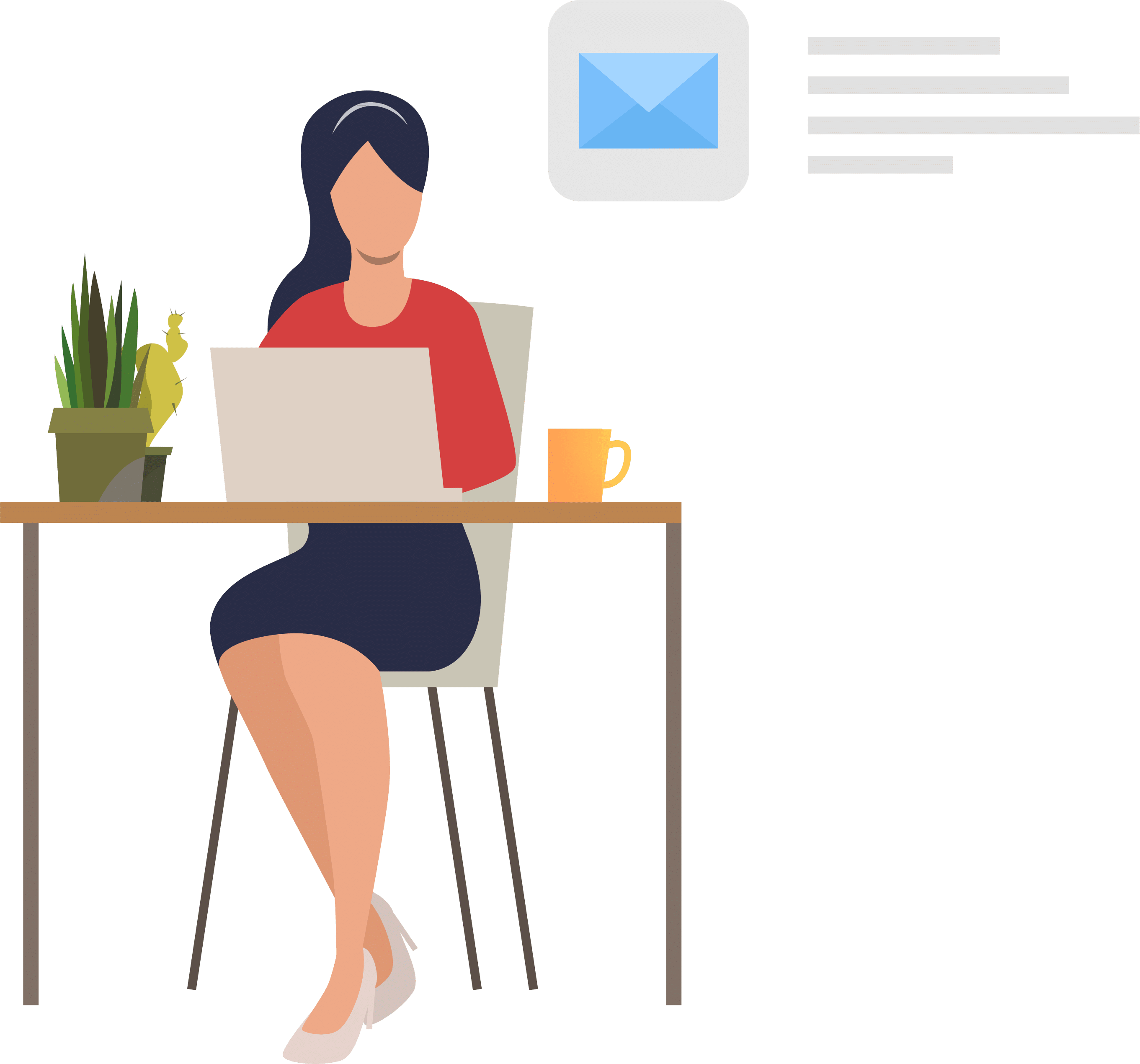 Send Proposals + Collect E-Signatures
People like having clean homes and businesses. But busy lifestyles and large offices or commercial spaces make it hard to keep those spaces clean on their own.
Enter the world of contract cleaning services. Typically, customers pay a set amount each month for a certain amount of cleaning personnel and equipment to clean their space.
Outsourcing cleaning services through a contract cleaning company like this means businesses and homeowners don't have to worry about vetting employees, training them, or having the right equipment on hand. The cleaning company takes care of all that for them. All they have to do is enjoy having a clean space.
It's important to have a solid cleaning services contract agreement in place when hiring contract cleaning services. This ensures that both parties know what to expect and what's expected of them.
A cleaning service proposal with a checklist is a great way for the cleaning company to demonstrate what they offer. They should also have a cleaning service disclaimer as part of their paperwork detailing what they are not responsible for.
For more inspiration check out our cleaning service agreement in DOC format or a cleaning employee contract template here on Proposable.com.
Sample Cleaning Contract Proposal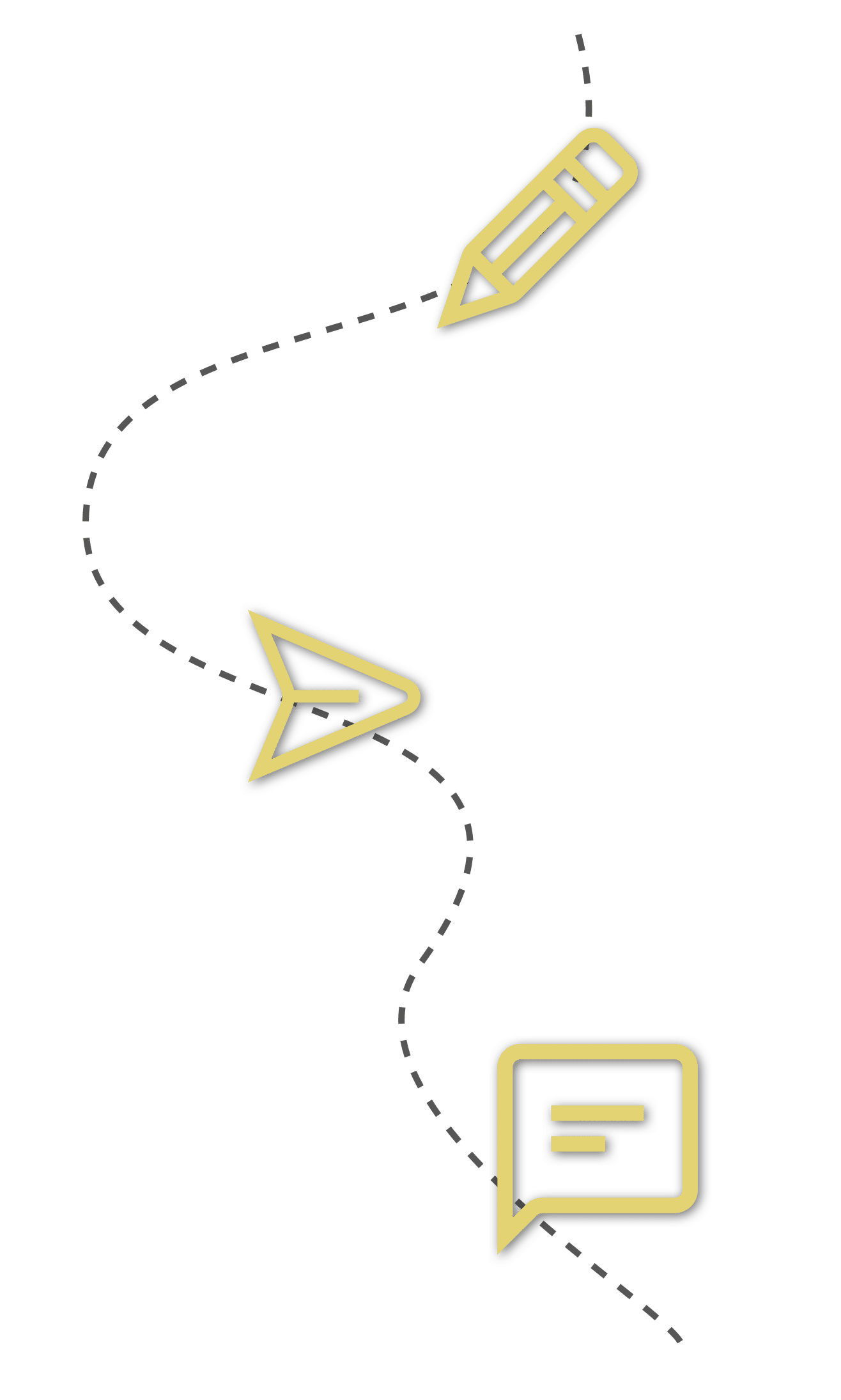 Just about anybody can start up a contract cleaning company. It doesn't necessarily require any special skills or experience to perform cleaning services. This means there is a lot of competition in the field. If you want to succeed you need to learn how to win cleaning contracts.
Keeping clients is pretty straightforward. Provide great customer service, make things spotless, and always follow through on what you say you're going to do.
The hard part is winning the clients in the first place. As your business grows, you'll be able to do this through word-of-mouth referrals and by having stellar reviews. But when you're just starting out, you're going to have to know how to win clients on paper with a solid commercial cleaning services contract proposal.
For ideas, check out our sample cleaning contract proposal or our sample business proposal for cleaning services in PDF format. We also offer a free cleaning service proposal with a checklist in PDF format to help you organize your thoughts.
What should be included in your proposal? Don't focus too much on the cleaning services that you provide, that should already be a given. Potential clients will be more interested in why your company exists and how you're different from your competition. They also want to know how your services, in particular, can benefit their company. Remember, stay away from generic statements like "you'll have a clean office!" or "we're the best cleaners in town!" You need to be more specific.
Check out our sample proposal letter for cleaning services or our free proposal for cleaning services in PDF format for some great ideas.
Remember, you won't get a chance to impress your clients with your great customer service unless you can win their contract in the first place.
Cleaning Services Contract PDF
Signing a cleaning services contract before you (or your employees) ever set foot in a client's home or business is extremely important. The contract clearly lays out expectations so they know what to expect from you and you know what is expected of you.
Good cleaning contracts also clearly outline how the company will pay you, how much, and when. A contract makes sure that all parties are on the same page and know what to expect from your services.
For an example, check out our cleaning services contract in PDF format. We also have a cleaning services contract agreement in DOC format, if that is easier for you.
It makes sense that a cleaning company needs to have contracts in place for all their clients. But what if you're self-employed? A cleaning services contract for self-employed individuals is equally as important. It offers legal protection for both you and your client in case anything goes awry.
Not sure how to write your contract? Check out our commercial cleaning contract template or our free commercial cleaning contract in PDF format. You can also check out this great resource for six things that should be included in your commercial cleaning contract.
One last point we'll make about cleaning services contracts just in case you're not yet convinced that you need one. What do you do if something goes wrong? Say an expensive item turns up missing after you entered the premises.
Your contract can lay out how this type of situation will be handled. You can also include an arbitration clause which means that your client agrees to arbitration rather than going to court if something happens. You still may need a lawyer for this method but it will be a lot less expensive than ending up in court.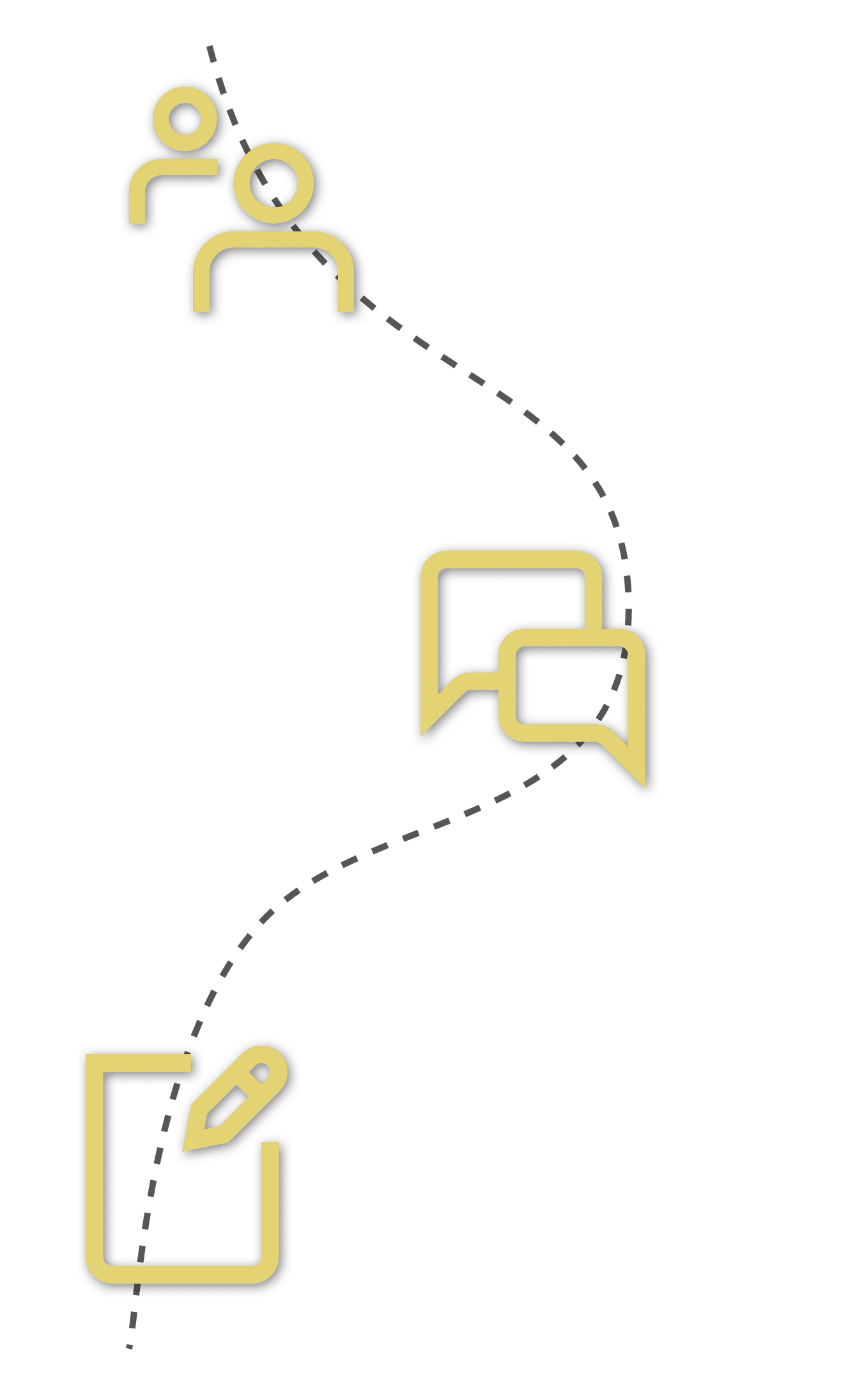 Free Printable Cleaning Contract Template PDF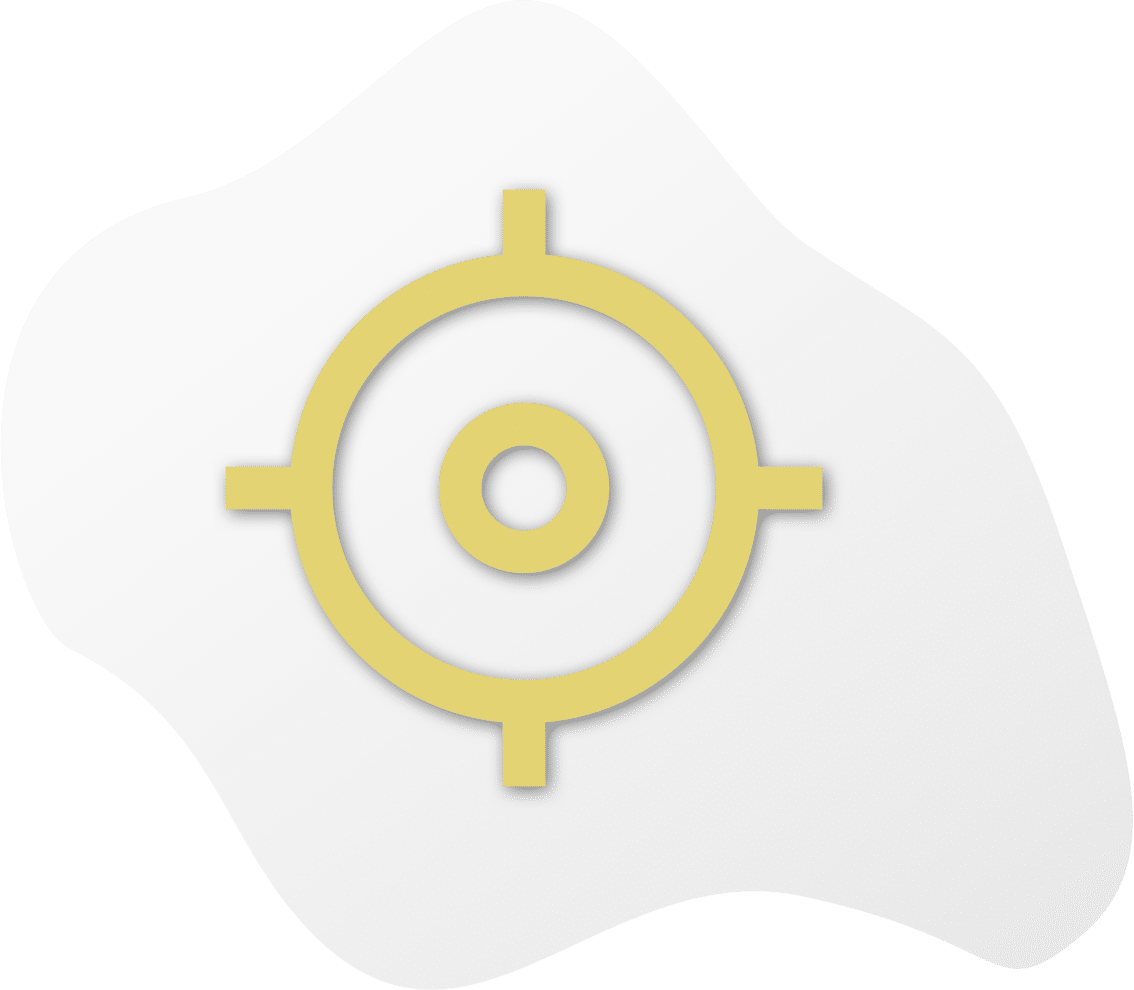 Cleaning contracts are also extremely important from the client's perspective. First off, they'll be giving the cleaning company access to their home or business. This takes a certain level of trust. Nobody likes the idea of strangers rummaging around through their stuff, even if it is just to clean it.
Setting up a contract is easy when you use our free printable cleaning contract template in PDF format. All you have to do is fill in the blanks!
Contracts help give a cleaning business a more professional appearance. Even if you work for yourself as an independent contractor it is important to have an independent contractor agreement for cleaning services that your clients sign. It gives both parties peace of mind.
Make sure you completely spell out the terms and conditions for housekeeping services. This is what reassures clients that you know what you're doing and have all your bases covered. Follow our terms and conditions template for cleaning companies to make sure you don't miss a thing!
With free house cleaning contract forms available on our site, it couldn't be easier to set up the cleaning contract you need. We also have templates for specialty forms of cleaning so if you need something specific like a window cleaning contract template, don't hesitate to check it out on our site!
Some people may be tempted to skip contracts to avoid the headache of figuring them out. In reality, filling out the templates make cleaning contracts a breeze and will save you a much bigger headache down the road. You won't have to worry about tracking down payments or dealing with upset customers who thought you were providing a service that you never offered.
Avoid the headache and check out our forms today!
Send Proposals + Collect E-Signatures
Best proposal software ever! 
I've tried soooo many proposal softwares and I'll never try another one after Proposable. It's so easy to use and it looks good, which all the others don't.
Smart, reliable, and constantly improving.
Proposable just works. I can make visually interesting sales presentations, dynamically insert content, and execute agreements. Proposable powers our entire sales process.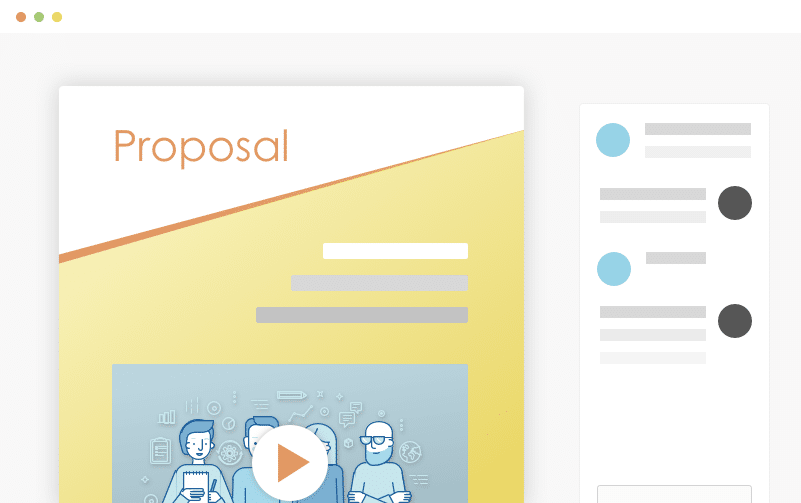 Wow Your Customers
Blow your clients away with a beautiful proposal that stands out above the rest. Add video and rich-media directly into your proposal pages for a more immersive sales presentation that's sure to make an impact.
Set Your Prices
Quickly build quotes, bids, and estimates with our flexible estimate block. With optional line-items, optional quantities, taxes, discounts and more, you can quickly represent your products and services in a polished and readable format. Organize all your products and services in the Pricing Catalog for instant recall.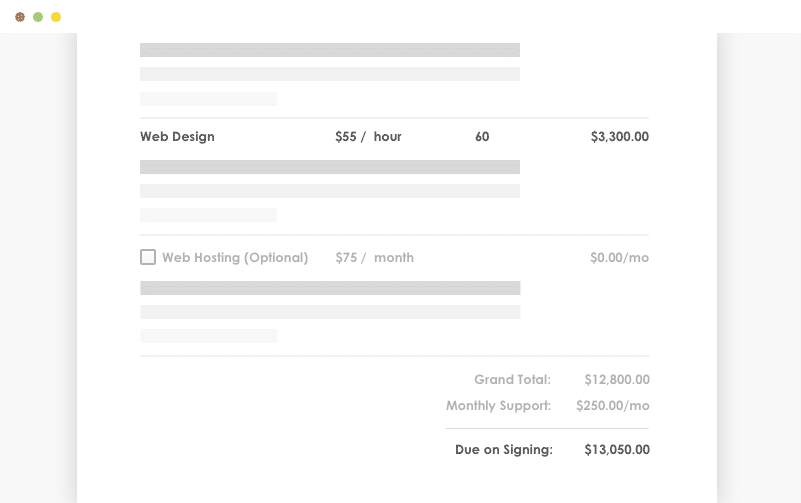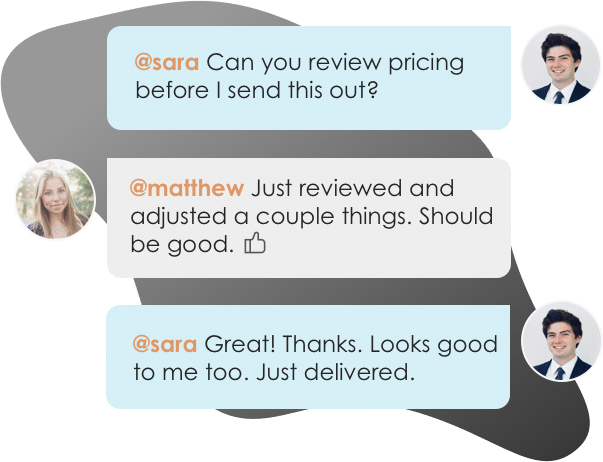 Work With Teammates
Easily collaborate with teammates on proposals. Mention team members to bring them into a proposal, or re-assign ownership when you need to handoff the proposal to another teammate.
Get It Signed
Close the deal faster with integrated e-Signatures. Place signatures, initials, and text field elements throughout your proposal wherever you need prospects to take action and your prospect is guided through a quick acceptance workflow to complete their acceptance. Counter-signing support is also included.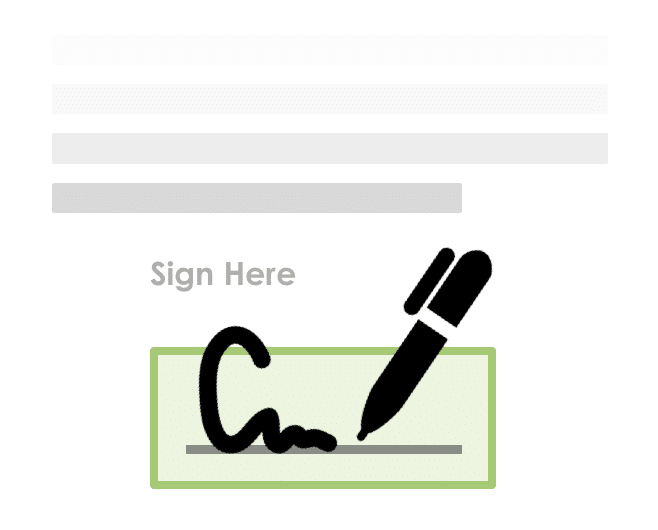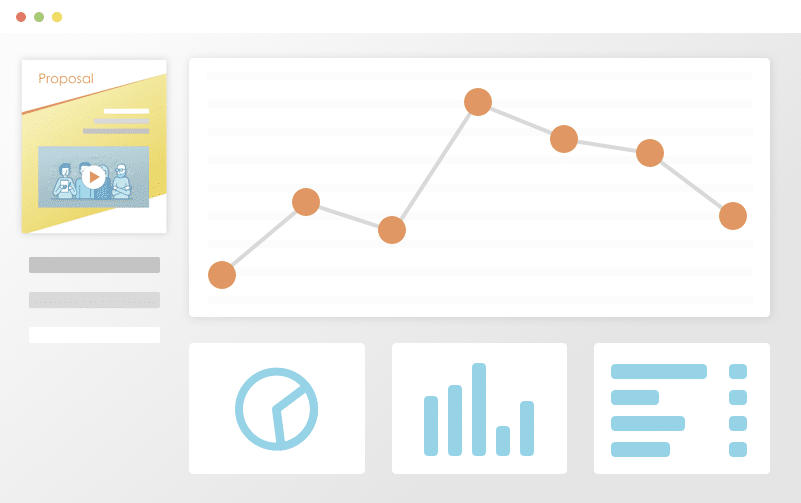 Track Everything
Ever wonder what happens to your proposal after you hit "send"? See detailed analytics and measure how each recipient is interacting with your sales material. Turn on real-time text or email notifications for proposal views and other key events.
Get Your Time Back
Save time and headaches by skipping the painful copy/paste and find & replace on all new proposals for your prospects and customers. Simplify your new proposal workflow to just a few clicks and go from spending hours on customizing new proposals to just minutes.